What Is Importance of Resume: A Complete Guide For 2023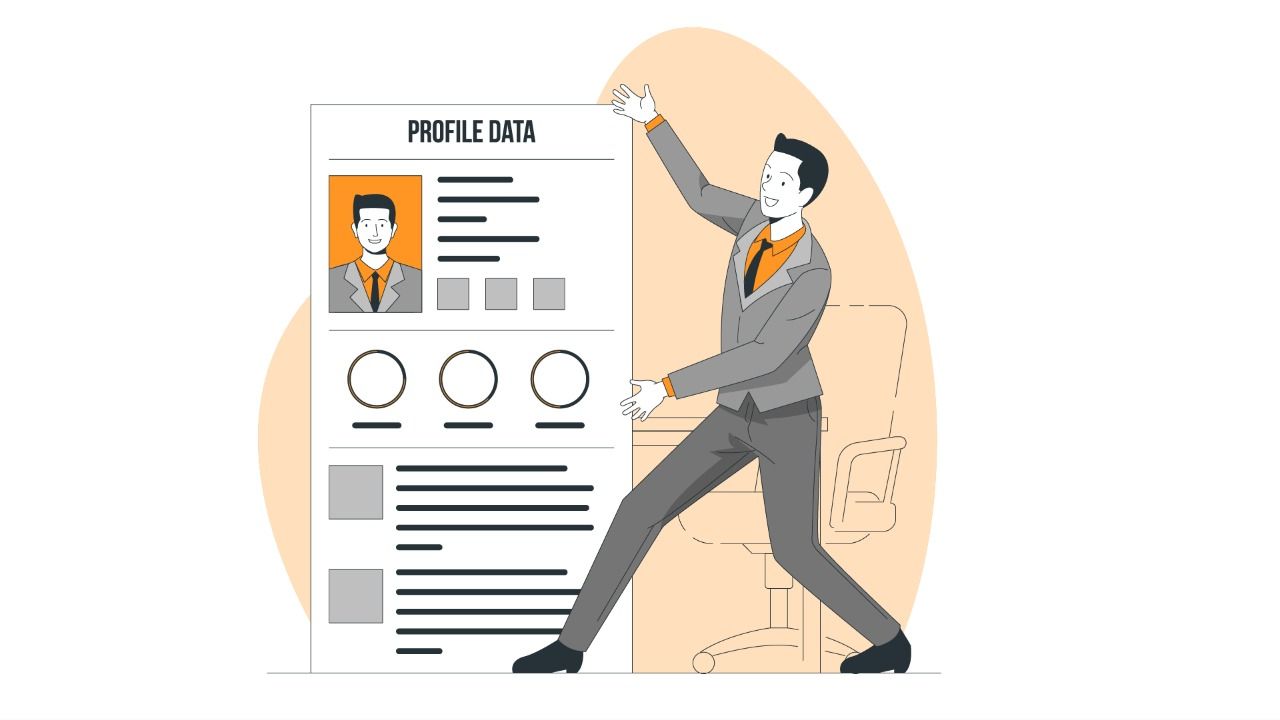 What is the importance of Resume?
A resume is an important part of looking for a job because it gives you a page or two to show off your best and most relevant skills and traits. 
Employers use resumes to decide who to hire, and they can also help you get your first interview after you apply for a job. 
If you are looking for a job, you might want to look over the way your resume is laid out and the information you put on it.
The importance of a resume is twofold: It helps corporations pick qualified candidates, and it helps the job-seekers to showcase their talents and skills for scoring the best employment opportunities. 
Candidates who want top jobs need good resumes with perfect content and proper structure.
Similarly, companies looking for suitable candidates need an excellent resume-checking system, along with HR managers who discard misfit resumes.
This part is important: companies don't reject resumes, at least not in the first round. They reject resumes, so you better write a good one!
In this article, we talk about how important a resume is and give you some tips that can help you make a good one.
Why is a resume important? Because in a competitive job market, you usually need one to move on to the next step of the interview process. A good, well-written resume can show right away why a candidate is a good fit for the job.
Here are some reasons why it's helpful to have a resume when looking for a new job:
A well-organized resume shows potential employers your best skills and knowledge in a clear way. Because of this, it's important that your resume shows your most recent skills and experiences.
With the right colours, margins, and design, you can make sure that your resume shows relevant work experience and unique accomplishments in a way that stands out.
In addition to listing your skills and describing your experience, a resume tells companies what you might be able to add to their business. 
For instance, instead of saying that you are a "top performer," you could say that you "made 95,00,000 in sales."
Employers are more likely to be able to figure out how much value you add to a company if you give them concrete measures of your performance. 
Putting three or four accomplishments under each job experience makes it easier for hiring managers to get a full picture of what you can do.
Most of the time, the first part of a resume that a reader sees is the part at the top. Be sure to put important summary information above the first fold, along with your name and contact information. 
Another way to get an employer's attention is to use a layout that lets you use the right colours or pictures.
To show potential employers who you are, you can use a headshot or a personal logo. If you print your resume, make sure you use high-quality, long-lasting paper. 
There are many options, so when choosing paper and printer ink, keep industry standards in mind.
A good resume shows how your skills match up with what the employer needs. One way to do this is to make sure that your resume has the same keywords as the job description. 
For example, if the job description says "knowledge of JSON," make sure your resume includes the word "JSON." Employers are more likely to sort through applications based on keywords that are important to the job.
Some companies may use automated tools to look for keywords in resumes, especially if they have online application portals.
Let's take the example of Aditya, a hiring manager with over 20 years of experience in the field. His process of selecting resumes is as follows: 
He makes three "piles" for resumes:
The "Yes" pile: Resumes that stand out to be a perfect fit. About 2% of resumes go in here
The "Maybe" pile: Not a perfect fit, but close to it. If Aditya doesn't get enough "Yes" resumes, he will go through them here.
The "No" pile: Everything else goes here. Aditya is essentially looking for points that could throw a resume in this pile: poor grammar, lack of experience, too verbose etc.
 Let's try to put this into perspective-
On average, Fortune 500 companies get 8,000 applications every day. 
Let's say there are 10,000 applicants for a job position. 98% of companies use resume filtering software called Application Tracking System or ATS to screen out irrelevant resumes. 
What may shock you is that ATS filters out 80% of the applications, which are completely ignored during hiring.
Seems unreal, yes, we know, but that's the hard, cold truth of hiring.
The only way to get past the ATS is to have an ATS compliant resume with the right format and keywords. 
We've compiled a comprehensive guide for you in this blog.
Now, let's move on to the 2000 resumes that made it past the ATS into the Hiring Manager's hands. HR recruiters select only 2% of resumes into the Yes pile, that is only 40 applicants get selected for an interview call!
Objectively, 99.6% of all candidates are rejected solely based on their resumes! 
Therefore, your only weapon to slash and dash your way into the 'Yes' pile is your resume.
Use HyreSnap Resume Editor to make a guaranteed "Yes pile" resume. 
On Hyresnap, we have a comprehensive guide for you where we teach you how to hook an HR manager within the seven seconds, they look at each resume! 
Another important thing to note is to never use the same resume twice. A resume that worked for a job at Microsoft will almost never work for a job at Apple. 
In fact, a resume for a Software Developer job at Microsoft will almost never work for a Game Developer job in the same organisation! 
Each resume should be tailored especially to the job you're using it for, and an aspiring candidate should analyse:
What the job requirements are?
What the company's mission statement is?, and
What the HR is exactly looking for? 
Luckily, HyreSnap has already done this analysis and uses data from thousands of successful resumes to give you templates that you can use.
Here is the sample resume format that you can refer to make one.
[Your Name] 
[Address] 
[Phone Number] 
[Email Address]
Objective: A motivated and enthusiastic [profession/field] graduate seeking an entry-level position to apply and further develop my skills in [relevant skills or industry]. Committed to delivering high-quality work and contributing to the success of the organization.
Education: [Bachelor's/Master's Degree], [Major] [University/Institution Name], [Year of Graduation] Relevant coursework: [List relevant coursework or projects]
Skills:
Technical Skills: [List relevant technical skills, such as programming languages, software proficiency, etc.]
Soft Skills: [List relevant soft skills, such as communication, teamwork, problem-solving, etc.]
[Additional skills]
Projects:
[Project Title]: [Describe the project briefly and highlight your role and contributions.]
Internships (if applicable): [Company Name], [Position] [Dates of Internship]
[Responsibility/Task 1]: [Describe your responsibilities and achievements.]
[Responsibility/Task 2]: [Describe your responsibilities and achievements.]
Leadership and Involvement:
[Organization/Club Name], [Position]

[Describe your responsibilities and achievements.]

[Volunteer Experience], [Organization/Event]

[Describe your responsibilities and achievements.]
Certifications (if applicable):
[Certification Name], [Certifying Organization], [Year]
Awards and Achievements:
[Award/Achievement 1]: [Brief description of the award/achievement and the context in which it was received.]
[Award/Achievement 2]: [Brief description of the award/achievement and the context in which it was received.]
References: Available upon request.
Remember to customize the sample format based on your specific qualifications, experiences, and the job you're applying for. 
Make sure to emphasize your relevant skills, achievements, and experiences that demonstrate your potential and suitability for the position. Keep the resume concise, easy to read, and visually appealing.
Hyresnap will make your resume look professional in no time. Our AI Engine extracts the keywords from the job description that you just copy and paste on our platform and we give you a detailed list of relevant keywords that make your resume near perfect. 
Not only that, it helps you present your skills and accomplishments in an optimal manner that matches the job description. 
We also provide you with a job search option where you can easily find jobs that match your resume in any city of your choice.
Our resume formats are ATS friendly and approved by more than 40 HR experts. We make your resume-building process easy and efficient. 
Use HyreSnap resume builder to make your perfect resume now.
Also Read: How to Make Best Internship Resume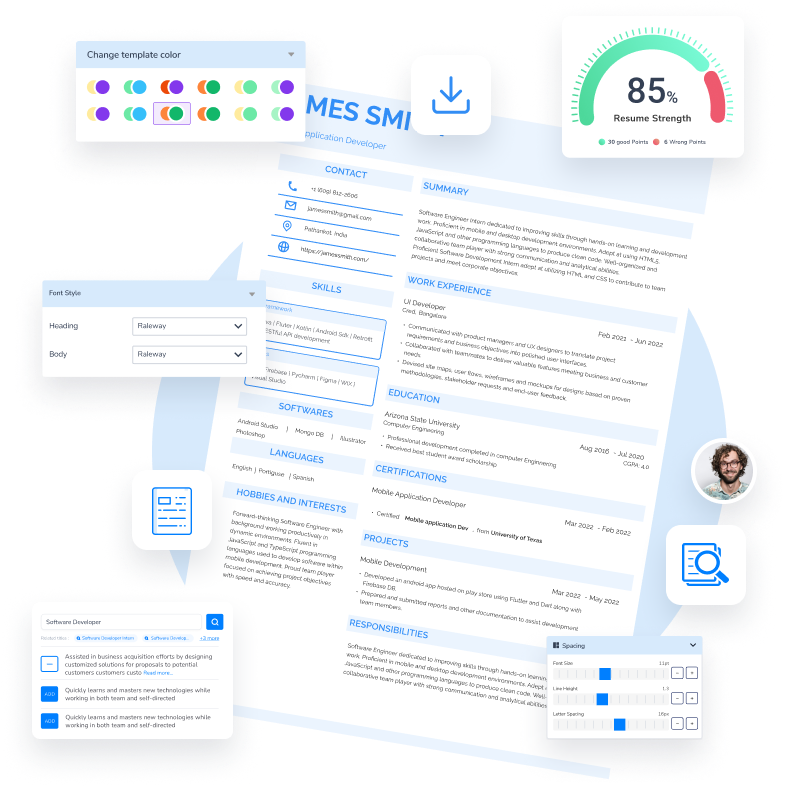 Build your resume in 10 minutes
Elevate your interview chances with our Modern Resume Templates that follows the exact 'Resume Rules' that employers look for.
Try Now for Free!
Build Your Resume
Excellent
4.8
out of 5 on
TrustPilot