Internship Resume - 7 Step Complete Guide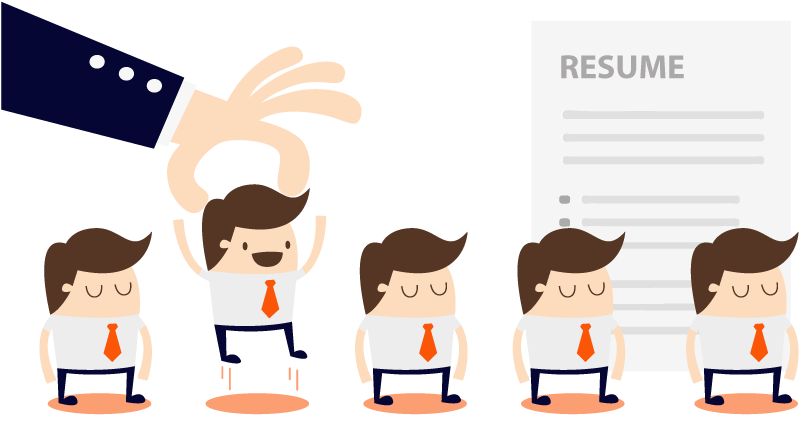 As a college student, you need to land some or the other internships in order to get necessary work experience for your portfolio and CVs. Nowadays even an entire semester can be dedicated to these internships. 
Almost every company today hires interns, that means they get hundreds of applicants for a single job. 
How can you stand out? How can you show them that you are the best candidate out there? What all should you add, what should be left? 
How long should it be? Once you start writing a resume , all these questions start to float in your mind. 
The entire process as a fresher can be very confusing and exhausting. But lucky for you, today we are going to solve this issue with a simple steps 7 guide.
Follow these steps, and your perfect internship winning resume will be ready in no time!
Are you ready to get hired? Let's go
When creating an internship resume, it's important to structure it in a way that effectively highlights your qualifications, skills, and experiences. 
Here is a typical format for Internship Resume
Contact Information:
Full name

Phone number

Email address

LinkedIn profile (optional)

 
Objective or Summary Statement (optional):
A concise statement highlighting your career goals and how the internship aligns with them. This section can be skipped if you prefer to prioritize other sections.
Education:
List your educational background, including the name of the institution, degree pursued, major or concentration, and expected graduation date (or date of completion).
Relevant Coursework (optional):
If you lack extensive work experience, you can highlight relevant coursework that demonstrates your knowledge and skills related to the internship position.
Work Experience:
Detail any previous work experiences, including internships, part-time jobs, or volunteer work. Provide the company name, position title, dates of employment, and a brief description of your responsibilities and accomplishments.
Projects (optional):
If you have completed any notable projects related to the internship position, include a section highlighting these projects. Describe the project, your role, and the skills you utilized or developed.
Skills:
List relevant technical and soft skills that are applicable to the internship role. This may include programming languages, software proficiency, communication skills, teamwork, problem-solving, etc.
Leadership and Extracurricular Activities:
Highlight any leadership positions you have held in student organizations, clubs, or community groups. Include any noteworthy accomplishments or responsibilities that showcase your abilities and character.
Awards and Achievements:
Mention any academic or professional awards, honors, scholarships, or recognition you have received.
References (optional):
You can provide references or indicate that they are available upon request. Include the contact information of individuals who can vouch for your qualifications and character.
Remember to tailor your resume to the specific internship opportunity you're applying for. Focus on relevant experiences and skills that make you a strong candidate for the position. 
Keep the resume concise, organized, and visually appealing by using bullet points and clear section headings.
The first and foremost thing you write on your resume is your personal details. But most students either don't fill it properly or just simply ignore it. 
But here is the thing, you need to mention details like your phone number and email address so that the recruiters from the company can get in touch with you.
The next important thing you cover in this section is Location. The location or where you are living matters a lot in case the job is out of station. Let's take this example, you live in Chennai and the internship(offline) is in Delhi.
The HR will reject your resume because why are you applying for a job that is geographically impossible from your current location. 
The trick is to mention "willing to relocate" in your resume. So that the HR knows that you are going to come to Delhi if you get the internship. Even if it's an online internship it's for the best to mention your location on your resume.
Do you know, resumes that have links to LinkedIn profile, Behance Profiles or Github have a higher chance of scoring an interview. But only 48% of people put them on their resumes?
Be smart, share your personal projects on social media outlets such as LinkedIn ,Behance , Pinterest or Instagram and showcase your network, following and work to your recruiter.
Don't put your photographs. Contrary to popular belief, having your picture in your resume (unless the Job Description asks for one) is a bad idea. Read our detailed blog on sections to avoid in resume here.
We all agree that it should be your qualifications and skills that should get you a job, not your appearance. But in the end, we are all humans.
Having your picture can create unwanted bias in the recruiter's mind. They might not like the way you look or judge you on your appearance. It's for the best to leave it out of your resume.
We at HyreSnap Resume Builder, have already studied over 100,000 resumes and discussed details with HRs and other experts. 
Guess what, it turns out: the summary part of your resume is the most critical section that HRs look at when it comes to initial screening.
Adding a summary is helpful as in just two to three lines, you tell HR why you are the best candidate for the job. 
A good summary statement includes crisp and relevant information about yourself. To make your statements powerful add proof to your resume summary. 
For example, the job description for the internship  says that the company is looking for a Python Developer intern. In that case an ideal summary for a Computer Engineering Student will be - Computer Engineering 3rd Year Student skilled at Python development. 
Won a Microsoft Python Game Development Challenge among 10,000 participants.
But what if you are not a computer engineer, and are looking for a career change?
In that case an idea summary statement will be-Graduate passionate about software programming and skilled at Python development. Completed a 6-month Python certification in 2 months and completed 5 freelance development projects.
As we discussed above, HR receives hundreds of resumes of any given internship or job position. Do you think they go through each and every word written on each and every resume? 
Of course not, they only look at relevant keywords in Resume.
For example, you are applying for an internship as a content writer and the first skill you write is adobe photoshop, do you think HR will go any further? They will throw your resume in a rejected pile without any second thought.
The right way to write skills will be, Creative writing, Copywriting, SEO, Google analytics, etc.
If after writing all relevant skills, you still want to talk about other software and skills you have , you can put them under the other skills category. So if the HR wants, they will go through it, otherwise they will be satisfied with the relevant skill set only.
Education is the most important and relevant section as a student looking for internships. But one common confusion that comes to this section is whether we should write our GPA in our resume or not. 
Let's make one thing clear: your resume is like your advertisement. You don't want to highlight your flaws in it. Hence if your college GPA is not very good, it's better that you don't include it in your resume.
You can write your other achievements in college while writing your education section. But remember to give proof for each achievement you mention. 
Use bullet points and don't go beyond eight points. When it comes to 10th and 12th marks, the same logic as GPA is applied. If they aren't good, don't mention them. 
Talk about your other achievements in school instead.
As a college student, you must have participated in a lot of competitions, activities and workshops. Use all this work for your advantage on your resume.
For example, you are applying for the position of a fashion designer in a local design house and you have participated in a lot of inter college fashion shows, use this accomplishment in your favour.
If you have won a collection of the year award in your college flaunt it on your resume. 
If you get selected out of 50 students for a design workshop, mention it. While writing your resume you want to make sure all your accomplishments are relevant to the job in hand. 
Put your accomplishments in bullet points and remember to mention the duration of work. Last tip before we move to the next point, while writing accomplishments, give a numerical proof or value to validate the importance of that accomplishment.
During the pandemic, we all have time in hand. So why not use this time to learn things that will help you get a good job? A lot of courses are available online. 
You can do it at your comfort and time. Not only that, these courses act as a proof of authentication for your skills, telling the recruiter you have been certified for the above-mentioned skills.
Even better than certifications, personal projects and practical work have a lot more value on the resume. 
With personal projects you can talk about your hard and soft skills both at the same time. You can create projects on subjects of your interest and yet use them to stand out and get a job. 
Hopefully this gives you an insight into how you can make a job winning resume for internships every time you apply.
But keeping in mind all this can be confusing. But don't worry, HyreSnap has got your back. Our AI Engine extracts the keywords from the job description and automatically includes them in your resume within minutes.
Not only that, it helps you present your skills and accomplishments in an optimal manner that matches the job description.
We also provide you with a job search option where you can easily find jobs that match your resume in any city of your choice. Our resume formats are ATS friendly and approved by more than 40 HR experts. 
We make your resume-building process easy and efficient. You can write your job-winning resume in just fifteen minutes. Use HyreSnap resume builder to make your perfect resume now.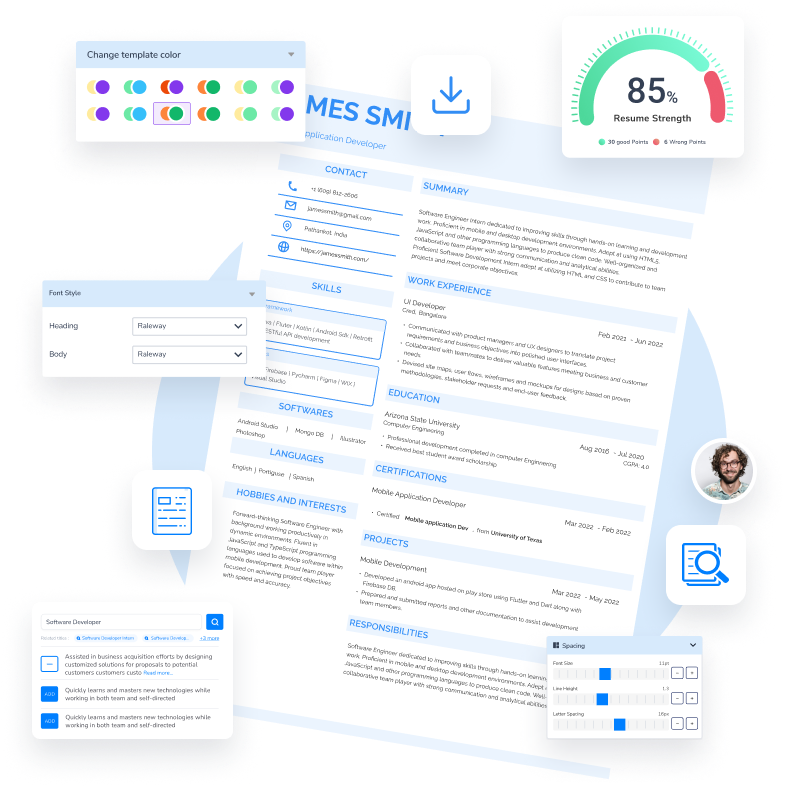 Build your resume in 10 minutes
Elevate your interview chances with our Modern Resume Templates that follows the exact 'Resume Rules' that employers look for.
Try Now for Free!
Build Your Resume
Excellent
4.8
out of 5 on
TrustPilot