Build HyreSnap Resume For Free In 5 Minutes!!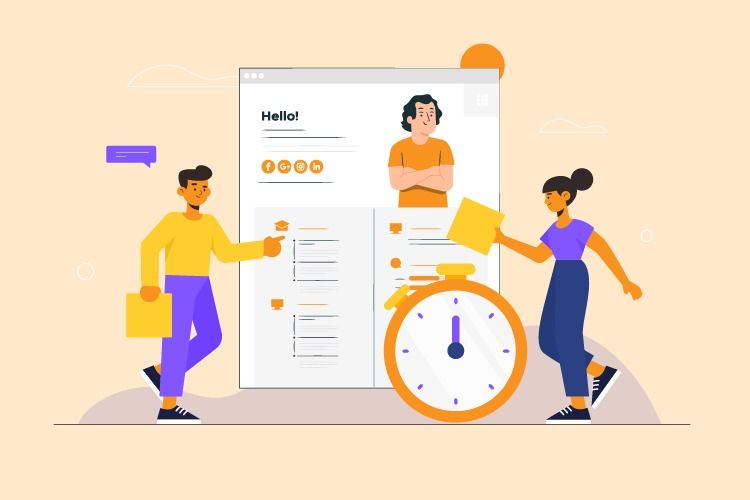 Getting an interview is a race against time—dozens of applicants have already submitted resumes for your ideal job.
Hence, a resume can be the difference between a job-winning candidate and not getting an interview call. Often, it's not the contents of your resume that affect your chances but   the format and representation. 
This is where HyreSnap resume builder comes in: we have huge collection of resume templates that have been researched by top HR professionals thoroughly, with industry standards and compatible with Application Tracking System (ATS). 
Also Read: Best Examples For Soft Skills In Resume
To increase your chances of getting through the ATS (Applicant Tracking System), have a look at the following resume templates and sign up at HyreSnap to use them in your next job application!
The Resume Heading
The resume's heading should include not just your name, email address, and mobile phone number, but also your LinkedIn or other professional community address, as well as the address of your website or blog, if you have one.
Be aware that any recruiting manager will undoubtedly enter your name into the Google search field. Conduct your own search to see if you can optimize your own results or at least adequately mask any immature errors of judgement.
Hiring managers typically conduct a pre-selection of prospects before deciding which to bring in for an interview.
Personal information such as your name and contact information should be listed on your CV in an easy-to-read and easy-to-find format so that they can contact you.
However, deleting those or structuring them incorrectly can immediately remove your chances.
Furthermore, many firms maintain records of all past employment candidates. Having your personal information appropriately listed might assist hiring managers in contacting you for any future potential employment openings.
Your name, job title, email, website and other personal details are necessary for your employer to gauge where you might be able to work, what kind of work you did before, as well as give the recruiters an opportunity to do a background check, so it's always better to double check this section.
Lucky for you, HyreSnap resume editor has already listed all the important details, and also has the option to add more if you want!
When applying for a new job, you might be wondering if you should add a summary section in your resume. 
A summary in resume section might help you emphasize your professional achievements and demonstrate how you gained transferrable abilities from unrelated positions.
Understanding when to include this part in your resume will help you provide a hiring manager with the information, they need to establish your capabilities.
When you have several years of experience in your profession and want to illustrate a similar theme across your responsibilities, it is vital to add a summary section in your resume. 
For example, a computer programmer with 11 years of industry experience may write, Computer programmer with over 10 years of experience. JavaScript, HTML, and CSS expert with a specialty on single-page applications. 
Consider spending more time discussing your job duties in later portions of your resume if you are still relatively new in your sector or have career gaps.
Use HyreSnap summary recommendations for over 10,000 job titles to build your resume, make your first impression impactful, and fast-track the process!
In the skills section of your resume, you can show employers that you have the skills they need for the job. Employers often pay close attention to this section to decide if they want to move on to the next step in the hiring process.
HyreSnap guides you through opting skills which otherwise you might miss on your resume.
One of the most important and often hardest parts of a resume to get right is the part about work experience. Some employers will even skip over the summary at the top of a resume and look at the employers, job titles, and dates of work to see if the resume is worth reading in detail. 
The work experience or job history section of a resume is where past job descriptions and professional experiences add credibility to an application or interview.
All of the other information and sections on a resume, from hobbies to a personal statement, surround the list of relevant work experience from the last 10 to 15 years.
So, how do I write about my past jobs on a resume?
Do not worry!! Mention your past work experiences using Hyresnap suggestions tailored to the respective job types:
Note: for multiple job experiences, you can also click +Add Jobs to make your resume more attractive :)
Putting your education on your resume is important because it helps potential employers get a picture of how qualified you are for the job.
Some jobs may even require a certain degree, and the best place to show that you have it is on your resume.
There are different ways to format your education section, depending on how much work experience you have and what information is most relevant to the job you are applying for. 
HyreSnap makes it super easy in filling above information. Fill in your education details, and add a summary with the help of AI suggestions:
You might sometimes want to add information about yourself that doesn't come from your education or work history. 
For example, you might want to add that you're fluent in more than one language, that you coordinated or ran a special community project, or that you have tech skills that aren't part of your work history.
So how do you put extra skills and details on your resume? 
HyreSnap has got your covered for this as well. Add any additional information easily with AI pro suggestions.
The projects on your resume show what you can do. They help the employer decide if you are the best person for the job. If you show them well, you may have a better chance of getting hired.
It's important to choose the information you put on your resume carefully because it helps you meet the employer's needs and increases your chances of getting hired. You can make a list on your work projects, academic projects and personal projects.
With our resume builder, add projects that you may have done, to improve your chances of getting selected!
In the job description section of your resume, you list your previous jobs, projects, volunteer work, and other professional experiences that are relevant to the job you are applying for. 
The goal of the section on your resume that talks about your work history should be to show the hiring manager that you have the skills and experience to do your job well. 
This means that you should focus on what you've done, such as the official job description or information about the company.
Use HyreSnap AI tool to match job descriptions with ease, and increase your chances of getting hired !!
Once you go through all the necessary sections and steps guided by HyreSnap resume builder, its time to wrap things up by looking at resume score. 
Check your hyreSnap resume score and use the suggestion tools to improve further, if there are any shortfalls.
HyreSnap AI Tool has got your back. Our AI Engine extracts the keywords from the job description and automatically includes them in your resume within minutes. 
Not only that, it helps you present your skills and accomplishments in an optimal manner that matches the job description. 
We also provide you with a job search option where you can easily find jobs that match your resume in any city of your choice.
Our resume formats are ATS friendly and approved by more than 40 HR experts. We make your resume-building process easy and efficient. You can write your job-winning resume in just fifteen minutes. 
Also Read :
How To Make Resume With Business Development Skills
How To Mention Skills On Resume
How to make resume for business analyst
Build your resume in 10 minutes
Elevate your interview chances with our Modern Resume Templates that follows the exact 'Resume Rules' that employers look for.
Try Now for Free!
Build Your Resume
Excellent
4.8
out of 5 on
TrustPilot