Resume Scan by HR: 7 Pro Tips To Stand Out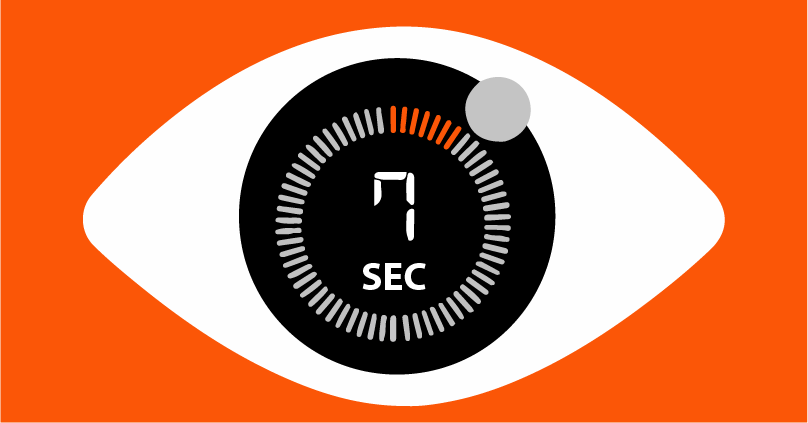 Do you know, the top fortune 500 companies receive up to 2 million job applications every year?
That means, even if your resume passes the ATS (Application Tracking System), it still has to go through mighty HR. 
With thousands of resumes to go through, how does HR select candidates for an interview? 
The answer is simple. In the 2018 Eye-Tracking Study, it was found that the time HR spends on the initial screen of a resume is 7.4 seconds.
That means that you have only 7 seconds to stand out from the rest of the fish in the job recruitment pound. But the question is how to capture HR's attention?
How to show them you are best for the job? Don't worry, here are 5 pro tips that will help you stand out as the best candidate for the job.
The HR goes through your resume in 3 scans. If your resume fails even one of the three scans, you will get rejected even before 7-seconds are over! So, to get all the scans right, let's break them step by step.
HR professionals use a process called resume scanning, also known as applicant tracking system (ATS) screening, to review and evaluate resumes submitted for job applications. 
This process is designed to quickly identify the most qualified candidates for the job while filtering out unqualified or irrelevant applications.
Here are some common steps that HR professionals follow when scanning a resume:
Keyword scanning
HR professionals use an ATS software to scan resumes for specific keywords related to the job requirements. This helps them identify candidates who have the relevant skills and experience needed for the job.
Education and experience
The HR professional checks the education and work experience sections of the resume to ensure that the applicant meets the basic requirements for the job.
Formatting
The HR professional also checks the formatting of the resume to ensure that it is easy to read and follow. This includes checking for clear headings, bullet points, and well-organized sections.
Professionalism
The HR professional checks for overall professionalism in the resume, including proper grammar, spelling, and punctuation, and ensures that the resume is free of errors.
Additional skills and qualifications
The HR professional may also look for any additional skills or qualifications that may set the candidate apart from other applicants.
Relevant accomplishments
HR professionals may also look for specific achievements and accomplishments that demonstrate the applicant's abilities and potential value to the organization.
Overall, HR professionals scan resumes with the aim of identifying the most qualified candidates for the job, based on the job requirements and qualifications. 
It is important for job seekers to carefully tailor their resumes to each job they apply for, ensuring that they include relevant keywords and highlight their most relevant skills and experiences.
This is the most important scan as they filter out most candidates here. 
Let's dive deep in to these points.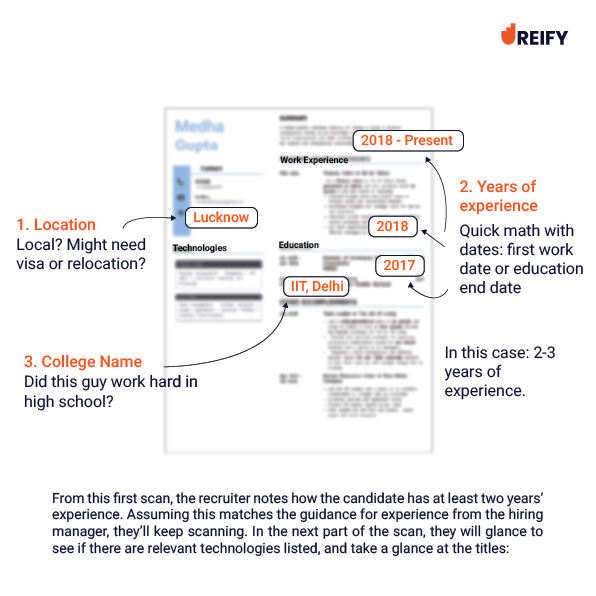 Relevance of the Candidate As per Job Description 
The most important thing HR will see is your Job Title. What are you applying for? 
Imagine, if you are applying for a python developer job and in your resume, you write data analyst, what do you think the HR will do?
They will reject your resume after reading just that single line. Hence, writing the relevant job title in your resume is important.
It can be hard to figure out how many years of experience you should put on your resume. 
You may want to list all the skills you've learned in your career or schooling, but it may be better to only list the skills and professional experience that are relevant to the job you're applying for. 
Even if you only have your education to show how you've grown, you can still find the right number of years of experience to list.
The HR will do a quick math to check if the years on your resume match with the years of experience they sent out in job requirements. 
So make sure the years are easily visible on your resume and written in chronological order. Remember to use the right format for writing the date, i.e. MM/YYYY.
This point might not look that important but can be the reason you might get rejected. 
The location or where you are living matters a lot in case the job is out of station. Let's take this example, you live in Chennai and the job is in Delhi.
The HR will reject your resume because why are you applying for a job that is geographically impossible from your current location. 
The trick is to mention willing to relocate in your resume. So that the HR knows that you are going to come to Delhi if you get the job.
As a fresher, one of the most important points in your resume will be the college name and your GPA. If you have graduated from a national level institute, flaunt it. 
Your resume is like an advertisement, where you convince HR how you are the best candidate for the job.
If you keep in mind the above points, you will easily pass the first scan. In the next scan , the HR will look for important points, like the Skill Section and work experience.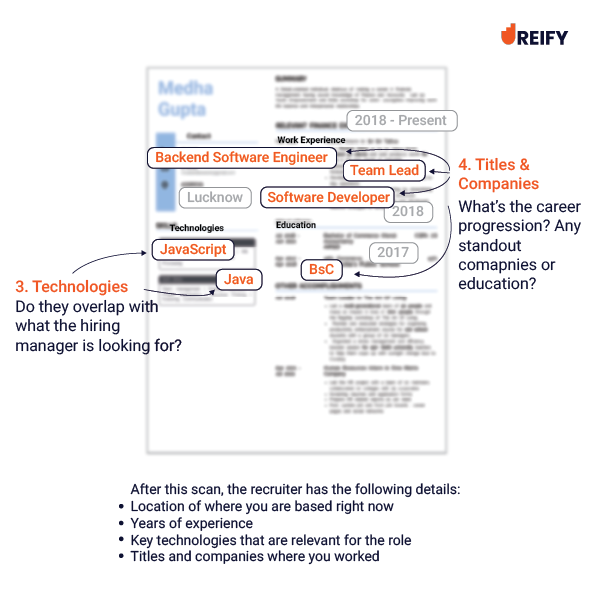 Are you talking about the right skills for the job, or are you boring the HR manager with information that has nothing to do with the job?
Skills are the most important requirement for any given job.
The person in charge of hiring people for the software development team doesn't care at all about how good you are at marketing.
But what they really want to know is how good you are at Python and how well you get along with the rest of the team.
So, you must have been wondering if there are some skills that every hiring manager would want to see on a resume before making a short list. 
They are, in fact, a mix of hard and soft skills. You would want to list both of them.
If you are a graphic designer, how can you say you are one? You must have some skills, know some software to prove that you are a graphic designer? 
You will mention knowing software like Photoshop, InDesign, Illustrator, Corel draw, Blender, 3d max, AutoCAD etc. You must have knowledge of EODs & PODs, Colour theory etc. to say that you have knowledge of design.
Remember, the skills that you mention should match the job description, that way the HR will know you are the right candidate for the job.
The next thing they will look for in your resume is your work experience.
If you are even qualified enough to work for the job. How can you say that you know a given skill? Do you have experience to back your claims? 
For example, the job description says that the company wants a candidate with at least 5 years of experience and you don't mention your work experience in your resume, even after having it. What do you think will happen?
You will be rejected on the spot, even after having the right qualifications for the job. Therefore, having the right work experience that matches the Job description is important. 
The last and final scan. If you make it through here, chances are you will land an interview. But before you get that, you must pass this final exam. Lets look into this now.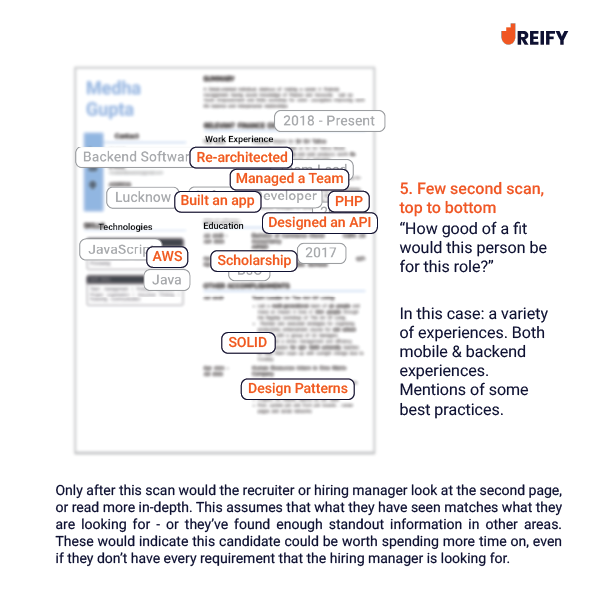 You know how empty words and promises hold no value? 
If you back your accomplishments with Impactful statements, not only do you give a backbone to your claims, they make you stand out from the crowd. You tell, who will the HR hire? 
A person who writes I have exceptional leadership skills or someone who says selected first out of 230 participants for exceptional leadership skills. 
The latter obviously stands out and sounds better. Therefore, it's important to write impactful statements to support your claims in your resume.
Keeping in mind all this can be confusing. But don't worry, HyreSnap has got your back. 
Also Read: Job Winning Resume 
Our AI Engine extracts the keywords from the job description and automatically includes them in your resume within minutes.
Not only that, it helps you present your skills and accomplishments in an optimal manner that matches the job description. 
We also provide you with a job search option where you can easily find jobs that match your resume in any city of your choice. 
HyreSnap resume formats are ATS friendly and approved by 40+ HR experts. 
We make your resume-building process easy and efficient. You can write your job-winning resume in just fifteen minutes.
Use HyreSnap resume builder to make your perfect resume now.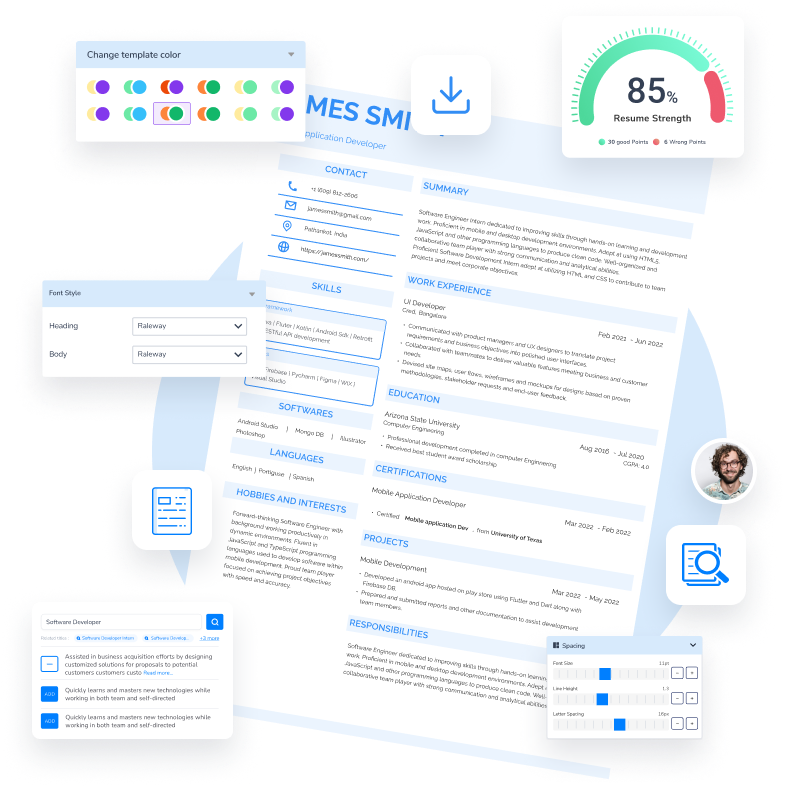 Build your resume in 10 minutes
Elevate your interview chances with our Modern Resume Templates that follows the exact 'Resume Rules' that employers look for.
Try Now for Free!
Build Your Resume
Excellent
4.8
out of 5 on
TrustPilot