Job Winning Resume: Quick 7 Tips in 7 Mins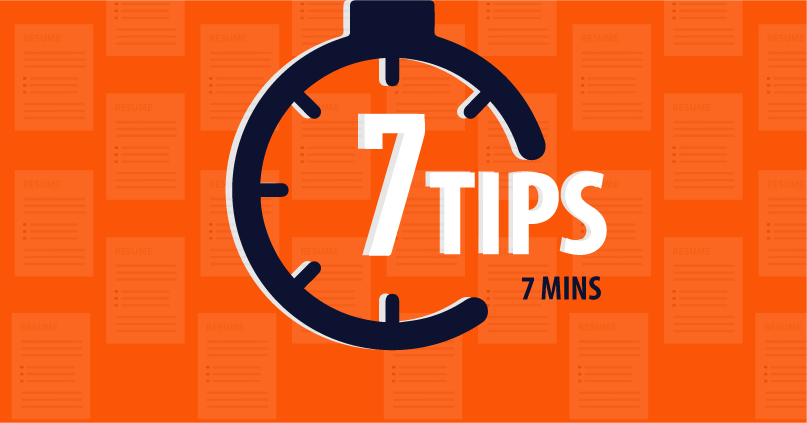 Are you tired of not getting call backs or interview calls?
Do you know on any average about 250 people apply for a given job. That means your resume should be the best out of these 250 people.
Not only that, your resume must showcase you as a dedicated, passionate employee, the company must have. 
Writing a good resume is one of the hardest parts of looking for a job. We look through dozens of articles and compare different pieces of advice to figure out what to do.
One article says "maximum of one page," while another says "use two or three pages and include everything you've done."
Another article says, "Write a quick summary that shows off your personality and experience," while another says, "Summaries are a waste of space."
You do your best, click "Submit," and send your resume. Then you wonder what went wrong when you don't hear back.
It stinks to write a resume, but that's not your fault!
The real reason it's so hard to write a resume is that most of the advice out there hasn't been tested against the end goal of getting a job. If you don't know what always works, you can't come up with a plan to get there.
When you've seen it happen a few times, it's easy to say that "one page works best." But how does it compare when we look at 100 resumes from different industries, job titles, and levels of experience?
Making a good resume sounds difficult, right?
Don't worry, here are 7 quick tips that will help you make a good resume in just 7 minutes
The first and foremost thing you write on your resume are your personal details. But most applicants either don't fill it properly or just simply ignore it. 
But here is the thing, you need to mention details like your phone number and email address so that the recruiters can get in touch with you.
The next important thing you cover in this section is Location. Do you know, it's one of the first things HR looks for in a 7sec scan? 
The location or where you are living matters a lot in case the job is out of station. Let's take this example, you live in Chennai and the job is in Delhi. 
The HR will reject your resume because why are you applying for a job that is geographically impossible from your current location. 
The trick is to mention "willing to relocate" in your resume. So that the HR knows that you are going to come to Delhi if you get the job. 
Do you know, resumes that have links to LinkedIn profile, Behance Profiles or Github have a higher chance of scoring an interview. 
But only 48% of people put them on their resumes? Be smart, share your personal projects on social media outlets such as  LinkedIn ,Behance , Pinterest or Instagram and showcase your network, following and work to your recruiter.
Yes, getting a degree and a diploma from a good college/ university is important but it is not enough. What really matters at the end of the day are your accomplishments and work experience.
Let's say there are two applicants for a position of fashion designer, one has been winning awards as best upcoming fashion designer in 3 years whereas the other has no award, whom do you think will get hired? 
The candidate with more accomplishments of course. Therefore, while writing your resume make sure you highlight your work experience properly in a reverse chronological order. 
Put your accomplishments in bullet points and remember to mention the duration of work. Last tip before we move to the next point, while writing accomplishments, give a numerical proof or value to validate the importance of that accomplishment.
Nothing shouts more unprofessional, than bad grammar and typos. Not only does it reflect poorly on you but also shows that you made your resume in a hurry and didn't spend much time on it. 
Do you know, 93% of resumes have a typo. 
So before submitting your resume just quickly run it through software such as Grammarly. This way you can avoid making a fool of yourself and have better chances of getting the job. 
Contrary to popular belief, having your picture in your resume (unless the Job Description asks for one) is a bad idea. 
We all agree that it should be your qualifications and skills that should get you a job, not your appearance. But in the end, we are all humans. 
Having your picture can create unwanted bias in the recruiter's mind. They might not like the way you look or judge you on your appearance.
Even if they find you good-looking, they might think you are a party animal and not interested in hard work.  It's better to avoid a situation like this. Hence avoid putting your picture while writing your resume.
Most of the companies today use a software called ATS, to streamline their recruitment process. Do you know about 80% of the applicants are directly rejected by the ATS, this means these resumes never even reach the HR's eyes. Therefore, having an ATS compatible resume is important. 
But here is a thing, ATS, can't read in formats other than PDF and word document. That means, if your resume is in JPG, PNG or any other format, you will directly get rejected. Hence always send your resume in PDF formats. 
Do you know, HR will scan through your resume in just 7 seconds. If the required information isn't visible at first glance, they will just throw your resume in the rejected pile. 
That makes the template of your resume almost as important as the contents in it. Therefore, using a good resume template is important.
As we saw earlier, about 250 people apply for a job. Do you think if you send a 4-page long resume, HR will look into it? No, right.
They don't have the time to go through your whole biodata. Do you know most of HR's schemes through a resume in just 7 secs. If your resume is long, they won't give you more time, they will simply reject you. 
It's important to highlight key skills and relevant experience in your resume. Not only that, remove information that is not relevant. You want the right information to be visible at the first glance. So always try to keep your resume up to two pages.
Hopefully this helps make your resume look professional in no time. But keeping in mind all this can be confusing. But don't worry, HyreSnap has got your back. 
Also Read: How to Make Resume Without Experience
Our AI Engine for Resume extracts the keywords from the job description and automatically includes them in your resume within minutes. Not only that, it helps you present your skills and accomplishments in an optimal manner that matches the job description. 
We also provide you with a job search option where you can easily find jobs that match your resume in any city of your choice. Our resume formats are ATS friendly and approved by more than 40 HR experts. 
We make your resume-building process easy and efficient. You can write your job-winning resume in just fifteen minutes. Use HyreSnap resume builder to make your perfect resume now.
Build your resume in 10 minutes
Elevate your interview chances with our Modern Resume Templates that follows the exact 'Resume Rules' that employers look for.
Try Now for Free!
Build Your Resume
Excellent
4.8
out of 5 on
TrustPilot