How to Build Professional Resume For Application Developer in 2023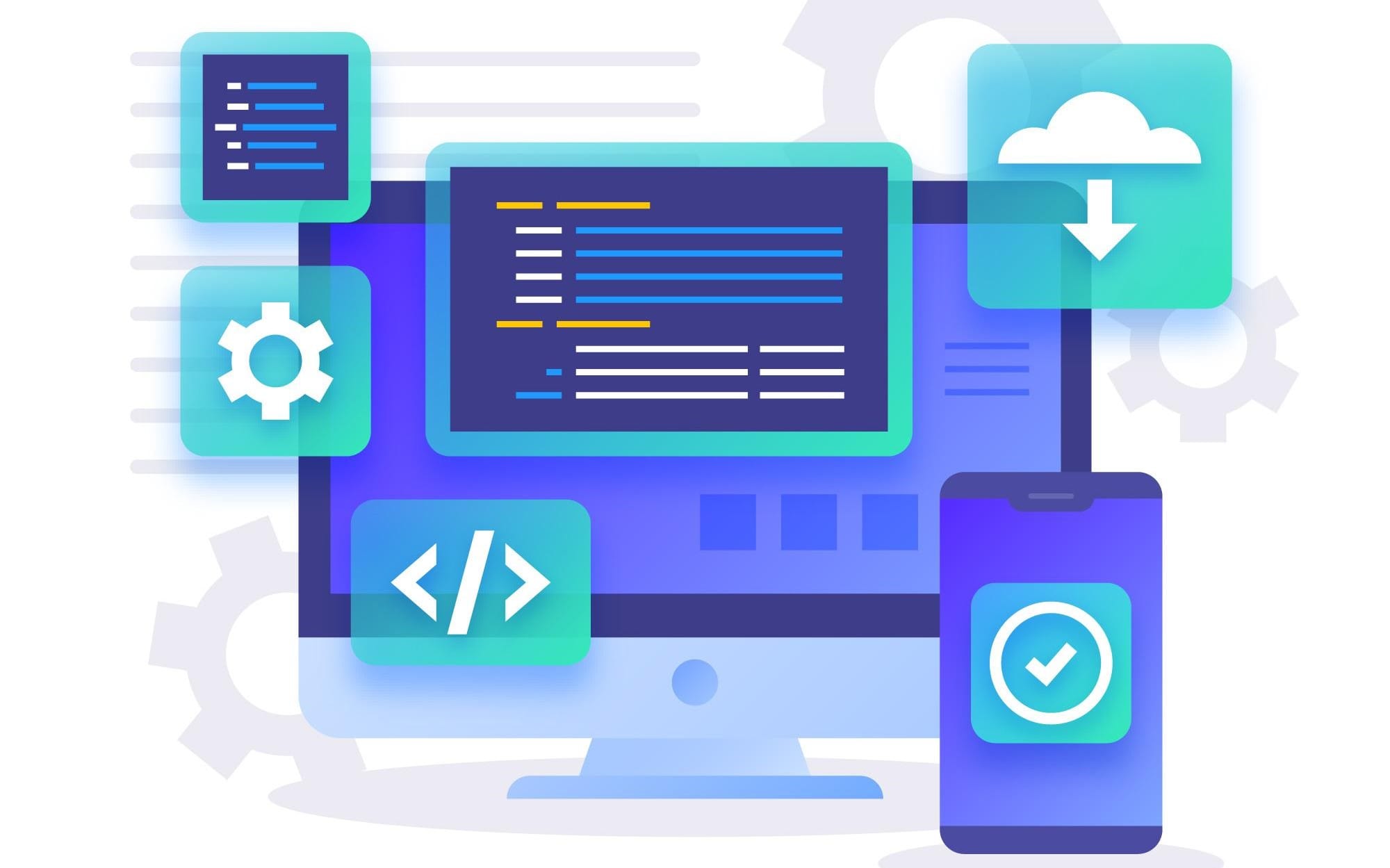 You are on this page means you are looking for some guidance to build a professional resume for application developer jobs in 2023.
Software development is one of the rapidly growing sectors in India, and application development is a great part of it. 
According to Statista, the revenue generated by Indian application development companies is projected to grow up to $1.97bn in 2023 and $3.18bn by 2027.
The figures point to numerous new openings for application developers across the country. Here, you will get all the answers to your resume-building queries, which include:
What are the responsibilities of an application developer?

How do I write a resume for an application developer?

What should an application developer resume include?

What skills do you need to become an application developer?
Also Read:
Resume For Software Tester Fresher
Resume For Java Developer Fresher
Though there are numerous professional resume templates available online, you can build a job-winning resume without expert guidance. Here comes the role of HyreSnap Resume Builder, an AI tool that can help you build a technically strong resume without wasting much time.

If not, you can also stick to this page and learn how you can build a professional application developer without any hurdles.
An application developer is responsible for designing, building, and maintaining software applications. Their job involves the following roles and responsibilities:
Overall, an application developer plays a critical role in the development and success of software applications. They must possess strong technical skills, be detail-oriented, and be able to work collaboratively in a fast-paced environment.
Building an application developer resume can be tricky as you need to be concise, professional, and elaborative at the same time.
You need to showcase your skills, abilities, technical knowledge, and strength in an easy-to-read format.
Considering this, we have picked three widely used resume formats that you can use to build your next application developer resume in 2023:
As its name suggests, it is one of the most commonly used resume formats across the globe. It lets you showcase your professional details in a reverse chronological manner, with the latest being at the top.
Many professionals face career gaps in their professional journey. This skill-focused resume format is designed for those professionals only.
It emphasizes more on skills than professional experience. Hence you can just mention skill titles and your expertise below that instead of your professional experience. 
This resume format is a combination of both functional and reverse chronological resume formats.
It allows you to club similar points under a skill heading in the professional experience section. This resume format makes the resume more appealing and technically strong to make its users stand apart from the crowd of other candidates.
Your application developer resume will not give your desired results if not framed properly. Hence, we are listing some highly-effective steps that can help you write a professional application developer resume in 2023:
You can start by opting for a professional resume format suitable to your professional position. You can choose from any of these below-given resume formats to start writing your application developer resume:
After that, you can outline your resume and add all the required sections to your application developer resume. 
After the outlining process, you can start writing the details in every section except the resume summary/objective. We recommend writing a resume summary after writing every other section of the resume.
Most companies worldwide are using ATS to filter unqualified resumes at the screening round. Hence, your application developer resume needs to be technically strong enough to prose through the ATS round.
 
The most effective technique to get through the ATS is using technical terms and profile-centric keywords throughout your resume.
 
You can check the job description to pick these keywords and add them to your application developer resume.
Write an eye catchy resume summary after going through every other section of your application developer resume. You can follow these below-given points to write your resume summary in 2023:
Highlighting technical keywords and important metrics throughout your resume, except the resume summary/objective, will help you clear the ATS screening round.
Moreover, highlighted keywords will also grab the recruiter's undivided attention, which will eventually increase your shortlisting chances during the recruitment process.
After writing the entire application developer resume, you must proofread it twice before using it for any job application.
Everyone makes general mistakes like spelling and grammatical errors while writing a resume. Hence, you must ensure your resume is error-free to make a good impression on the recruiter in your next hiring process.
You will need to add all the essential resume sections in your application developer resume to make it professional, technical, and ATS-friendly.
Here are the key sections that you can add to your application developer resume:
Note: You should write all your resume details in bullet points instead of long paragraphs to improve readability. Only your resume summary/objective must be written in paragraph form. Recruiters do not spend more than 10 seconds to screen a resume, and writing your details in bullet points will make it easy to read without affecting professionalism.
You can minimize your resume-building time and efforts with the help of HyreSnap. It is an AI-based tool that can build a professional application developer resume in just a few clicks.
HyreSnap Resume Builder analyses millions of resumes and uses its AI algorithm to build a unique and recruiter-friendly resume for your next recruitment process. 
You can dodge the entire process by using HyreSnap Resume Builder. It comes with an effective AI algorithm and expert assistance to frame your next application developer resume.
 
For detailed career assistance, you can always mail us at contact@hyresnap.com. Our experts will be happy to help you get your next job.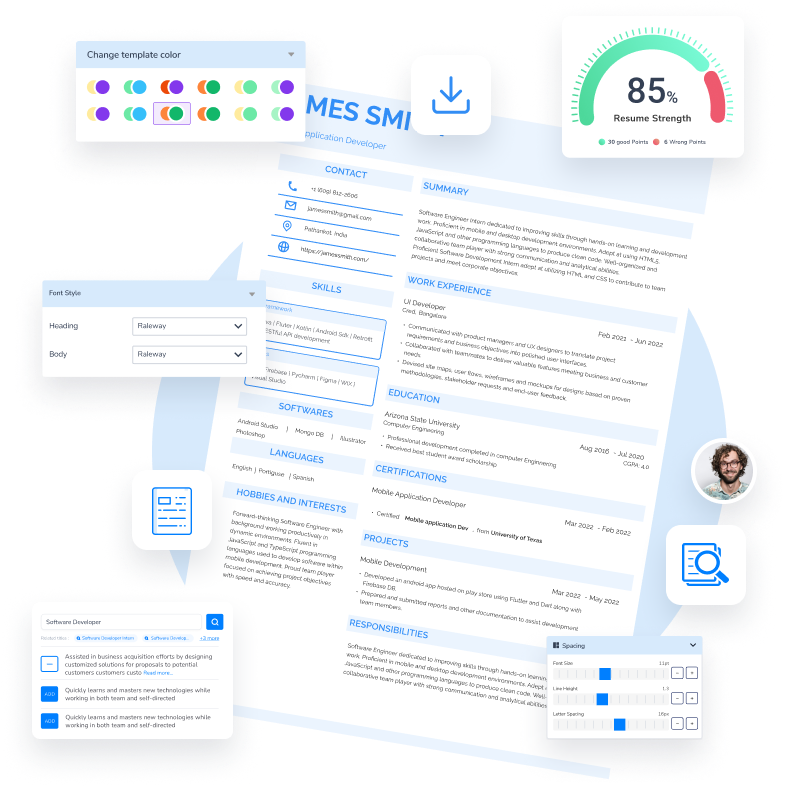 Build your resume in 10 minutes
Elevate your interview chances with our Modern Resume Templates that follows the exact 'Resume Rules' that employers look for.
Try Now for Free!
Build Your Resume
Excellent
4.8
out of 5 on
TrustPilot