Teacher Resume: Format, Example, Skill, Objective & Guide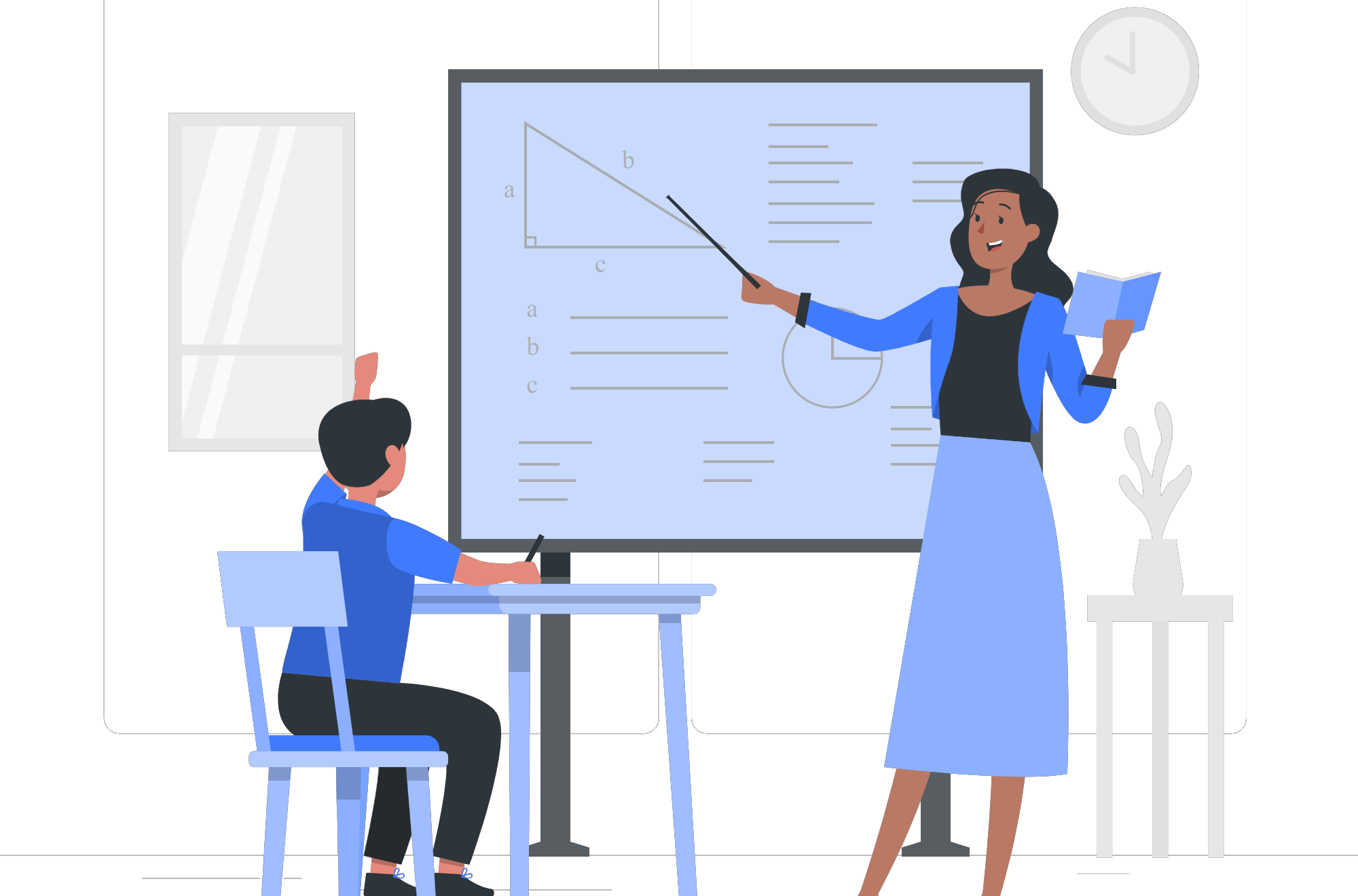 How to build a professional resume for teachers?

You have landed at the right webpage if you are seeking answers similar to this question. Teaching is a noble profession, and considering the rising Indian population, teaching is one of the most demanding professions across the country.
A strong professional teacher resume with all academic details and achievements is needed to earn a job as a teacher.

Hence, we are here to help all aspiring teachers build a professional teachers resume for their next job hunt. Here we are answering the fundamental teacher resume-building questions, including:
What are the responsibilities of a teacher?

What resume formats can you use to build a resume for teachers?

How to build a resume for teachers?

Is a cover letter important with a resume for teachers?

How to become a teacher in India?
Resume building is not an easy process to deal with. Being a teaching aspirant, you might feel it more difficult compared to any other technical aspirants. Hence, we recommend using HyreSnap Online Resume Builder to simplify the process.
If you want to do it all by yourself, stick with the guidelines given below:
A job description can play a big role in enhancing the technical strength of a teacher's resume. You can read the job description calmly, understand all the job requirements, and pick profile-centric keywords to use while building your resume.

Below you can see an example of the job description for teaching opportunities in India:
Teacher Resume Job Description Example:

We are seeking a highly motivated and qualified teacher to join our team of educators. The teacher will be responsible for creating lesson plans, delivering lectures, assessing student progress, and collaborating with colleagues to enhance students' learning experience. The successful candidate will have excellent communication and interpersonal skills, a strong passion for teaching, and a deep understanding of the Indian education system.
Key Responsibilities:
>Design and implement lesson plans that align with the curriculum and meet students' individual learning needs.
>Deliver engaging lectures and facilitate active learning in the classroom.
>Assess student progress through regular testing and evaluations.
>Provide constructive feedback to students to help them improve their academic performance.
>Collaborate with other teachers and staff to enhance the learning experience of students.
>Participate in school events, parent-teacher conferences, student orientation, and extracurricular activities.
>Create and maintain a positive and safe learning environment for students.
>Keep up-to-date with new teaching methods and educational technologies.
>Adhere to school policies and procedures.
Qualifications:
>Bachelor's/Master's degree in Education or a relevant subject.
>Minimum 2-3 years of teaching experience in a recognized school or institution.
>In-depth knowledge of the Indian education system and curriculum.
>Excellent communication and interpersonal skills.
>Strong organisational and time management skills.
>A passion for teaching and a desire to help students achieve their full potential.
>Ability to work collaboratively in a team environment.
If you meet the above requirements and are passionate about teaching, we encourage you to apply for this exciting opportunity.
The fundamental responsibilities of teachers in India are to provide students with high-quality education and facilitate their intellectual, emotional, and social development. Some of the key responsibilities of teachers in India are:
 
Designing and delivering lesson plans: Teachers are responsible for creating lesson plans that align with the prescribed curriculum and meet students' individual learning needs.
Assessing student progress: Teachers need to regularly evaluate their students' academic progress through tests, exams, and other assessment methods. They should provide constructive feedback to help students improve their performance.
Creating a positive learning environment: Teachers should create a welcoming and inclusive classroom environment conducive to learning. They should also maintain discipline and ensure the safety of their students.
Supporting students' emotional and social development: Teachers should focus on students' academic development and provide guidance and support to help students develop their emotional and social skills.
Collaborating with colleagues and parents: Teachers should collaborate with other teachers and staff to enhance students' learning experiences. They should also communicate regularly with parents to inform them about their child's academic progress.
Keeping up-to-date with new teaching methods and technologies: Teachers should be aware of the latest teaching methods and educational technologies and willing to incorporate them into their teaching practice.
Adhering to school policies and regulations: Teachers should abide by the rules and regulations of their school or institution and ensure that they provide education in accordance with the standards set by the government or educational board.
There are different resume formats that teachers can use in 2023, depending on their experience and qualifications. Here are three popular formats:
Chronological Resume Format
This format is the most common and is suitable for teachers with a consistent work history. It highlights the teacher's professional experience, starting with the most recent job and working backwards. It also includes the teacher's educational qualifications, skills, and achievements.
Functional Resume Format
This resume format is best for teachers who are changing careers or have gaps in their work history. It emphasises the teacher's skills and achievements rather than their work experience. It includes headings such as "Teaching Skills," "Educational Qualifications," and "Achievements."
Combination Resume Format
This resume format is a blend of the chronological and functional formats. It highlights the teacher's skills and achievements including their work history in reverse chronological order. This format is suitable for teachers who have a strong work history and want to emphasise their achievements and skills.
You can build a technically strong professional teachers' resume by following the guidelines showcased below:
Choose a Suitable Teachers' Resume Format
You can start your teacher's resume-building process by opting for a suitable resume format. Out of all the resume formats available online, you can choose from a chronological, functional, or combination format to craft your resume format for teachers in 2023.
Outline Your Resume With Essential Resume Sections
After opting for an appropriate teacher's resume format, you must outline your resume using every essential section heading like:
Add Teacher's Resume Details in Bullet Points
We recommend writing all your resume details in bullet points instead of long paragraphs. You can write only your resume summary in paragraph format in 4-5 lines maximum.
You can follow the below-given points to frame bullet points in your resume for teachers jobs:
Use Technical Keywords to Parse Through ATS Screening
Most companies and hiring managers use ATS to execute the initial resume screening process. Hence, we recommend adding profile-centric keywords throughout the teacher's resume to get through the ATS screening process.

You can use Google or the job description to get the most effective keywords. These two are the best measures to get profile-centric keywords for your teaching resume in 2023.
Highlight Key Metrics Throughout Teachers' Resume
Recruiters usually do not spend more than 10 seconds to screen a teacher's resume. Hence, it is important to highlight essential information throughout the resume so that recruiters can get them in a single glance.
Write the Teachers' Resume Summary After Completing Other Sections
As its name defines, a resume summary must summarise your entire resume details. Hence, we recommend writing the resume summary at the end of your resume writing process after completing every other resume section.
Proofread Your Teachers' Resume Twice Before Applying For a Job
Proofreading a resume is the final yet most important part of a teacher resume-building process. It will help you eliminate small grammatical and spelling mistakes throughout your resume.
Hence, we recommend proofreading your teacher's resume twice before applying for a teachers' job in 2023.
You can refer to the below-given example to build a professional resume for teachers jobs in 2023:
 
KANISHKA SETHI
kanishka@hyresnap.com
+91-9898989898
CAREER OBJECTIVE:
To obtain a teaching position in a reputed school that will allow me to utilise my teaching skills and experience for the benefit of students.
SKILLS:
Excellent communication and interpersonal skills
Strong classroom management skills
Proficient in using technology in the classroom
Ability to create engaging and effective lesson plans
Strong organisational and time-management skills
TEACHING EXPERIENCE:

ABC International School, Bengaluru, Arts, [2022-Present]
Plan, prepare, and deliver lessons that cater to the needs of diverse students
Use a variety of teaching strategies to engage students and promote active learning
Assess and evaluate student progress and provide constructive feedback to students and parents
Collaborate with colleagues and participate in school-wide activities and events
ABC Higher Secondary School, Bengaluru, Arts, [2020-2022]
Developed and implemented lesson plans that aligned with the curriculum and learning objectives
Created a positive and inclusive classroom environment that encouraged student participation and growth
Utilised technology and other teaching aids to enhance student learning and engagement
Conducted regular assessments and provided individualised support to students who needed it
EDUCATION:
Bachelor of Education (B.Ed.) from [Name of College/University], [2018]
Master of Arts (M.A.) in [Name of Subject] from [Name of College/University], [2018]
Bachelor of Arts (B.A.) in [Name of Subject] from [Name of College/University], [2016]
CERTIFICATIONS:
Certified Professional Teacher, GHI, 2020
Teaching Certification, JKL, 2019
LANGUAGES:
REFERENCES:
 
Available upon request.

 
Yes, a cover letter is important when applying for a teaching job along with a resume. 
It allows the candidate to introduce themselves, highlight their relevant skills and experience, and explain why they are the best fit for the job. 
A well-written cover letter can also demonstrate the candidate's passion for teaching and commitment to the profession.
A cover letter should be customised to the specific job application and school or institution. It should include the following:
Introduction: A brief introduction that includes the position applied for and how the candidate learned about the job opening.
Teaching Philosophy: A brief explanation of the candidate's teaching philosophy and how it aligns with the school's mission and values.
Relevant Skills and Experience: A summary of the candidate's relevant skills and experience, including any teaching certifications or qualifications.
Achievements: Examples of the candidate's achievements in teaching, such as innovative lesson plans, student success stories, or awards.
Closing: A strong closing statement that expresses enthusiasm for the position and includes the candidate's contact information.
 
A cover letter should be clear, concise, and free of spelling and grammatical errors. 
Teachers' Resume should also be formatted professionally, with a header that includes the candidate's name and contact information, and addressed to the appropriate person or department at the school or institution.
To become a teacher in India, you must meet certain educational and professional requirements. Here are the general steps to becoming a teacher in India:
 
Obtain a bachelor's degree: To become a teacher, you must have a bachelor's degree in education (B.Ed) or a related field, such as child development or psychology. The minimum educational requirement for becoming a teacher is a bachelor's degree.
Complete a teacher training program: To enhance your teaching skills and knowledge, you can pursue a teacher training program, such as a Diploma in Education (D.Ed) or a Master of Education (M.Ed).
Clear the Central Teacher Eligibility Test (CTET): The CTET is a national-level exam conducted by the Central Board of Secondary Education (CBSE) to assess the eligibility of candidates to become teachers. To become eligible for teaching jobs in government schools, it is mandatory to clear this exam.
Gain teaching experience: After completing your teacher training and clearing the CTET, you can gain teaching experience as a trainee teacher, assistant teacher, or guest teacher in schools.
Apply for teaching jobs: Once you have gained teaching experience, you can start applying for teaching jobs in schools, colleges, or universities.
In addition to these steps, keeping up-to-date with the latest teaching methods, technologies, and developments in the education sector is important. 
This can be done through attending professional development workshops, conferences, or online courses.
It is also important to note that the specific requirements to become a teacher may vary depending on the state or institution where you plan to work. 
It is recommended to check with the relevant authorities for the specific requirements and procedures for becoming a teacher in your desired location.
You can build a teachers' Resume with the help of online resume formats available. However, you will need to spend hours crafting an effective resume for teachers.
If you want to dodge all the resume-building hassles, try HyreSnap Online Resume Builder. It is a free resume-building tool powered by AI to help every job seeker save time while building a resume.
We have listed every essential and actionable resume-building point above that you can use to build a teacher's resume in 2023. However, if you missed anything, check out the key takeaways showcased below:
For additional career assistance or help in building your teachers resume,, contact us at contact@hyresnap.com. Our career experts will help you in every possible way to frame a prosperous teaching career.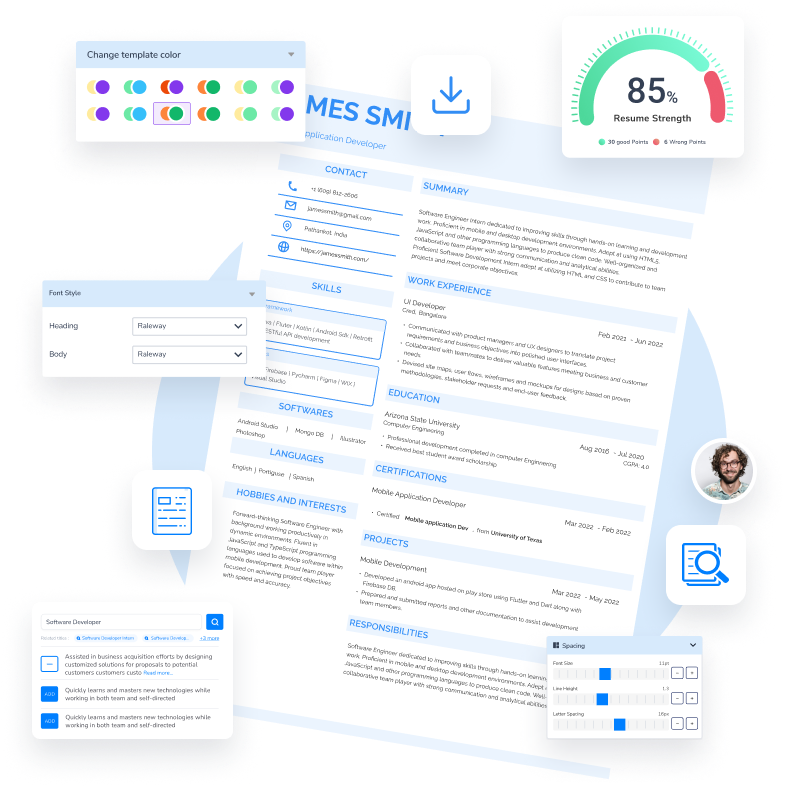 Build your resume in 10 minutes
Elevate your interview chances with our Modern Resume Templates that follows the exact 'Resume Rules' that employers look for.
Try Now for Free!
Build Your Resume
Excellent
4.8
out of 5 on
TrustPilot