Resume For BCA Fresher Jobs [10+ Tips & Tricks to Build]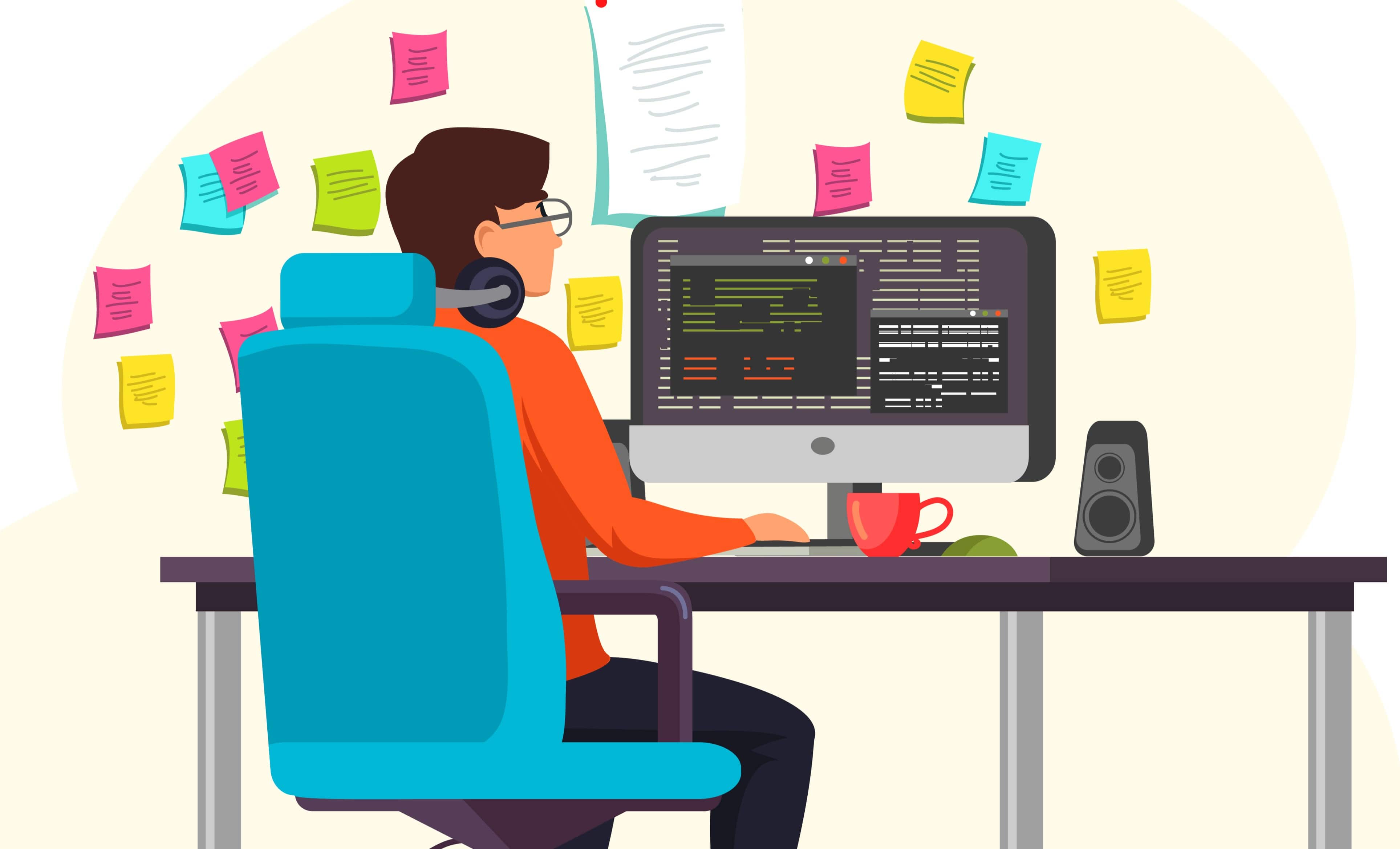 Are you building the resume for BCA Fresher Jobs correctly?
Let's find out…!!

Resume building is not an easy process as you need to spend time, research, and follow expert guidelines to craft a job-winning resume for BCA fresher jobs.
Considering you are a fresher, we are helping you enhance the professionalism of your existing resume and make it ATS-friendly to enhance the shortlisting chances.
Here, you will get answers to all the fundamental resume-building queries that include:
What are the suitable job profiles for a BCA fresher?

How does a job description benefit a BCA fresher?

How to build a resume for BCA fresher?
The answers to these questions will help you during the resume-building process. We have also listed an example resume for BCA fresher jobs below that you can refer to while building your BCA resume.
However, if you want to dodge all the hassle, check out HyreSnap Online Resume Builder. It is a powerful AI-based resume-building platform that crafts professional resumes in minutes.
For now, let's move on and check out the practical instructions to build a resume for BCA fresher jobs:
As a BCA fresher, you have a range of job opportunities available to you. The Bachelor of Computer Applications (BCA) degree equips you with the necessary skills and knowledge in the field of computer applications. Here are some suitable job roles for BCA freshers:
Software Developer/Programmer 
As a BCA fresher, you can start your career as a software developer or programmer. You can work with programming languages like Java, C++, Python, or .NET to develop software applications, websites, or mobile applications.
Web Developer
With your knowledge of web development frameworks and languages such as HTML, CSS, JavaScript, and PHP, you can pursue a career as a web developer. You will be responsible for designing and developing websites, creating user interfaces, and ensuring functionality and responsiveness.
Database Administrator
BCA graduates with a strong understanding of database management systems (DBMS) can consider a career as a database administrator. In this role, you will manage and organise data, ensure data security, and optimise database performance.
Network Administrator
If you have an interest in computer networks and networking protocols, you can explore opportunities as a network administrator. Your responsibilities would include maintaining network infrastructure, troubleshooting network issues, and ensuring network security.
System Analyst
As a system analyst, you will analyse business requirements and design solutions to meet those requirements. You will work closely with stakeholders, gather system requirements, and create technical specifications for software development projects.
Quality Assurance Analyst
BCA graduates can consider a career as a quality assurance analyst or tester. In this role, you will be responsible for testing software applications, identifying and reporting bugs, and ensuring the overall quality and functionality of the software.
Technical Support Engineer
You can work as a technical support engineer if you have strong problem-solving and communication skills. You will assist customers or end-users in resolving technical issues, provide troubleshooting guidance, and ensure customer satisfaction.
IT Consultant
BCA freshers with good analytical and problem-solving skills can work as IT consultants. You can provide expert advice and recommendations to organisations on improving their IT systems, optimizing processes, and leveraging technology for business growth.
Remember to tailor your resume and highlight relevant coursework, internships, or projects that demonstrate your skills and knowledge in these areas. Additionally, consider gaining practical experience through internships or certifications to enhance your employability in these job roles.
You can leverage the job description while writing your resume. A job description gives a clear insight into the company requirements and brings profile-centric keywords that you can add to your resume to enhance its technical strength.
Hence, we have listed an example job description focused on hiring a BCA fresher. Here you can see highlighted keywords to add to your resume if you are applying for this job. You must perform a similar activity to pick technical keywords from the job description.
Example Job Description for BCA Freshers
We are seeking a motivated and talented BCA fresher to join our organisation. As a BCA fresher, you will have the opportunity to apply your technical knowledge and skills in a professional work environment. You will work closely with experienced professionals to contribute to various projects and gain valuable hands-on experience in the field of computer applications. This position offers an excellent platform for career growth and development in the IT industry.
Responsibilities:
Collaborate with the development team to assist in designing, developing, and testing software applications.
Write clean, efficient, and maintainable code using programming languages such as Java, C++, Python, or .NET.
Assist in troubleshooting and resolving software defects or issues.
Participate in system analysis and design activities to gather requirements and create technical specifications.
Contribute to developing and maintaining database systems, ensuring data integrity and security.
Assist in the implementation and maintenance of computer networks and infrastructure.
Provide technical support to end-users by troubleshooting and resolving software or hardware issues.
Stay updated with the latest trends and technologies in the field of computer applications.
Document technical specifications, user manuals, and other relevant documentation.
Collaborate with cross-functional teams to ensure the successful completion of projects within the specified deadlines.
Qualifications:
Bachelor's degree in Computer Applications (BCA) or a related field.
Strong understanding of programming languages such as Java, C++, Python, or .NET.
Knowledge of web development technologies like HTML, CSS, JavaScript, and PHP.
Familiarity with database management systems (DBMS) and SQL.
Basic understanding of computer networks and network protocols.
Excellent problem-solving and analytical skills.
Strong communication and interpersonal skills.
Ability to work effectively in a team and collaborate with cross-functional stakeholders.
Self-motivated with a strong desire to learn and grow in the IT industry.
Attention to detail and a commitment to delivering high-quality work.
Note: This job description is intended to provide a general overview of the responsibilities and qualifications required for the position. The specific duties and qualifications may vary depending on the organisation and the nature of the projects assigned.
To build a highly impactful resume for BCA fresher jobs, you can follow these below-given instructions:
Choose a Suitable Resume Format
First, you will have to choose a suitable resume format. Out of all the resume formats available online, we are listing 3 widely used resume formats that you can pick based on your career progression:
Reverse Chronological Resume Format
This resume format lets you showcase your work experience in reverse chronological order, with the recent one at the top. This resume format is used by most job seekers worldwide.
Combination Resume Format

This resume format combines functional and reverse chronological resume formats. It is similar to the reverse chronological format with a change in the work experience section. The combination resume section lets you club similar work experience points under a specific skill heading.
Functional Resume Format
 
The functional resume format is designed specifically for professionals having a career gap. This resume format focuses more on your skills than your professional experience. 
Outline Your Resume With Essential Resume Sections
After choosing a suitable resume format, you must outline your BCA fresher resume by including all the important resume sections.

Here you can see the resume sections that you can add while building your resume for BCA fresher jobs in 2023:
Make Separate Sections to List Your Skills
Skills play a vital role during your resume screening round. The skills in your BCA fresher resume will also work as keywords that will help you parse through the ATS screening round.
Hence, we recommend adding your Key Skills and Technical Skills separately in your resume for BCA fresher jobs. Below are some skills that you can add while framing your BCA resume in 2023:
| | |
| --- | --- |
| Key Skills For BCA Freshers | Technical Skills For BCA Freshers |
| Problem-solving | Programming Languages (Java, .NET, PHP, C, C++) |
| Teamwork | Operating Systems (Windows, MacOS, Linux) |
| Analytical skills | Frontend Languages (HTML, CSS, JavaScript) |
| Management skills | Miscellaneous (MS Office) |
Write Effective Bullet Points For Work Experience Section
Recruiters do not skip checking out the work experience section in a resume. However, if you are a fresher, you can rename it to the Training & Internship section in your resume.
It is an essential section where recruiters pay most of their time during the recruitment screening process. Hence, we recommend writing this section as impressive as possible. For that, you can use one-liner bullet points to mention every detail in this section.
Here are some steps that you can follow to create impressive bullet points for your Training & Internship resume section:
Add Your Educational & Certification Details Separately
We recommend making separate sections to list your educational and certification details. To craft an appealing educational details section, you can add the following information to it:
Apart from this, add the following details in your certifications section separately:
Mention The Extracurricular Activities You Performed
This is not a profile-centric section. Howeerience being a fresher. You can add the following details to this section if you have, you can add it to enhance the diversity of your expert:
Make an Additional Information Section For Other Important Details
You can use this section to list every additional information relevant to the job profile you are applying for. Generally, professionals use it to determine the languages they know, i.e., English (Fluent), Hindi (Native), and German (Professional).
Write an Easy to Read Resume Objective/Summary
After writing every other section, you can attempt your resume objective/summary. It is the most important part of your resume hence you must pay keen attention while writing it. Below are some instructions for writing an attractive resume summary/objective:
Proofread With a Focused Mind
After completing your entire resume, we suggest you have a break and relax your mind. It is important as you need to be completely relaxed while proofreading your resume.
 
Proofreading is essential as it minimises silly mistakes that negatively affect your shortlisting chances.
Here you can see an example of a BCA fresher resume applying for a job in an IT firm. You can refer to this example while framing your resume for BCA fresher jobs in 2023:
Example Resume For BCA Fresher Jobs:
Avantika Saini
123 Main Street
City, State, ZIP
Phone: (123) 456-7890
Email: avantika.saini@hyresnap.com
Objective
Highly motivated and dedicated BCA graduate seeking a challenging position to apply my technical knowledge and skills in a professional work environment. Eager to contribute to the success of an organisation by leveraging my programming abilities, problem-solving skills, and passion for technology.
Skills
Programming Languages: Java, C++, Python
Web Technologies: HTML, CSS, JavaScript, PHP
Database Management Systems: SQL, MySQL
Software Development Life Cycle (SDLC)
Problem-Solving and Analytical Skills
Teamwork and Collaboration
Excellent Communication Skills
Attention to Detail
Projects
Online Shopping Portal (BCA Final Year Project)
 
Developed a web-based application using Java and MySQL for backend database management.
Implemented user registration, product catalog, shopping cart functionality, and secure payment integration.
Collaborated with a team of four members to design and develop the project within the specified timeframe.
Employee Management System
Created a desktop application using Java Swing to manage employee records, including their personal details, attendance, and salary calculations.
Implemented data validation and report generation functionalities for efficient record management.
Internship
Software Development Intern
XYZ Company, City, State
Duration: Month, Year - Month, Year
Assisted the development team in designing and coding software applications using Java and C++.
Conducted unit testing and identified and resolved software defects.
Collaborated with senior developers to enhance the user interface and improve application performance.
Education
Bachelor of Computer Applications (BCA)
ABC University, City, State
Graduation Date: Month, Year
Relevant Coursework:
Object-Oriented Programming
Data Structures and Algorithms
Database Management Systems
Certifications
Certification in Java Programming
Certification in Web Development using HTML, CSS, and JavaScript
Additional Information
Strong problem-solving and critical thinking skills demonstrated through academic projects and coursework.
Active participant in coding competitions and hackathons, showcasing the ability to work under pressure and deliver results.
Volunteer experience in organising technical workshops and seminars during college.
References
Available upon request
The above instructions and examples can lead you to an impeccable resume for BCA fresher jobs. However, you will need to spend a lot of time and research to complete it.
If you want to skip this entire process and get a job-winning BCA fresher resume, try HyreSnap Online Resume Builder. It is an artificial intelligence-backed tool that is capable of building a technically strong resume in easy steps.
Check out some highlighting features of this modern resume-building platform:
We have listed every essential guideline to build a professional resume for BCA fresher jobs above. Still, if you missed anything, check out the key takeaways below:
For additional career-building guidance, reach us at info@hyresnap.com. We are completely determined to help every job seeker frame a bright career.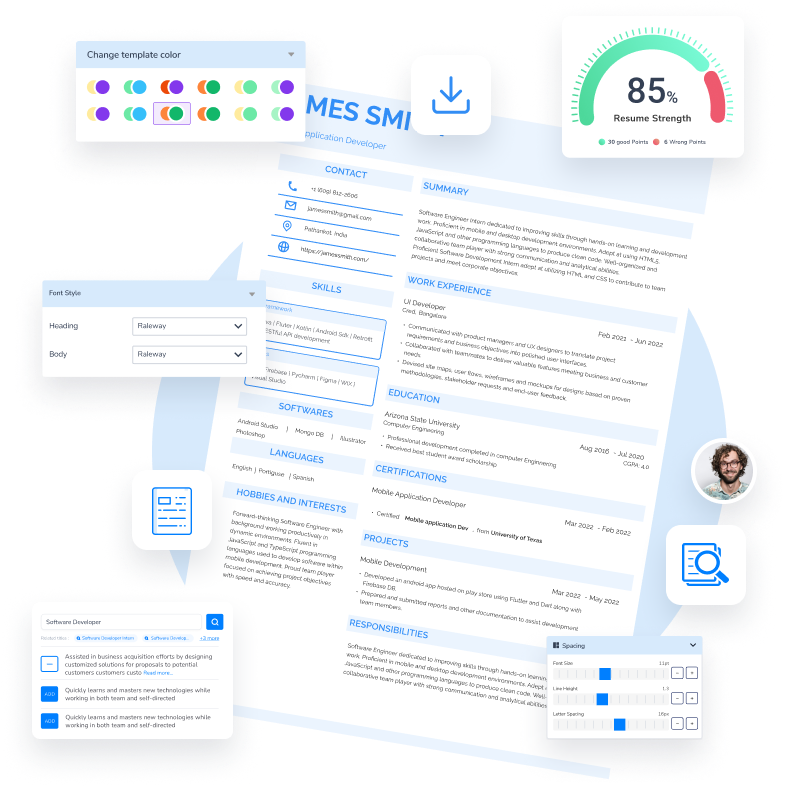 Build your resume in 10 minutes
Elevate your interview chances with our Modern Resume Templates that follows the exact 'Resume Rules' that employers look for.
Try Now for Free!
Build Your Resume
Excellent
4.8
out of 5 on
TrustPilot