Resume for Freshers: Best Ways To Write For Beginners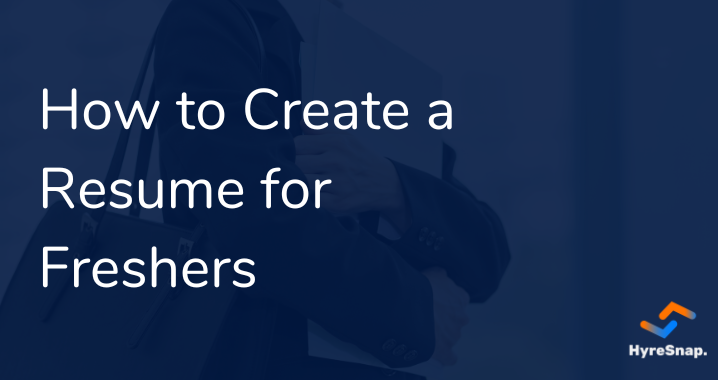 The thought of creating a resume from scratch is daunting to say the least, especially when you feel that you do not have the requisite years of work experience or expertise in corporate skills under your belt. 
Well, you don't have to let your lack of work experience hold you back from creating the perfect resume and we are going to show you how you can go about doing it.
As a fresher, the secret to ensuring your resume catches the eye of the hiring manager, lies in focusing on your technical/soft skills and achievements, which are relevant to the job description of the position you are applying for. 
So, with this in mind let us get started on the process of creating your resume.
In this article, you will learn all about, the best way to structure and create your resume.
Recruiters may spend up to seven seconds reviewing a resume.  A proper resume layout allows them to swiftly locate pertinent information.
Your resume will be discarded if the reader cannot immediately locate the information they seek. Whether or if you possess the essential qualifications is irrelevant.
Moreover, a well-structured CV demonstrates that you are organised. Therefore, take the time to improve on your resume format.
Right at the top of your resume, is where your personal details must be provided. The details you need to provide can be further subdivided based on the outlay of your resume, for example:
At the Header
Your Full Name: Provide Your Full Name in the header section.
Your Job Title – Being a fresher, you can enter the job title based on the position you are applying for with the addition of the word 'Aspiring'.
While the norm has been to include your address and photo, it is not recommended nowadays.
This is the very first segment of your resume body, and will work as an introduction to your skills and accomplishments. 
So, it naturally follows that your summary should be an attention grabber, and ensure that the hiring manager is compelled to read further.
To achieve this, there are three key aspects you need to keep in mind while writing the summary, namely:
Crispness – Long winded sentences will be a definite turn off for the hiring manager. So, it is essential to ensure that your summary is never more than 3-4 sentences long.
Relevance – Wondering how to make an impression within this constraint? Well, the answer lies in relevance. Go through the job description of the position you are applying for and make a note of the skills required for it.
Now, in your summary mention a couple of your skills which are the most relevant and critical for the said position.
Powerful Impact – Also mention any relevant accomplishments of yours while you were a student. This will definitely add more weightage to your summary and resume as a whole.
Your summer or semester internships can definitely count as work experience. You can highlight them in the following way:
Describe your role, the name of the organization and the period of internship. Focus on the responsibilities you handled as part of your role.
Highlight any significant achievements.
Education is one of the few essential aspects that companies search for on resumes. This information will enlighten interviewers about your background, which can help them determine whether you are a good fit for the position. 
This area may rapidly distinguish you from other candidates if your schooling is very relevant to the post or if it includes any qualifications that are required for the job.
In addition to your educational qualifications mention any specializations, extra credits or certifications that you have completed.
Highlight any scholarships, commendations for consistent high scores etc.
Listing all your skills under a dedicated 'Skills Section' in your resume is a good idea. It is an even better idea to ensure the skills stated are relevant to the position you are applying for. Wondering why, this aspect is being oft-repeated? 
Well, the reason is that, nowadays in most organizations, it is an Applicant Tracking System (ATS) doing the initial scanning of resumes, looking for keywords relevant to the advertised job. 
It is estimated that about 70% of the resumes are rejected at this very stage. 
So, to ensure your resume passes this initial sorting, it is advisable to do a bit of homework before applying to any organization.
Read up on the job description and find the relevant skills required for it. While we have made a mention above, on how you can go about it, let us look at the process in a bit more detail:
You can do a simple copy-paste of the job description on HyreSnap and get a list of relevant skills.
Research people with the same job you are applying for and check their skills.
Look at some more job descriptions of similar postings in other big companies.
Once you have identified the skills required for the job, you can see which of your skills would be the perfect fit and list them out accordingly. 
Also known as technical/hard skills, this would be the knowledge base you have acquired through the course of your education. 
While your natural tendency would be to downplay your extra-curricular activities, we would advise you to give it equal prominence. 
The reason being that, these activities are a reflection of your inherent abilities (also known as soft skills); like interpersonal, creative, leadership and teamwork skills which will help you in every sphere of life. 
Let us now give you a bird's eye view, of how your resume would look after incorporating these sections.
This format will not only ensure that your resume stands out, but also give you an advantage, that you can build on.
It is also advisable to attach a cover letter along with your resume.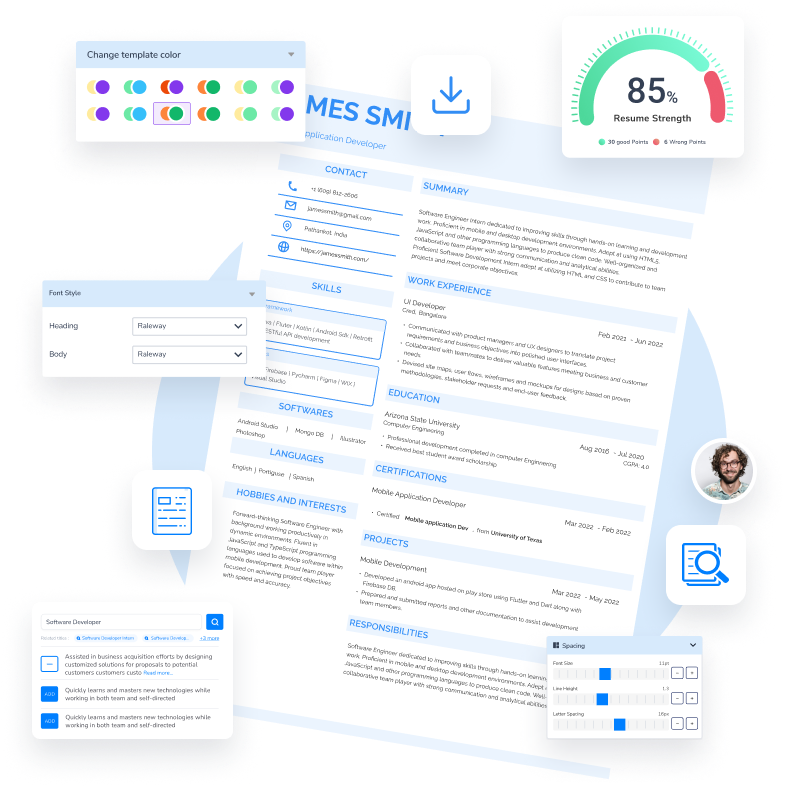 Build your resume in 10 minutes
Elevate your interview chances with our Modern Resume Templates that follows the exact 'Resume Rules' that employers look for.
Try Now for Free!
Build Your Resume
Excellent
4.8
out of 5 on
TrustPilot