Telecaller Resume with Examples [How to Write]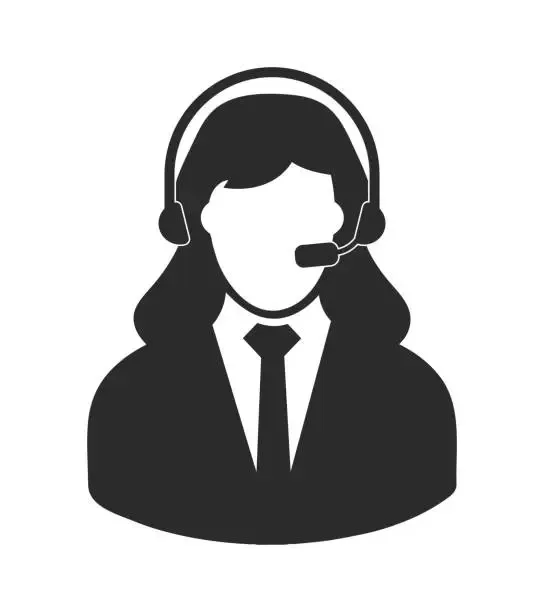 Are you looking for telecaller jobs in 2023?
If yes, then we will help you get a suitable telecaller job with our effective career assistance.
To get a telecaller job, you must be fluent in the English language and have a professional telecaller resume.
Assuming that you have a good command over english language, we are here explaining you how to make job-winning resume for telecaller jobs by answering the following questions:
What are the fundamental responsibilities of a telecaller?

How to use a telecaller job description for building a resume?

How to build a resume for telecaller jobs?

How much does a telecaller earn in India?
Though you can use the guidelines to craft a professional resume for telecaller jobs, we suggest you have a look at HyreSnap Online Resume Builder. It is an AI-powered platform that can save a lot of your time and craft you a job-winning telecaller resume in less than 15 minutes.
To give you a brief, below are the points that we will discuss in detail here:
Let's move on and get the detailed guidelines to craft a resume for telecaller jobs in 2023:
Telecallers, also known as telemarketers or customer service representatives, play a crucial role in sales and customer support. Their primary responsibilities involve making and receiving phone calls to engage with customers, clients, or prospects. Here are the fundamental responsibilities of a telecaller:
Making Outbound Calls (Sales): Telecallers often engage in outbound calling to prospective customers or clients. They initiate calls to promote products, services, or offers and aim to generate sales leads or conversions.
Receiving Inbound Calls (Customer Support): In the context of customer support, telecallers handle incoming calls from customers who have queries, issues, or requests. They assist customers in resolving problems or provide information about products and services.
Understanding Customer Needs: Actively listen to customers to understand their needs, concerns, or questions. Empathize with customers and respond appropriately to build rapport.
Providing Information: Telecallers must have a deep knowledge of the products or services offered by their organization. They provide accurate and detailed information to customers, addressing their inquiries effectively.
Handling Objections: Address and overcome customer objections or concerns with persuasive and well-informed responses. Telecallers aim to convert leads or retain customers by providing compelling solutions.
Conducting Surveys and Market Research (Outbound): In some cases, telecallers are responsible for conducting surveys or market research to gather feedback, opinions, or data that can be valuable for business decisions.
Maintaining Call Records: Keep detailed records of calls, including the outcomes, customer feedback, and any follow-up actions required. Accurate record-keeping is essential for performance tracking and analysis.
Following Scripts (In Some Cases): Some telecallers follow predefined scripts or call guides provided by their organization. These scripts ensure consistency in messaging and compliance with company policies.
Meeting Sales Targets (Sales Telecallers): If involved in sales, telecallers have sales targets to meet. They need to meet or exceed these targets by converting leads into customers and achieving revenue goals.
Building Relationships: Establish and nurture relationships with customers by providing excellent service and demonstrating a willingness to assist. Long-term customer relationships can lead to repeat business.
Escalating Issues: When customer concerns or issues cannot be resolved at the telecaller level, they escalate the matter to higher-level support or management for resolution.
Adhering to Compliance and Regulations: Ensure compliance with relevant regulations, such as telemarketing laws, privacy policies, and industry-specific guidelines, during customer interactions.
Continuous Learning: Stay updated on product or service offerings, industry trends, and customer service best practices through training and self-improvement.
Time Management: Effectively manage call volumes, prioritize calls, and adhere to call schedules to optimize productivity.
Maintaining Professionalism: Maintain a professional and courteous demeanor during all customer interactions. Handle difficult or irate customers calmly and professionally.
Feedback and Reporting: Provide feedback to supervisors or management regarding customer concerns, recurring issues, or opportunities for process improvement.
Telecallers are essential members of a customer-focused team, and their performance can significantly impact customer satisfaction, sales, and business success. Effective communication skills, product knowledge, and customer-centricity are key attributes for success in this role.
A job description can ease your resume building process as it elaborates on all the basic duties and responsibilities within the organisation. Moreover, you can use the technical terms mentioned in the job description to cler the ATS-screening round without any hurdle. To help you understand better, below we have listed a telecaller job description:
Telecaller Job Description Example:
We are seeking enthusiastic and results-oriented Telecallers to join our team at Infosys. As a Telecaller, you will be responsible for making outbound calls to engage with potential clients, provide information about our services, and generate leads for our sales team. This is an excellent opportunity to be part of a dynamic and forward-thinking organization.
Key Responsibilities:
Make outbound calls to prospective clients to introduce Infosys' services and solutions.
Engage in effective conversations to understand client needs and pain points.
Provide accurate and detailed information about our services and offerings.
Identify and qualify potential leads and opportunities for our sales team.
Handle objections and concerns in a professional and persuasive manner.
Maintain call records and update client information in the CRM system.
Follow-up on leads and inquiries to nurture relationships and move them through the sales funnel.
Collaborate with the sales team to ensure seamless lead handovers.
Meet or exceed daily and monthly call and lead generation targets.
Stay updated on Infosys' service offerings and industry trends.
Adhere to compliance and data privacy regulations during client interactions.
Provide feedback to the sales and marketing teams for process improvement.
Qualifications:
High school diploma or equivalent; bachelor's degree preferred.
Proven experience as a telecaller or telemarketer.
Excellent communication skills, both verbal and written.
Persuasive and customer-centric approach.
Ability to actively listen and empathize with clients.
Strong problem-solving and objection-handling skills.
Familiarity with CRM software is a plus.
Proficiency in using standard office software and tools.
Willingness to work in a target-driven and dynamic environment.
Benefits:
Competitive salary and performance-based incentives.
Comprehensive training and development programs.
Opportunity for career growth within Infosys.
Supportive and collaborative work culture.
Employee benefits and wellness programs.
Building an effective resume for a Telecaller job requires highlighting your communication skills, customer service experience, and ability to generate leads or engage with clients over the phone. Here's a step-by-step guide to creating a compelling Telecaller resume:
Include your full name, address, phone number, and a professional email address at the top of your resume. Make it easy for potential employers to reach you.

 
Write a brief resume summary or resume objective statement that highlights your relevant skills and career goals. Mention your experience in telecalling and your commitment to delivering results.
Create a dedicated "Skills" section to list key competencies essential for a Telecaller role. Include skills such as:
Communication skills

Active listening

Customer service

Lead generation

Objection handling

Relationship building

CRM software proficiency (if applicable)

Data entry
List your relevant work experience in reverse chronological order, starting with your most recent job. For each position, include:
Job title, company name, location, and dates of employment.

A brief description of the company and its industry.

Specific achievements and responsibilities that demonstrate your telecalling skills, customer engagement, and results.

 
Use bullet points to detail your achievements in each role. Focus on quantifiable accomplishments, such as the number of successful calls made, leads generated, or sales conversions achieved.
Highlight your commitment to providing excellent customer service. Describe how you resolved customer issues, answered inquiries, and maintained professionalism.

 
Tailor your resume to the job description by incorporating keywords and phrases used in the job posting. This can improve your resume's chances of getting noticed by applicant tracking systems (ATS).
List your educational background, including your degree, institution, and graduation year. While a high school diploma may suffice, a relevant bachelor's degree can be an advantage.

 
Mention any certifications or training related to telecalling, customer service, or sales. This demonstrates your commitment to professional development.
If you have relevant volunteer work or internships, include them in a separate section to showcase additional experience.
Unless specifically requested, you can omit the "References" section. It's understood that you can provide resume references upon request.
Carefully proofread your resume to eliminate spelling and grammatical errors. Ensure that your resume is clear, concise, and easy to read.
Maintain a clean and professional format throughout your resume. Use a legible font, consistent resume formatting, and bullet points for clarity.
Customize your resume for each job application by emphasizing the qualifications and experiences most relevant to the specific Telecaller position you're applying for.

 
Save your resume as a PDF to ensure that the formatting remains intact when it's viewed by potential employers.
By following these steps and customizing your resume for each job application, you can create a standout Telecaller resume that effectively showcases your skills and experiences to prospective employers.

 
You can use the below-listed sample resume for telecaller jobs as a reference while crafting your respective resume.
Sample Resume For Telecaller Jobs:
[Your Name]
[Your Address]
[City, State, Zip Code]
[Your Email Address]
[Your Phone Number]
[LinkedIn Profile (Optional)]
Objective:
Enthusiastic Telecaller with a track record of generating leads and delivering exceptional customer service. Seeking to contribute my communication skills and telecalling expertise to CarDekho's dynamic team and drive customer engagement and conversions.
Professional Experience:
Telecaller
CarDekho, [Location]
[Month Year] - Present
Make outbound calls to prospective car buyers and sellers to understand their needs and provide information about CarDekho's services.
Successfully generated and nurtured leads, resulting in a 20% increase in sales conversions.
Actively listened to customer inquiries and resolved issues with professionalism and efficiency.
Collaborated with the sales team to facilitate smooth lead handovers and support sales processes.
Maintained accurate call records and entered customer data into the CRM system.
Conducted follow-up calls to nurture leads and provide additional information.
Adapted to new products and services, effectively communicating their benefits to potential customers.
Customer Service Representative (Previous Role)
[Previous Company], [Location]
[Month Year] - [Month Year]
Provided excellent customer service by addressing inquiries, resolving complaints, and offering solutions.
Demonstrated active listening skills, empathy, and a customer-centric approach.
Maintained high customer satisfaction ratings and received positive feedback.
Collaborated with team members to meet and exceed service level targets.
Contributed to process improvements and shared best practices with the team.
Education:
[Your Degree, e.g., Bachelor of Arts (BA)]
[University Name], [Location]
[Year of Graduation]
Skills:
Excellent verbal and written communication skills.
Active listening and empathy.
Lead generation and nurturing.
Customer relationship management (CRM) software proficiency.
Problem-solving and objection handling.
Team collaboration.
Time management and organization.
Adaptability and willingness to learn.
Certifications:
[Relevant Certification], [Certifying Body], [Year]
Languages:
[List languages you are proficient in, if applicable]
References:
Available upon request.
How Much Does a Telecaller Earn in India?
The salary of a Telecaller in India can vary widely based on several factors, including the location, the employer, the industry, the candidate's experience, and their performance. Here's a general salary range for Telecallers in India:
Entry-level Telecaller: An entry-level Telecaller with little to no experience may earn a monthly salary in the range of ₹10,000 to ₹20,000 or even higher in some cases. Salary can vary significantly depending on the city and organization.
Experienced Telecaller: Telecallers with a few years of experience and a proven track record in lead generation and sales may earn salaries ranging from ₹20,000 to ₹40,000 per month or more, depending on their skills and the company's policies.
Telecaller Team Lead or Manager: Those who have advanced in their careers to become team leads or managers in the telecalling department can expect higher salaries, often in the range of ₹30,000 to ₹60,000 or more per month, depending on their responsibilities and the organization's size.
Resume-building is a complex process for freshers as well as experienced professionals. Hence, if you doubt your resume-building skills, use HyreSnap Online Resume Builder. It is free for first three trials and easy enough to use even for freshers.
Below you can see the highlighting features of this AI-based resume building platform:

 
We have mentioned all the vital guidelines to craft a resume for telecaller jobs above. Additionally, we are listing the key takeaways of this knowledge base to help you cover everything you missed:
Use a professional resume format to outline your telecaller resume

Write your resume details in one-liner bullet points for easy understanding

Avoid using complex vocabulary and long paragraphs

Add technical terms and quantify your achievements to grab recruiter's attention

Write you resume summary after completing your entire resume

Make separate sections to list your key and technical skills

Proofread your resume with a focused mind to rectify small errors
Moreover, our experts are always available at info@hyresnap.com to help you get rid of every resume-building confusion. Be focused while building your telecaller resume and land your targeted job with the help of HyreSnap.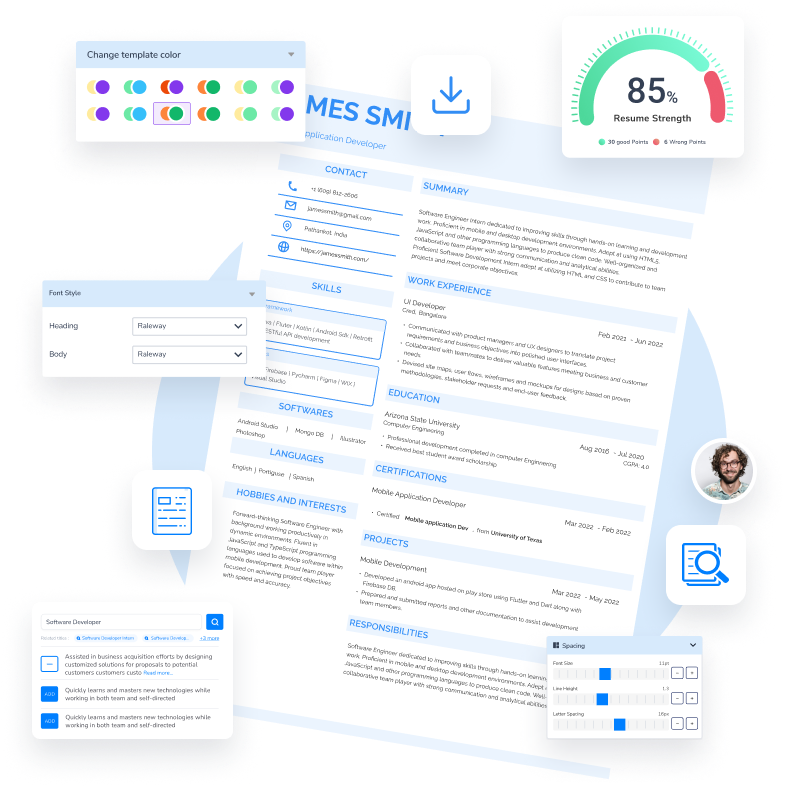 Build your resume in 10 minutes
Elevate your interview chances with our Modern Resume Templates that follows the exact 'Resume Rules' that employers look for.
Try Now for Free!
Build Your Resume
Excellent
4.8
out of 5 on
TrustPilot