10+ Tricks to Build a Professional Resume For Doctors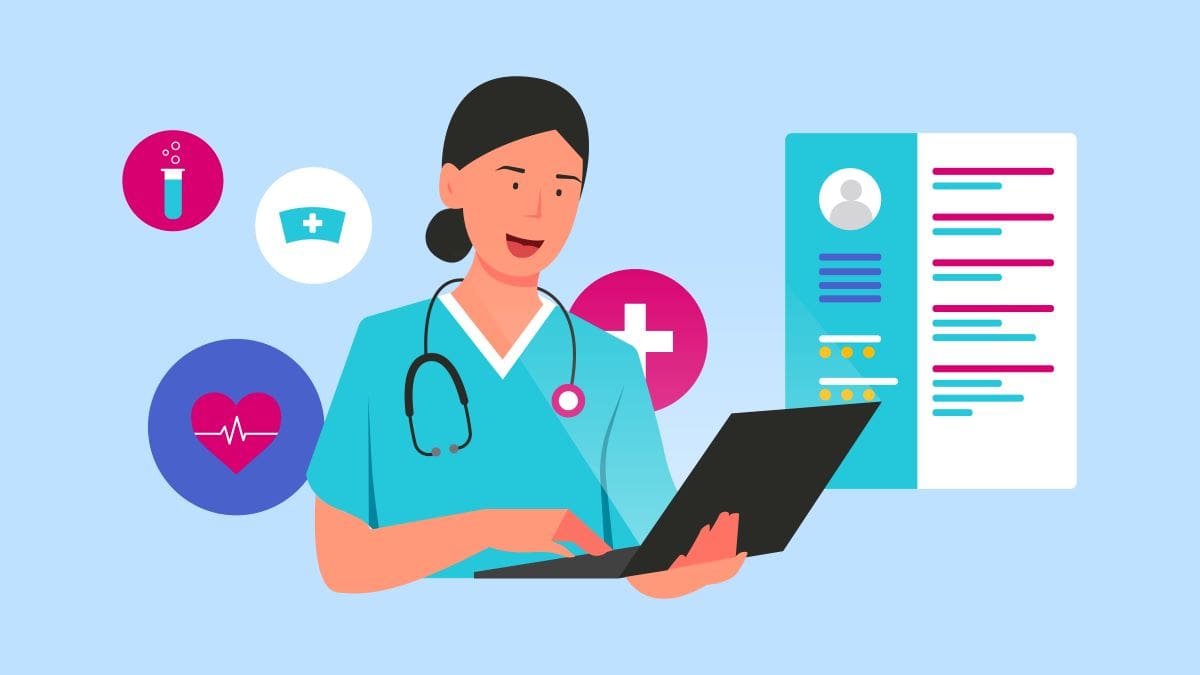 Are you looking for a doctor's job?
If yes, then a professional resume for doctors is the first thing you need to apply for it. 
Building a resume for doctor job can be exhausting. Considering this, we are here answering these fundamental doctor resume-building questions:
What are the fundamental responsibilities of a doctor?

How can a job description help in building a resume for doctor's job?

Which is the most suitable format to build a resume for doctors?

How to build a resume for doctors in 2023?
In case you have seen a job opportunity and want to apply without delay, we recommend using HyreSnap Online Resume Builder. Resume building is a complex process, and this tool will save a lot of your resume-building time.
If that is not the case, stick to this guide for building a job-winning resume for doctor jobs in 2023:
Becoming a doctor in India requires a significant amount of dedication, hard work, and commitment. Here are the general steps to pursue a medical career in India:
Education: Complete the 10+2 level of education with a focus on science subjects (Physics, Chemistry, and Biology). Ensure that you meet the eligibility criteria set by the respective educational boards.
Entrance Exams: Prepare and appear for entrance examinations required for admission to undergraduate medical programs in India. The two main entrance exams are the National Eligibility cum Entrance Test (NEET) and the All India Institute of Medical Sciences (AIIMS) entrance exam. These exams assess your knowledge and aptitude in subjects like Physics, Chemistry, and Biology.
Bachelor's Degree:

Enrol in a Bachelor of Medicine, Bachelor of Surgery (MBBS) program after successfully clearing the entrance exams. This is a five-and-a-half-year undergraduate degree program that combines theory, practical training, and clinical rotations. Various medical colleges and universities across India offer the program.
Internship:

Upon completing the MBBS program, you must undergo a one-year compulsory internship in a recognized medical institution. This internship provides hands-on training in different medical specialties and allows you to gain practical experience under the supervision of experienced doctors.
Postgraduate Studies (Optional): After completing the MBBS degree and internship, you have the option to pursue postgraduate studies in a specialised field. This includes obtaining a Doctor of Medicine (MD) or a Master of Surgery (MS) degree. Specialisations can range from cardiology, orthopaedics, gynaecology, paediatrics, and more.
Licensing: To practise medicine legally in India, you must obtain a licence from the Medical Council of India (MCI) or the respective State Medical Council (SMC). The licence is obtained after successfully completing the required exams and meeting the criteria set by the regulatory bodies.
It is important to note that the process and requirements may vary slightly depending on the specific medical college, state regulations, and specialisation chosen. It is advisable to consult the official websites of the respective medical councils and educational institutions for accurate and up-to-date information.
The fundamental responsibilities of a doctor are as follows:
Patient Care: Doctors are primarily responsible for providing comprehensive medical care to patients. This involves diagnosing illnesses, conducting medical examinations, ordering and interpreting diagnostic tests, prescribing medications, and developing treatment plans.
Treatment and Procedures: Doctors perform medical procedures and treatments based on their specialisation. This can include surgeries, vaccinations, administering medications, setting fractures, delivering babies, and performing various medical interventions.
Health Promotion and Disease Prevention: Doctors play a crucial role in promoting healthy lifestyles and preventing diseases. They provide guidance on maintaining good health, offer preventive screenings and vaccinations, educate patients about healthy habits, and identify risk factors for diseases.
Medical Consultation:

Doctors consult patients, colleagues, and other healthcare professionals. They offer expert advice, answer questions, and provide recommendations on medical conditions, treatment options, and management of diseases.
Documentation and Record-keeping: Doctors are responsible for maintaining accurate and detailed medical records of patients. This includes documenting medical history, examination findings, diagnosis, treatment plans, medications prescribed, and follow-up instructions. Proper documentation ensures continuity of care and facilitates communication among healthcare providers.
Collaboration and Coordination: Doctors often work as part of a healthcare team, collaborating with other physicians, nurses, specialists, and allied healthcare professionals. They coordinate patient care, consult with colleagues, refer patients to specialists when necessary, and ensure seamless communication to provide comprehensive and integrated healthcare.
Continuous Learning and Professional Development:

Medicine is a field that constantly evolves, and doctors have a responsibility to stay updated with the latest research, advancements, and medical practices. They continuously learn by attending conferences, participating in medical workshops, reading medical journals, and pursuing further education and certifications.
Ethical Standards and Professional Conduct: Doctors adhere to ethical principles and maintain high professional standards. They prioritise patient confidentiality, informed consent, and ethical decision-making. They treat patients with respect, empathy, and compassion and maintain professionalism in all interactions.
Research and Education:

Many doctors engage in medical research to contribute to scientific knowledge and advancements in the field. They may also teach, mentor medical students, residents, and fellow doctors, and share their expertise and knowledge.
These fundamental responsibilities form the core of a doctor's role in providing quality healthcare and improving patients' well-being. Doctors are dedicated professionals who make a significant impact on individuals, families, and communities through their medical expertise and commitment to patient care.
You can use the job description for doctor jobs to get profile-centric keywords and understand the job requirements. 
Below we are listing an example job description for doctors jobs to understand the keywords to pick for doctor resume in 2023:
Example Job Description for Doctors:
We are seeking a skilled and compassionate Medical Doctor to join our esteemed healthcare team. As a Medical Doctor, you will play a vital role in providing high-quality medical care to our patients. Your expertise, dedication, and commitment to patient well-being will contribute to our mission of delivering exceptional healthcare services.
Responsibilities
>Conduct comprehensive medical examinations and assessments of patients.
>Diagnose and treat acute and chronic illnesses, injuries, and health conditions.
>Order and interpret diagnostic tests, such as blood work, imaging studies, and laboratory tests.
>Develop personalised treatment plans based on patient needs and medical history.
>Prescribe appropriate medications and monitor their effectiveness.
>Perform medical procedures and treatments within your area of specialisation.
>Provide guidance and educate patients on preventive healthcare measures and healthy lifestyle choices.
>Collaborate with other healthcare professionals to ensure integrated and coordinated patient care.
>Maintain accurate and detailed medical records and documentation.
>Stay updated with the latest medical research, advancements, and best practices through continuous learning and professional development.
>Adhere to ethical standards, patient confidentiality, and professional conduct.
>Participate in quality improvement initiatives to enhance patient care and outcomes.
>Actively contribute to a positive and collaborative work environment.
Qualifications
>Medical degree (MBBS or equivalent) from a recognised institution.
>Valid and active medical licence to practise medicine.
>Board certification in your area of specialisation (if applicable).
>Proven experience as a practising physician.
>Excellent clinical skills and medical knowledge.
>Strong interpersonal and communication skills.
>Empathy and compassion towards patients.
>Ability to work effectively in a team and collaborate with healthcare professionals.
>Proficient in using electronic medical record systems and medical software.
When creating a resume for a doctor, it's important to choose a format that effectively highlights your qualifications, experience, and achievements. Here are three popular resume formats that work well for doctors:
Reverse Chronological Resume Format
This format is the most commonly used and presents your work experience in reverse chronological order, starting with the most recent position. It emphasises your career progression and allows hiring managers to see your relevant experience at a glance. Here's the recommended structure:
Contact information

Professional summary or objective statement

Education (include medical degree and any specialised training)

Licences and certifications

Professional experience (start with your most recent position and list previous roles)

Research experience (if applicable)

Skills (include technical skills, medical specialties, and any relevant software)

Publications (if applicable)

Awards and honours

Professional affiliations

References (optional)
Functional Resume Format
The functional format focuses on your skills and abilities rather than emphasising a chronological work history. This format is useful to highlight specific skills or gaps in your employment history. Here's the recommended structure:
Contact information

Professional summary or objective statement

Core competencies (highlight your key skills and areas of expertise)

Professional experience (concisely list your work history without dates)

Education

Licenses and certifications

Research experience (if applicable)

Publications (if applicable)

Skills (include technical skills, medical specialties, and any relevant software)

Awards and honors

Professional affiliations

References (optional)
Combination Resume Format
The combination format combines elements of both the reverse chronological and functional formats. It lets you highlight your skills and accomplishments while showcasing your work experience. This format is suitable if you want to emphasise specific achievements or if you have a diverse range of experiences. Here's the recommended structure:
Contact information

Professional summary or objective statement

Core competencies

Professional experience (highlight your most relevant experiences and achievements)

Education

Licences and certifications

Research experience (if applicable)

Publications (if applicable)

Skills

Awards and honours

Professional affiliations

References (optional)
Remember to tailor your resume to the specific job you're applying for, highlighting relevant skills and experiences. Keep your resume concise, easy to read, and well-organised. Proofread carefully for any errors or typos before submitting it.
Building a resume for doctors in 2023 follows similar principles to any professional resume but with specific considerations for the medical field. 
Here's a step-by-step guide to help you build a strong resume for a doctor position:
Choose the right resume format:
Consider using a reverse chronological or combination format, as they are commonly used and effective for showcasing your experience and qualifications. These formats highlight your career progression and relevant skills.
Include your full name, professional title (e.g., Medical Doctor), phone number, professional email address, and LinkedIn profile (if applicable). Avoid including personal information such as your home address.
Write a concise and compelling summary highlighting your key qualifications, areas of expertise, and career goals. Tailor this section to match the specific job you're applying for.
List your medical degree, any specialized training or fellowships, and the name of the institution where you received your medical education. Include the year of completion or expected graduation.
Licences and certifications:
Specify your medical licence(s) and any board certifications or specialty certifications relevant to your field. Include the issuing authority and expiration dates.
Highlight your work experience, starting with your most recent position. Include the name of the healthcare facility, your title, dates of employment, and a brief description of your responsibilities and accomplishments. Focus on quantifiable achievements and notable contributions.
Research and publications:
If applicable, list any research projects you have been involved in and any publications, articles, or presentations you have authored or co-authored. Include the title, publication/journal, and date.
Outline your technical skills, medical specialties, proficiency in specific procedures, and any software or systems you are familiar with. Include both clinical and non-clinical skills relevant to your job.
Professional affiliations:
List memberships in professional organisations, medical associations, and committees. This shows your engagement in the medical community and commitment to staying current with industry trends.
Include any awards, honours, scholarships, or recognition you have received during your medical career.
Highlight any ongoing professional development, including conferences, workshops, seminars, or courses you have completed or are currently pursuing.
You can include a statement such as "References available upon request" at the end of your resume. Be prepared to provide references if requested.
You can refer to the below given example while building your resume for doctors in 2023:
Example Resume For Doctors:
 
[Your Name]
[Address]
[City, State, ZIP Code]
[Phone Number]
[Email Address]
Objective:
Highly skilled and compassionate Medical Doctor with a strong dedication to providing exceptional patient care. Seeking a challenging position as a Doctor in a reputable healthcare facility where I can utilise my medical expertise, leadership abilities, and passion for improving patient outcomes.
Education:
Doctor of Medicine (MD), [Medical School Name], [Year of Graduation]
Bachelor of Science in Biology, [University Name], [Year of Graduation]
Medical Licensure and Certifications:
Board Certified in [Specialty], [Certification Board Name], [Year of Certification]
[State] Medical License, [Year of Licensure]
Advanced Cardiac Life Support (ACLS) Certification, [Certification Authority], [Year of Certification]
Basic Life Support (BLS) Certification, [Certification Authority], [Year of Certification]
Professional Experience:
[Healthcare Facility Name], [City, State]
[Position Title], [Dates of Employment]
Conducted comprehensive medical examinations, diagnosed illnesses, and formulated treatment plans for diverse patients.
Prescribed medications and monitored their effectiveness, making adjustments as necessary to ensure optimal patient outcomes.
Performed various medical procedures, including minor surgeries, wound care, and administering injections.
Ordered and interpreted diagnostic tests such as laboratory work, imaging studies, and electrocardiograms (ECGs).
Collaborated with interdisciplinary healthcare teams to provide integrated and holistic patient care.
Educated patients and their families on medical conditions, treatment options, and preventive measures.
Maintained accurate and detailed medical records, ensuring compliance with HIPAA regulations and patient confidentiality.
Participated in medical research studies and contributed to peer-reviewed publications.
Actively pursued continuing medical education to stay updated on the latest advancements in medical practices and technologies.
Skills:
Strong clinical knowledge and expertise in [Specialty].
Excellent diagnostic and problem-solving abilities.
Effective communication skills with patients, families, and healthcare professionals.
Proficient in electronic medical record (EMR) systems and medical software.
Outstanding organizational and time management skills.
Ability to work well under pressure and in fast-paced environments.
Dedication to patient-centered care and promoting positive patient experiences.
Professional Affiliations:
Member, [Medical Association/Organization], [Year Joined]
Publications:
[Title of Publication], [Journal/Conference], [Year]
References:
Available upon request.
HyreSnap Career Assistance
Resume building will consume a lot of your time, focus and effort. Hence, if you are unsure about your resume-building skills, use HyreSnap Online Resume Builder. 
It will save your time without affecting your resume quality. Here are some highlighting features of our online resume maker:
We have listed every essential detail to help you craft an impeccable resume for doctors. Moreover, you can check out these points if you missed anything above:
Read the job description appropriately to know all the job requirements

Choose a suitable doctor resume format to build a professional resume

Add all the important resume section headings while outlining your resume

Mention your resume details in one-liner bullet points except for the summary

Highlight key metrics and profile-centred keywords throughout the resume

Write your resume summary after completing every other resume section

Proofread your resume after completing it to rectify spelling and grammatical errors

For additional career-building assistance, contact our experts at info@hyresnap.com. At HyreSnap, we are completely determined to help every job seeker get a suitable job without any complexities.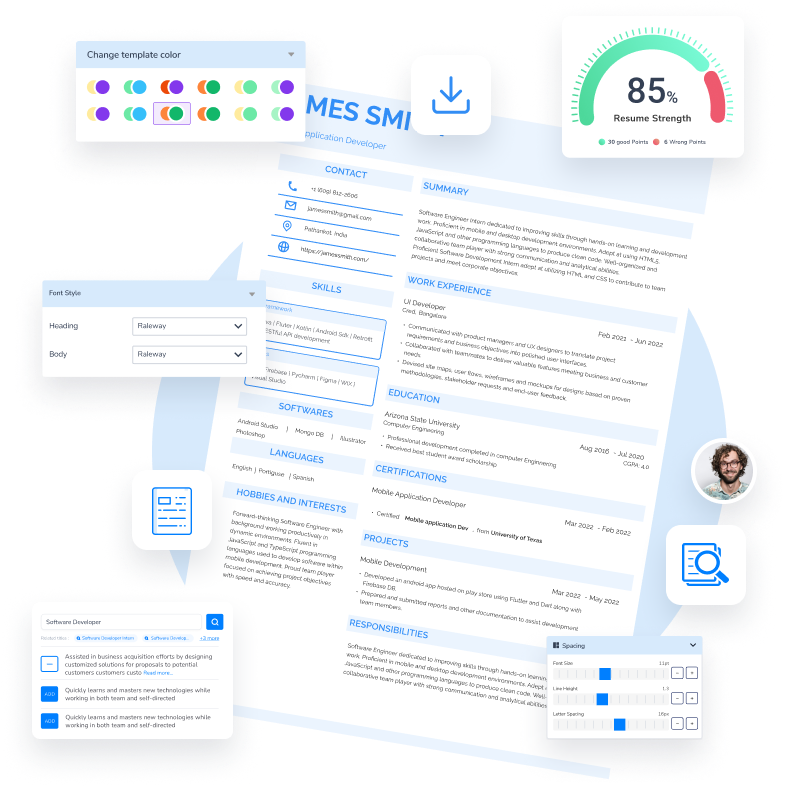 Build your resume in 10 minutes
Elevate your interview chances with our Modern Resume Templates that follows the exact 'Resume Rules' that employers look for.
Try Now for Free!
Build Your Resume
Excellent
4.8
out of 5 on
TrustPilot