10+ Tips to Build a Professional Resume For Pharmacist Jobs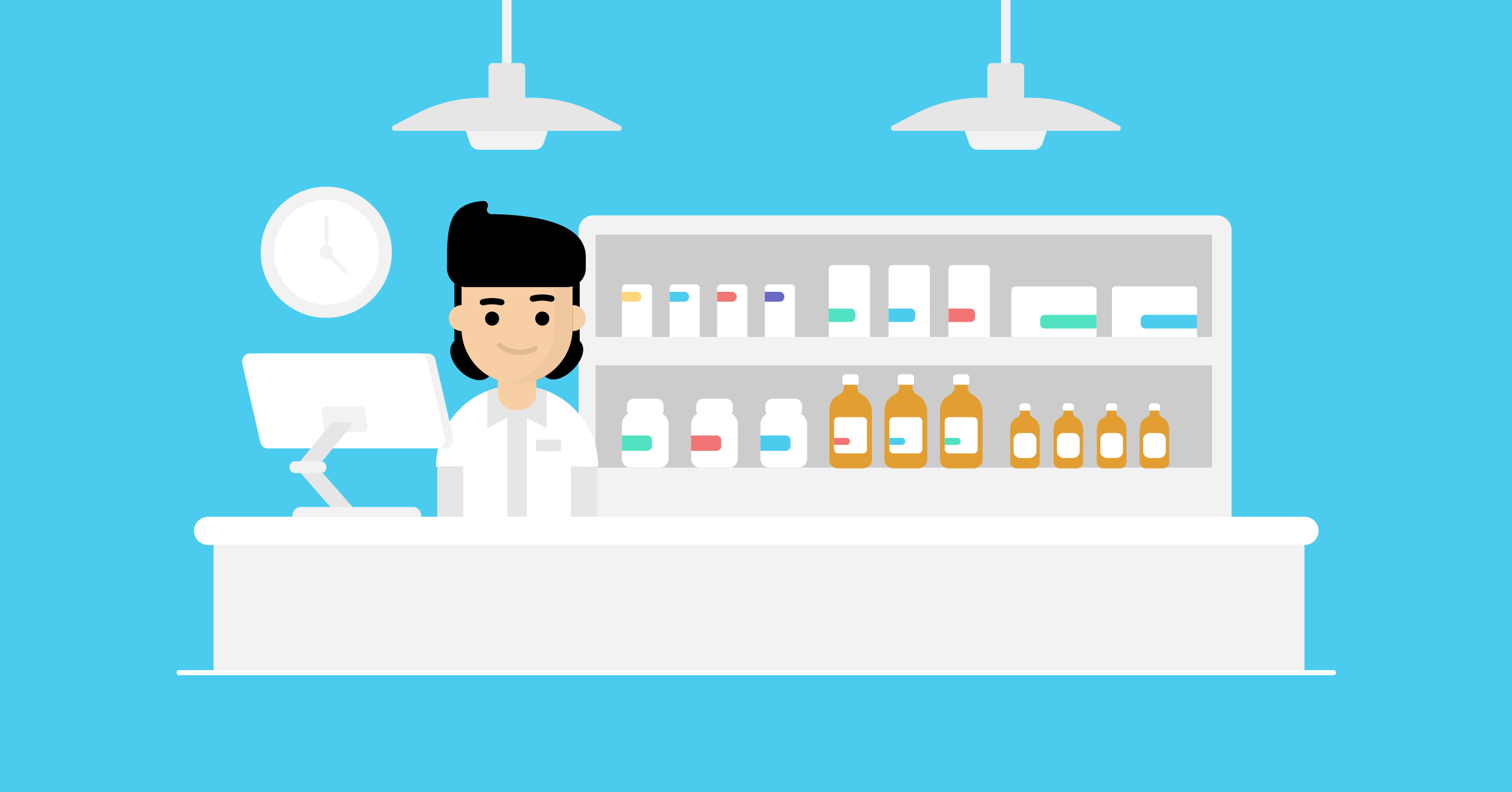 Your resume is your first impression when applying for a pharmacist job. It's a crucial tool that can determine whether you secure an interview or not. 
A well-crafted professional resume can effectively highlight your skills, qualifications, and experiences, setting you apart from other candidates. 
To help you build a standout resume for pharmacist jobs, we've compiled a list of essential tips that will impress potential employers and increase your chances of landing your dream job.
Here you will get answers to the following resume-building questions:
What are the fundamental duties of a pharmacist?

How to use the job description while writing the pharmacist resume?

What are the essential sections in a pharmacist resume?

How to build a professional pharmacist resume?
You will have to spend a lot of time crafting a professional resume for pharmacist jobs. If you have a scarcity of that, we recommend trying HyreSnap Online Resume Builder. It is an AI-based resume-building platform that can frame eye-catchy resumes in less than 15 minutes.
If you are free to spend the required time, stick to these guidelines for crafting a professional pharmacist resume:
As a pharmacist, there are several fundamental duties and responsibilities that you are expected to uphold to ensure the safe and effective use of medications and the well-being of patients. 
These duties can vary slightly depending on the country or region's regulations and specific job settings, but here are some typical fundamental responsibilities of a pharmacist:
Dispensing Medications: Pharmacists are responsible for accurately and safely dispensing prescription medications to patients. This includes verifying the prescription, checking for drug interactions or allergies, and providing appropriate counselling to the patient on how to take the medication.
Patient Counselling: Pharmacists are required to counsel patients on how to use their medications properly, including dosing instructions, potential side effects, and any other relevant information to ensure the best possible outcomes.
Drug Information and Education: Pharmacists should stay up-to-date with the latest information on medications, including their uses, side effects, interactions, and contraindications. They must be able to provide accurate and evidence-based drug information to patients, other healthcare professionals, and the public.
Medication Management: Pharmacists play a crucial role in managing patients' medication therapies, particularly in cases of chronic conditions where patients may be taking multiple medications. They need to monitor patients' medication regimens, adjust dosages if necessary, and work with healthcare providers to optimise drug therapy.
Patient Safety and Advocacy: Pharmacists are advocates for patient safety. They should be vigilant in identifying potential medication errors and work to prevent them. This includes checking for drug allergies, potential drug interactions, and ensuring appropriate medication use.
Medication Review and Evaluation:

Pharmacists review and evaluate medication orders and treatment plans to ensure they are appropriate for the patient's condition and align with evidence-based guidelines.
Pharmacy Management and Operations: In addition to their clinical roles, pharmacists may also be responsible for managing pharmacy operations, including inventory management, maintaining records, and adhering to relevant regulations and laws.
Collaboration with Healthcare Team: Pharmacists work as part of a healthcare team, collaborating with physicians, nurses, and other healthcare professionals to provide comprehensive patient care.
Promoting Public Health: Pharmacists may engage in public health initiatives, such as vaccination programs, health screenings, and health education campaigns to promote better health outcomes in the community.
Ethics and Professionalism: Pharmacists must adhere to strict ethical standards and act professionally at all times. They must respect patient confidentiality, avoid conflicts of interest, and prioritise the well-being of their patients.
You can use the job description to enhance the technical strength of your pharmacist resume. It will offer you technical keywords to use in your resume and parse through the ATS screening without any complexities.
Below is an example of a pharmacist job description. You will see similar job descriptions while applying for real-life pharmacist jobs:
Pharmacist Job Description Example:
XYZ Hospitals is seeking a highly skilled and compassionate Pharmacist to join our healthcare team. As a Pharmacist, you will play a crucial role in ensuring the safe and effective use of medications, optimising patient outcomes, and providing exceptional pharmaceutical care. Your expertise will contribute to our commitment to delivering high-quality healthcare services to our patients.
Responsibilities:
Dispensing Medications: Accurately and safely dispense prescription medications and pharmaceutical products to patients as per healthcare provider orders while verifying the correctness of the prescription and checking for potential drug interactions, allergies, and contraindications.
Patient Counselling: Provide comprehensive medication counselling, explaining medication usage, potential side effects, dosage instructions, and any other relevant information to promote patient understanding and adherence to prescribed treatments.
Medication Management: Collaborate with the healthcare team to review and manage patients' medication regimens, especially in cases of complex therapies or multiple medications, to optimise drug therapy and ensure patient safety.
Drug Information and Education: Stay up-to-date with the latest advancements in pharmaceuticals, drug therapies, and treatment guidelines to provide evidence-based drug information to healthcare professionals, patients, and their families.
Medication Review and Evaluation: Conduct regular medication reviews and evaluations to identify potential medication-related problems, recommend appropriate adjustments, and prevent adverse drug events.
Pharmacy Operations: Oversee and manage pharmacy operations, including inventory management, procurement of medications, and adherence to regulatory requirements to ensure smooth functioning and compliance with standard protocols.
Patient Safety and Advocacy: Act as an advocate for patient safety by identifying and reporting medication errors, adverse drug reactions, and near-miss incidents.
Collaboration and Teamwork: Work closely with physicians, nurses, and other healthcare professionals to ensure seamless patient care and effective communication regarding medication-related matters.
Pharmacy Technology: Utilise pharmacy technology systems, such as electronic health records and medication dispensing machines, proficiently and accurately to enhance efficiency and patient safety.
Continuous Professional Development: Engage in ongoing professional development activities, including attending workshops, seminars, and training sessions, to stay current with industry best practices and regulatory changes.
Requirements:
Bachelor of Pharmacy (B.Pharm) or higher degree from a recognized institution.
Valid registration with the State Pharmacy Council or Pharmacy Council of India.
Proven experience as a Pharmacist in a healthcare setting (preferred).
Strong knowledge of pharmacology, pharmaceutical calculations, and drug interactions.
Excellent communication and counseling skills to interact with patients and healthcare professionals effectively.
Detail-oriented with a commitment to accuracy and patient safety.
Ability to work in a fast-paced environment and handle multiple tasks efficiently.
Proficiency in using pharmacy-related software and technology.
Understanding of relevant pharmacy laws, regulations, and best practices.
Demonstrated commitment to professional ethics and patient confidentiality.
You can add the following resume sections while building your pharmacist resume in 2023:
Header

Contact Information

Resume Summary

Key Skills

Technical Skills

Work Experience

Education

Licences

Extracurricular Activities

Additional Information

References
You can replace, add, and rearrange these resume sections based on your selected resume format.
Crafting a professional pharmacist resume is crucial to effectively showcase your qualifications, skills, and experiences to potential employers. A well-crafted resume can significantly increase your chances of securing job interviews. Here's a step-by-step guide to help you create a compelling pharmacist resume:
Choose the Right Resume Format
There are three main resume formats: chronological, functional, and combination. For most pharmacists, the chronological format is the most suitable as it highlights your work experience in reverse chronological order.
Header
Start your resume with a clear and professional header that includes your full name, contact information (phone number and email address), and your LinkedIn profile or website URL.
Professional Summary/Objective:
Write a concise and impactful professional summary or objective at the beginning of your resume. This section should briefly highlight your relevant skills, experience, and career goals as a pharmacist.
Education
List your educational qualifications, starting with your highest degree. Include the degree earned, university/college name, location, and graduation year.
Licences and Certifications
Mention your pharmacist licence and any additional relevant certifications you possess, such as immunisation certification or specialised training.
Work Experience
Highlight your professional experience in reverse chronological order. For each position, include the job title, the employer's name, location, and employment dates.
Use bullet points to describe your responsibilities, achievements, and contributions in each role. Focus on measurable accomplishments and specific impacts you made.
Skills
Create a separate section to showcase your key skills relevant to the pharmacist position. Include both technical skills (e.g., medication management, drug information, pharmacy technology) and soft skills (e.g., communication, patient counselling, teamwork).
Clinical Rotations and Internships (if applicable)
If you are a recent graduate or have relevant clinical rotations and internships, mention them in a separate section to highlight your practical experience.
Professional Affiliations and Memberships (optional)
Include any relevant professional affiliations or memberships you hold in pharmacy organisations or associations.
Volunteer Experience (optional)
If you have volunteered in pharmacy-related activities or community health programs, you can include them to demonstrate your commitment to the profession.
Additional Information (optional)
Optionally, add a section for additional information, such as languages spoken or relevant hobbies and interests, if they contribute to your qualifications.
Formatting Tips:
Keep the resume clean, well-organized, and easy to read.

Use a professional font (e.g., Arial, Times New Roman) and maintain consistent font sizes throughout the document.

Use bullet points for concise and clear descriptions.

Avoid using excessive colors or graphics, as they can distract from the content.
Proofreading
Before submitting your resume, proofread it to eliminate grammatical errors, typos, or inconsistencies.
To help you understand the organisation of every resume section properly, we are listing a sample resume for pharmacist jobs below.
You can use this resume sample as a reference while crafting one for your next job search:
Sample Resume For Pharmacist Jobs:
Shreya Chhalani, 
Contact: (555) 123-4567 | Email: shreya.chhalani@email.com | LinkedIn: linkedin.com/in/shreyachhalani
Professional Summary:
Highly skilled and dedicated Pharmacist with 6+ years of experience in dispensing medications, optimising drug therapy, and providing exceptional patient care. Proven track record of ensuring patient safety and delivering evidence-based pharmaceutical services. Adept at counselling patients and collaborating with healthcare teams. Seeking to contribute my expertise to enhance pharmaceutical care at a reputable healthcare institution.
Skills:
- Medication Dispensing & Management
- Patient Counseling & Education
- Drug Information & Pharmacology
- Pharmacy Technology (EHR, Dispensing Machines)
- Clinical Pharmacy & Medication Reviews
- Inventory Management & Regulatory Compliance
Professional Experience:
Pharmacist
ABC Hospital, City, State | June 2015 - Present
- Dispense medications accurately and counsel an average of 50 patients daily on proper usage, side effects, and potential drug interactions.
- Collaborate with physicians and nurses to optimise medication therapies, resulting in a 25% reduction in adverse drug events.
- Conduct medication reviews for geriatric patients, identifying and resolving medication-related issues to improve overall health outcomes.
- Implement an electronic health record (EHR) system for the pharmacy department, streamlining workflow and ensuring efficient patient care.
Clinical Pharmacist 
XYZ Medical Center, City, State | August 2012 - May 2015
- Provided pharmaceutical care to inpatients, managed drug regimens, and participated in multidisciplinary rounds to optimise treatment plans.
- Conducted medication reconciliation for 30+ patients daily, minimising medication errors and drug interactions.
- Led medication counselling sessions for patients and their families, enhancing medication adherence and patient satisfaction.
- Collaborated with the healthcare team to develop protocols and guidelines for safe medication administration.
Education:
Bachelor of Pharmacy (B.Pharm)
XYZ University, City, State | Graduation: May 2015
License & Certification:
- Registered Pharmacist (RPh) - State Pharmacy Council, State Name
- Immunization Certification - Certification Body Name, Year
Volunteer Experience:
Pharmacy Outreach Program | City Community Health Center | July 2015 - Present
- Conduct medication education sessions for low-income individuals to promote medication adherence and better health outcomes.
Professional Affiliations:
- Member, State Pharmacy Association (State Name)
- Volunteer, Pharmacist Society for Community Health (City Name)
Languages:
English (Fluent), Hindi (Native)
References:
References available upon request.
Resume building is challenging even for an experienced professional. If you are one of the professionals finding it too complex, use HyreSnap Online Resume Builder.
It is a marvellous AI-based resume-building platform that can ease your resume-crafting process and craft a job-winning pharmacist resume without any difficulties.
Below you can see some highlighting features of this modern resume-making tool:
We have listed every essential point to build a pharmacist resume in 2023 above. Additionally, you can check the key takeaways below to cover everything you missed:
Outline your pharmacist resume based on a reverse chronological or combination resume format

Add all the essential resume sections and write your details in bullet points

Write the resume summary after completing every other resume section

Use action words to start your bullet points for better representation

Add technical terms and highlight key metrics wherever possible in the resume

Make separate sections to list your key and technical skills

Proofread your resume with a calm mind to remove all unnecessary errors

For more assistance in framing your resume and building a bright career, contact our career experts at info@hyresnap.com. We will help you with whatever we have to get your next job in this highly competitive era.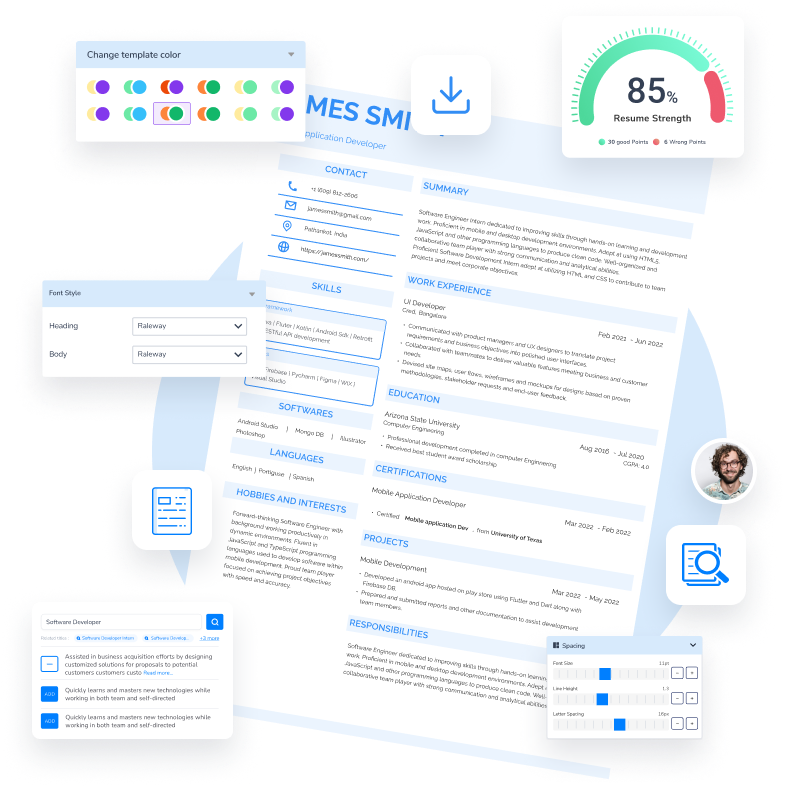 Build your resume in 10 minutes
Elevate your interview chances with our Modern Resume Templates that follows the exact 'Resume Rules' that employers look for.
Try Now for Free!
Build Your Resume
Excellent
4.8
out of 5 on
TrustPilot