12+ Tips to Build a Professional Resume For BBA Freshers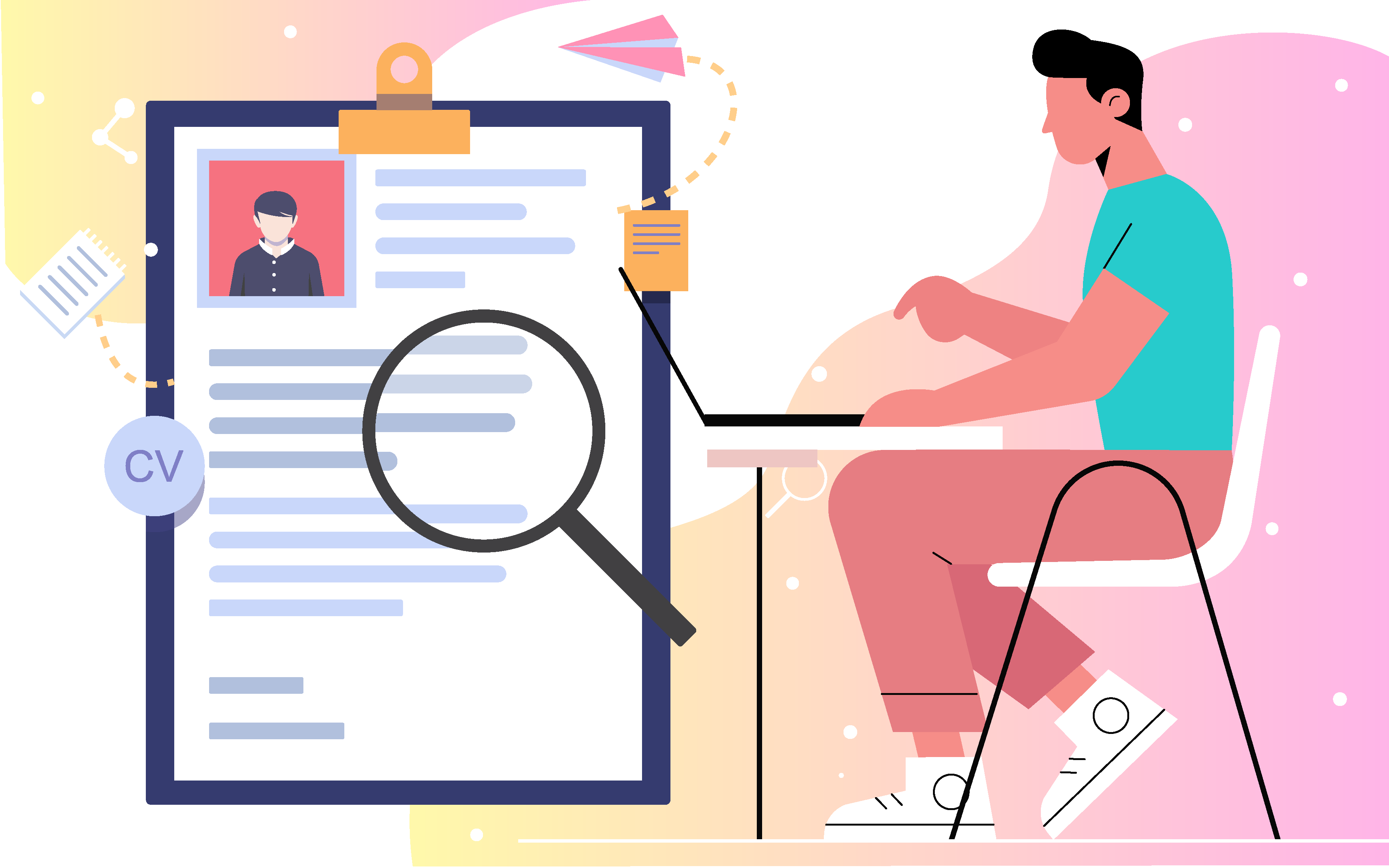 How to build a BBA fresher resume?
You must be seeking a practical answer to this question if you are a recent BBA graduate.
 
If yes, your search is now over, as you will get complete step-by-step instructions for building a professional BBA fresher resume here.
 
You can apply for different jobs after completing your BBA. However, you will need a technically strong resume to apply for any of them.
Considering this, we are answering the following fundamental questions here that will help you build a professional resume for BBA freshers jobs in 2023:
 
What are the suitable job profiles for a BBA fresher?

How to leverage a BBA fresher job description?

How to build a professional resume for BBA freshers?
These answers will help you craft a job-winning resume for BBA fresher jobs in 2023. Still, you must remember that resume building is complex and time-consuming. 
 
If you are running out of time and need a BBA resume urgently, we recommend using HyreSnap Online Resume Builder once. This online resume-building platform can frame impeccable resumes in 10-15 minutes.
As of now, let us move on and get the resume-building guidelines to build an ATS-friendly resume for BBA freshers:
BBA (Bachelor of Business Administration) graduates possess a strong foundation in various business management aspects and can explore different job profiles. Here are some job profiles suitable for BBA freshers:
Business Analyst
BBA graduates can work as business analysts, analysing market trends, conducting research, and providing insights to improve business operations and strategies.
Marketing Coordinator
BBA freshers can start as marketing coordinators, assisting in marketing campaigns, managing social media platforms, coordinating events, and supporting market research activities.
Sales Representative
BBA graduates can pursue sales roles, working as sales representatives to promote products or services, build client relationships, and achieve sales targets.
Financial Analyst
With a strong foundation in finance, BBA freshers can work as financial analysts, analysing financial data, preparing reports, and providing recommendations for investment decisions.
Human Resources Assistant
BBA graduates can start as HR assistants, supporting HR processes such as recruitment, onboarding, employee engagement initiatives, and maintaining employee records.
Operations Executive
BBA freshers can join as operations executives, assisting in managing day-to-day operations, optimising processes, ensuring efficiency, and coordinating with different departments.
Business Development Associate
BBA graduates can work as business development associates, identifying potential clients, nurturing relationships, and exploring new business opportunities.
Project Coordinator
BBA freshers can begin their careers as project coordinators, assisting in planning, executing, and monitoring projects, ensuring timely completion and effective resource allocation.
Retail Management Trainee
BBA graduates can explore retail management trainee programs, gaining hands-on experience in various aspects of retail operations, merchandising, customer service, and sales.
Supply Chain Analyst
BBA freshers can work as supply chain analysts, analysing supply chain processes, optimising inventory management, and coordinating with suppliers to ensure smooth operations.
These are just a few examples, and there are numerous other job profiles available to BBA freshers across different industries. It's important to research and align your skills and interests with the specific requirements of the job to find the right fit for your career path.
Reading the job description will greatly benefit you during the entire recruitment process. It will educate you about all the company requirements and offer you profile-centric keywords that you can use to enhance the technical strength of your resume.
To explain it better, we are listing an example job description for BBA freshers below. Here, we have highlighted the keywords that a candidate must use while building a resume specifically for this position. You can follow a similar process to get the technical keywords for your BBA resume.
 
Example BBA Fresher Job Description:
 
ABC Technologies is a leading technology company specialising in software solutions for businesses across various industries. We are currently seeking enthusiastic and talented BBA freshers to join our team as Business Development Associates. This is an excellent opportunity for individuals looking to kickstart their careers in the dynamic field of business development.
Responsibilities:
>Conduct market research to identify potential clients and business opportunities
>Assist in developing and implementing effective sales strategies and tactics
>Collaborate with the sales team to generate leads and follow up on potential prospects
>Build and maintain strong relationships with existing and prospective clients
>Coordinate with internal teams to ensure smooth project implementation and customer satisfaction
>Prepare sales presentations, proposals, and reports as required
>Stay updated with industry trends, competitor activities, and market dynamics
>Provide excellent customer service and address client inquiries and concerns
>Meet and exceed sales targets and contribute to the overall growth of the organisation
 
Requirements:
>Bachelor's degree in Business Administration (BBA) or related field
>Strong passion for business development and sales
>Excellent communication and interpersonal skills
>Ability to build and maintain relationships with clients
>Strong problem-solving and negotiation skills
>Self-motivated and target-driven mindset
>Proficiency in Microsoft Office Suite (Word, Excel, PowerPoint)
>Ability to work in a fast-paced and dynamic environment
>Willingness to learn and adapt to new technologies and industry trends
Building a professional resume as a BBA fresher is crucial to showcase your skills, education, and potential to prospective employers. 
Here's a step-by-step guide to help you create an impressive resume:
Choose an appropriate format
Opt for a clean and professional resume format, such as a reverse chronological or combination format. This will highlight your education and any relevant experiences you have.
Write resume header and contact details
Begin your resume with your full name as the resume header. We recommend using the biggest font size to frame the resume header. After the header, you can list your professional contact details, including email id, phone number, and LinkedIn profile link.
Write a compelling summary
Write a concise summary or objective statement highlighting your career aspirations, key skills, and what you can bring to the table as a BBA fresher.
Emphasise relevant skills
Include a dedicated skills section highlighting skills you acquired during your BBA program, such as financial analysis, market research, project management, or business communication. Tailor these skills to match the job requirements you are applying for.
Use Bullet Points to List Your Details
After the skills section, we suggest you use bullet points while writing your resume details. It will make your resume look organised and enhance its readability.
Showcase internships or part-time work
If you have any internships, part-time jobs, or volunteer experiences, include them in the work experience section. Focus on transferable skills gained during these experiences, such as teamwork, problem-solving, or communication.
Highlight your education
Emphasise your BBA degree by including relevant details such as the institution's name, graduation date, and any academic achievements or honours.
Showcase relevant coursework
If you have completed coursework or projects related to your desired job role, highlight those under a separate section. This will demonstrate your knowledge and expertise in specific areas.
Highlight academic projects or research
If you have undertaken any significant projects or research during your BBA program, mention them under a separate section. Briefly describe these projects' objectives, methodologies, and outcomes to demonstrate your analytical and research abilities.
Showcase leadership and extracurricular activities
BBA freshers often engage in extracurricular activities that develop leadership and teamwork skills. Include any leadership positions, club memberships, or volunteer work highlighting your ability to take the initiative and work collaboratively.
Use action verbs and quantify achievements
When describing your experiences, use action verbs (e.g., managed, analysed, implemented) to demonstrate your active involvement. Whenever possible, quantify your achievements with specific numbers, percentages, or results to provide a tangible impact.
Proofread and format correctly
Double-check your resume for any spelling or grammatical errors. Ensure consistent formatting, clear section headings, and an easy-to-read font. Use bullet points and concise sentences to make your resume visually appealing and easily scannable.
Customise for each application
Tailor your resume for each job application by highlighting the most relevant skills, experiences, and coursework that align with the position's requirements. This customization will make your resume stand out to hiring managers.
Keep it concise
As a fresher, aim for a one-page resume unless you have significant relevant experiences to showcase. Be selective in choosing the most impactful information to include and avoid irrelevant details.
Remember, a well-crafted resume is just the first step. Customise your cover letter for each application, prepare for interviews, and continuously update your resume as you gain more experience and skills.

 
You may get confused during the resume-building process without an example that you can refer to. Hence, we are listing an example resume for BBA freshers.
You can refer to this resume example while building yours. It will help you frame every resume section effectively.
Example Resume For BBA Freshers
Shikha Sharma
123 Main Street, City, State, ZIP Code
Phone: (123) 456-7890
Email: shikha.sharma@hyresnap.com
Objective:
Highly motivated and analytical BBA graduate seeking a challenging position as a Business Analyst. Eager to apply my strong analytical skills, business acumen, and data-driven mindset to contribute to the success of a dynamic organisation.
Skills:
Data analysis and interpretation
Market research and competitor analysis
Strong problem-solving and critical-thinking abilities
Proficient in Excel, PowerPoint, and data visualisation tools
Excellent written and verbal communication skills
Strong attention to detail and ability to work with large datasets
Collaborative team player with strong interpersonal skills
Time management and ability to meet deadlines
Work Experience:
Intern, XYZ Company, City, State
Month, Year - Month, Year
Assisted the business analysis team in collecting and analysing data to identify areas for improvement and cost-saving measures.
Conducted market research to evaluate competitor strategies, industry trends, and customer preferences.
Assisted in preparing reports and presentations to communicate findings to stakeholders.
Collaborated with cross-functional teams to develop and implement process improvements.
Education:
Bachelor of Business Administration (BBA)
ABC University, City, State
Graduation Date: Month, Year
Relevant Coursework:
Financial Management
Marketing Strategies
Business Analytics
Managerial Economics
Operations Management
Strategic Management
Projects:
Market Research Project:
Conducted comprehensive market research on consumer preferences and trends within the target market segment.
Analysed statistical data to identify growth opportunities and recommend strategic marketing initiatives.
Prepared a detailed report with actionable insights and presented findings to the project team.
Financial Analysis Project:
Analysed financial statements, performed ratio analysis, and assessed company performance.
Developed financial models to forecast future trends and evaluated investment opportunities.
Presented findings and recommendations to the project team and stakeholders.
Leadership and Extracurricular Activities:
President, Business Club, ABC University
Organised guest lectures, workshops, and networking events for business students.
Led a team of 10 members to execute club activities and initiatives.
Volunteer, Community Outreach Program
 
Engaged in community service activities, demonstrating teamwork and leadership skills.
References:
Available upon request.
Building a resume for BBA freshers is not easy as it will take a lot of your time and efforts. Even after this, you will need practical guidelines to build a job-winning BBA resume.
If you want to dodge the entire process, check out HyreSnap Online Resume Builder. It is an AI-powered resume-building application that will help you craft impeccable BBA resumes without any hassle.
Below you can see the highlighting features of our resume builder:
We have listed every essential step to build a professional resume for BBA freshers in 2023. However, if you missed anything, refer to the key takeaways below:
Choose a suitable resume format i.e. combination or reverse chronological

Add all the essential resume sections and add resume details in bullet points

List your key and technical skills in separate sections

Highlight keywords and key metrics throughout the resume

Write a compelling resume summary or objective after writing all resume sections

Proofread your resume with a focused mind after completion before applying

For complete career-framing assistance, feel free to reach us at info@hyresnap.com. Our experts will be highly obliged to help every job seeker build a bright career in 2023.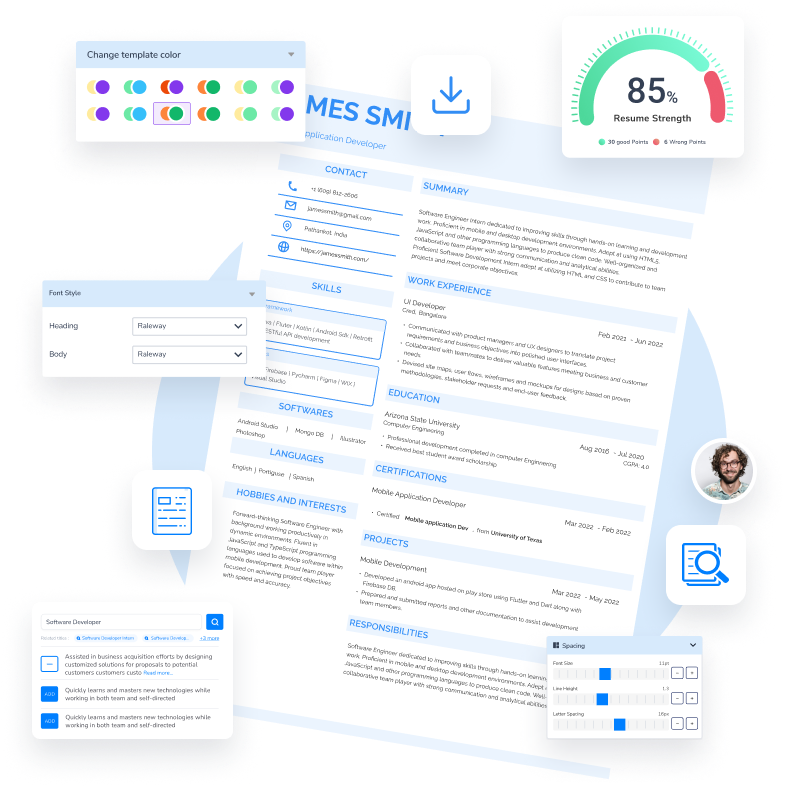 Build your resume in 10 minutes
Elevate your interview chances with our Modern Resume Templates that follows the exact 'Resume Rules' that employers look for.
Try Now for Free!
Build Your Resume
Excellent
4.8
out of 5 on
TrustPilot