10+ Tricks to Craft a Resume For Lab Technician Jobs
In today's dynamic and competitive job market, crafting a standout resume is a critical skill that can set you apart from the crowd and open doors to exciting career opportunities.
When it comes to landing a lab technician job, a meticulously designed resume can be your ticket to success. 
Lab technicians play a vital role in scientific research, medical diagnostics, and various industries that rely on accurate laboratory analyses. 
As you embark on your journey to secure a rewarding lab technician position, it's essential to equip yourself with a resume that not only highlights your technical expertise but also showcases your dedication to precision, problem-solving, and collaboration.
Here you will get answers to all the fundamental resume-building queries to craft an impeccable lab technician resume. Our focus here remains constant at:
What are the fundamental responsibilities of a lab technician?

How to use a job description to build a lab technician resume?

Which is the best lab technician resume format?

How to craft a lab technician resume?
You can follow the guidelines given here to craft a professional lab technician resume. However, if you find it complex, use HyreSnap Online Resume Builder.
It is an AI-powered resume-making platform that can help you build a job-winning lab technician resume in easy steps.
As of now, let's get the guidelines to build a lab technician resume without using any digital tools:
Lab technicians play a crucial role in various scientific and medical settings, assisting scientists, researchers, and healthcare professionals in conducting tests, experiments, and analyses. Their fundamental responsibilities include:
Sample Collection and Preparation: Lab technicians are responsible for collecting samples, such as blood, tissues, or specimens, and preparing them for analysis. They ensure proper labeling, storage, and handling of samples to maintain accuracy and prevent contamination.
Conducting Tests and Experiments: Lab technicians perform a wide range of tests and experiments, depending on the nature of the laboratory. This may include chemical analyses, microbiological cultures, genetic testing, or diagnostic tests.
Operating Lab Equipment:

They are proficient in using and maintaining various laboratory equipment and instruments, such as microscopes, centrifuges, spectrophotometers, and automated analyzers.
Data Recording and Analysis: Lab technicians meticulously record the results of tests and experiments in a laboratory notebook or computer system. They may also assist in data analysis, ensuring the accuracy and consistency of the data collected.
Quality Control:

Lab technicians adhere to strict quality control measures to ensure the reliability and precision of their results. They may conduct control tests and calibrate equipment regularly to maintain accuracy.
Cleaning and Maintenance:

Lab technicians maintain a clean and organized work environment. This includes cleaning equipment, sterilizing instruments, and disposing of hazardous waste safely.
Safety Compliance: They strictly follow safety protocols and guidelines to protect themselves and others from potential hazards. This includes handling chemicals, biological materials, and infectious agents safely.
Assisting Researchers and Scientists: Lab technicians support scientists and researchers in their work by providing technical assistance, carrying out tasks, and collaborating on projects.
Troubleshooting: When faced with unexpected results or technical difficulties, lab technicians use their problem-solving skills to identify the issue and find solutions.
Inventory Management:

Lab technicians may manage laboratory supplies and reagents, ensure adequate stock, and place orders when necessary.
Compliance and Documentation: Lab technicians ensure compliance with regulatory standards and protocols specific to their field. They maintain accurate records, including lab reports, inventory logs, and safety documentation.
Continuous Learning: They stay up-to-date with the latest laboratory techniques, technologies, and research advancements through training and professional development.
A job description helps you understand the fundamental job responsibilities and eligibility criteria. Similar is the case with a lab technician resume. Additionally, you can pick profile-centric keywords from the job description to use while making your resume.
To help you understand the usage of a job description better, we have listed an example below:
Lab Technician Job Description:
XYZ Laboratories is a leading research and testing facility specializing in [field of research or testing]. We are currently seeking a skilled and detail-oriented Lab Technician to join our dynamic team. The Lab Technician will play a critical role in supporting our research and testing activities, ensuring accurate and reliable results.
Responsibilities:
Sample Collection and Preparation: Collect various samples as per the specified protocols and prepare them for testing, ensuring proper labeling and documentation.
Conducting Tests and Experiments: Perform a wide range of tests and experiments using advanced laboratory equipment and techniques. This may include chemical analyses, molecular testing, biological assays, and other specialized procedures.
Data Recording and Analysis: Accurately record test results and observations in laboratory notebooks or computer systems. Assist in data analysis and interpretation under the guidance of senior researchers.
Quality Control: Follow established quality control protocols to ensure the accuracy and precision of test results. Participate in proficiency testing and implement corrective actions when necessary.
Equipment Operation and Maintenance: Operate, calibrate, and maintain laboratory equipment and instruments to ensure optimal performance and reliability.
Safety Compliance: Adhere to strict safety guidelines and protocols to protect oneself and others from potential hazards. Follow standard operating procedures (SOPs) and maintain a safe laboratory environment.
Inventory Management: Monitor and manage laboratory supplies, chemicals, and reagents, ensuring an adequate stock level for ongoing research and testing activities. Place orders for new supplies as needed.
Collaboration and Communication: Work closely with other team members and researchers to support ongoing projects and share relevant information effectively.
Troubleshooting: Identify and resolve technical issues that may arise during experiments or testing processes. Seek guidance from senior personnel when necessary.
Continuous Learning: Stay up-to-date with the latest advancements in laboratory techniques, technologies, and industry practices. Engage in ongoing training and professional development opportunities.
Qualifications:
Bachelor's degree in Biotechnology or a related scientific discipline.
Proven experience as a lab technician, preferably in a research or testing environment.
Familiarity with laboratory equipment, instruments, and procedures.
Strong attention to detail and accuracy in data recording and analysis.
Excellent organizational and time management skills.
Ability to work independently as well as part of a collaborative team.
Knowledge of safety protocols and adherence to health and safety regulations.
Effective communication skills to interact with colleagues and provide transparent updates on research progress.
Proficient in computer applications and data entry.
The best resume format for a lab technician is the reverse-chronological format. This format emphasizes your work experience by listing your most recent job first and then moving backward in time. It is the preferred format for lab technicians because it lets employers see your relevant experience and achievements quickly. 
Crafting a solid resume for a lab technician requires careful attention to detail and an emphasis on relevant skills, experience, and accomplishments. Here's a step-by-step guide to help you create an effective lab technician resume:
Header
Begin your resume with a clear and professional header that includes your full name, contact information (phone number and email address), and location (city and state).
Objective or Summary Statement
Write a brief objective or summary statement at the beginning of your resume. Highlight your essential qualifications, such as laboratory skills, technical expertise, and any specialized knowledge you possess. Tailor this section to the specific lab technician job you are applying for.
Work Experience
List your work experience in reverse-chronological order, starting with your most recent job and moving backward. Include the name of the company or research facility, your job title (Lab Technician), and the dates of employment for each position.
Use bullet points to describe your responsibilities and achievements in each role. Focus on your laboratory skills, techniques, and any specific testing or research you have conducted. Quantify your accomplishments when possible, using metrics or numbers to demonstrate the impact of your work.
Education
Include your educational background, such as your degree, major subjects, and the name of the university or college you attended. Mention any relevant coursework, laboratory projects, or academic achievements that showcase your laboratory skills and knowledge.
Skills
Create a dedicated section to list your technical skills and laboratory competencies. Include skills such as sample preparation, data analysis, equipment operation, laboratory safety, and any specific testing techniques you are proficient in. Use keywords from the job description to make your resume more relevant to the position.
Certifications
If you have any relevant certifications, licenses, or training related to laboratory work, include them in a separate section.
Awards and Achievements
If you have received any awards, honors, or recognition for your work as a lab technician, mention them to showcase your accomplishments.
Professional Memberships
If you are a member of any relevant professional organizations or laboratory associations, you can mention them to demonstrate your commitment to the field.
References
Conclude your resume by stating that references are available upon request. Avoid including specific references on the resume itself.
Tips for Crafting Your Lab Technician Resume:
Customize your resume for each lab technician job application, emphasizing the skills and experiences that match the position's requirements.

Use clear and concise language, and avoid jargon or overly technical terms that all readers might not understand.

Keep the resume clean, organized, and easy to read. Use bullet points and headings to structure the content.

Proofread your resume carefully to ensure there are no errors or typos.
You can refer to the below-given sample resume for lab technician jobs while building your resume. It will help you frame every resume section professionally without any errors.
Sample Resume For Lab Technician Jobs:
Himanshu Sharma
[Your Address]
[City, State, Zip Code]
[Your Email Address]
[Your Phone Number]
Objective
Detail-oriented and highly skilled Lab Technician with [X] years of experience in conducting scientific research and performing a wide range of laboratory tests. Seeking the position of Lab Technician at [Company Name] to contribute my expertise in laboratory techniques and ensure accurate and reliable results for the organisation.
Skills
Laboratory testing and analysis
Sample preparation and handling
Laboratory equipment operation and maintenance
Data recording and analysis
Quality control and safety compliance
Problem-solving and troubleshooting
Work Experience
Lab Technician
[ABC Research Institute], [City, State]
[Dates of Employment]
Conducted laboratory tests and experiments to support ongoing research projects.
Prepared samples and specimens for analysis, ensuring accuracy and adherence to protocols.
Operated and maintained a wide range of laboratory equipment, including microscopes, centrifuges, and spectrophotometers.
Recorded and analyzed test results, contributing valuable insights to research findings.
Assisted in the development and implementation of new testing procedures.
Laboratory Assistant
[XYZ Medical Center], [City, State]
[Dates of Employment]
Supported medical technologists in conducting diagnostic tests on patient samples.
Followed strict quality control measures and safety protocols in the laboratory.
Maintained inventory of laboratory supplies and placed orders as needed.
Prepared and sterilised laboratory equipment and instruments for testing.
Assisted in data entry and report generation for patient test results.
Education
Bachelor of Science in Biology
[University Name], [City, State]
[Year of Graduation]
Certifications
Laboratory Safety and Chemical Handling Certification
[Any other relevant certifications]
Achievements
[Mention any relevant achievements or awards received during your career.]
References
Available upon request.
We have listed every fundamental resume-building step in this guide. You can follow them or use HyreSnap Online Resume Builder to craft your lab technician resume.
It is an artificial intelligence-powered online resume-crafting platform that minimizes resume-building efforts without affecting the quality of your resume.
Below, you can check the key features offered by this modern resume-building platform:
All these aforementioned tips and tricks will lead you to an ATS-friendly lab technician resume in 2023. To revise everything, please check the below-given key takeaways:
Opt for a combination or reverse chronological resume format

Outline your lab technician resume with all the essential sections

Mention your work details in bullet points starting with action verbs

Make separate sections to list your key and technical skills

Proofread your resume carefully after completing it to rectify minor errors

Apart from this, you can contact our career-building experts at info@hyresnap.com to get any other career guidance. We will help you build a bright career with a suitable job in 2023.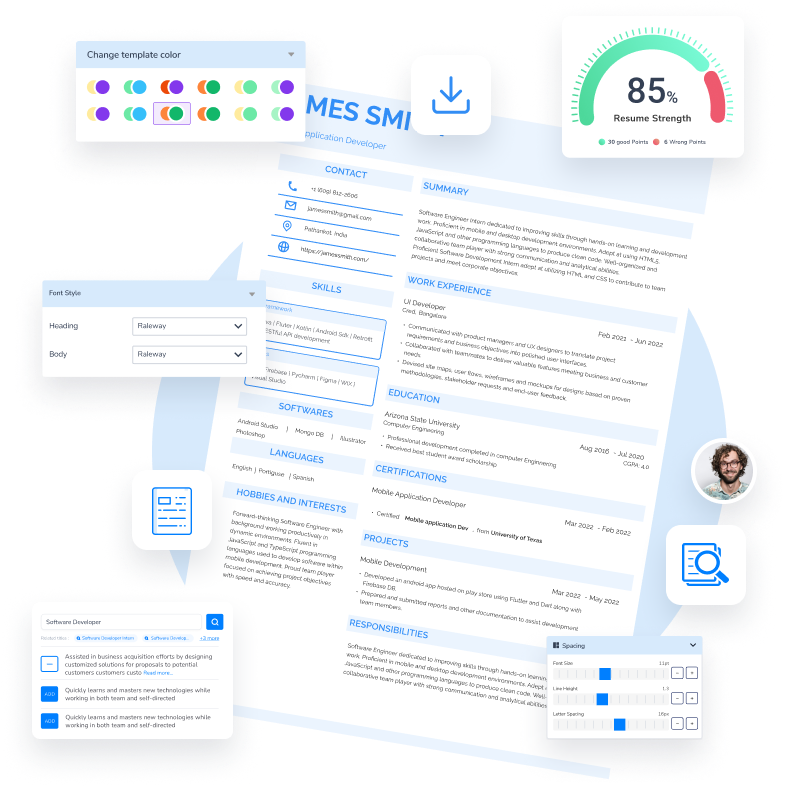 Build your resume in 10 minutes
Elevate your interview chances with our Modern Resume Templates that follows the exact 'Resume Rules' that employers look for.
Try Now for Free!
Build Your Resume
Excellent
4.8
out of 5 on
TrustPilot