Firefighter Resume with Example [How to Craft]
Are you looking for a firefighter job in 2023?
If yes, then you will need a professional resume for firefighter jobs. Building a professional firefighter resume is not a piece of cake for every professional.
You need to possess precise resume-building skills, attention to detail, and time to invest for crafting a job-winning firefighter resume.
Considering this, we are here answering some fundamental resume-building queries especially for firefighter jobs that include:
What are the fundamental responsibilities of a firefighter?

How to become a firefighter in India?

How to use a firefighter job description to write a resume?

How to build a firefighter resume?

How much does a firefighter earn in India?
You can check the answers to these questions for crafting an impeccable firefighter resume in 2023. However, if you do not have time, we suggest you use an AI-powered Online Resume Builder to make the first draft.
After making the first draft of your resume, you can manually check everything and make required corrections. Now, without wasting time, let's explore some practical firefighter resume-building steps mentioned below:
The fundamental responsibilities of a firefighter encompass a wide range of duties aimed at preventing, mitigating, and responding to fires and other emergency situations. These responsibilities include:
Fire Suppression: Firefighters are primarily responsible for extinguishing fires. They use various tools and equipment, such as hoses, water pumps, and fire extinguishers, to control and put out fires in structures, vehicles, forests, and other locations.
Rescue Operations: Firefighters perform rescue operations to save individuals who are trapped, injured, or in life-threatening situations. This includes rescuing people from burning buildings, car accidents, water-related incidents, and more.
Emergency Medical Services: Firefighters often serve as first responders, providing basic medical assistance in emergencies. They administer first aid, perform CPR, and stabilize patients until paramedics or other medical professionals arrive.
Hazardous Materials Response: Firefighters are trained to handle hazardous materials incidents, including chemical spills and leaks. They contain and mitigate hazardous materials to protect the environment and public health.
Fire Prevention and Education: Firefighters play a vital role in educating the public about fire safety. They conduct fire prevention programs, inspections, and home safety checks to reduce fire risks in the community.
Training and Drills: Firefighters continually train and participate in drills to maintain their skills and prepare for various emergency scenarios.
Equipment Maintenance: They are responsible for the maintenance and upkeep of firefighting equipment, including fire trucks, hoses, and personal protective gear, to ensure it is in proper working condition.
Public Education: Firefighters conduct public education programs to raise awareness about fire safety, disaster preparedness, and emergency response procedures.
Incident Command: Firefighters often take on leadership roles at emergency scenes, directing response efforts, coordinating resources, and ensuring the safety of both responders and the public.
Fire Investigation: After a fire is extinguished, firefighters may investigate the cause and origin of the fire. This is essential for determining if the fire was accidental, intentional, or the result of a hazard.
Wildfire Suppression: In regions prone to wildfires, firefighters are responsible for suppressing and controlling wildfires. This may involve creating firebreaks, conducting controlled burns, and protecting communities.
Community Outreach: Firefighters engage with the community through public events, school programs, and community meetings to build relationships and promote safety.
Environmental Conservation: Firefighters assist in preserving natural resources and protecting the environment by combating forest fires and participating in conservation efforts.
Teamwork: Firefighters work closely with their colleagues as part of a team. Effective communication and collaboration are crucial in the high-stress environment of emergency response.
Physical Fitness and Training: Maintaining physical fitness and continuous training are essential to meet the physical demands of the job and stay prepared for emergencies.
Shift Work: Many firefighters work in shifts, which may include extended periods on duty followed by days off. They must be ready to respond to emergencies at any time.

 
Becoming a firefighter in India typically involves a specific process and requirements set by various state fire services and municipal corporations. While specific requirements may vary by region, here is a general guide on how to become a firefighter in India:
Educational Qualifications: Most fire departments in India require candidates to have at least a 10+2 (12th-grade) educational qualification.
Age Limit: The age limit for firefighter recruitment varies by state and organization, but candidates are usually required to be between 18 and 27 years of age.
Physical Fitness: Firefighting is physically demanding, so candidates must meet specific physical fitness requirements, including height, weight, and endurance tests. Some organizations have specific fitness standards that candidates must pass.
Educational Background: Candidates with a background in science or engineering may have an advantage, as these fields often require knowledge of fire safety and safety measures.
Application Process: Watch for firefighter recruitment notifications from state fire services or municipal corporations. These notifications are typically published in local newspapers and on official websites.
Written Exam: Candidates usually have to pass a written exam covering topics such as general knowledge, mathematics, and basic firefighting principles. This exam may be followed by an interview.
Physical Fitness Test: Candidates must pass a physical fitness test, which often includes tasks like running, ladder climbing, and carrying heavy equipment.

Medical Examination: Candidates must undergo a medical examination to ensure they are physically fit for the role.
Training: Successful candidates are typically required to complete firefighter training at a recognized fire service training institute. This training covers fire prevention, fire suppression techniques, use of firefighting equipment, rescue operations, and first aid.
Certification: Upon successful completion of training, candidates are often awarded a certification in firefighting or fire and safety management.
Apply for Openings: Monitor job vacancies and openings within state fire services or municipal fire departments. Apply for the positions that match your qualifications and preferences.
Continuous Learning: Firefighters are encouraged to engage in continuous learning and professional development to stay updated on the latest firefighting techniques and safety procedures.
Personal Qualities: As a firefighter, you should possess personal qualities such as courage, teamwork, problem-solving skills, and the ability to remain calm under pressure.
A firefighter job description, like any other job description will help you frame an ATS-friendly resume. It will educate you with all the responsibilities of a firefighter and give you technical terms that you can add to your firefighter resume for clearing the ATS-screening round.
Below you can check a real life firefighter job description example for better understanding:
Firefighter Job Description Example:
The Bangalore Fire Department is seeking dedicated and highly motivated individuals to join our team as firefighters. As a firefighter, you will play a crucial role in responding to emergency situations, protecting lives, and preserving property within our community. This challenging and rewarding position requires physical fitness, courage, and a commitment to public safety.
Key Responsibilities:
Emergency Response: Respond promptly to emergency calls involving fires, accidents, medical emergencies, hazardous materials incidents, and other public safety concerns.
Fire Suppression: Participate in firefighting operations, including extinguishing fires, operating fire suppression equipment, and ensuring the safety of victims and fellow responders.
Rescue Operations: Perform rescue operations to extricate individuals from hazardous situations, including vehicle accidents, building collapses, and water-related emergencies.
Emergency Medical Services: Administer basic first aid and life support measures to stabilize patients until the arrival of medical professionals.
Hazardous Materials Response: Handle hazardous materials incidents by identifying, containing, and mitigating hazardous substances to protect the environment and public health.
Fire Prevention: Educate the community on fire prevention and safety measures through public outreach programs and inspections.
Training and Drills: Participate in regular training exercises, drills, and simulations to maintain and enhance firefighting skills.
Equipment Maintenance: Perform routine maintenance and inspections on firefighting equipment, ensuring it is in optimal working condition.
Incident Command: Take on leadership roles during emergency scenes, directing response efforts and coordinating resources to ensure the safety of all parties involved.
Qualifications:
High school diploma or equivalent (10+2) is required.
Physical fitness and the ability to meet specific physical requirements.
Excellent teamwork, communication, and problem-solving skills.
Ability to work in high-stress, physically demanding situations.
Strong commitment to public safety and community service.
Valid driver's license (if required).
Crafting a firefighter resume is crucial to highlight your skills, qualifications, and experiences that make you a strong candidate for the position. Here's a step-by-step guide on how to create an effective firefighter resume:
Contact Information
Include your full name, address, phone number, and a professional email address. Ensure that your contact information is accurate and up to date.
Resume Summary or Objective
Write a brief summary or objective statement that highlights your career goals and what you bring to the role. Tailor this section to the specific job you're applying for.
Professional Experience
List your relevant work experience in reverse chronological order, starting with your most recent position. Include the following details for each role:
Job title and the name of the fire department or organization.

Dates of employment (start and end dates).

Job responsibilities and achievements, emphasizing your firefighting and emergency response experience.

Use action verbs (e.g., "responded to emergency calls," "operated fire suppression equipment") to describe your duties.
Skills and Qualifications
Create a section highlighting your key skills, certifications, and qualifications. Include the following:
Firefighter training and certifications, such as Firefighter I and II, Hazardous Materials Technician, EMT, or any relevant qualifications.

Knowledge of firefighting techniques, equipment operation, fire prevention, and emergency medical procedures.

Physical fitness and endurance.

Additional skills, such as incident command experience or proficiency in handling hazardous materials.
Education
List your educational background, starting with your most recent degree. Include the following information:
Degree earned (e.g., High School Diploma or Bachelor of Science in Fire Science).

Name of the educational institution and its location.

Graduation date.
Certifications and Training
Highlight your relevant certifications, training programs, and continuing education courses. Include dates of completion and any organizations that provided the training.
Achievements and Awards
Mention any awards, recognitions, or commendations you've received in your firefighting career. This could include accolades for bravery, successful rescues, or contributions to your department.
Volunteer and Community Involvement
If you've volunteered for firefighting or emergency response organizations, include these experiences. Describe your role and contributions.
Professional Memberships
List any memberships in professional organizations related to firefighting, such as the International Association of Fire Fighters (IAFF).
References
It's not necessary to include references on your resume, but you can mention that they are available upon request.
Tailor Your Resume
Customize your resume for each job application. Highlight experiences and qualifications that align with the specific job description and requirements.
Proofread and Edit
Ensure that your resume is free of spelling and grammatical errors. Double-check that all information is accurate and consistent.
Format and Design
Keep the resume clean and easy to read. Use a professional font, bullet points, and clear headings. Avoid excessive use of colors or graphics.
Length
Aim for a one to two-page resume, focusing on the most relevant and impactful information.
Include a Cover Letter
Consider attaching a cover letter that further highlights your qualifications and enthusiasm for the position.
Once you've crafted your firefighter resume, review it carefully and have someone else proofread it to catch any potential errors. A well-organized and tailored resume will help you stand out as a strong candidate for firefighting positions.
The salary of a firefighter in India can vary based on several factors, including the level of experience, the specific city or region of employment, and the organization they work for. Here are approximate salary ranges for firefighters in India:
Entry-Level Firefighter: An entry-level firefighter with limited experience can expect an annual salary ranging from ₹2.5 lakhs to ₹4 lakhs per year.
Mid-Level Firefighter: Firefighters with a few years of experience can earn between ₹4 lakhs to ₹6 lakhs annually.
Experienced Firefighter: Those with several years of experience and potentially holding higher ranks or specialized certifications can earn salaries of ₹6 lakhs to ₹10 lakhs or more per year.

 
You can use this below-listed firefighter resume example as a reference while building your resume for firefighter jobs in 2023:
Example Resume For Firefighter Jobs:

 
[Your Name]
[Address]
[City, State, ZIP Code]
[Phone Number]
[Email Address]
Objective:
Dedicated and seasoned firefighter with [X] years of experience serving the Bangalore Fire Department. Committed to ensuring public safety and well-versed in firefighting, rescue operations, and emergency medical services. Seeking the opportunity to continue contributing to the community through the [Target Fire Department] by leveraging my expertise and skills.
Skills:
Fire suppression and rescue operations
Emergency medical services
Fire prevention and safety education
Hazardous materials handling
Incident command and teamwork
Physical fitness and endurance
Equipment maintenance
First aid and life support
Firefighting equipment operation
Public outreach and community engagement
Professional Experience:
Firefighter | Bangalore Fire Department | Bangalore, Karnataka
[Month, Year] - Present
Respond promptly to emergency calls, including structure fires, vehicle accidents, medical emergencies, and hazardous materials incidents.
Execute fire suppression techniques, including operating fire hoses, water pumps, and fire extinguishers to control and extinguish fires.
Perform rescue operations, extricating individuals from hazardous situations, including building collapses, vehicle entrapments, and water-related emergencies.
Administer basic first aid and life support measures to stabilize patients until advanced medical personnel arrive.
Conduct hazard mitigation and ensure the safety of victims, team members, and the public.
Participate in emergency drills, training exercises, and simulations to maintain and enhance firefighting skills and readiness.
Maintain and inspect firefighting equipment, ensuring proper working condition and readiness for emergency response.
Educate the community about fire prevention and safety through public outreach programs and safety inspections.
Firefighter Trainee | Bangalore Fire Department | Bangalore, Karnataka
[Month, Year] - [Month, Year]
Completed rigorous training program covering fire prevention, fire suppression, rescue operations, and emergency medical services.
Participated in hands-on drills and simulations to develop firefighting skills and readiness.
Assisted senior firefighters in emergency response operations and equipment maintenance.
Education:
High School Diploma | [Name of School] | Bangalore, Karnataka
[Year of Graduation]
Certifications and Training:
Firefighter I and II Certification
Hazardous Materials Technician Certification
Basic Life Support (BLS) and CPR Certification
Professional Development:
[List any additional training or courses related to firefighting and public safety]
References available upon request.
We have elaborated on all the fundamental guidelines to start your career as a firefighter above. Still, if you are confused, we recommend using HyreSnap Online Resume Builder to craft your resume for firefighter jobs in 2023.
It is a modern resume-making platform that is capable of building a professional resume in less than 15 minutes. Below are some highlighting features of this 21st century resume-building tool:

 
You can follow these above-mentioned instructions to craft a job-winning resume for firefighter jobs in 2023. In case you missed anything, check the key takeaways listed below:
Select a combination or reverse chronological resume format

Outline your resume with all the essential resume headings

Write your resume information in one-liner bullet points

Use easy-to-read English language to write your resume summary

Add profile centric terms and highlight key details wherever possible

Use numbers to quantify your achievements in the work experience section

Make separate sections to write your technical and key skills

Take a pause after completing your resume and proofread it
Furthermore, we have a team of career experts always ready to help you to clear all your career and resume building queries. So, you can feel free to contact us at info@hyresnap.com.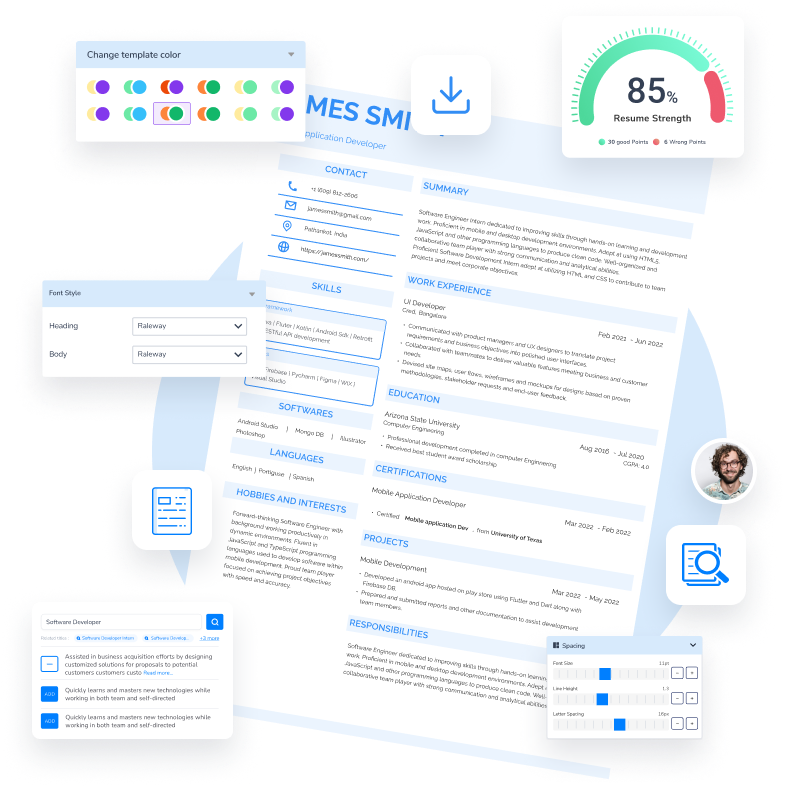 Build your resume in 10 minutes
Elevate your interview chances with our Modern Resume Templates that follows the exact 'Resume Rules' that employers look for.
Try Now for Free!
Build Your Resume
Excellent
4.8
out of 5 on
TrustPilot