Resume Mistakes: 5 Biggest Things To Avoid Right Now !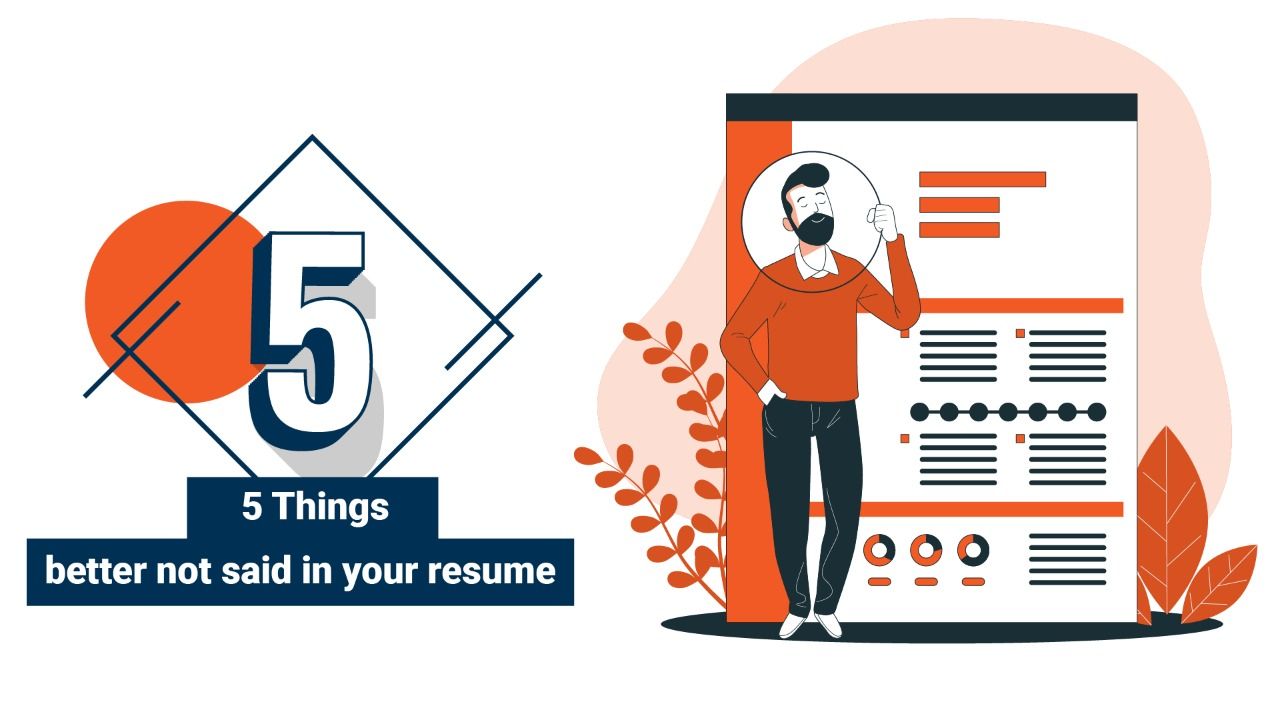 Just like anything else in life, too much Information can also be bad for you, especially while giving out your details to a potential employer as a resume. 
A resume is a document that is supposed to showcase your qualification, skill sets and experience in the employment market.
Even if you aren't looking for a job right now, now is the best time to work on your resume because the job market is so uncertain and competitive.
Take some time to think about your strengths, weaknesses, and goals before you start. Also, think about who you're up against and what skills you have that might make you stand out.
 It is important to make sure you include all the relevant information in your resume, "relevant" being the keyword here.
Adding unnecessary information that is not relevant might jeopardise your job prospects. Don't worry, we at HyerSnap have you covered. Here is a list of five things to leave out in a resume, avoid these and your resume speak for itself. (Exactly as much as it is supposed to).
If you have any gaps in your employment history, it's best to leave them off your resume. Potential employers will likely want to know why there are gaps and might have biases against it, therefore it's better to explain these in person, after you secure an interview.
Your salary details belong to your bank statements and not your resume. Including your salary history can give away too much information about what you're currently earning or have earned in the past. Leave it off your resume.
Write like a professional if you want a professional job. Too often, people don't care about spelling and grammar because the job they want doesn't involve related tasks like editing manuscripts or magazine articles.
But spelling and grammar show that you pay attention to details and can talk to people, which are two skills that are important for any job. They show hiring managers if you do your work well and can talk and write clearly with your co-workers, supervisors, and clients.
Missing words: When you've read your own resume a dozen times, it's easy to miss mistakes like "oversaw a team of engineers" instead of "oversaw a team of engineers." Before submitting, always ask a friend or someone you trust to check for these things.
Writing in the present tense about past jobs: In general, you should use the past tense when talking about your old jobs and the present tense when talking about your current job.
An objective statement is not required on a resume since your objective should be clear from the rest of the information you include. Moreover, potential employers aren't interested in your vision and goals for the future. 
What they really want to know is whether or not you are a good fit for the company and apt for the position in question.
Unless you are a recent graduate, your high school education is not relevant to your current career. We have a space crunch, so use the space on your resume wisely and make sure you make every word count.
In a passive sentence, the action's result is the sentence's subject. That's because it's hard to understand.
Passive language on a resume can be boring to read, use too many words, be vague, and, worst of all, lead to a mess of prepositional phrases. For a stronger effect, career experts at Harvard suggest using an active voice and compelling "action" words:
Passive:  "...our team's sales grew by 35% over the course of three years."
Active (with a verb): "Over three years, the team was able to increase sales by 20%."
Passive: "After only six months of working at the company, I was promoted to senior manager."
Active (with an action verb): "...promoted to senior manager after only six months."
Your name (big and bold), address (so the hiring manager knows where you live), personal email address, and phone number should all be at the top of your resume (so they can contact you).
In some situations, it might make sense to add a link to your website or portfolio. Anything else just takes up room.
Your photo: Save that professional headshot for your LinkedIn profile, which the hiring manager will probably look at if they think you're a good candidate.
Reference List: List of references, or a note that says, "References are available upon request." It's already assumed that you have co-workers and senior-level colleagues who can vouch for your skills. Most hiring managers won't ask for your references until you're almost done with the interview process.
Not well put together, short, or easy to read
A black-and-white resume with clear headings and spacing will stand out more than a colorful resume with a lot of boxes and lines coming from all directions.
Make your resume easy to read and understand by balancing the amount of white space and emphasizing important points with underlining, italics, bold, and capitalization. Use bullet points when you want to list details under a section (instead of numbers or letters).
Sentences and parts were left out. This often happens when you turn your resume into a PDF, so check that the formatting is correct before you hit the send button.
The order of the headings and the information is not clear. List your "Experience" section in reverse chronological order, with your most recent job at the top. List the details of each job, such as tasks and achievements, in order of importance.
Unless you're applying for a top job, your resume shouldn't be more than one page long (at most two pages).
Not that this means you should shorten things. Spell out whatever it is, or your reader won't know what you're talking about.
Here are some things that can make your resume longer:
Story Telling: using a style of storytelling. Put that on your resume, but don't make your resume into a novel.
Pronounces: using "I" and "me" and "my." The person reading your resume already knows that it's about you. So, instead of saying "I did [XYZ]," just say "I did [XYZ]." Getting rid of personal pronouns will also make your writing stronger and easier to understand.
Going through all these points make you realise that resume writing is no joke. There are so many pointers to take care of! A single mistake can cost you your dream job! But don't worry, HyreSnap is here to help!
Our AI Engine extracts the keywords from the job description and automatically includes them in your resume within minutes. Not only that, it helps you present your skills and accomplishments in an optimal manner that matches the job description. 
We also provide you with a job search option where you can easily find jobs that match your resume in any city of your choice. Our resume formats are ATS friendly and approved by more than 40 HR experts. We make your resume-building process easy and efficient.
You can write your job-winning resume in just fifteen minutes. Use HyreSnap resume builder to make your perfect resume now.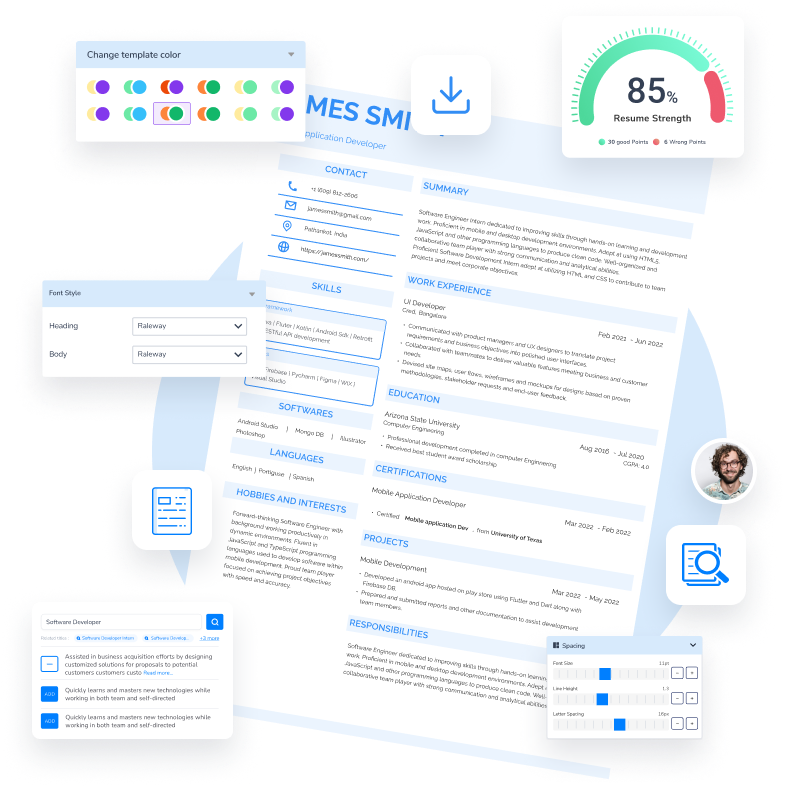 Build your resume in 10 minutes
Elevate your interview chances with our Modern Resume Templates that follows the exact 'Resume Rules' that employers look for.
Try Now for Free!
Build Your Resume
Excellent
4.8
out of 5 on
TrustPilot