Resume Header Examples [15+ Professional Heading Samples]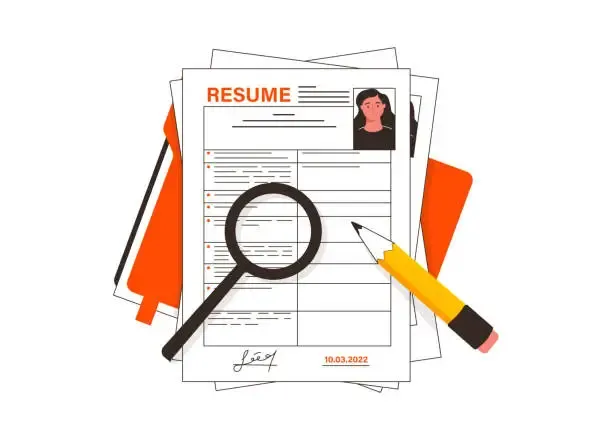 Do you want your resume to stand out?
Your answer must be yes if you are a job seeker. Hence, you must pay keen attention while writing every part of your resume.
The' Resume Header' is one of the most underrated yet essential parts of a resume that professionals must pay much attention to.
Considering this, we are here with some guidelines to help you craft your resume header professionally by answering the following questions:
How to write a resume header?

What are the things to remember while writing a resume header?

What are the things to avoid while writing a resume header?
If you want to craft a job-winning resume without getting indulged in these guidelines, use any Online Resume Builder. You will find plenty of resume builders online that you can pick based on your suitability.
And, in case you want to learn resume building in detail, read on to get the details of:
Steps to craft a professional resume header

Resume header samples for different profiles

Things to avoid while writing the resume header

Things to remember while writing a resume header
Let's read on to get some resume-building insights:

 
​​Crafting an effective resume header is essential because it's the first thing employers see when reviewing your resume. A well-structured header should provide your contact information clearly and professionally. 
Here's how to craft a resume header:

 
Your full name should be the most prominent element of your header, typically in a larger font size than the rest of the text. Use your legal name, and ensure it matches any other official documents you provide during the hiring process.
Below your name, provide your contact details. These typically include:
Phone number: Use a professional mobile number that you can easily be reached at. Avoid using numbers with humorous or unconventional voicemail messages.
Email address: Use a professional and easily recognizable email address. Avoid using nicknames or overly complex addresses.
LinkedIn profile (optional): If you have a well-maintained LinkedIn profile, include the URL. Make sure your LinkedIn profile is complete and professional.
Optional: You can also include your city and state, but it's not always necessary. Include it if you believe your location is relevant to the job (e.g., if the job requires local candidates).
You can follow these guidelines to craft a top-notch resume header:
Keep the header clean and easy to read. Use a simple, professional font (e.g., Arial, Calibri, Times New Roman).

Maintain consistency in formatting. Use the same font and font size for your name and contact information.

Bold your name to make it stand out.

Consider using a slightly larger font size for your name than the rest of the header.

Ensure sufficient spacing between your name, contact information, and any optional elements like the LinkedIn profile.

 
Your header should convey professionalism. Avoid including personal information like marital status, birth date, or a photograph. Moreover, you must use a professional email address that includes your name.

 
Make sure your contact information is accurate and up-to-date.

Double-check for any typos or errors in your contact details, especially your email address and phone number.
Be cautious about sharing too much personal information. Your resume header should include only what is necessary for employers to contact you. In short, protect your privacy by not including your full home address.
Consider tailoring your header to the specific job or industry you are applying to. For example, if you're applying for a creative role, use a more artistic font for your name.
Here's an example of a well-crafted resume header:
John Doe
Phone: (123) 456-7890
Email: john.doe@email.com
LinkedIn: linkedin.com/in/johndoe
Remember that the header is just the beginning of your resume. It should set a professional tone and provide easy-to-find contact information so that potential employers can reach out to you easily.

 
To help you craft a professional resume header, we are listing 15 resume header examples for different purposes below:
John Doe
123 Main Street
New York, NY 10001
(123) 456-7890
john.doe@email.com

 
Jane Smith
456 Elm Avenue
Los Angeles, CA 90002
(987) 654-3210
jane.smith@email.com
LinkedIn: linkedin.com/in/janesmith

 
Michael Johnson
789 Oak Drive
Chicago, IL 60603
(555) 123-4567
michael.johnson@email.com
LinkedIn: linkedin.com/in/michaeljohnson
GitHub: github.com/michael-dev

 
Mary Brown
(789) 321-6540
mary.brown@email.com
Alex Davis
(555) 789-1234
Professional Summary: Experienced Project Manager with a track record of successful project delivery in tech industries.
Sarah Lee
(987) 654-3210
Objective Statement: Seeking a challenging software engineering role in a dynamic company to utilize my skills in AI and machine learning.
David Wilson
123 Executive Lane
San Francisco, CA 94101
(777) 888-9999
david.wilson@email.com
LinkedIn: linkedin.com/in/davidwilson
Emma Garcia
Current Address: 567 College Avenue, Apt. 3B
Permanent Address: 123 Hometown Street
(333) 444-5555
emma.garcia@email.com
LinkedIn: linkedin.com/in/emmagarcia
Lucas Turner
(111) 222-3333
lucas.turner@email.com
Portfolio: lucasturnerportfolio.com
LinkedIn: linkedin.com/in/lucascreative
Emily White
789 Tech Road
Austin, TX 78701
(555) 987-6543
emily.white@email.com
GitHub: github.com/emilycoder
LinkedIn: linkedin.com/in/emilytech
Richard Brown
456 Consultancy Lane
Denver, CO 80201
(222) 333-4444
richard.brown@email.com
Consultancy Website: brownconsulting.com
Lisa Miller
Business: Miller Enterprises
Business Address: 789 Entrepreneur Way
(777) 666-5555
lisa.miller@email.com
Business Website: millerenterprises.com
Thomas Clark
Remote Location: Digital Nomad
(999) 888-7777
thomas.clark@email.com
LinkedIn: linkedin.com/in/thomasremote
Dr. Sarah Patel, MD
Medical License: NY1234567
(333) 222-1111
dr.sarah@email.com
Rachel Adams
School: XYZ High School
School Address: 123 Education Street
(555) 666-7777
rachel.adams@email.com
LinkedIn: linkedin.com/in/rachelteacher
Writing a resume header seems easy but it is a bit tricky. Here are some things that you must remember while writing your resume header:
Professionalism: Maintain a professional tone throughout your header. Use a standard font, avoid excessive formatting, and prioritize clarity and readability.
Font Size and Formatting: Make your name stand out by using a slightly larger font size or bold formatting. Use a consistent font and formatting style for all header elements.
Privacy: Be cautious about sharing too much personal information. Your resume header should provide only the necessary contact information.
Relevance: Ensure that all elements in your header are relevant to the job you're applying for. If certain details, like your physical address, are not needed, consider omitting them.
Customization: Tailor your header to match the job and industry. For example, if you're applying for a creative role, you might use a more artistic font for your name.
Consistency: Use the same contact information format (e.g., phone number format) consistently throughout your resume and other application materials.
Update Regularly: Keep your contact information up-to-date. If you change phone numbers or email addresses, update your resume accordingly.
Proofreading: Double-check for typos or errors in your contact information. Mistakes in your header can make it difficult for employers to reach you.
When writing a resume header, creating a professional and polished impression is essential. For this, there are several things to avoid:
Nicknames or Informal Names:

Use your full legal name rather than nicknames or informal names. This is a formal document; hence, using your full name is more professional.
Unprofessional Email Addresses: Avoid using unprofessional or overly casual email addresses. Create a new, professional email address if necessary. Your email address should include your name and avoid unnecessary symbols or words.
Excessive Personal Information: Your resume header should include only the necessary contact information. Avoid adding personal information like your marital status, birthdate, or social security number. These details are typically not required and may raise privacy concerns.
Irrelevant Information:

Include only relevant contact information. For example, a full mailing address is only necessary if the job posting specifically requests it. Focus on providing contact details that employers need to reach you.
Inconsistent Formatting: Maintain a consistent format for your header. Use the same font style, size, and formatting throughout the entire header. Inconsistent formatting can make your resume look unprofessional.
Overly Creative Fonts or Designs:

While you can customize your header to some extent, avoid using excessively creative fonts or designs that might distract from the content or make it difficult to read. Clarity and professionalism should be the priorities.
Outdated or Incorrect Information: Ensure all contact information is current and accurate. If your phone number, email address, or other details change, update your resume promptly.
Including Unrelated Links: Only include relevant links in your header. For example, a link to your LinkedIn profile or a professional portfolio is appropriate for many roles. However, including links to personal social media profiles or unrelated websites is not recommended.
Inappropriate or Unprofessional Links:

If you include links to your online profiles, ensure they are professional and aligned with your job application. Remove or update any links to profiles containing inappropriate content or not enhancing your professional image.
Overloading with Information: Keep your header concise and focused. Including too much information or multiple phone numbers and email addresses can be confusing. Stick to the essentials.
Including Social Security Numbers: Never include your social security number or any sensitive personal identification information in your resume header. This is unnecessary and poses a security risk.
Overly Long Addresses: If you choose to include your physical address, keep it brief. A full mailing address with excessive details can clutter your header.
Fancy Symbols or Emojis: Avoid using fancy symbols or emojis in your contact information. Stick to standard punctuation and characters for a professional appearance.
Using Temporary or Work Email Addresses: Use a personal, permanent email address rather than an email address associated with a current or temporary job. You may lose access to such email addresses when you leave a position.
Remember that the resume header is your first point of contact with potential employers. By avoiding these common mistakes, you can create a professional and effective header that helps you make a positive impression.
You can follow the guidelines above to craft a perfect resume header for your next job search. However, you can also use HyreSnap Online Resume Builder to prepare a professional resume in 2023.
It will speed up the resume-building process and will leave no chance of errors. Below, you can check the highlighting offerings of this modern resume builder:
We have listed all the important steps to help you write a suitable resume header for your next resume update. Additionally, we are also writing the key takeaways of this guide to help you revise everything:
Write your full name, contact details, and professional email address

Mention your current designation and professional social profiles like LinkedIn

Avoid listing casual social profiles like Facebook and Instagram

Use easy-to-read and professional fonts for your resume header

Apart from this, if you come across any hurdle, don't hesitate to contact our resume experts at info@hyresnap.com. We will help you build a professional resume that stands out in this competitive market.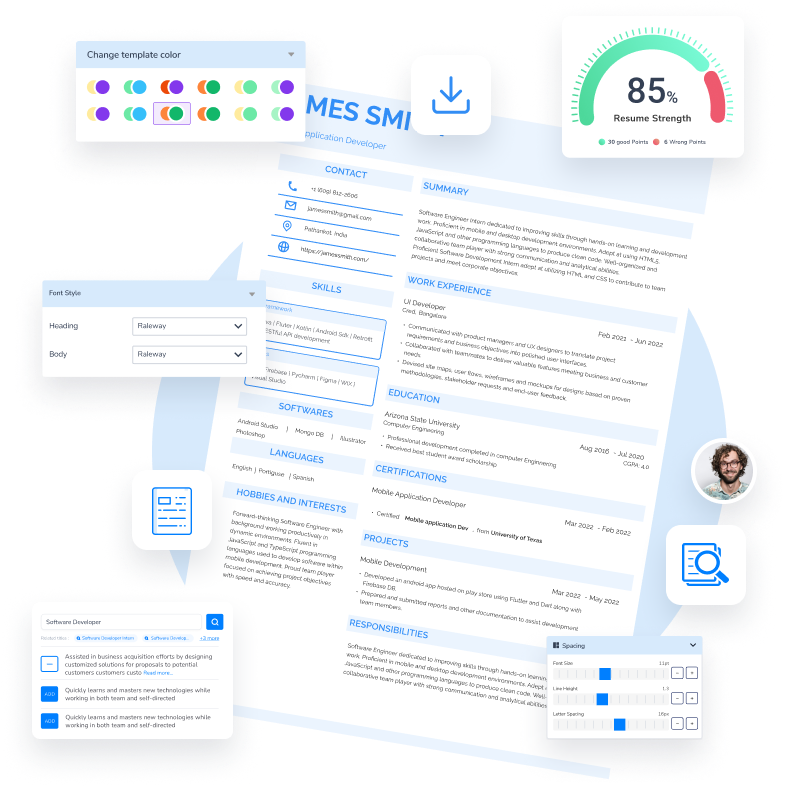 Build your resume in 10 minutes
Elevate your interview chances with our Modern Resume Templates that follows the exact 'Resume Rules' that employers look for.
Try Now for Free!
Build Your Resume
Excellent
4.8
out of 5 on
TrustPilot