Resume headlines: 10 words you must include
It's hard to say enough about how important it is to have a well-written Professional Resume. A resume is a way to market yourself. 
It's the first thing you use to show a potential employer that you want the job and try to convince them that you're the best person for the job.
Remember, though, that a Professional Resume is always a document that changes and gets better as your career goes on. 
So, after the first draught, keep changing and improving it, and keep all of its different versions with you as you move up in your chosen career.
Did you know that it takes an employer or recruiter on average only 8–10 seconds to look over your resume and cover letter for a job application before deciding whether or not to call you for a pre-screen telephone interview? It can be even less than this sometimes. 
Before getting into how important it is, it's important to know what makes a good resume. You won't get a job just because you can write a resume.
You need to write a good resume because, among other important things, it is a big part of whether or not you get hired.

You need a good resume because it is the first step toward getting a job. And a new job brings money and professionalism, and those two things will put you on the path to discipline, health, wealth, love, and more.
It is said that the 'First impression is the last impression'. When you apply to a job, the first thing they do is look at your resume. Having great words in resume headline makes your resume stronger. A headline can be the make or break for landing an interview.
So, selecting appropriate words to define yourself is pivotal in getting noticed as a serious contender for a position. 
When it comes to writing headlines, words are power-packed with emotion and description. The perfect word combination will get you seen as a competent professional ready to work hard.
In this blog post we will go over 10 key words that'll make your resume headline instantly more impressive!
If you don't make a good first impression, a potential employer is likely to stop thinking of you as a good candidate for the job and move on to other people who have better resumes.
Consider a resume as a way to sell yourself. It's more than just a piece of paper. It describes your background, your skills, and your education so that a potential employer can quickly and easily see how your individual experiences can help a company succeed.
Who doesn't want an employee whose major focus is getting results. Not only does this mean that you are an efficient person but also a good resource to any company you work for.
These words will just catch anyone's attention. Not only saying this makes you stand out but also acts as a validation or proof as to why you are a good candidate for the job.
Dynamic is an excellent word to use in your resume headline because it emphasizes the fact that you are always changing and growing. 
This quality is essential for any successful professional, and using dynamic as a way to describe yourself will help catch the attention of potential employers.
Words like "self-starter" can help make your resume headline catchy and attractive. They suggest that you are motivated, proactive, and capable of taking initiative. 
Employers often look for these qualities in potential employees, so using words like these really helps.
Having such a word in your resume headline shows that you are a motivated individual who is willing to put in the hard work necessary to be successful. This can set you apart from other candidates and give you an edge.
By emphasizing that you are a team-oriented individual, potential employers will be more likely to see you as someone who is capable of working well with others. This is usually one of the most important criteria while selecting a candidate.
Communication skills are a must in today's world and having employees who can easily communicate products to clients and tasks to the workforce can really help a company make it in today's competition. 
The art of communication really helps you stand out not only as a candidate but also as a valuable employee.
By solving problems, we show that we are capable of taking initiative and thinking outside the box - two qualities that are highly sought after. 
Not only that, problem solving skills are applicable to many different industries and jobs, so having this word in your headline can make you appear more versatile and adaptable to potential employers.
Resourceful is an excellent word to describe someone who is looking for a job. It shows that you are proactive and can think on your feet.
When potential employers see the word resourceful in your resume headline, it will stand out and they will be more likely to want to learn more about you.
Words like innovative, show that you are creative and have the ability to think outside the box. Employers value creativity and innovation, so using words like this in your resume will help you stand out from the crowd. 
When you think about all of these things, you realise that writing a resume is no joke. So many things need to be taken care of! One mistake can keep you from getting your dream job. HyreSnap is here to help, so don't worry!
Our AI Engine takes the keywords from the job description and puts them on your resume automatically. This takes only a few minutes. Not only that, but it also helps you show off your skills and achievements in a way that fits the job description best.
We also have a job search feature that makes it easy to find jobs that match your resume in any city. Our resume formats work well with ATS and have been approved by more than 40 HR professionals. We make it easy and quick for you to make a resume.
You can write a resume that will help you get a job in just fifteen minutes. Use the HyreSnap resume builder to make your perfect resume right now.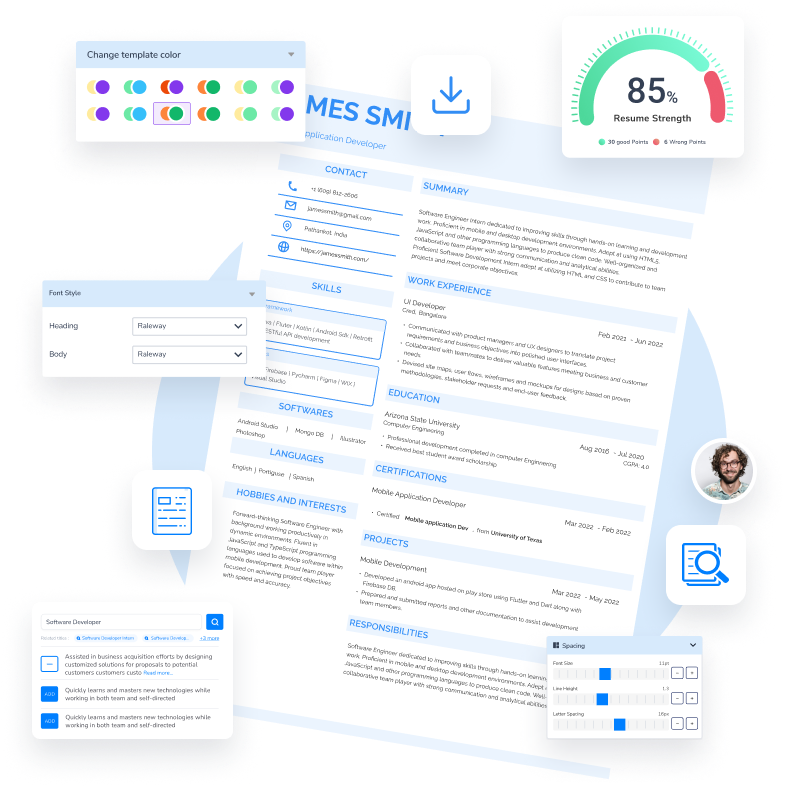 Build your resume in 10 minutes
Elevate your interview chances with our Modern Resume Templates that follows the exact 'Resume Rules' that employers look for.
Try Now for Free!
Build Your Resume
Excellent
4.8
out of 5 on
TrustPilot