12+ Tips and Tricks to Build Resume For Architects in 2023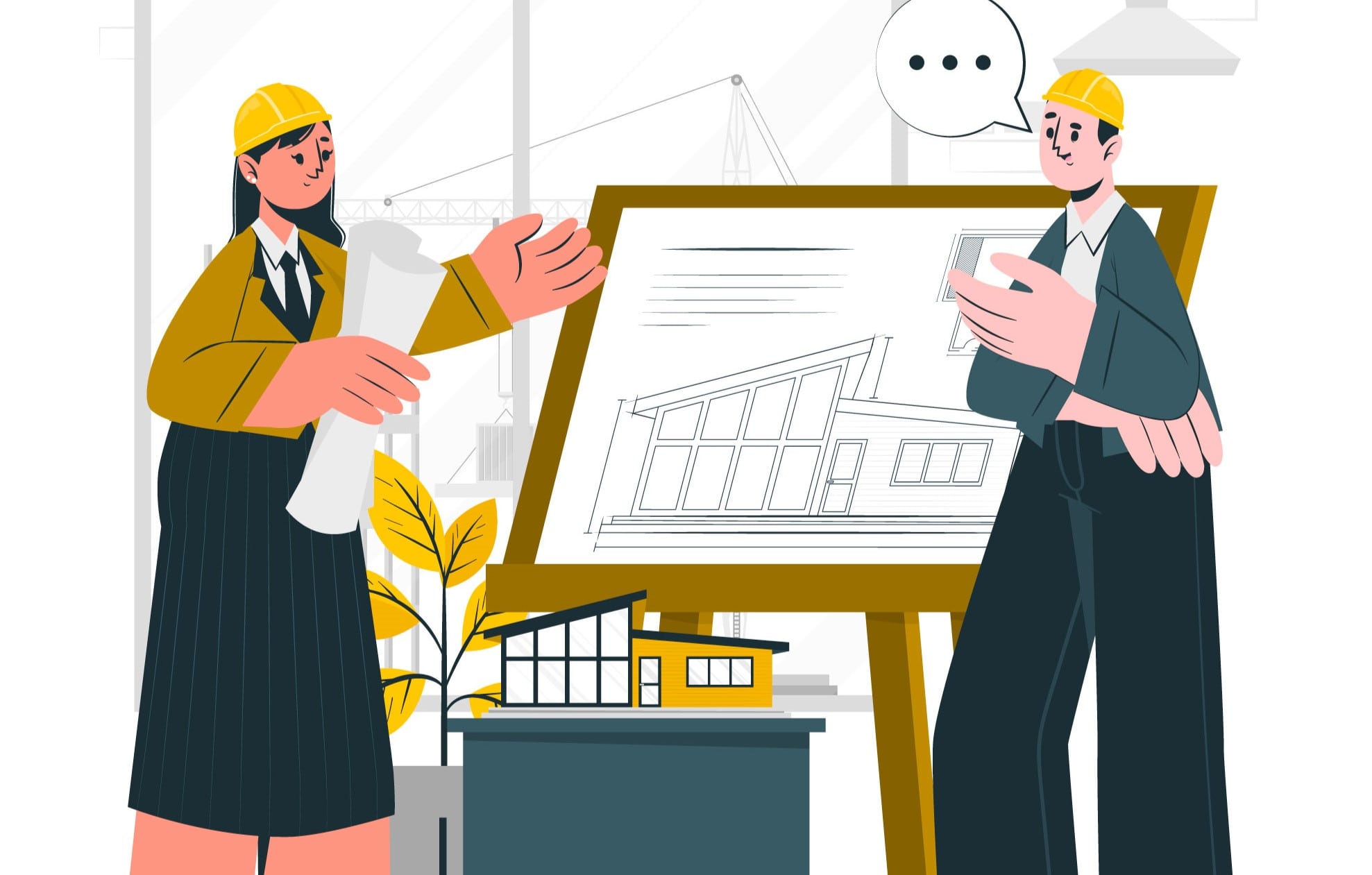 Are you seeking help to build a resume for architects?
If yes, you are at the right place. Here you will get all the essential guidelines to build a job-winning resume for architects.
Indian architecture is changing rapidly as the country is getting ahead in the race to become the fastest-growing economy worldwide. Hence, you can expect many architectural opportunities in India as of now. 
Considering this, we are helping every aspiring architect in building an impactful resume for architects by answering the fundamental questions such as:
What are the fundamental duties of an architect?

How to leverage an architect's job description?

Which is the best format to build a resume for architects?

What is the process of building a resume for architects?
You will need a lot of time, research, and expert guidance to build a professional resume for architects. The absence of any of them can affect the quality of your resume. Hence, if you do not have any of these factors, try HyreSnap Online Resume Builder.
It is a resume-building platform powered by AI technology. It is capable of building ATS-friendly resumes in just a snap. However, if you want to craft your resume by yourself, follow these guidelines:
As an architect, you play a crucial role in designing and constructing buildings and structures. Your work impacts the built environment and influences how people interact with spaces. The fundamental duties of an architect include:
Designing and Planning
Architects are responsible for creating innovative and functional designs for buildings and structures. 
They collaborate with clients to understand their requirements and develop design concepts that meet their needs while considering aesthetic, environmental, and regulatory factors. 
Architects use their creativity and technical knowledge to produce architectural drawings, plans, and 3D models.
Technical Expertise

Architects possess a deep understanding of construction materials, building codes, and regulations. They ensure that designs comply with safety standards and local regulations. 
Architects work closely with engineers, contractors, and other professionals to ensure the construction process aligns with the design intent.
Project Management
Architects oversee projects from conception to completion. They develop project timelines, manage budgets, and coordinate with various stakeholders, including clients, contractors, and consultants. 
Architects monitor the progress of construction activities, conduct site visits, and address any issues that may arise during the construction phase.
Collaboration and Communication
Architects collaborate with clients, engineers, interior designers, and other professionals to create cohesive and integrated design solutions. 
Effective communication skills are crucial as architects need to translate client requirements into design concepts and coordinate with multiple parties involved in the project. 
Architects must also communicate complex technical information to clients and ensure their understanding and satisfaction with the design.
Sustainable Design
With the growing focus on sustainability, architects design environmentally conscious buildings. 
They integrate sustainable practices into their designs, such as incorporating energy-efficient systems, utilising renewable materials, optimising natural lighting and ventilation, and implementing strategies for water conservation. 
Architects contribute to reducing the environmental impact of buildings and creating healthier and more sustainable communities.
Research and Continuous Learning
Through research and continuing education, architects stay updated with industry trends, technologies, and building materials. 
They continually expand their knowledge and skills to deliver innovative and cutting-edge designs. 
Architects also engage in professional development activities, attend conferences, and participate in workshops to stay abreast of advancements in the field.
Ethical Responsibility
Architects have an ethical responsibility to prioritise the public's safety, well-being, and interests. They adhere to professional codes of conduct and ensure that their designs promote inclusivity, accessibility, and social responsibility. 
Architects consider the project location's cultural, social, and historical context and design spaces that respect the community and the environment.

These fundamental duties of an architect reflect their multifaceted role in shaping the built environment. Architects contribute to the creation of functional, aesthetically pleasing, and sustainable spaces that enhance people's lives and communities.
How to Leverage an Architect Job Description?
An architect job description will help you understand the recruiter's requirements. Moreover, it will showcase some profile-centric keywords that you can use to enhance your resume's technical strength.
Below you will find an example job description for an architect profile. Here we have highlighted the technical terms you can use while writing your resume for architect jobs 2023.
Example Job Description For Architect Profile:
XYZ Builders, a leading construction company, is seeking an experienced and talented architect to join our team. As an experienced architect, you will play a pivotal role in designing and overseeing the construction of various projects. Your expertise will contribute to the creation of exceptional architectural designs and ensure the successful execution of projects from conception to completion. This position offers an exciting opportunity to work on diverse projects and collaborate with a dynamic team of professionals.
Responsibilities:
Develop innovative architectural designs and concepts that meet client requirements, project objectives, and aesthetic standards.
Utilise your expertise to create functional, sustainable, and visually appealing designs.
Prepare detailed architectural drawings, plans, and specifications using industry-standard software and tools.
Lead and manage architectural projects, ensuring adherence to timelines, budgets, and quality standards.
Collaborate with internal teams, including engineers, contractors, and consultants, to ensure seamless coordination and project success.
Monitor project progress, conduct site visits, and address any design-related issues or challenges that may arise during construction.
Engage with clients to understand their needs, objectives, and design preferences.
Present design proposals, incorporating client feedback and ensuring their satisfaction with the final design.
Maintain strong client relationships and provide exceptional customer service throughout the project lifecycle.
Apply your in-depth knowledge of building codes, regulations, and construction materials to ensure compliance and safety.
Stay updated with industry trends, emerging technologies, and best practices in architectural design and construction.
Collaborate with engineering teams to integrate structural and MEP (mechanical, electrical, plumbing) requirements into the architectural design.
Work collaboratively with multidisciplinary teams, including interior designers, landscape architects, and contractors, to create holistic design solutions.
Effectively communicate and coordinate with team members to ensure a seamless flow of information and project progress.
Requirements:
Bachelor's or Master's degree in Architecture from an accredited institution.
Minimum of 5 years of experience working as an architect in a reputable architectural firm or construction company.
Proficient in architectural design software such as AutoCAD, Revit, SketchUp, or similar tools.
Strong knowledge of building codes, regulations, and construction practices.
Demonstrated experience in designing and managing medium to large-scale projects.
Excellent communication, presentation, and interpersonal skills.
Proven ability to work collaboratively in a team environment and lead architectural projects.
Attention to detail, strong problem-solving skills, and a passion for delivering high-quality architectural designs.
Join our team and be part of a dynamic organisation that values creativity, innovation, and excellence in architectural design. We offer competitive compensation packages, professional growth opportunities, and a supportive work environment.
To apply, please submit your resume, portfolio, and cover letter highlighting your relevant experience and accomplishments.
Selecting a suitable resume format for architects is the first step of the resume-building process. Hence, you must pay keen attention while choosing the resume format.
To ease your selection process, we are listing the three best and most widely used resume formats. You can choose any of them based on your career progression to build your resume for architects in 2023:
Reverse Chronological Resume Format
The reverse chronological resume format lets you write your resume details in reverse chronological order. In this resume format, your latest achievement or information stays at the top, followed by the previous ones.
Functional Resume Format
The functional resume format emphasises your skills rather than your professional experience. It is designed for professionals with career gaps. Hence, it allows you to list your work experience based on your skills, not on the company you served for.
Combination Resume Format
The combination resume format is a mixture of reverse chronological and functional resume formats. It is similar to the reverse chronological resume format, with a slight difference in the work experience section. This resume lets you club similar points in the work experience section under a skill heading.
After choosing a suitable resume format, you can outline your resume with the essential resume sections. Below you can see the list of resume sections that you can add while outlining your resume for architects:
These are the resume sections you can use in the same order to write a resume for architects. Additionally, you can add Extracurricular Activities or Volunteer Experience in the resume if you have any experience that aligns with the profile you are applying for.
Building an effective resume is essential for architects to showcase their skills, experience, and qualifications to potential employers. Here is a step-by-step process to help you create a compelling resume for architects:
Understand the Purpose
Begin by understanding the purpose of your resume. Identify your career goals and target audience. Determine the specific architectural roles or positions you are applying for, whether it's in design firms, construction companies, or architectural agencies.
Format and Structure Your Resume
Choose a clean and professional resume format that highlights your information effectively. Consider using a chronological or combination resume format. Organise your resume into sections such as Contact Information, Summary/Objective, Education, Experience, Skills, Certifications, and Portfolio.
Add Professional Contact Information
Include your full name, professional title (e.g., Architect), phone number, email address, and LinkedIn profile (if applicable). Make sure your contact information is up-to-date and easily visible.
Add Your Key Skills
Create a dedicated section to highlight your technical skills, software proficiency, and architectural expertise. Include skills such as architectural design, CAD software (e.g., AutoCAD, Revit), 3D modelling software (e.g., SketchUp, Rhino), project management, building codes, and sustainability practices.
Write Your Professional Experience
Highlight your work experience, starting with the most recent position. Include the job title, company name, location, and employment dates. Describe your responsibilities and achievements using action verbs, focusing on architectural projects, design contributions, project management, and collaboration with multidisciplinary teams. Quantify your achievements whenever possible to provide context and impact.
Mention Your Educational Details
List your educational background in reverse chronological order. Include the name of the degree, the institution you attended, graduation date, and any relevant academic achievements or honours. You can also mention relevant coursework or thesis topics if you have recently graduated.
Add Certifications and Professional Affiliations
List any relevant certifications, licences, or professional affiliations you have obtained, such as architectural licensure, LEED certification, or membership in architectural organisations or associations.
List Your Portfolio Details:
Consider including a link to your online portfolio or attach a separate portfolio document if applicable. Showcase your best architectural projects, design samples, and relevant visual materials to demonstrate your skills and design sensibilities.
Add References
You can mention "References available upon request" at the end of your resume. It is not necessary to include references unless specifically requested by the employer.
Write an Appealing Summary/Objective:
Write a compelling summary or objective statement after completing every other resume section that briefly overviews your skills, experience, and career goals. Tailor this section to match the specific job requirements you are applying for.
Proofread and Review
Ensure that your resume is error-free and well-written. Proofread for grammar, spelling, and formatting mistakes. Review the content to ensure it is concise, relevant, and effectively presents your qualifications and achievements.
Customise for Each Application

Tailor your resume for each job application to highlight the most relevant skills, experiences, and achievements that match the requirements of the specific position and company. Customise your resume to align with the keywords and job descriptions mentioned in the job posting.
Remember to keep your resume concise, ideally within one or two pages. Use a professional and visually appealing design while maintaining readability. Update your resume regularly as you gain more experience and skills in your architectural career.
 

 Resume building is still a complex process if you find guidance without example. Hence, we are listing an example of a resume for Architects that you can refer to while building one for yourself.
Example of Resume For Architects
Shriven Kumar
123 Main Street, City, State, ZIP Code
Phone: (123) 456-7890 | Email: shrivenkumar@email.com | LinkedIn: linkedin.com/in/shrivenkumar
Summary:
Talented and detail-oriented architect with a passion for innovative design and sustainable practices. Possessing a strong foundation in architectural principles and a proven track record of successful project delivery. Proficient in utilising advanced design software and collaborating with multidisciplinary teams to create exceptional architectural solutions. Committed to delivering high-quality designs that exceed client expectations and contribute to the built environment.
Education:
Bachelor of Architecture (B.Arch), XYZ University, City, State
Relevant Coursework: Architectural Design, Building Construction, Sustainability in Architecture
Graduation Date: Month, Year
Experience:
Architectural Designer | ABC Architecture Firm, City, State
Month Year - Present
Collaborate with senior architects to develop design concepts and translate them into detailed architectural drawings and plans.
Conduct site visits to assess existing conditions and ensure design feasibility.
Utilise AutoCAD, Revit, and SketchUp to create 2D and 3D models of architectural designs.
Prepare comprehensive design presentations for client meetings, incorporating 3D visualisations and material selections.
Collaborate with engineering teams to integrate structural and MEP requirements into architectural designs.
Coordinate with contractors and vendors to ensure adherence to design specifications during construction.
Participate in project meetings, contributing creative ideas and problem-solving solutions.
Architectural Intern | XYZ Architecture Studio, City, State
Month Year - Month Year
Assisted senior architects in developing design concepts and preparing architectural drawings.
Conducted research on building materials, sustainability practices, and local building codes.
Prepared presentations and visual aids for client meetings.
Assisted in site visits and documentation of construction progress.
Collaborated with team members to generate design alternatives and brainstorm innovative solutions.
Skills:
Proficient in AutoCAD, Revit, SketchUp, Adobe Creative Suite, and other design software.
Strong understanding of building codes, regulations, and construction practices.
Ability to create visually appealing 2D and 3D architectural renderings and presentations.
Excellent communication and collaboration skills to work effectively with clients, consultants, and multidisciplinary teams.
Detail-oriented with a focus on accuracy and precision in design documentation.
Knowledge of sustainable design principles and the LEED certification process.
Portfolio:
Please visit my online portfolio at www.shrivenkumarportfolio.com to view samples of my architectural work.
References:
Available upon request.
Crafting a technically strong resume is not easy even with complete guidance. It takes a lot of focus and time to build a job-winning resume.
However, you can ease the process by using HyreSnap Online Resume Builder. Check out the highlighting features of this AI-powered online resume maker:
You can follow the above-given steps and refer to the listed example to craft an ATS-friendly resume. Moreover, we have listed the key takeaways of this guide to cover everything you missed:
To get additional career-building guidance, feel free to reach us at info@hyresnap.com. Our experts will help you in every possible way to get your next job in 2023.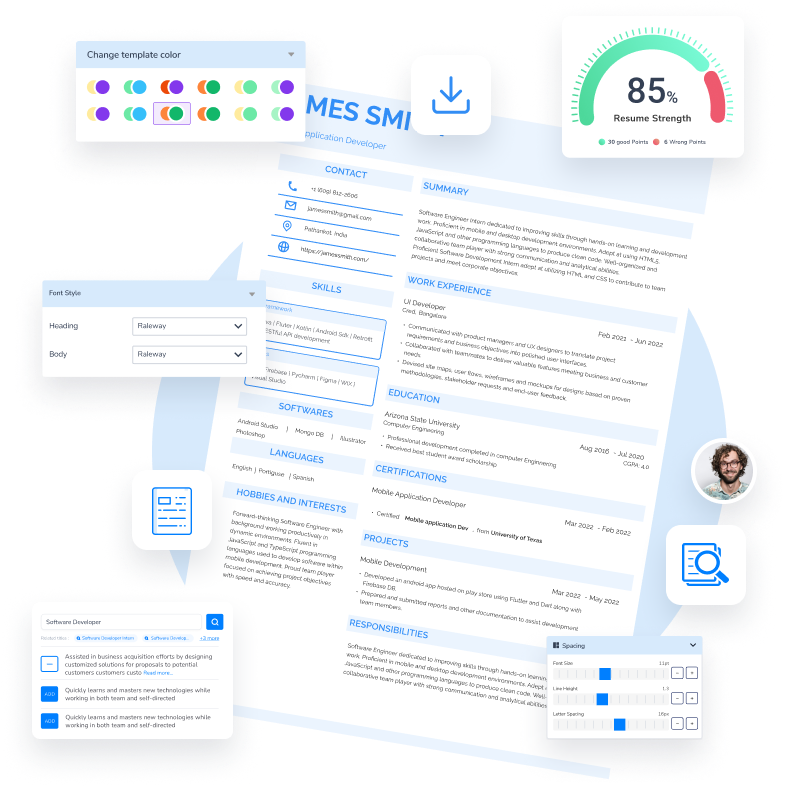 Build your resume in 10 minutes
Elevate your interview chances with our Modern Resume Templates that follows the exact 'Resume Rules' that employers look for.
Try Now for Free!
Build Your Resume
Excellent
4.8
out of 5 on
TrustPilot