10+ Tips to Build a Professional Resume For Graphic Designer Jobs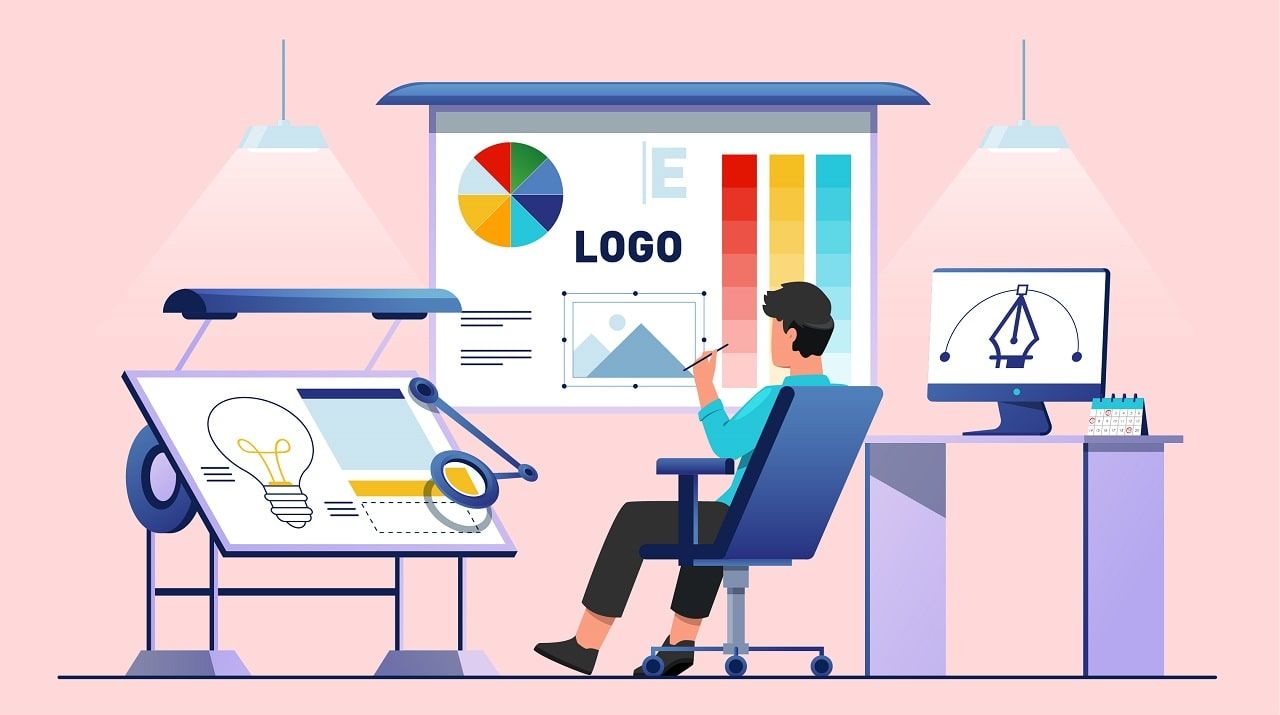 Are you struggling to build a resume for graphic designer jobs?
 
If yes, you have landed at the right platform, as you will get every essential resume-building guideline here.
Building a resume is not easy; you will have to spend hours building a professional resume for graphic designer jobs. That too, if you have proper guidance.
Considering this, we have crafted this guide. Here, we are answering the following fundamental questions targeting graphic designer jobs in 2023:
What are the fundamental duties of a graphic designer?

How can I leverage the graphic designer job description?

Which graphic designer resume format should I choose?

How to build a graphic designer resume?

How much does a graphic designer make in India?
To build an ATS-friendly resume in easy steps, you can check out HyreSnap Online Resume Builder.
However, if you want to build your graphic designer resume on your own, stick to the below-mentioned guidelines:
​​The fundamental responsibilities of a graphic designer typically include the following:
 
Conceptualising and Designing: Graphic designers are responsible for creating visually appealing designs for various mediums such as print, digital, or multimedia. They develop concepts, layouts, and artwork that effectively communicate the desired message or purpose.
Creating Visual Assets: Graphic designers produce and manipulate visual assets like illustrations, images, icons, and logos. They have a keen eye for aesthetics and use design software tools to craft high-quality visuals that align with branding guidelines and project requirements.
Layout and Composition: Graphic designers arrange elements, including text, images, and graphics, to create cohesive and visually pleasing layouts. They consider factors like balance, hierarchy, and readability to ensure the final design effectively communicates the intended message.
Selecting Colours, Fonts, and Graphics: Graphic designers make informed decisions about colour palettes, typography, and graphic styles to create visually appealing designs that align with the brand's identity. They have a strong understanding of design principles and use their expertise to make appropriate choices.
Collaborating and Communicating: Graphic designers often work closely with clients, marketing teams, or art directors to understand project requirements and objectives. They collaborate and communicate effectively to ensure that design solutions meet the client's expectations and align with the overall project vision.
Preparing and Presenting Designs: Graphic designers prepare design files for production, whether for print or digital purposes. They ensure files are properly formatted, optimised, and ready for implementation. Additionally, they may present their designs and concepts to clients or stakeholders, explaining the rationale behind their choices.
Staying Up to Date with Design Trends: Graphic designers stay informed about current design trends, emerging technologies, and industry best practices. They continuously enhance their skills and knowledge to deliver innovative and visually impactful designs.
Managing Projects and Deadlines: Graphic designers are often responsible for managing their own workload, prioritising tasks, and meeting project deadlines. They must have good organisational skills and be able to work efficiently while maintaining the quality of their work.
These responsibilities may vary based on the specific industry, company, or job role of the graphic designer. However, these fundamentals provide a solid overview of the graphic design profession's key tasks and expectations.
You can leverage the job description while building your resume for graphic designer jobs. The graphic designer job description will offer you technical keywords to add to your resume.
Below we are listing an example job description for a graphic designer opportunity. You can refer to this example while analysing your selected job description:
Example Graphic Designer Job Description:
XYZ Technologies, a leading technology company in Bengaluru, is seeking a talented Graphic Designer to join our creative team. As a Graphic Designer, you will play a crucial role in conceptualising and creating visually stunning designs that effectively communicate our brand message and captivate our target audience. You will work on a wide range of projects, including digital and print designs, marketing collateral, web graphics, and more.
Responsibilities:
 
>Conceptualize, design, and create visually appealing graphics for various mediums, including digital platforms, print materials, social media, and presentations.
>Develop creative design concepts, layouts, and artwork that align with project requirements and brand guidelines.
>Collaborate with cross-functional teams, including marketing, product, and development, to understand project objectives and translate them into compelling visual designs.
>Produce and manipulate visual assets such as illustrations, icons, images, and logos to enhance the visual impact of our marketing materials and products.
>Create and optimise design files for production, ensuring high-quality output and adherence to technical specifications.
>Stay updated with the latest design trends, techniques, and industry best practices, and apply them to enhance the overall visual identity and user experience.
>Participate in brainstorming sessions, contribute innovative ideas, and provide creative insights to drive the evolution of our brand and design strategies.
>Collaborate with external vendors, printers, and other partners to ensure seamless execution of design projects.
>Manage multiple projects simultaneously, prioritise tasks, and meet deadlines without compromising the quality of work.
Requirements:
>Bachelor's degree in Graphic Design, Visual Communication, or a related field.
>Proven experience as a Graphic Designer, preferably in a fast-paced environment.
>Proficient in design software such as Adobe Creative Suite (Photoshop, Illustrator, InDesign), Sketch, or other industry-standard tools.
>Strong portfolio showcasing diverse design projects and a keen eye for detail.
>Solid understanding of design principles, typography, colour theory, and layout composition.
>Excellent creative and conceptual thinking abilities, with a passion for delivering visually impactful designs.
>Strong communication skills and the ability to effectively collaborate with cross-functional teams.
>Ability to work independently, manage time efficiently, and meet project deadlines.
>Knowledge of UI/UX design principles and experience in designing for web and mobile platforms is a plus.
You can choose any of these below-mentioned resume formats to build your resume for graphic designer jobs in 2023:
Chronological Resume Format
The chronological resume format is the most traditional and widely used format. It lists your work experience in reverse chronological order, starting with the most recent position.
Functional Resume Format
The functional resume format emphasises your skills and qualifications rather than your work history. It is suitable if you have gaps in employment, are transitioning into a new career, or have relevant skills from various sources.
Combination/Hybrid Resume Format
The combination or hybrid resume format is a blend of chronological and functional formats. It combines the best elements of both by showcasing your skills and qualifications while also providing a chronological overview of your work experience.
 
When choosing the best resume format for a graphic designer position, consider your specific circumstances, career history, and job requirements.
Building a strong graphic designer resume involves several key steps. Here's a guide to help you create an impactful and professional resume:
Choose the Right Format
Select a resume format that best suits your experience and skills. Consider using the combination or hybrid format, as it allows you to showcase your skills and work experience effectively.
Header and Contact Information
Begin your resume with a header that includes your full name, professional title (e.g., Graphic Designer), and contact information (phone number, email address, and LinkedIn profile).
Professional Summary/Objective
Write a concise and compelling professional summary or objective statement that highlights your skills, experience, and career goals. Tailor this section to match the specific job requirements you're applying for.
Skills Section
Create a dedicated skills section to showcase your key graphic design skills and technical proficiencies. Include software expertise (e.g., Adobe Creative Suite), design principles (e.g., typography, layout), and any additional relevant skills (e.g., UX/UI design, illustration).
Work Experience
List your work experience in reverse chronological order. Describe your responsibilities and achievements in bullet points, emphasising your design projects, contributions, and results achieved. Quantify your achievements whenever possible (e.g., "Designed and implemented a new branding strategy resulting in a 20% increase in customer engagement").
Education
Include your educational background, starting with your highest degree or relevant certifications. Mention the institution, degree earned, and graduation year.
Portfolio
Showcase your design portfolio or include a link to your online portfolio. Select the best and most relevant projects demonstrating your design skills and creativity. Ensure that your portfolio is easily accessible and visually appealing.
Additional Sections
Consider including additional sections to enhance your resume. This may include certifications, awards, relevant volunteer work, professional affiliations, or relevant coursework.
Design and Formatting
Pay attention to the design and layout of your resume. Use clear headings, bullet points, and consistent formatting. Choose an easy-to-read font and maintain sufficient white space. Incorporate your design skills to create a visually appealing and professional-looking resume.
Proofread and Edit
Review your resume for spelling and grammatical errors. Ensure that all information is accurate and up to date. Ask someone else to proofread it as well to catch any mistakes you might have missed.
Remember to tailor your resume to each specific job application, focusing on the skills and experiences most relevant to the position. Keep it concise, well-organised, and visually engaging to make a strong impression on potential employers.
We have mentioned an example resume for graphic designer jobs below. You can refer to this example while building your resume for graphic designer jobs in 2023:
Graphic Designer Resume Example:
Anand Misra
+918362879472
anand@hyresnap.com
https://www.linkedin.com/in/anand-misra-a36559122/
Objective:
Highly creative and skilled Graphic Designer with a passion for innovative design solutions and a proven track record of delivering impactful visual experiences. Seeking a challenging position as a Graphic Designer at a dynamic organisation where I can utilise my design expertise and contribute to the company's success.
Skills:
Proficient in Adobe Creative Suite (Photoshop, Illustrator, InDesign)
Strong knowledge of typography, layout design, and color theory
Experience in UI/UX design principles and responsive design
Illustration and icon design
Branding and logo design
Attention to detail and ability to meet tight deadlines
Excellent communication and collaboration skills
Work Experience:
Graphic Designer | ABC Company
[Dates of Employment]
Created visually appealing designs for various marketing campaigns, including digital and print materials.
Developed brand identities and executed brand guidelines across multiple platforms.
Collaborated with cross-functional teams to conceptualise and design engaging social media graphics, website banners, and email newsletters.
Produced illustrations and infographics for data visualisation purposes.
Successfully managed multiple design projects simultaneously, ensuring timely delivery and adherence to project requirements.
Junior Graphic Designer | XYZ Agency
[Dates of Employment]
Assisted in the creation of digital and print designs for client projects.
Contributed to the development of marketing collateral, including brochures, flyers, and posters.
Worked closely with senior designers to implement design changes and revisions based on client feedback.
Assisted in photo retouching and image editing tasks to enhance visual appeal.
Supported the team in maintaining design assets and organizing files for efficient workflow.
Education:
Bachelor of Fine Arts in Graphic Design | University Name
[Year of Graduation]
Certifications:
Adobe Certified Associate in Visual Design Using Adobe Photoshop
UX Design Fundamentals Certification
Portfolio:
[Include a link to your online portfolio showcasing your design projects and creative work.]
References:
Available upon request.
As of my knowledge cutoff in September 2021, the average salary of a graphic designer in India can vary based on factors such as experience, location, skills, and the company's size. According to various sources, the average salary range for a graphic designer in India is approximately ₹2,00,000 to ₹7,00,000 per year.
It's important to note that salary figures can change over time, and it's always best to refer to the latest salary data from reliable sources. Here are a few sources you can explore for up-to-date information on graphic designer salaries in India:
PayScale

Glassdoor

LinkedIn Salary Insights
Building a professional resume for graphic designer opportunities will consume a lot of your time and effort. Hence, we recommend using HyreSnap Online Resume Builder, if you have an urgent requirement..
It is an artificial intelligence-based resume-building tool that can help you craft an ATS-friendly resume in minutes. Below are some features that you will encounter while using this 21st-century resume builder:
You can follow all these guidelines to craft an ATS-friendly resume for graphic designer jobs. In case you missed anything, refer to these key takeaways:
Pick a suitable resume format, i.e., reverse chronological or combination

Add all the essential resume sections based on your career position

Write your resume details in one-liner bullet points

Add technical keywords and highlight key metrics wherever possible

Write an easy-to-read resume summary after completing every other section

Proofread your resume with a focused mind to remove mistakes

For complete resume-building assistance or career-framing guidance, contact us at info@hyresnap.com. We aim to help every job seeker get a good job in 2023.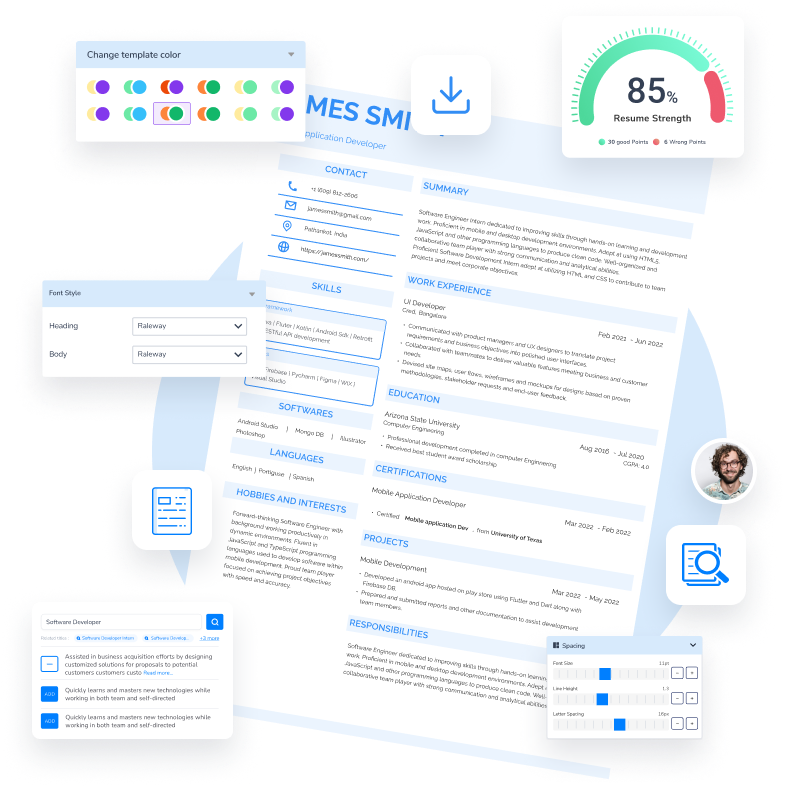 Build your resume in 10 minutes
Elevate your interview chances with our Modern Resume Templates that follows the exact 'Resume Rules' that employers look for.
Try Now for Free!
Build Your Resume
Excellent
4.8
out of 5 on
TrustPilot