ATS Compatible Resume- 7 Tips To Know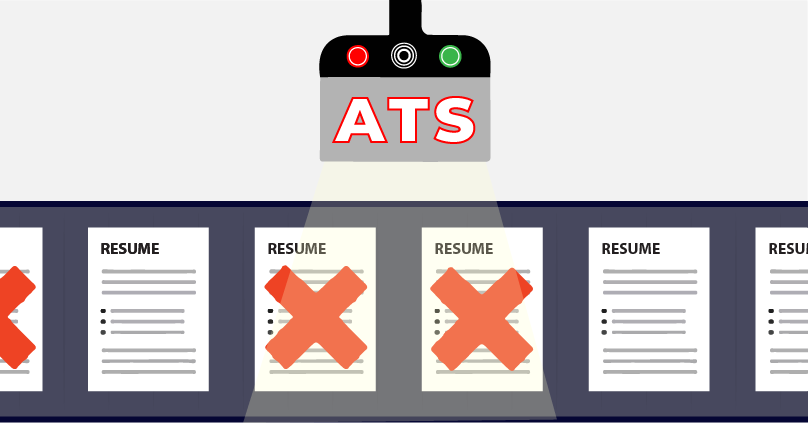 ATS, Applicant Tracking System, is a software used by corporate HRs and staffing agencies to manage the recruitment process from sourcing to hiring. Hence its is important to write professional resume which is ATS compatible to get shortlisted. Created for large companies that are used to getting thousands of inbound job applications every week, today, 99% of Fortune 500 companies rely on ATS software to help streamline their recruitment process. You can use HyreSnap Resume Tool to make ATS compatible resume.
ATS screens through thousands of candidates who applied for a job with predefined keyword search set by HR. It filters the applicant resumes through skill-based presets matching the job description. What that means is that if your resume has the keywords and skills that are present in the JD, you would be selected. On the other hand, resumes written without ATS in mind will be rejected irrespective of how qualified the candidate is.
Not only that, ATS filters out 80% of the applications, which means these candidates are ignored completely during the hiring process. Therefore what we need is an ATS-compatible resume.
Follow these simple guidelines to make sure your resume always beats the ATS.
The first mistake candidates make while writing their resume is to use fancy fonts, images, and graphics in the resume. While graphs look attractive to human eyes, the ATS algorithms aren't good enough to read them. So if you put important information such as skills in graphical format, ATS will ignore it and thus reject your resume. Use ATS compatible fonts such as Arial, Roboto, Times New Roman Poppins, Open Sans & Raleway to increase your chance of selection.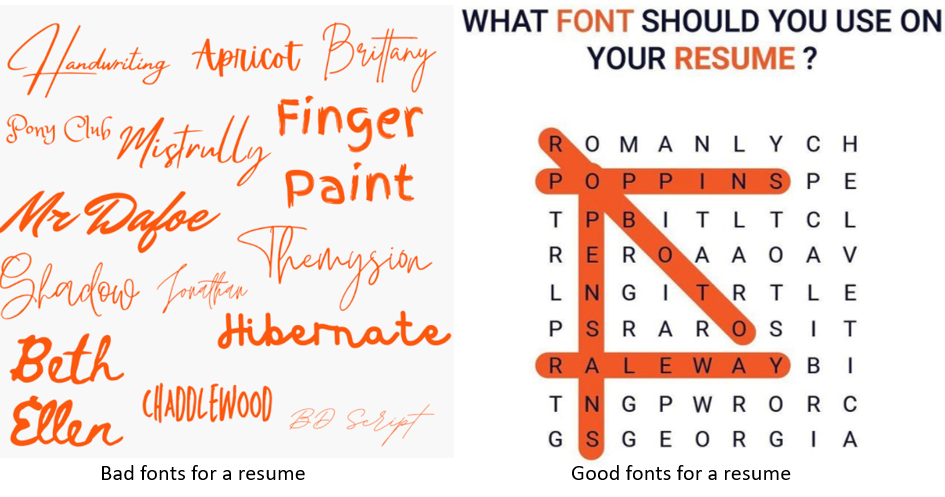 P.S. All of this is inbuilt into HyreSnap's resume builder. 
The next mistake is using the YYYY/MM format for writing your dates. This or using DD/MM/YYYY format. Most of the ATS software out there use MM/YYYY format. Any other format of writing the date will lead to your resume ending up in the rejected pile. But don't worry, HyreSnap has already solved this problem. Our resume templates have pre-set MM/YYYY format to make your resume-building process easy.
Another common mistake is to put your skills/education in tabular or two-column format. This format might make your resume look presentable but will lead to your rejection. Why? 
Because some ATS including the very popular iCIMS and Jobvite can't parse tables. Hence it won't be able to identify your skills or your degree. Most jobs have a minimum educational qualification requirement. Imagine you having a Master's degree but getting rejected because the ATS couldn't read your degree details hiding inside of a table.


 Another mistake we have seen is the use of abbreviations in your resume. Even though they are common in pop culture today, they will land your resume in the no pile. Simple reason, the ATS software isn't designed to read them. So if you put your information like a college degree in abbreviation( Ex. BTech), chances are ATS will reject your resume right away. Hence to prevent this, it's better to stick with the long-form.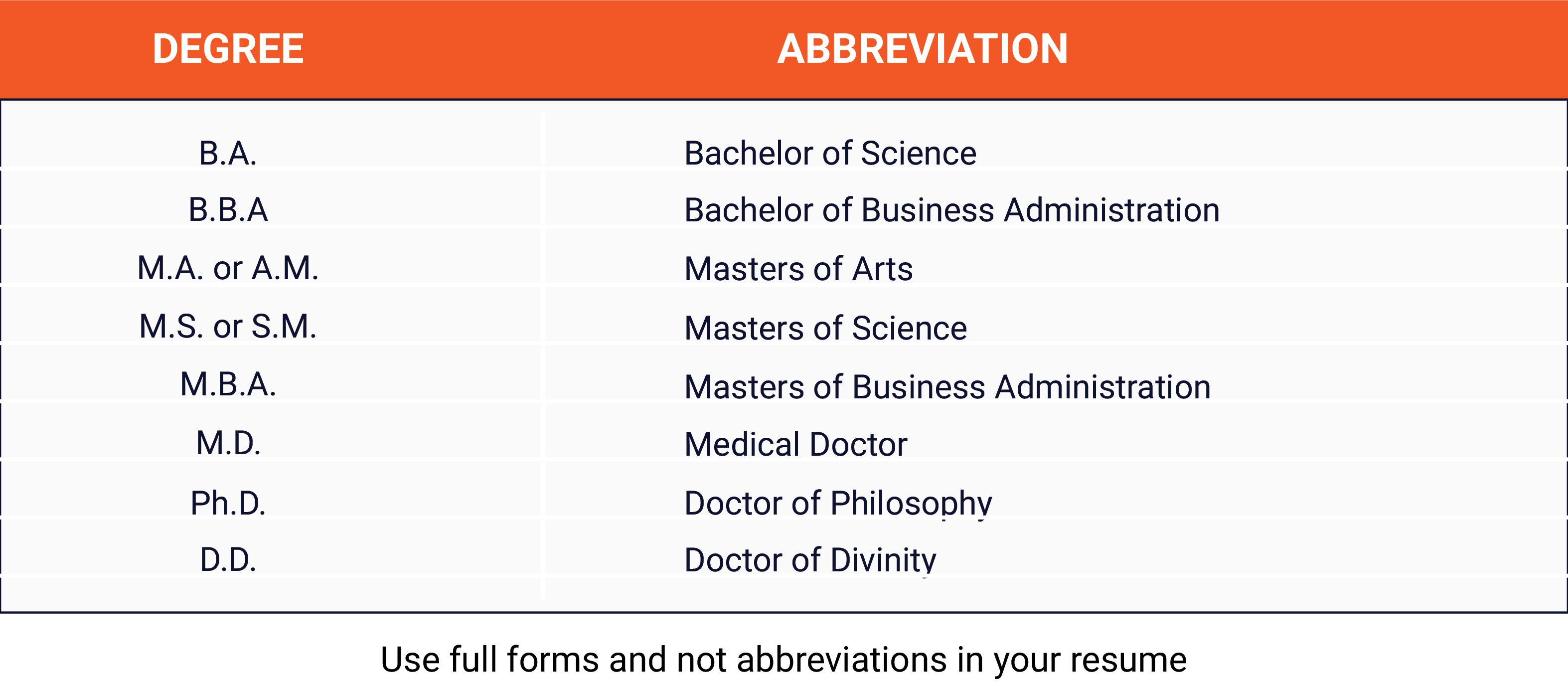 Next is spacing. To a  normal human eye there is no difference between " software developer" and  " software  developer", but for ATS there is.  ATS is really picking about keywords, that means even if there is a difference of just spacing between the preset and your keyword in the resume, chances are that you will not get to the interview stage. Therefore it's important to check the spacing between your words two or three times before handing in your resume.
HOW TO WRITE A JOB WINNING RESUME? Read Here
 While using bullet points makes it easier for HR to go through your resume, using non standard ones might lead to your rejection by ATS. Hence it's safest to stick with the conventional black dot bullet points while writing your resume.

Not only this, ATS looks for keywords set by company HRs disguised in the job descriptions. The only way to beat ATS and score an interview is to have those exact keywords in your resume. But searching for the keywords and skills required from just a job description can be a tedious job. Lucky for you, HyreSnap has got your back.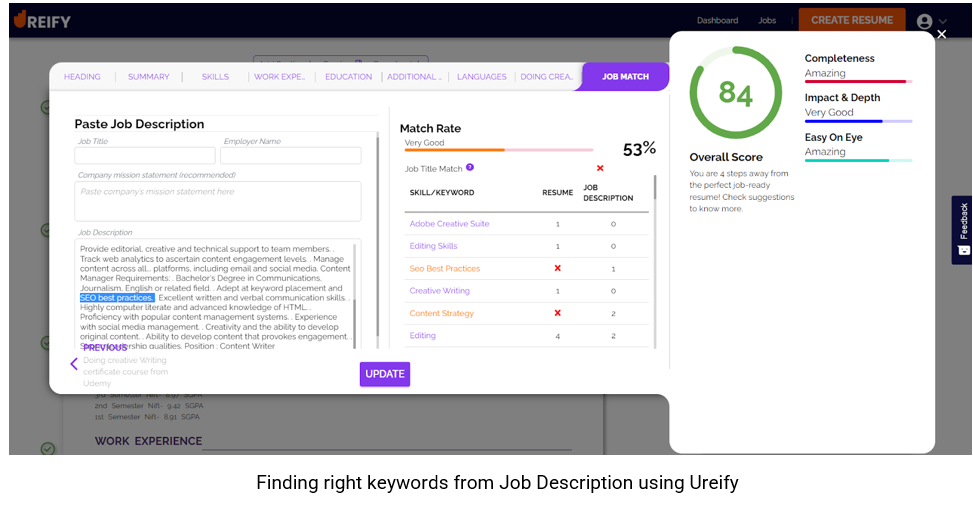 Our AI Engine extracts the keywords from the job description and automatically includes them in your resume within minutes. Not only that, it helps you present your skills and accomplishments in an optimal manner that matches the job description. Use HyreSnap resume builder to make your perfect resume now.
Author: Khushi Malhotra
Did you enjoy this article? Read more articles like these!