Resume For Aeronautical Engineer Jobs with Examples [How to Build]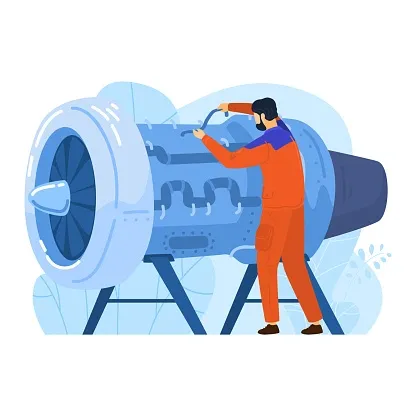 Want to build a professional resume for aeronautical engineer jobs?
You have landed at the right web platform if your answer is 'Yes'. We are here with some practical guidelines to craft a job-winning resume for aeronautical engineer jobs in 2023.
Resume-building can consume a lot of your time if you do not have the right guidance. Considering this, we are answering the following questions here:
The answers to these questions will help you get through the entire resume-building process without any complications. However, if you want to minimize the resume-building process, use HyreSnap Online Resume Builder.
It is an easy to use resume-making platform powered with Artificial Intelligence technology. You can use this platform free for initial 3 trials and craft impeccable aeronautical engineer resumes in less than 15 minutes.
To give you a quick overview of this guide, we are listing the key points of this knowledge base below:
The basic duties of an aeronautical engineer

The steps to become an aeronautical engineer in India

The guidelines to build an effective resume for aeronautical engineer jobs
We have elaborated on all these points in detail below that you can read and use to craft a professional resume for aeronautical jobs in 2023:
Aeronautical engineers are responsible for designing, developing, and maintaining aircraft and aerospace systems. Their fundamental responsibilities encompass a broad range of tasks to ensure the safe and efficient operation of aircraft and spacecraft. Here are the fundamental responsibilities of an aeronautical engineer:
Aircraft Design: Aeronautical engineers design aircraft, including airplanes, helicopters, drones, and spacecraft, to meet specific performance, safety, and efficiency requirements. This involves creating detailed plans and blueprints for all components of the aircraft.
Aerodynamics Analysis: They analyze and optimize the aerodynamic performance of aircraft, considering factors like airflows, lift, drag, and stability. Aerodynamics analysis helps in shaping the aircraft's wings, body, and control surfaces.
Structural Design: Ensuring the structural integrity and strength of aircraft components and systems. This includes selecting materials, designing load-bearing structures, and conducting stress and fatigue analyses.
Propulsion Systems: Designing and improving propulsion systems, such as engines and thrusters, to achieve optimal thrust, fuel efficiency, and environmental impact. Aeronautical engineers work on engine design and integration.
Avionics and Control Systems: Designing and integrating avionics systems, which include navigation, communication, and control systems. They create autopilot systems and flight control algorithms for precise aircraft control.
Flight Testing: Conducting flight tests to evaluate aircraft performance, handling characteristics, and safety. Engineers analyze test data to refine aircraft designs, identify issues, and ensure compliance with safety standards.
Regulatory Compliance: Ensuring that aircraft designs meet safety regulations and certification standards established by aviation authorities such as the Federal Aviation Administration (FAA) in the United States or the European Union Aviation Safety Agency (EASA).
Research and Development: Engaging in research to advance aerospace technologies, materials, and systems. Aeronautical engineers innovate and propose new technologies to improve aircraft performance, safety, and environmental impact.
Environmental Considerations: Addressing environmental concerns by designing aircraft with reduced emissions, noise levels, and fuel consumption. Exploring sustainable aviation technologies and alternative fuels.
Cost Management: Managing project budgets efficiently to meet cost constraints while maintaining safety and quality standards. This involves resource allocation, cost analysis, and procurement decisions.
Documentation and Reporting: Maintaining comprehensive records of designs, simulations, test results, and project progress. Aeronautical engineers communicate their findings and recommendations to colleagues, management, and regulatory authorities.
Continuous Learning: Staying updated with emerging aerospace technologies, industry trends, and regulatory changes through ongoing education, training, and professional development.
Team Collaboration: Collaborating with multidisciplinary teams, including mechanical engineers, electrical engineers, and aerospace technicians, to ensure the successful completion of projects.
Becoming an Aeronautical Engineer in India typically involves a combination of education and practical training. Here's a step-by-step guide on how to become an Aeronautical Engineer in India:
Class 12: Start by completing your 10+2 education with Physics, Chemistry, and Mathematics (PCM) as the core subjects. This is a prerequisite for most aeronautical engineering programs.

 
Prepare for and appear in relevant entrance examinations, such as the Joint Entrance Examination (JEE) Main and Advanced, which are often required for admission to top engineering institutes in India.
Enroll in a Bachelor of Technology (B.Tech) or Bachelor of Engineering (B.E.) program in Aeronautical Engineering or Aerospace Engineering. Some reputed institutes in India offering these programs include:
Indian Institute of Technology (IIT) Bombay

Indian Institute of Technology (IIT) Madras

Indian Institute of Technology (IIT) Kanpur

Indian Institute of Technology (IIT) Kharagpur

National Institute of Technology (NIT) Trichy
During your undergraduate studies, try to secure internships or summer training opportunities with aerospace or aviation companies to gain practical experience and exposure to the industry.
Pursuing a Master's degree (M.Tech) in Aeronautical Engineering or related fields can enhance your expertise and career prospects. Several IITs and other institutes offer M.Tech programs in aerospace engineering.
Stay updated with the latest developments in aerospace technology and industry trends by reading journals, attending seminars, and joining relevant professional organizations.
Build a professional network by participating in aerospace-related events, seminars, and conferences. Networking can open up job opportunities and collaborations.
Start applying for entry-level positions in aerospace and aviation companies. Common job roles for entry-level aeronautical engineers include Junior Engineer, Design Engineer, and Research Assistant.
Consider pursuing certifications or specialized courses to enhance your skills in areas like aircraft maintenance, avionics, or aerodynamics.
In some cases, you may need to obtain licenses or certifications from aviation authorities like the Directorate General of Civil Aviation (DGCA) for specific job roles related to aircraft maintenance, inspection, or airworthiness.
Writing an effective resume for aeronautical engineering jobs is essential to stand out to potential employers. Here are steps and tips on how to craft a compelling aeronautical engineer resume:
Use a chronological or reverse-chronological format. This allows you to highlight your work experience and skills effectively.
Include your name, phone number, email address, and LinkedIn profile (if applicable). Ensure that your contact information is up to date.
Write a concise, one or two-sentence summary or objective that highlights your career goals and what you bring to the table. Tailor it to the specific job you're applying for.
List your work experience in reverse chronological order (most recent job first). For each position, include:
Job title

Company name and location

Dates of employment

Key responsibilities and achievements
Emphasize your experience related to aeronautical engineering, such as aircraft design, analysis, or maintenance. Use action verbs (e.g., designed, analyzed, managed) to describe your accomplishments.
Create a dedicated section for your technical skills. Include software, tools, and equipment relevant to aeronautical engineering, such as CAD software (e.g., CATIA, SolidWorks), MATLAB, or ANSYS.
List your educational background, starting with your most recent degree. Include:
Degree earned (e.g., B.Tech in Aeronautical Engineering)

University or institution name

Graduation date

GPA (if it's strong and relevant)
Mention any academic honors, awards, or relevant coursework.
Highlight any significant projects related to aeronautical engineering that you worked on during your education or career. Describe your role, the project's scope, and the outcomes.
Include any certifications or specialized training relevant to aeronautical engineering, such as aircraft maintenance or avionics certifications.
If you've published research papers or articles in the field of aeronautical engineering, mention them in a separate section.
If you're a member of relevant professional organizations (e.g., AIAA - American Institute of Aeronautics and Astronautics), mention it to showcase your commitment to the industry.
Highlight any awards, scholarships, or recognitions you've received related to aeronautical engineering.
Customize your resume for each job application. Highlight the skills and experiences that align with the specific job requirements.
Keep your resume concise, ideally one page in length. Proofread it carefully to eliminate spelling and grammar errors.
Start each bullet point with strong action verbs to make your achievements more impactful.
Incorporate keywords from the job posting to help your resume pass through applicant tracking systems (ATS) and reach human recruiters.
Whenever possible, use quantifiable metrics to demonstrate your achievements (e.g., "Reduced aircraft maintenance costs by 15%").
Ask a friend, mentor, or colleague to review your resume and provide feedback before submitting it.
Use a clean and professional font (e.g., Arial or Calibri) and maintain consistent formatting throughout your resume.
Consider attaching a well-crafted cover letter that expands on your qualifications and expresses your enthusiasm for the position.
Save your resume as a PDF to ensure that the formatting remains consistent across different devices and platforms.
 
Remember that your resume is a reflection of your qualifications and suitability for the role. Make sure it showcases your skills, experiences, and passion for aeronautical engineering effectively.
Below you can see a sample resume for aeronautical engineer jobs that you can refer to while crafting your aeronautical engineer resume in 2023:
Sample Resume For Aeronautical Engineer Jobs:
[Your Name]
[Your Address]
[City, State, ZIP Code]
[Your Phone Number]
[Your Email Address]
[LinkedIn Profile (Optional)]
Objective:
Dedicated and results-driven Aeronautical Engineer with [X] years of experience in aircraft design, maintenance, and performance optimization. Seeking to contribute my expertise to Air Asia's innovative engineering team to enhance aircraft efficiency, safety, and reliability.
Technical Skills:
CAD Software: CATIA V5, SolidWorks
Computational Fluid Dynamics (CFD) Tools: ANSYS Fluent
Programming Languages: MATLAB, Python
Aircraft Simulation Software: X-Plane
Avionics Systems: [List any relevant systems]
Microsoft Office Suite: Word, Excel, PowerPoint.
Professional Experience:
Aeronautical Engineer
Air Asia, [Location]
[Employment Dates]
Played a pivotal role in the design and development of next-generation aircraft, contributing to improved fuel efficiency and passenger comfort.
Conducted extensive aerodynamic analyses using Computational Fluid Dynamics (CFD) tools to optimize aircraft performance.
Collaborated with cross-functional teams to integrate advanced avionics systems, resulting in enhanced flight control and navigation capabilities.
Led structural analysis efforts, ensuring aircraft components met safety and durability standards.
Conducted flight tests to validate design modifications, collecting and analyzing data to improve aircraft performance.
Worked closely with maintenance teams to troubleshoot and resolve complex technical issues, minimizing aircraft downtime.
Junior Aeronautical Engineer
Air Asia, [Location]
[Employment Dates]
Assisted senior engineers in the design and modification of aircraft components, ensuring compliance with regulatory standards.
Conducted stress analyses and finite element simulations to validate structural designs, contributing to weight reduction and increased payload capacity.
Collaborated in the development of maintenance schedules and performed routine inspections to ensure airworthiness.
Contributed to aircraft maintenance documentation and reports, maintaining accurate and up-to-date records.
Participated in research projects to evaluate emerging technologies and their potential applications in aviation.
Education:
Bachelor of Technology (B.Tech) in Aeronautical Engineering
[University Name], [Location]
[Graduation Date]
Relevant Coursework: Aerodynamics, Aircraft Structures, Aircraft Systems, Flight Mechanics, Aerospace Materials.
Certifications:
[List any relevant certifications, such as aircraft maintenance or avionics certifications]
Professional Affiliations:
Member, American Institute of Aeronautics and Astronautics (AIAA)
Awards and Achievements:
[List any relevant awards or recognitions]
Languages:
[List any languages you are proficient in]
References available upon request.
You can follow these above-mentioned guidelines to craft a professional resume for aeronautical engineer jobs in 2023. However, you can use HyreSnap Online Resume Builder and dodge all these steps to craft an aeronautical engineer resume.
It is a resume-building platform powered with AI technology to frame impeccable resumes in minutes. For more details of this resume-building tool, please check the below-mentioned list:
All the points listed in this guide will lead you to a professional aeronautical engineer resume without any hurdle. Additionally, you can check the following key takeaways to revise everything mentioned above:
Pick a suitable resume format and outline your resume with all resume sections

Use one-liner bullet points to write your resume details

Add technical terms and key metrics wherever possible

Quantify your achievements in numbers and highlight essential information

List your key and technical skills separately for better presentation

Proofread your resume with a focused mind to minimize errors
Furthermore, if you have any other confusion or resume-building hurdle, please reach to career experts at info@hyresnap.com. We will help you get rid of every hurdle and craft a professional resume for aeronautical jobs in 2023.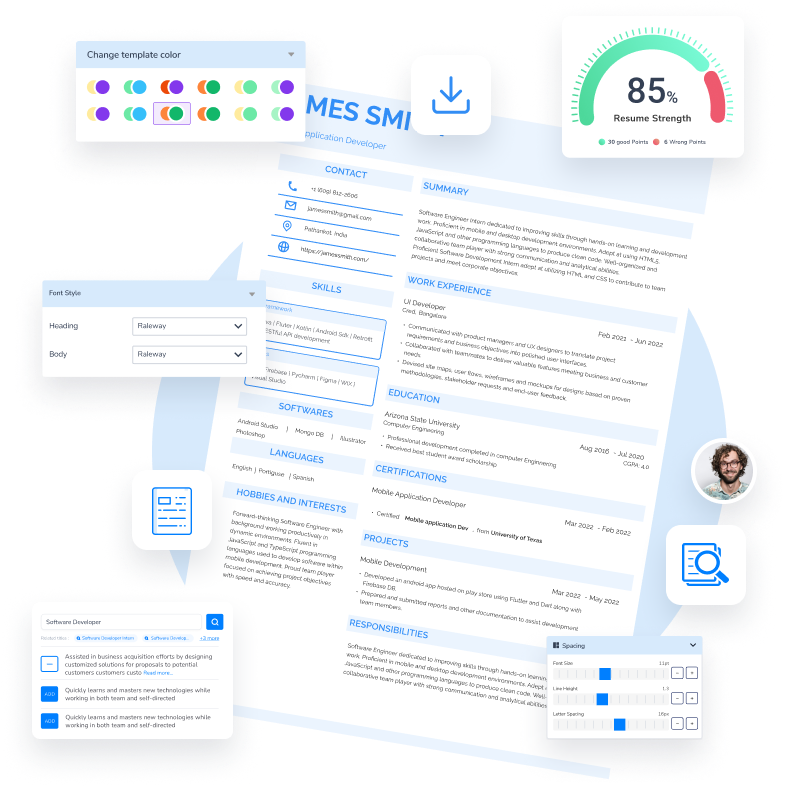 Build your resume in 10 minutes
Elevate your interview chances with our Modern Resume Templates that follows the exact 'Resume Rules' that employers look for.
Try Now for Free!
Build Your Resume
Excellent
4.8
out of 5 on
TrustPilot