How to Build a Professional Resume For Sales Manager Jobs?
How to build a resume for sales manager jobs?
You are on the right platform if you seek answers to similar questions.
Sales is one of the most essential and fundamental departments of every business. Hence, if you are in this career niche, you are going to have a bright future and a prosperous career.
However, you will need a professional sales manager resume apart from your degrees to grow as a sales manager. And we are here to help you do that by answering the following queries:
What are the basic responsibilities of a sales manager?

How to use the sales manager job description to build a resume?

What is the most suitable resume format for a sales manager job?

Name the essential resume sections in a sales manager resume.

How to write an effective summary in a sales manager resume?

What are the most demanding sales skills in the 21st century?

How to craft the work experience section in a sales manager resume?
You can use the guidelines in this guide or HyreSnap Online Resume Builder to craft your sales manager resume. It is an artificial intelligence-powered platform that can ease your resume-building process and help you build your resume in minutes.
The role of a sales manager is critical in driving a company's revenue growth and achieving sales targets. Sales managers are responsible for leading and guiding their sales teams to success. Here are the fundamental duties of a sales manager:
Setting Sales Targets: Sales managers collaborate with senior management to set achievable sales targets aligned with the organisation's overall goals and objectives.
Sales Team Management: They recruit, train, and manage the sales team, ensuring that each member is equipped with the necessary skills and knowledge to perform effectively.
Performance Monitoring: Sales managers monitor the performance of individual team members and the team as a whole. They use key performance indicators (KPIs) to measure progress and identify areas for improvement.
Coaching and Development: Sales managers provide ongoing coaching and feedback to sales representatives. They identify strengths and areas needing improvement and develop strategies to enhance the team's sales skills.
Sales Strategy Development: Sales managers collaborate with the marketing and product teams to develop effective sales strategies. They identify target markets, evaluate competitors, and design sales campaigns to drive revenue.
Sales Forecasting and Reporting:

Sales managers analyse sales data for accurate sales forecasts. They generate regular reports for senior management, outlining sales performance, trends, and opportunities.
Customer Relationship Management:

Building and maintaining strong relationships with key clients is vital for sales managers. They ensure the sales team provides excellent customer service and promptly addresses client concerns.
Sales Training Programs: Sales managers organise and implement training programs to develop the sales team's skills and knowledge. This includes sales techniques, product knowledge, and customer relationship management.
Motivation and Incentives: Sales managers use motivational strategies and incentives to encourage their teams to achieve and exceed sales targets.
Budget Management: Sales managers are often responsible for managing the sales department budget. They allocate resources efficiently and monitor expenses to ensure financial targets are met.
Market Analysis: Sales managers conduct market research and analysis to identify new opportunities, industry trends, and potential areas for business expansion.
Collaboration with Other Departments:

Sales managers collaborate with marketing, product development, and other departments to ensure cohesive strategies and effective organisational communication.
Conflict Resolution: Sales managers handle any conflicts or issues that may arise within the sales team and work towards finding amicable resolutions.
Adherence to Sales Policies and Procedures: Sales managers ensure that the sales team follows company policies, sales procedures, and ethical standards in all sales activities.
A sales manager job description can ease your resume building by offering profile-centric keywords. You can use technical terms from the job description in your resume to enhance its technical strength.
A job description also clears all your doubts about the job responsibilities. Below we are showcasing a job description example to help you understand how to use it effectively.
Sales Manager Job Description Example:
HJK Logistics is looking for a Sales Manager at its Bengaluru location. As the Sales Manager, you will lead and drive our sales team to achieve revenue targets and expand our customer base in the Bengaluru region. You will play a crucial role in formulating sales strategies, developing client relationships, and fostering a high-performing sales culture. The ideal candidate possesses a strong sales background, exceptional leadership skills, and a deep understanding of the logistics industry.
Key Responsibilities:
>Develop and execute effective sales strategies to achieve revenue and growth targets for the Bengaluru region.
>Lead, mentor, and motivate the sales team to deliver outstanding performance and exceed sales goals.
>Identify new business opportunities and potential clients through market research, networking, and cold-calling.
>Cultivate and maintain strong relationships with existing clients, ensuring high levels of customer satisfaction and loyalty.
>Collaborate with cross-functional teams to develop tailored logistics solutions that meet client needs and deliver value.
>Conduct regular sales meetings and provide performance feedback to team members, fostering continuous improvement.
>Analyse sales data, market trends, and competitor activities to make informed business decisions.
>Prepare and present sales reports, forecasts, and insights to senior management.
>Develop and negotiate contracts and pricing agreements with clients while adhering to company policies and profitability targets.
>Stay up-to-date with industry developments, best practices, and emerging trends to maintain a competitive edge.
>Ensure compliance with company standards, sales procedures, and ethical practices.
Qualifications and Skills:
>Bachelor's degree in Business Administration, Marketing, or a related field (Master's degree preferred).
>Proven track record of at least [X] years in sales, with a minimum of [X] years in a managerial capacity within the logistics industry.
>Strong understanding of logistics and supply chain concepts and a thorough knowledge of the Bengaluru market.
>Demonstrated ability to lead and inspire a sales team to achieve and exceed targets.
>Excellent communication, negotiation, and presentation skills.
>Results-oriented with a strategic mindset and a passion for driving business growth.
>Proficiency in using CRM software and Microsoft Office Suite.
>Strong analytical and problem-solving abilities.
>Proactive, self-motivated, and adaptable to a dynamic work environment.
The most suitable resume format for Sales Manager jobs is the Reverse-Chronological Resume Format. This format is widely used and preferred by recruiters for managerial positions, including Sales Manager roles.
You can add the following section headings in your sales manager resume based on your career trajectory and the resume format you opt for:
Resume Header

Contact Information

Resume Summary/Objective

Key Skills

Technical Skills

Professional Experience

Training & Internships

Education Details

Certifications

Extracurricular Activities

Additional Information
Writing an effective summary for a Sales Manager resume is crucial as it introduces potential employers and sets the tone for the rest of your resume. Here are the steps to write an impactful and compelling summary:
Be Concise: Keep your summary brief and to the point. Aim for 3-4 sentences or a maximum of 3-4 lines. Avoid long paragraphs that may be overwhelming for recruiters.
Highlight Your Sales Manager Experience: Start by mentioning your title as a Sales Manager to immediately convey your role. If you have experience in various sales management positions, emphasise your most recent or relevant role.
Quantify Your Achievements: Use quantifiable metrics to showcase your sales performance. Mention specific achievements such as exceeding sales targets, revenue growth, market expansion, or successful sales campaigns. Numbers add credibility and demonstrate your impact as a Sales Manager.
Focus on Your Leadership Skills: Emphasise your leadership abilities and management style. Mention how you motivate and guide sales teams to achieve exceptional results. Showcase your expertise in coaching, team building, and driving sales excellence.
Include Industry Keywords: Incorporate relevant industry-specific keywords and phrases in your summary. Many companies use applicant tracking systems (ATS) to screen resumes, and using appropriate keywords can increase your chances of being selected for further review.
Highlight Your Unique Selling Points: Identify what sets you apart as a Sales Manager and include your unique selling points in the summary. This could be specialised industry knowledge, strong client relationships, or a track record of turning around underperforming sales teams.
Show Your Enthusiasm and Passion: Let your enthusiasm for sales and leadership shine through your summary. Express your passion for driving sales growth and achieving targets, as it can make your summary more engaging.
Tailor the Summary to the Job: Customise your summary for each Sales Manager job application. Highlight skills and achievements that match the specific requirements of the position you are applying for.
Use Action-Oriented Language: Use strong action verbs and language that conveys confidence and professionalism. Words like "achieved," "implemented," "led," and "exceeded" can make your summary more impactful.
Proofread and Edit: After writing your summary, proofread it for any errors or typos. Ensure that it is clear, concise, and free from grammatical mistakes.
Skills play a vital role in your resume screening round as they showcase your capabilities. Hence, we recommend adding all the modern sales-oriented skills to your resume.
To help you frame an impressive skills section in your sales manager resume, you can add the following skills:
Sales Leadership

Team Management

Business Development

Client Relationship Management

Strategic Planning

Sales Strategy Development

Negotiation

Sales Forecasting

Revenue Growth

Key Account Management

Sales Training and Coaching

Market Analysis

Customer Retention

Cross-Selling and Upselling

CRM Software Proficiency

Sales Performance Evaluation

Sales Process Optimization

Territory Management

Sales Presentations

Sales Team Motivation
The work experience section is one of the most essential elements of your sales manager resume. Hence, we recommend using the easy-to-read English language while framing it. Moreover, you must use one-liner bullet points to mention your work experience to impress the recruiter.
You can follow these guidelines to frame effective bullet points for the work experience section in your sales manager resume:
Start every bullet with a power verb

Quantify your achievements wherever possible

Highlight technical keywords

Frame every point in STAR (Situation, Task, Action, Result) format

Club similar points under a skill heading

Proofread every point after completion
Example (with quantifiable achievements):
Sales Manager | XYZ Corporation | New York, NY | [Dates]
Led a team of 15 sales representatives, achieving a 25% increase in quarterly revenue through strategic sales planning and effective team coaching.
Developed and executed sales strategies resulting in a 30% market share gain within six months, positioning the company as an industry leader.
Successfully negotiated and closed major contracts with key clients, generating $2M in new business annually.
Implemented a sales training program that improved the team's closing rate by 20% and increased overall productivity.
Conducted regular performance evaluations and provided constructive feedback, leading to a 15% improvement in individual sales performance.
You can check out the below-given sales manager resume sample before starting your resume-making process. It will help you understand the placement and presentation of every section.
Sample Resume For Sales Manager Jobs:
Jaivardhan Singh Shekhawat
Email- jaivardhan@hyresnap.com
Phone- +918275038508
LinkedIn- https://www.linkedin.com/in/jaivardhan-singh/
Professional Summary:
Results-driven Sales Manager with over 8 years of experience in driving revenue growth and leading high-performing sales teams. Proven track record of exceeding sales targets, developing effective sales strategies, and building strong client relationships. Skilled in coaching and motivating sales representatives to achieve exceptional results. Possess a deep understanding of the [Your Industry] market and a passion for driving business success.
Skills:
Sales Leadership and Team Management
Business Development and Client Relationship Management
Sales Strategy Development and Execution
Negotiation and Closing Skills
Market Analysis and Strategic Planning
Sales Training and Coaching
Revenue Growth and Target Achievement
CRM Software Proficiency
Team Motivation and Productivity Enhancement
Strong Communication and Presentation Skills
Professional Experience:
Sales Manager | ABC Solutions | [Dates]
Led a team of 20 sales representatives, consistently achieving quarterly revenue growth of 25% YoY.
Developed and executed innovative sales strategies that led to a 35% increase in market share within 6 months.
Successfully negotiated and closed key accounts, generating over $3 million in new business annually.
Implemented a comprehensive sales training program resulting in a 20% improvement in team performance and sales skills.
Conducted regular performance evaluations, provided coaching and feedback to the team, resulting in a highly motivated and productive sales force.
Assistant Sales Manager | XYZ Enterprises | [Dates]
Assisted the sales manager in developing sales strategies and managing the sales team.
Collaborated with marketing to launch successful product campaigns, increasing brand visibility and customer engagement.
Conducted market analysis to identify potential opportunities and create targeted sales plans.
Assisted in negotiating and closing sales deals with key clients, contributing to a 15% revenue increase.
Education:
Bachelor of Business Administration (BBA) | [University Name] | [Dates]
Relevant Courses: Sales Management, Marketing Strategy, Business Development.
Certifications:
[List any relevant certifications or training related to sales management]
Achievements:
Received the "Sales Excellence Award" for consistently achieving outstanding sales results and leading the team to success.
Led the successful launch of a new product, contributing to a 40% increase in overall company revenue.
Recognized for exceptional client relationship management, resulting in repeat business from key accounts.
Additional Information:
Languages: Fluent in English and Hindi.
Available for travel and relocation if required.
References:
Available upon request.
You will need a lot of time and focus to build a sales manager resume. However, you can minimise the efforts using AI resume-building tools like HyreSnap Online Resume Builder.
You will get the following facilities by using our modern AI resume builder:
These above points will help you craft an impressive resume for sales manager jobs in 2023. Additionally, we are listing the key takeaways of this guide below to cover everything you missed while reading it:
Choose a professional resume format and use it to outline your resume

Use bullet points instead of long paragraphs to list your resume details

Mention technical terms and highlight important information

Write your resume summary after completing all other resume sections

Add references only if it is mentioned in the job description

Proofread your resume after writing your entire resume to minimise errors

Moreover, our experts are always available at info@hyresnap.com to help you overcome all the resume-building barriers. You can contact us to build a job-winning resume for sales manager jobs easily.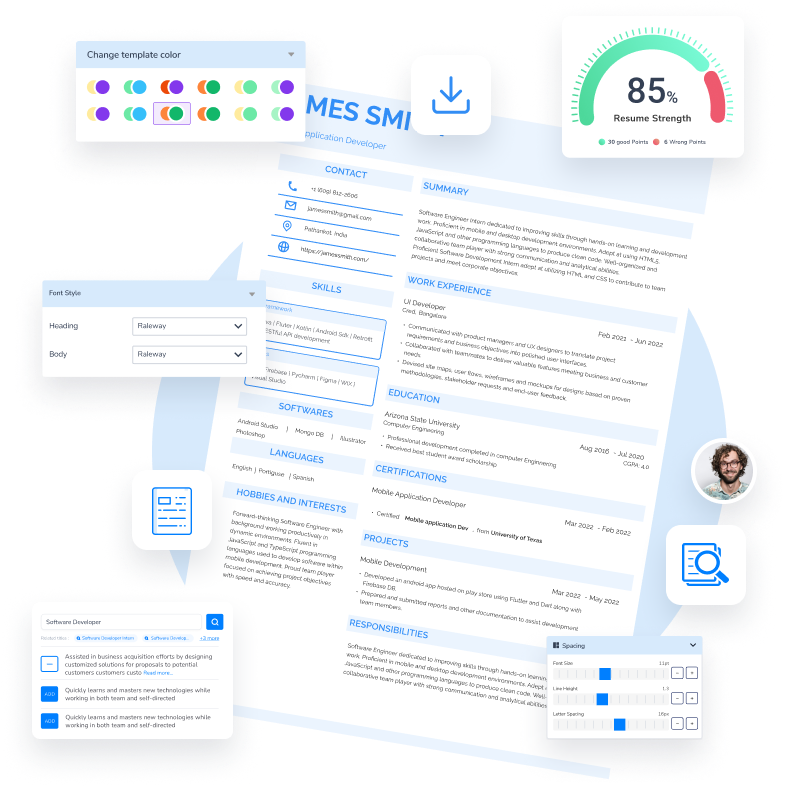 Build your resume in 10 minutes
Elevate your interview chances with our Modern Resume Templates that follows the exact 'Resume Rules' that employers look for.
Try Now for Free!
Build Your Resume
Excellent
4.8
out of 5 on
TrustPilot