How to Build a Resume For Editor Jobs in 2023?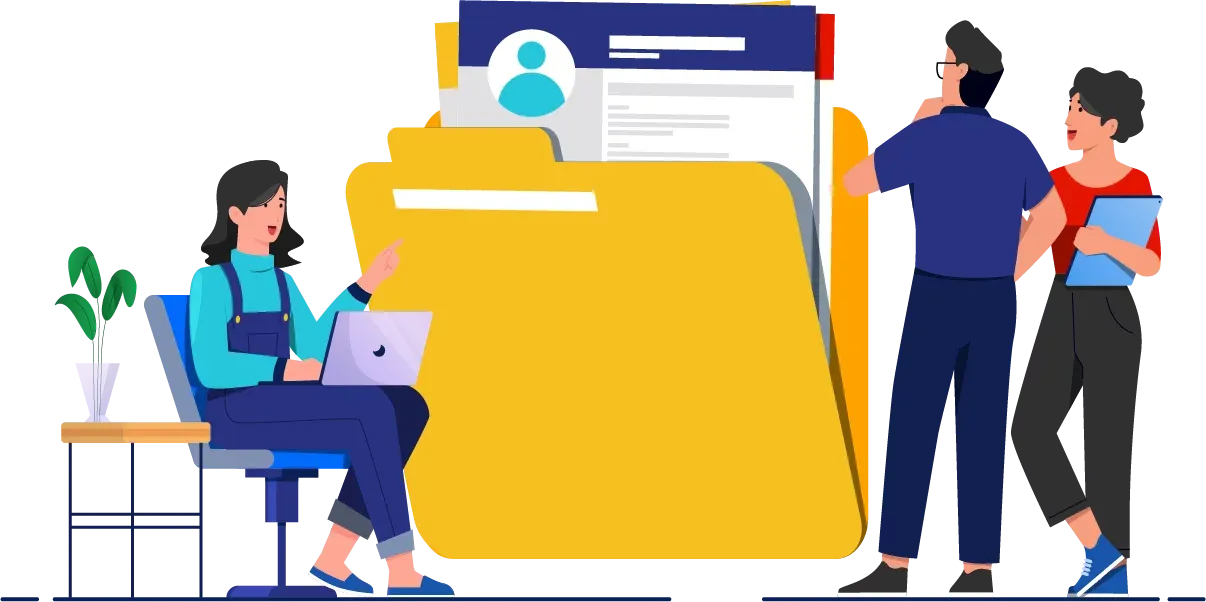 We are in the 21st century, and the world of editing continues to evolve with the rise of digital media and content creation. 
Whether you're an experienced editor or a newcomer to the field, having a well-crafted resume is essential to showcase your skills and stand out in a competitive job market. 
Considering this, here we will guide you through the key steps to build an impressive resume tailored specifically for editor jobs in 2023.
You will get the answers to these fundamental resume-building queries here:
What are the essential duties of an editor?

How to become an editor in India?

How to use a job description while building an editor resume?

What are the suitable resume formats for editor jobs?

How to build an editor resume?
You can follow the steps given in this guide to craft a job-winning resume for editor jobs. However, you must remember that it will be a time-consuming process. 
If you want to dodge all the hustle, use HyreSnap Online Resume Builder. It will help you craft an impressive and technically strong editor resume in easy steps. 
For now, let us move on and check how you can build an editor resume by yourself:
The fundamental duties of an editor vary depending on the type of publication (e.g., books, newspapers, magazines, online content) and the specific role within the editing process. However, some fundamental duties of an editor include:
Reviewing and Editing Content: The primary responsibility of an editor is to check written content for accuracy, clarity, consistency, grammar, spelling, punctuation, and style. They ensure the content adheres to the publication's guidelines and maintains a high standard of quality.
Structural and Developmental Editing: Editors may be involved in structural and developmental editing, which entails assessing the overall flow and structure of the content, suggesting revisions, reorganising paragraphs or sections, and ensuring the logical progression of ideas.
Fact-Checking: Editors are responsible for fact-checking the information presented in the content to verify its accuracy and credibility. This includes cross-referencing sources and confirming data and statistics.
Style and Formatting: Editors enforce consistent style and formatting throughout the publication. They may follow a specific style guide (e.g., AP Style, Chicago Manual of Style) to maintain uniformity in writing conventions.
Collaborating with Authors and Writers: Editors work closely with authors, writers, and other team members to discuss edits, provide feedback, and ensure that the final content aligns with the publication's vision.
Meeting Deadlines: Editors are proficient at managing their time and meeting tight deadlines. They coordinate with writers and other team members to ensure that content is ready for publication on schedule.
Content Curation and Idea Generation: In some cases, editors actively participate in content curation and idea generation. They may pitch article topics, assign writing tasks, and curate content for specific themes or issues.
Proofreading:

Editors meticulously proofread the final drafts before publication to catch any remaining errors or inconsistencies.
Staying Informed about Industry Trends: Editors keep themselves updated about industry trends, changes in language conventions, and evolving best practices in editing and publishing.
Ensuring Ethical Standards: Editors adhere to ethical guidelines, ensuring that the content does not contain plagiarism, copyright violations, or any offensive or misleading information.
Managing Editorial Workflow: For senior editors, there may be additional duties involving managing the editorial team, assigning tasks, and overseeing the publication process.
Adapting to Digital Platforms: In the digital age, editors may need to adapt their editing skills for online content, including SEO considerations, user engagement, and web-specific formatting.
Becoming an editor in India involves acquiring the necessary educational qualifications, gaining relevant experience, and developing essential skills in the field of editing. Here are the steps you can follow to become an editor in India:
Educational Qualifications
Obtain a bachelor's degree in a related field such as English, journalism, mass communication, literature, or any other discipline focusing on language and writing skills.
Pursue higher education, such as a master's degree or diploma in journalism, editing, or publishing, to gain specialised knowledge and expertise in the field.
Gain Experience
While pursuing your education, try to gain practical experience in editing and writing. You can do this through internships, freelance work, or contributing to college publications.
Develop Language and Editing Skills
Improve your language skills, grammar, spelling, punctuation, and writing style. Additionally, familiarise yourself with various style guides, such as the AP Stylebook or Chicago Manual of Style, which are commonly used in editing.
Build a Portfolio
Create a portfolio of your work, showcasing your editing skills and any relevant writing or editing projects you have undertaken.
Networking
Network with professionals in the editing and publishing industry. Attend workshops, seminars, and conferences related to editing to connect with industry experts and potential employers.
Stay Updated with Industry Trends
Keep yourself informed about the latest trends and developments in the editing field, including changes in language usage, publishing practices, and digital editing tools.
Apply for Entry-Level Positions
Start applying for entry-level editing positions in publishing houses, newspapers, magazines, websites, or any other media organisations. Look for job openings that match your skills and qualifications.
Learn Digital Editing Skills
In the digital age, editors need to be familiar with the industry's digital tools and content management systems. Learn how to edit and format content for online platforms.
Continuous Learning
Editing is an evolving field, so commit to continuous learning and improvement. Take additional courses or workshops to enhance your editing skills and keep up with industry changes.
Demonstrate Leadership and Management Skills (for Senior Editor Roles)
To become a senior editor or manage an editorial team, focus on developing leadership and team management skills. Display your ability to lead and guide a team of writers and editors.
Just like any other job description, an editor job description will help you with getting the technical keywords for your resume. You can add the keywords mentioned in the job description to pass the ATS screening without any chances of rejection.
Moreover, a job description will also help you understand the job requirements of your selected profile. To understand this process better, below is an editor job description example. You will see similar job descriptions for editor profiles in real world also:
Editor Job Description Example:
GHJ Publications is seeking an experienced and highly skilled Senior Editor to lead our editorial team and drive the publication of high-quality content across our diverse media platforms. As a Senior Editor, you will play a pivotal role in overseeing the editorial process, ensuring accuracy, consistency, and adherence to the company's editorial guidelines. Your strong leadership, excellent editing skills, and deep understanding of various subjects will contribute to the success and reputation of GHJ Publications.
Responsibilities:
Editorial Leadership: Provide strategic direction and guidance to the editorial team, setting clear goals and objectives, and ensuring the delivery of compelling, well-researched, and engaging content across print and digital channels.
Content Curation and Planning: Collaborate with writers, subject matter experts, and other stakeholders to curate relevant and timely content for various publications, considering audience interests and market trends.
Content Editing and Quality Control: Oversee the editing process for all content, including articles, features, interviews, and opinion pieces. Ensure accurate grammar, spelling, punctuation, style, and adherence to established editorial guidelines.
Fact-Checking and Research: Implement a rigorous fact-checking process to verify the accuracy and credibility of all published content. Encourage in-depth research and ensure evidence-based reporting.
Digital Content Management: Work closely with the digital team to optimise content for online platforms, ensuring SEO best practices, readability, and user engagement.
Print Publication Oversight: Supervise the production of print publications, from content selection and layout to final proofreading, ensuring timely delivery to printers.
Collaboration with Departments: Collaborate with design, marketing, and sales teams to align content strategies, enhance readership engagement, and support overall business objectives.
Talent Development: Mentor and nurture the editorial team, providing constructive feedback, conducting performance evaluations, and identifying opportunities for professional growth.
Market Analysis: Stay informed about industry trends, competitor publications, and emerging topics to keep GHJ Publications at the forefront of relevant and compelling content.
Maintain Editorial Standards: Uphold the brand's editorial standards and guidelines, ensuring consistency and maintaining the publication's reputation for excellence.
Requirements:
Bachelor's degree in Journalism, English, Communication, or a related field. A master's degree is a plus.
Proven experience as an Editor or Senior Editor in a reputable publishing house, media organisation, or similar environment.
Exceptional editing skills with an eye for detail and accuracy. Proficient in AP Style or other style guides.
Strong leadership abilities, with the ability to inspire and motivate the editorial team.
In-depth knowledge of diverse subject matters and an ability to edit content across various genres.
Familiarity with digital publishing and content management systems. Knowledge of SEO and web analytics is an advantage.
Excellent communication and interpersonal skills, with the ability to collaborate effectively with cross-functional teams.
Demonstrated ability to manage multiple projects and meet deadlines in a fast-paced environment.
A passion for journalism, storytelling, and a commitment to upholding journalistic ethics and standards.
Flexibility to adapt to changing priorities and a willingness to embrace innovation in the publishing industry.
For editor jobs, there are three main resume formats that you can consider based on your level of experience and the specific requirements of the job:
Chronological Resume:
This is the most common and widely used resume format for editors with a consistent work history. It highlights your work experience in reverse chronological order, starting with your most recent position. This format is ideal if you have relevant experience and want to showcase your career progression and achievements.
Functional Resume:
A functional resume emphasises your skills and qualifications rather than focusing on your work history. This format is suitable if you are transitioning to an editing role from a different career or have gaps in your work history. It allows you to highlight your editing skills, language proficiency, fact-checking abilities, and other relevant attributes.
Combination Resume:
The combination resume combines elements of both the chronological and functional formats. It provides a balance between showcasing your work experience and highlighting your skills and accomplishments. This format suits editors with diverse skill sets and significant editing experience.
Each resume format has its advantages, and the choice depends on your individual circumstances and the specific editor job you are applying for. 
Here are some additional tips to consider when crafting your editor resume:
Focus on showcasing your editing skills, attention to detail, and language proficiency throughout the resume.
Use specific examples of projects you've edited or publications you've worked on to demonstrate your impact and accomplishments.
Tailor your resume for each job application, emphasising the most relevant experiences and skills that match the job requirements.
Include any certifications, awards, or recognition related to editing or writing.
Keep the resume clean, well-organised, and easy to read. Use professional fonts and appropriate formatting.
Avoid using excessive colours or graphics that may distract from the content.
Proofread your resume thoroughly to eliminate any errors or typos.
Building a compelling editor resume requires careful consideration of your qualifications, skills, and relevant experiences. Here's a step-by-step guide to help you create an influential editor resume:
Choose the Right Resume Format
Select a suitable resume format based on your work history and the job you are applying for. The chronological format is often ideal for editors with a consistent work history. In contrast, the functional format can emphasise your skills if you transition to editing or have relevant skills from different roles.
Header and Contact Information
Start with a professional header that includes your full name and relevant professional title, such as "Editor" or "Senior Editor." Include your contact information, such as phone number and email address, so potential employers can easily reach you.
Professional Summary or Objective
Write a summary or objective statement highlighting your key qualifications and the value you bring as an editor. Tailor this section to the specific job you are applying for, emphasising relevant skills and experiences.
Work Experience
Showcase your relevant work experience in reverse chronological order, starting with your most recent position. Include the job title, the name of the employer, the employment dates, and a brief description of your responsibilities and achievements for each role. Use strong action verbs and quantitative results to demonstrate your impact as an editor.
Skills
Create a separate section to list your core editing skills and other relevant abilities, such as language proficiency, fact-checking, or familiarity with style guides. Include technical skills, such as proficiency in editing software or content management systems.
Education
List your educational qualifications, starting with your highest degree or relevant certifications. Include the degree, university/college name, location, and graduation year.
Certifications and Training
If you have completed any certifications or relevant training courses related to editing or writing, include them in a separate section.
Portfolio (Optional)
Please provide a link to an online portfolio showcasing samples of your edited work or links to published articles or content you have worked on.
Awards and Recognitions (Optional)
If you have received any awards or recognition for your editing work, mention them in a separate section.
Volunteer or Freelance Experience (Optional)
Include any relevant volunteer or freelance editing experiences to demonstrate your dedication to the field.
References (Optional)
You can mention that references are available upon request, but it's unnecessary to include them on the resume.
Formatting and Proofreading
Keep the resume clean, well-organised, and easy to read. Use a professional font and maintain consistent font sizes throughout the document. In the end, proofread the resume thoroughly to ensure there are no grammatical errors or typos.
Sample Resume For Editor Jobs
You can check the sample resume for editor jobs listed below. It will help you organise every section professionally while building your resume for editor jobs in 2023:
Sample Resume For Editor Jobs:
Joseph Martin
Editor | Content Specialist
Contact: (555) 555-5555 | Email: joseph.martin@hyresnap.com | LinkedIn: linkedin.com/in/josephmartineditor
Professional Summary:
Dedicated and detail-oriented Editor with 8+ years of experience in editing and content management. Proficient in ensuring accuracy, clarity, and consistency in written materials. Adept at collaborating with writers and cross-functional teams to deliver high-quality content across various platforms. Seeking to leverage strong editing skills and passion for storytelling in a challenging editorial role.
Skills:
- Editing and Proofreading
- Fact-Checking and Research
- Content Management
- Print and Digital Publishing
- Cross-Functional Collaboration
- Journalism and Storytelling
- Style Guides (AP, Chicago Manual of Style)
- Content Strategy and Planning
- SEO and Web Analytics
Work Experience:
Senior Editor
XYZ Publications, City, State | June 2017 - Present
- Lead a team of editors and writers to produce engaging content for the company's print and digital publications.
- Edit and proofread articles, features, and editorials, ensuring adherence to style guidelines and publication standards.
- Implement a rigorous fact-checking process to verify the accuracy and credibility of all published content.
- Collaborate with marketing and design teams to develop creative and compelling content strategies.
Editor
ABC News Agency, City, State | January 2013 - May 2017
- Edited news articles and press releases on a tight deadline, maintaining the highest journalistic standards.
- Assisted in the planning and execution of special features and editorial projects.
- Conducted interviews with industry experts and researched trending topics to produce relevant and timely content.
Assistant Editor
DEF Magazine, City, State | June 2010 - December 2012
- Reviewed and edited feature articles, interviews, and reviews for the magazine's monthly publication.
- Collaborated with layout and design teams to ensure seamless integration of content in print and digital formats.
- Managed freelance writers and coordinated content delivery for each issue.
Education:
Bachelor of Arts in Journalism
University of State, City, State | Graduation: May 2010
Certifications:
Certificate in Editing and Publishing
Professional Institute, City, State | Year
Portfolio:
View samples of edited work at [Portfolio Link]
References:
References available upon request.
Resume building is a challenging and hectic process involving a lot of formatting, customisation, and research. If you want to avoid getting into this hustle, try HyreSnap Online Resume Builder.
It is a modern resume-making platform backed by the power of artificial intelligence. It will help you frame technically strong and professional resumes in easy steps without any complexities.
Check out the key features of this modern resume-crafting platform:
You can follow the guidelines mentioned above to frame a job-winning editor resume for your next job search. If you missed anything above, consider checking the key takeaways below:
Pick a professional resume format i.e., reverse chronological or combination

Outline your resume with all the essential section headings

Write your resume details in one-liner bullet points

Quantify your achievements in the work experience section

List your key and technical skills in separate sections

Add key metrics and technical terms wherever possible in the resume

Proofread your resume after completing it to minimise unwanted errors

Apart from this, our experts are always available at info@hyresnap.com if you need any other career assistance. We will help you build a bright career by getting you your desired job in easy steps.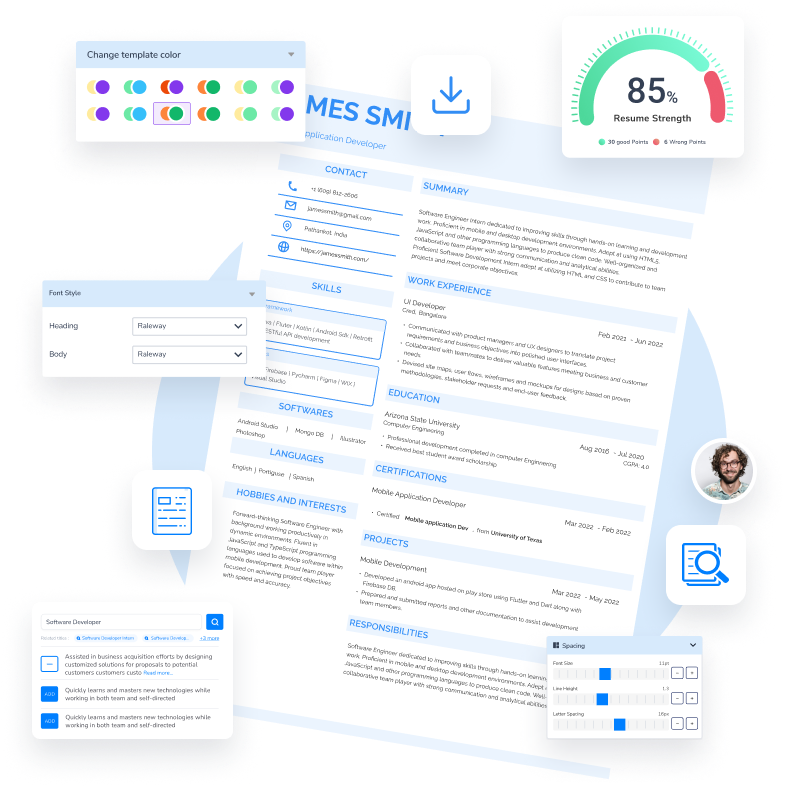 Build your resume in 10 minutes
Elevate your interview chances with our Modern Resume Templates that follows the exact 'Resume Rules' that employers look for.
Try Now for Free!
Build Your Resume
Excellent
4.8
out of 5 on
TrustPilot