Top 20+ Words To Describe Yourself in 2023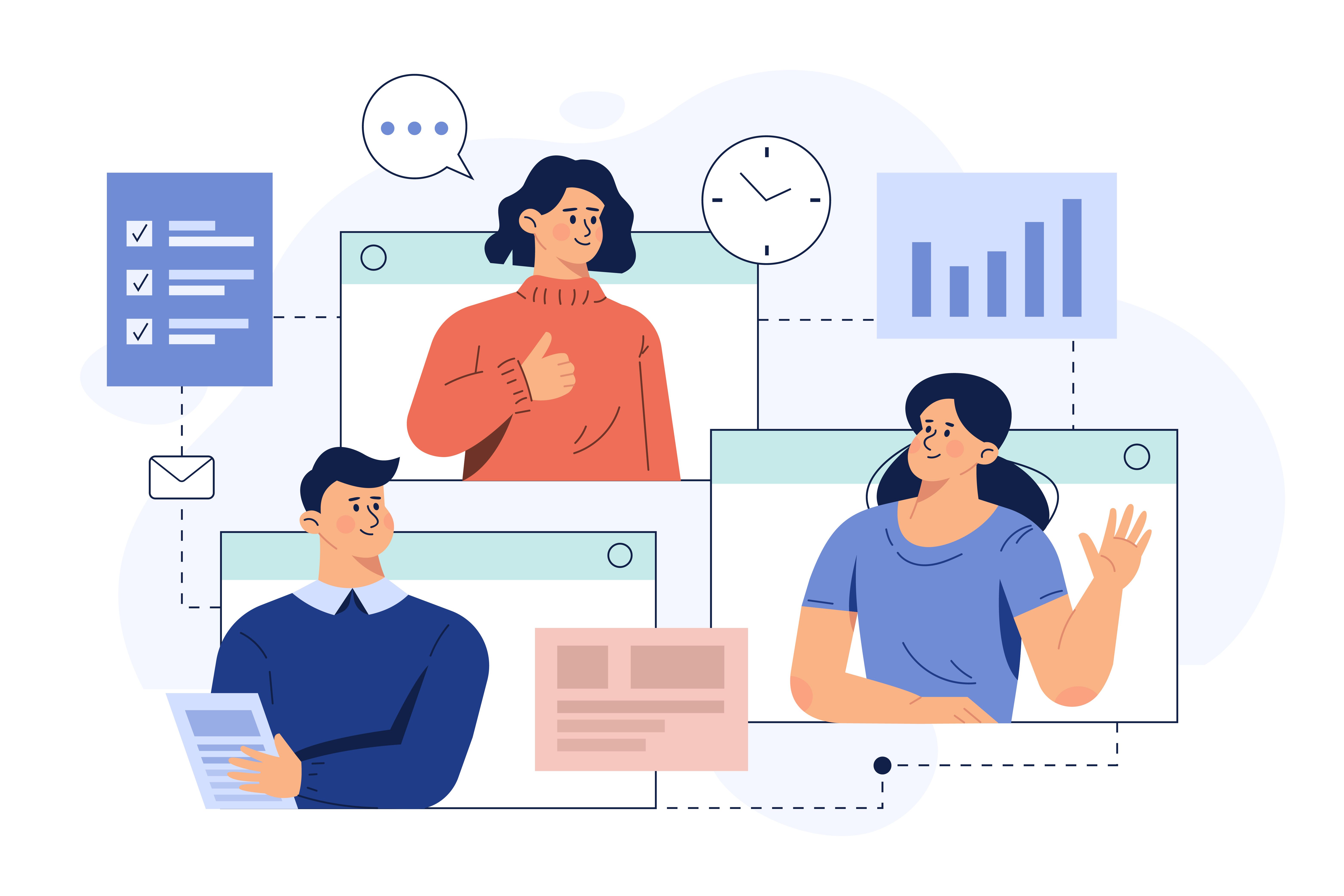 Job interviews or resumes are an integral part of the hiring process, and they play a crucial role in determining the suitability of candidates for a given position. 
Various studies have shed light on different aspects of the interview process, from its average duration to the most common questions asked by hiring managers.
For instance, according to a survey by Glassdoor, the average interview process in the United States takes 23 days, which includes everything from initial screening calls to final interviews. 
This underscores the fact that the hiring process can be a lengthy one and requires patience on the part of both employers and candidates.
In this article we will try to address your queries related to words to use in  resume or interviews and words to describe yourself, like,
What is Resume?
Why is self-description Important?
What words best describe yourself?
Writing your CV profile or getting ready for the standard interview question "Tell me about yourself" might be challenging. While being honest, try not to be brutal. You want to make an impression, but not in an egotistical way.
Fortunately, you may make a fantastic, lasting first impression if you adhere to a few rules when selecting the appropriate words to describe yourself.
With each area in mind, these adjectives and describing words were carefully chosen. In this manner, you'll leave a positive impression and be able to showcase your greatest traits in any circumstance.
Therefore, whether you need to choose words that are honest but make you stand out on your college application, whether you need to answer the frequently asked interview question, "Tell me about yourself," or whether you need words to describe yourself on resumes or cover letter, then we have got you covered. 
Before that lets get into the basics of resume writing.
A resume is a formal document that summarizes a person's education, work experience, skills, and achievements. It is typically used to apply for jobs and is usually the first impression that a potential employer has of a job candidate.
A resume should provide a concise overview of a candidate's relevant qualifications, experience, and skills. 
It should include the candidate's contact information, such as their name, address, phone number, and email address. The resume should also include a summary or objective statement that highlights the candidate's career goals and qualifications.
The work experience section of a resume should provide a detailed account of the candidate's previous job positions, including the job title, company name, employment dates, and key responsibilities and achievements. 
The education section should list the candidate's degrees, certifications, and other relevant educational qualifications.
In addition to work experience and education, a resume should also highlight the candidate's skills and abilities, such as proficiency in specific software or language skills. Finally, a resume should be well-formatted, easy to read, and free of errors or typos.
The words used in a resume are of utmost importance as they play a significant role in creating a positive impression on the employer. 
The right words to describe yourself can make a resume stand out, capture the employer's attention, and increase the chances of being selected for an interview. Here are some of the key reasons why words are crucial in a resume:
The words used in a resume help demonstrate the skills and competencies of a candidate. For instance, by using action verbs like "managed", "led", or "collaborated", the candidate can convey their leadership or teamwork skills.
The right words can highlight the candidate's achievements and accomplishments. For example, using words like "increased sales", "improved processes", or "achieved targets" can demonstrate the candidate's ability to add value to an organization.
Using industry-specific words and phrases can show the candidate's familiarity with the job requirements and demonstrate their expertise in the field.
The words used in a resume can help create a positive impression on the employer. Using powerful and positive words like "innovative", "effective", or "successful" can convey the candidate's confidence and capability.
The words used in a resume can also showcase the candidate's personality traits like attention to detail, creativity, or problem-solving ability.
At an interview or in resume, you have a chance to make a good first impression, which is a crucial step in your job hunt. 
Hiring managers can get a feel of who you are as a professional by your successful self-description in job applications or during an interview.
Employers can judge whether you fit into the corporate culture and whether you can succeed in the new workplace by reading your important features in clear, compelling language. 
Also, it's crucial to speak positively when you discuss your abilities with hiring managers.
It is also simpler to respond to standard questions like "tell me about yourself" or "use four words to describe yourself" if you have thought ahead about how to introduce yourself at a job interview. 
It is a good idea to use strong words and terms that will help the interviewer learn more about your abilities, professional demeanour, and personality, even if the recruiter or hiring manager doesn't specifically ask you to describe yourself.
Following are the words that can be used for best effect to describe yourself in resume or in job interview.
Creative: This word can demonstrate a person's ability to come up with new and innovative ideas.
Analytical: This word indicates that a person is good at breaking down complex problems and analyzing data.
Reliable: This word shows that a person can be trusted to complete tasks on time and to a high standard.
Organized: This word indicates that a person is good at managing their time and resources effectively.
Adaptable: This word demonstrates that a person can adjust to changing situations and be flexible in their approach.
Detail-oriented: This word shows that a person is meticulous and focused on getting things right.
Driven: This word indicates that a person is motivated to achieve their goals and is willing to put in the effort to do so.
Personable: This word demonstrates that a person is friendly and easy to work with.
Confident: This word shows that a person has self-assurance and belief in their abilities.
Team player: This word indicates that a person is able to work well with others and collaborate effectively.
Hiring managers can better understand how you engage with coworkers by understanding your professional attitude. Here is a lengthy list of phrases to use when describing your work attitude to potential employers:
Your attitude towards your job at work reveals a lot about who you are. During an interview, use the following language to describe how you carry out your duties and tasks for an organization:
By using the advice above, you can add abilities to your CV. Building a technically sound resume is still a challenging process, though.
Use the HyreSnap Resume Builder to make the process of creating a resume easier. It is a platform powered by artificial intelligence that can generate stunning resumes with little to no work.
You can use all of these suggestions to use effective words to describe yourself in resume section. However, if you're having trouble, you may write your resume in 2023 with the HyreSnap AI Resume Builder.
Additionally, you can contact our specialists at contact@hyresnap.com with any questions you may have regarding your career. We owe it to you to assist you in building a successful career in this period of intense competition.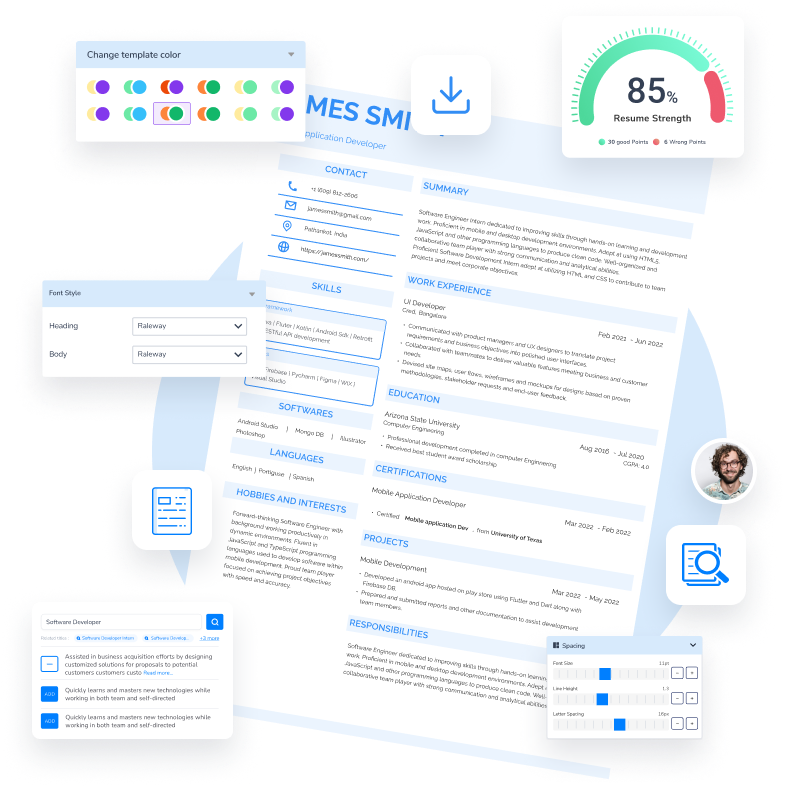 Build your resume in 10 minutes
Elevate your interview chances with our Modern Resume Templates that follows the exact 'Resume Rules' that employers look for.
Try Now for Free!
Build Your Resume
Excellent
4.8
out of 5 on
TrustPilot