10 Things you should not say in an interview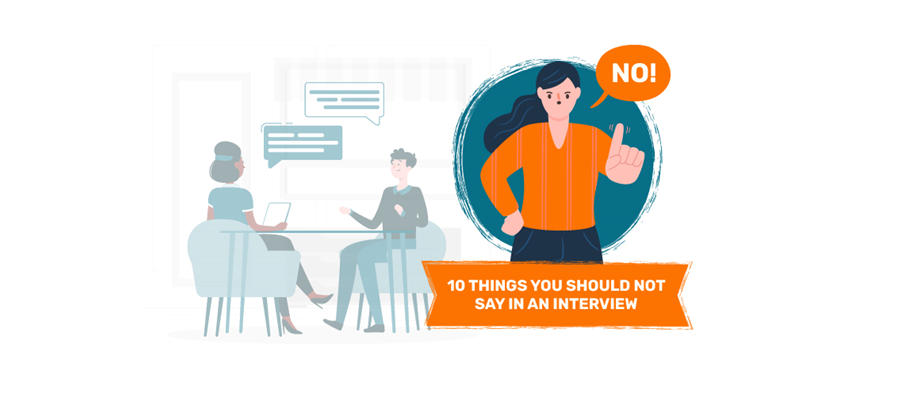 Irrespective of your qualifications, work experience, achievements and other credentials on your perfect resume, things not to say during the interview holds great importance, as significant as what one should say.
It's crucial to know exactly what to say in an interview and be well prepared not to talk around topics which the hiring manager may consider a red-flag. But how do you know what not to say in an interview?
This is exactly what this blog is about – things you should not say in an interview. Read on!
Always think back that a successful interview can kick-start your career with the desired acceleration. It can change your professional life altogether, which will also positively impact your personal and financial life, in all respects.
 
So, what are the mistakes and 10 things you should not say in an interview?
We all love Hi and Hello. But interviews are a different space. At the start of the interview, do not say things like "Hi", or "How are you doing?", "hello", "howdy", "hey". 
Instead, greet them with a smile and say "good morning", "good afternoon", or "good evening", and use "Madam" or "Sir", as the case may be. Be formal with a composed smile which will reflect your confidence.
Whether a video interview or a face-to-face on-sight interview, your body language should be appropriate, and your introductory words will set the stage for the rest.
It's easy to be tempted to speak and talk about self during an interview but remember, if your listening is not effective and contemplative you may not be able to answer effectively. 
Remember that interrupting anyone while they are talking is not only against the basic etiquettes but may also take away the opportunity to understand what the person may be trying to communicate. 
So, if you wish to be an influential speaker, first be a patient listener and that's the key to good communication.
There may be some critical moments when you are asked questions for which you may not be prepared, don't give up! 
These are the moments when you demonstrate your ability to deal with pressure and demonstrate presence of mons. You can ask for a minute to think of a smart response or ask more details around the question, instead of giving up immediately.
Example: That's a really good question, let me think about it for a moment. I would say that…
Or
Wow that's a great question, honestly, I have never thought about it, let me just think for a moment… I guess I would say that…
Always remember that interview is the only time when you get the opportunity to showcase them that you are the best candidate for the organisation. Also, for any good organisation, compensation is no bar for the ideal candidate. 
So, instead of focusing on the perks and benefits, utilise this opportunity to show the best of your credentials for the position. Delay this discussion when you are actually offered the position. 
However, you may very gently let them know that you still have questions around perks and compensations.
Example: I look forward to discuss other dimensions as well during our next conversation.
Depart with grace! Yes, when you leave the interview, a proper formal "thank you" with a brief smile and bye would be a part of the positive things to say in a discussion about yourself. It will reflect your manners. 
Do not simply get up and walk away and do not say anything casual like "take care", "see you again", etc. Use the right body language, like a slight bow at the time of leaving. Put back the chair in the right position.
During an interview it's a usual question that "why do you want to join us or why are you leaving the previous employer?" Try to answer such questions in a positive way. 
Make sure you don't criticize or say negative things about the previous employee, this will give the current organisation the confidence about you bringing in a positive culture and ethics to the company. 
Instead, you may talk about how the profile and the opportunities the current organisation is offering is better.
Example: I have handled this position on a national level for the last five years, I am sure this will certainly help me when I handle a team on international level, unfortunately my current organisation does not have international exposure.
You may feel that the interviewer is asking you unnecessary questions and the information is already there in your resume, always take it as an opportunity to share it in detail. 
The interviewer may be interested to explore certain aspects in a bit more detail, or to cross check your credentials so, go ahead and elaborate what's already there in the resume.
Example: I have worked as a project manager for my previous employees for almost 6 years. My job included working on a project, right from its inception to completion. Working on the proposal, field work, preparing PPT and making final presentations to the client. So, I basically handled the entire project on my own.
Interviewers have an ego. Yes, big ones! Or maybe not. But be at ease. Definitely, do not say anything that may offend or displease the interviewer. Keep the end goal in mind. 
You must do that interview in as balanced a way and perfectly as possible, thereby keeping the interviewer favourable to you. Do not over exaggerate and avoid such things not to say in an interview, which might leave an arrogant or overconfident impression.
Do not give personal information that is irrelevant to the job or your qualification unless you are specifically asked for it. Be limited about things to say in an interview about yourself.
Try to stick to giving as crisp and to the point answers, as much as Possible. Sometimes being too personal can give off a wrong impression or you may reveal some part of your personality or likes that you may not want to!
Yes, be humble! Remain humble, balanced and composed during the interview. Even if you have the best resume, best qualification, best experience, etc., do not show any signs of overconfidence. 
You should have a good idea or a basic tuning in your mind about things to say in an interview about yourself, beforehand, without exaggeration or overstatement.
So what are you waiting for? Go to hyresnap.com and prepare a perfect industry standard and job winning resume. And your first resume is on us.
Wishing you the best in having a great resume, success in the interview and procuring that ultimate dream job of yours. Leverage the above tips to know how to not answer interview questions. And yeah, good luck. Ace that next interview!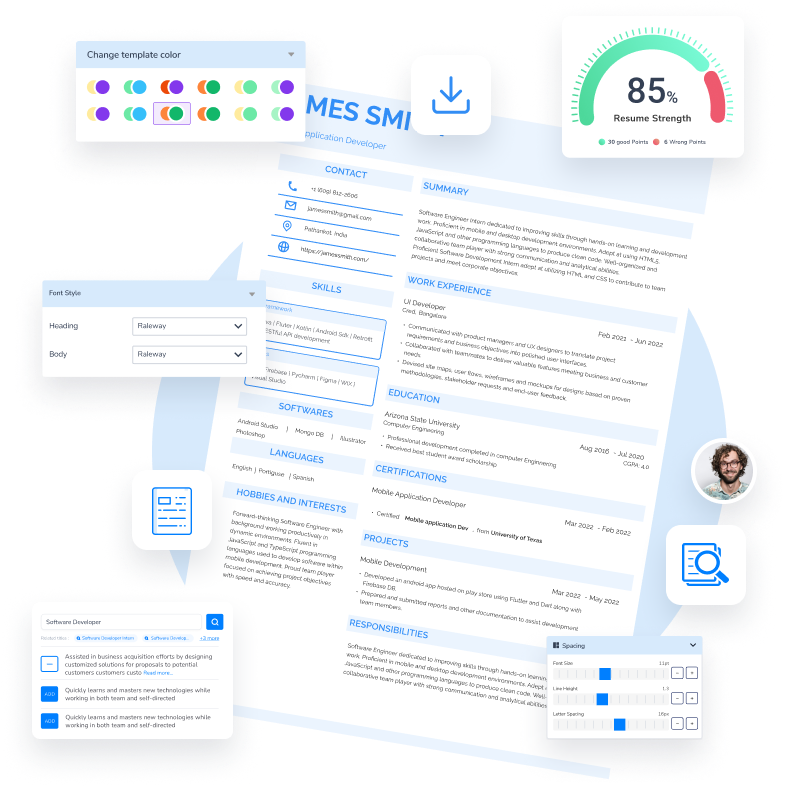 Build your resume in 10 minutes
Elevate your interview chances with our Modern Resume Templates that follows the exact 'Resume Rules' that employers look for.
Try Now for Free!
Build Your Resume
Excellent
4.8
out of 5 on
TrustPilot