Server Resume with Example in 2023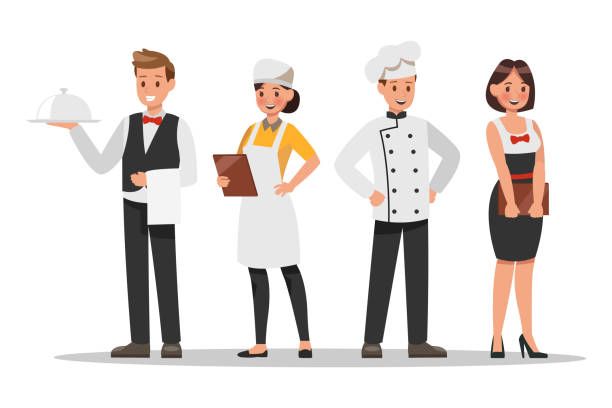 A well-crafted server resume in 2023 is your ticket to securing a role in the dynamic and ever-evolving restaurant industry. 
Whether you're a seasoned server or just entering the field, your resume plays a pivotal role in showcasing your skills, experiences, and personality to potential employers.
Though you can use any AI-powered resume building tool like HyreSnap Online Resume Builder to craft a professional resume for servicer in 2023, these below-given steps will help you understand the resume building process and conduct it without any need of AI.
Here, we'll dive into the art of creating an impactful server resume in 2023. We'll provide you with expert tips, essential elements, and a real-life resume example that aligns with the current industry standards and employer expectations.
A restaurant server is a critical front-of-house staff member responsible for providing excellent customer service and ensuring a positive dining experience for patrons. The fundamental responsibilities of a restaurant server include:
Greeting and Seating Customers: Servers are typically the first point of contact for guests. They greet customers, show them to their tables, and provide menus.
Taking Orders: Servers take food and drink orders from customers, accurately noting any special requests or dietary restrictions. They may also provide recommendations on menu items.
Delivering Food and Beverages: Servers are responsible for ensuring that food and beverages are delivered to the correct tables promptly. They must verify the accuracy of the orders before serving them.
Check-Backs: Servers periodically check on customers to ensure they are satisfied with their meals and address any concerns or requests promptly.
Clearing Tables: After guests finish their meals, servers clear the table of used dishes, glasses, and utensils. They may also reset the table for the next group of customers.
Handling Payments: Servers present the bill to customers, process payments, and return change or receipts as necessary. This also includes accepting credit cards and processing transactions.
Providing Customer Assistance: Servers assist customers with any additional needs, such as refilling drinks, answering questions about the menu, and accommodating special requests.
Upselling and Promotions: Servers may promote special menu items, daily specials, or desserts to increase revenue. They should do so in a helpful and non-pushy manner.
Maintaining Cleanliness: Servers help keep the dining area clean and well-organized. This includes wiping down tables, sweeping the floor, and ensuring a tidy appearance.
Knowledge of Menu and Specials: Servers should be knowledgeable about the menu, including ingredients, preparation methods, and any daily specials. This helps them answer customer questions and provide recommendations.
Compliance with Health and Safety Standards: Servers must follow health and safety regulations to ensure the well-being of both customers and fellow employees. This includes food handling, sanitation, and safety protocols.
Maintaining a Positive Attitude: Servers should be friendly, approachable, and patient, even in challenging situations. A positive and helpful demeanor can significantly enhance the overall dining experience.
Teamwork: Servers often work closely with other restaurant staff, including kitchen staff and host/hostesses, to ensure smooth and efficient service. Effective communication and cooperation with colleagues are essential.
Handling Customer Complaints: When customers have complaints or concerns, servers should address them professionally, offer solutions, and involve management if necessary.
Sales and Suggestive Selling: Encouraging customers to order additional items, such as appetizers, sides, or desserts, can increase the check amount. Servers may employ suggestive selling techniques to boost sales.
Time Management: Servers need to efficiently manage their time to ensure that all tasks are completed in a timely manner and that customers receive their orders promptly.
Professional Appearance: Maintaining a clean and professional appearance, including wearing the restaurant's uniform or dress code, is essential for creating a positive first impression with customers.
A career as a server in the restaurant or hospitality industry can be a good niche for some individuals, but it also comes with its own set of advantages and challenges. Whether it's a good career choice for you depends on your personal interests, goals, and circumstances. Here are some factors to consider:
Advantages of a Career as a Server:
Flexibility: Server positions often offer flexible working hours, making it suitable for students, those looking for part-time work, or individuals who prefer non-traditional work hours.
Tips and Earnings Potential: Servers can earn a significant portion of their income through tips, which can be especially lucrative in establishments with a high-end clientele.
Interpersonal Skills: The job allows you to develop strong customer service and interpersonal skills, which can be valuable in various industries.
Opportunities for Advancement: Many individuals start as servers and work their way up to supervisory or management positions within the restaurant or hospitality industry.
Meeting People: If you enjoy interacting with people from diverse backgrounds, being a server allows you to meet and engage with a wide range of customers.
Challenges of a Career as a Server:
Physical Demands: The job can be physically demanding, involving long hours on your feet, carrying trays, and performing other tasks that may lead to physical strain.
Unpredictable Income: While tips can boost earnings, they can also be inconsistent, depending on factors like the day of the week, location, and the quality of service provided.
Stressful Environment: The fast-paced nature of the restaurant industry can be stressful, especially during peak dining times.
Job Security: Job security can be uncertain, as the industry can be sensitive to economic downturns and market fluctuations.
Limited Benefits: Many server positions may not come with benefits such as health insurance, retirement plans, or paid time off.
Reputation and Perception: The occupation is sometimes perceived as having low social status, which may not align with the career aspirations of some individuals.

 
You can use a servicer job description to enhance the technical strength of your server resume. Below is an example of server job description to explain you better:
Server Job Description Example:
As a Server at Hotel Marriott Bengaluru, you will play a pivotal role in creating memorable dining experiences for our guests. You will be responsible for providing exceptional service, taking orders, delivering food and beverages, and ensuring guest satisfaction in our restaurant.
Key Responsibilities:
Greet and seat guests in a warm and welcoming manner.
Present menus and provide detailed explanations of menu items and specials.
Take customer orders accurately and efficiently, ensuring any dietary requirements or special requests are noted.
Coordinate with the kitchen and bar staff to ensure timely delivery of food and drinks to tables.
Check back with guests to ensure their dining needs are met and address any concerns or requests.
Clear tables, reset them, and prepare them for the next guests.
Present bills and process payments accurately, offering courteous assistance to guests throughout the payment process.
Provide recommendations and upsell menu items to enhance the dining experience.
Maintain knowledge of food and beverage offerings, including ingredients and preparation methods.
Ensure compliance with health and safety standards, including food handling and sanitation protocols.
Address and resolve guest complaints or issues professionally and promptly.
Collaborate with the kitchen, bar, and management team to ensure smooth restaurant operations.
Uphold the highest standards of professionalism, appearance, and customer service.
Qualifications:
Previous experience as a server in a restaurant or hospitality setting is preferred but not mandatory.
Strong customer service and interpersonal skills.
Excellent communication and teamwork abilities.
Knowledge of food and beverage offerings and the ability to make informed recommendations.
A positive attitude, attention to detail, and a dedication to exceeding guest expectations.
Flexibility to work in a fast-paced environment and during various shifts, including evenings and weekends.
As a server, you're a crucial part of the restaurant or hospitality industry, and your resume should reflect your ability to provide excellent customer service. Here's a step-by-step guide on how to build a server resume in 2023:
Contact Information
Start your resume with your name, phone number, email address, and location (city and state). Make sure your contact information is current and professional.
Resume Summary or Objective
Write a concise summary or objective statement that briefly describes your experience, skills, and what you bring to the table as a server. This is your chance to make a strong first impression.
Skills
Create a dedicated skills section. Include both hard skills (e.g., POS systems, wine knowledge, menu expertise) and soft skills (e.g., customer service, teamwork, communication). Tailor this section to match the specific job you're applying for.
Work Experience
This is the heart of your server resume. List your previous work experiences in reverse chronological order. For each job, include the name of the restaurant, its location, your job title, and the dates of employment. Under each position, provide bullet points that describe your key responsibilities and achievements. Highlight any relevant accomplishments, such as increasing table turnover or receiving positive customer feedback.
Education
Include your highest level of education, especially if you're just starting your career. Mention the name of the school, degree earned, and graduation date.
Certifications
If you have any relevant certifications, such as a food handler's permit or TIPS certification (for serving alcohol), list them in a separate section.
Awards and Achievements
If you've received awards or recognition in your server career, be sure to include them. Mention any "Employee of the Month" awards or similar accolades.
Additional Sections
Depending on your experience, you can add sections like "Languages Spoken" (if you're bilingual), "Professional Memberships," or "Volunteer Work" (if relevant and impressive).
Keywords
Tailor your resume for each job application by incorporating keywords from the specific job posting. This helps your resume get noticed by applicant tracking systems (ATS) and hiring managers.
Formatting
Use a clean, easy-to-read font and keep the format simple. Avoid using fancy fonts and graphics. Use bullet points to make your information clear and scannable.
Length
Keep your resume concise. One page is usually sufficient, but if you have extensive experience, you can extend it to two pages.
Proofread
Before submitting your resume, proofread it carefully for spelling and grammatical errors. Attention to detail is essential in the service industry.
Include a Cover Letter
While not mandatory, a well-written cover letter can help you stand out. Customize it for each job application, highlighting your enthusiasm for the position and your ability to provide excellent service.
References
You typically don't need to include references on your resume, but have them ready on a separate sheet if the employer requests them.
[Your Name]
[Your Address]
[Your City, State, Zip Code]
[Your Email Address]
[Your Phone Number]
Objective:
Dedicated and customer-focused restaurant server with 5 years of experience in providing exceptional dining experiences. Seeking to contribute my excellent interpersonal and food service skills to a dynamic restaurant team.
Skills:
Excellent customer service
Menu knowledge and recommendations
POS system proficiency
Food and beverage orders and delivery
Up-selling and suggestive selling
Handling difficult situations with professionalism
Team player and effective communicator
Multilingual: Fluent in English and Spanish
Work Experience:
Server | The Bistro on the Park | Anytown, USA | July 2020 - Present
Greet and seat customers with a warm and welcoming demeanor, ensuring a positive first impression.
Provide guests with detailed information about the menu, including daily specials and wine pairings.
Accurately take and input food and beverage orders using the restaurant's POS system.
Serve meals and drinks promptly, ensuring accuracy and presentation.
Attend customers' needs throughout their dining experience, anticipating requests and ensuring satisfaction.
Consistently achieve 15% above-average sales through upselling and suggestive selling techniques.
Handle customer complaints and concerns professionally and resolve issues to their satisfaction.
Server | Ocean View Restaurant | Anytown, USA | May 2018 - June 2020
Delivered prompt and courteous service to patrons, ensuring a memorable dining experience.
Managed a section of 20+ tables, providing personalized recommendations and accommodating special requests.
Collaborated with the kitchen staff to ensure timely food preparation and delivery.
Maintained a thorough understanding of the restaurant's wine list and assisted customers in selecting suitable wines.
Regularly recognized as "Server of the Month" for consistent high levels of customer satisfaction.
Trained new servers on restaurant policies, procedures, and customer service standards.
Education:
High School Diploma | Anytown High School | Anytown, USA | May 2017
Certifications:
Food Handler's Permit, Anytown Health Department, June 2018
TIPS (Training for Intervention Procedures) Certification, December 2018
Awards and Achievements:
"Server of the Month" at Ocean View Restaurant, March 2019
Consistently achieved above-average sales and received positive customer feedback.
References:
Available upon request.
The earnings of a server in India can vary widely depending on several factors, including the type of establishment, location, level of experience, and the individual restaurant's policies. In India, servers typically earn a combination of a base salary, tips, and sometimes additional bonuses or commissions.
Base Salary: The base salary for servers in India can vary greatly. In many cases, it's the minimum wage prescribed by the respective state government. As of my last knowledge update in 2021, this minimum wage ranged from around INR 7,000 to INR 15,000 per month, depending on the state.
Tips: Tips are a significant portion of a server's earnings in India. The amount of tips can vary based on the type of restaurant, the service provided, and the customer's generosity. On average, servers can earn tips ranging from INR 2,000 to INR 10,000 or more per month. Fine dining establishments tend to yield higher tips than casual restaurants.
Bonuses and Commissions: Some restaurants offer bonuses or commissions based on performance, such as upselling or receiving positive customer feedback. These can add to a server's earnings.
Location: Earnings may also vary based on the city or region in which the restaurant is located. Major metropolitan areas like Mumbai, Delhi, and Bengaluru typically have higher living costs and may offer servers higher earning potential.
Experience: Servers with more experience often command higher tips and may have access to better-paying positions in upscale restaurants.
We have listed all the essential steps and guidelines to craft a job-winning server resume in 2023. However, you can use HyreSnap Online Resume Builder and complete the process in less than 15 minutes.
Below you can check the highlighting features of this marvelous resume building platform in 2023:

You can use these above-given instructions to craft your server resume without any complication. Additionally, you can discuss all your resume-building queries and confusions without experts at info@hyresnap.com. We will be highly obliged to help to craft a professional resume and build a bright career in 2023.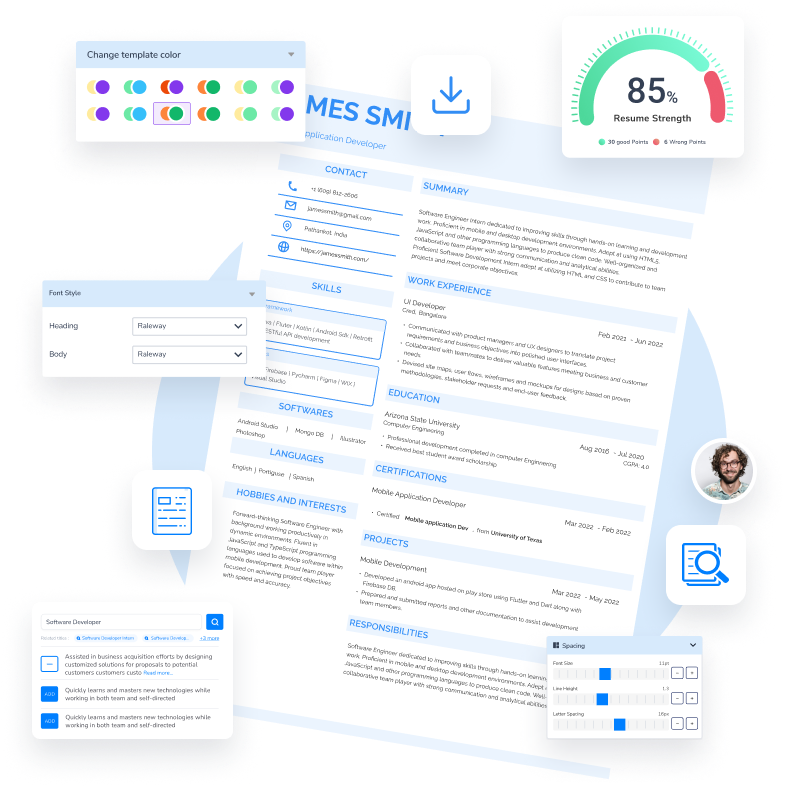 Build your resume in 10 minutes
Elevate your interview chances with our Modern Resume Templates that follows the exact 'Resume Rules' that employers look for.
Try Now for Free!
Build Your Resume
Excellent
4.8
out of 5 on
TrustPilot