10+ Tips & Tricks to Build a Resume For Chef Jobs in 2023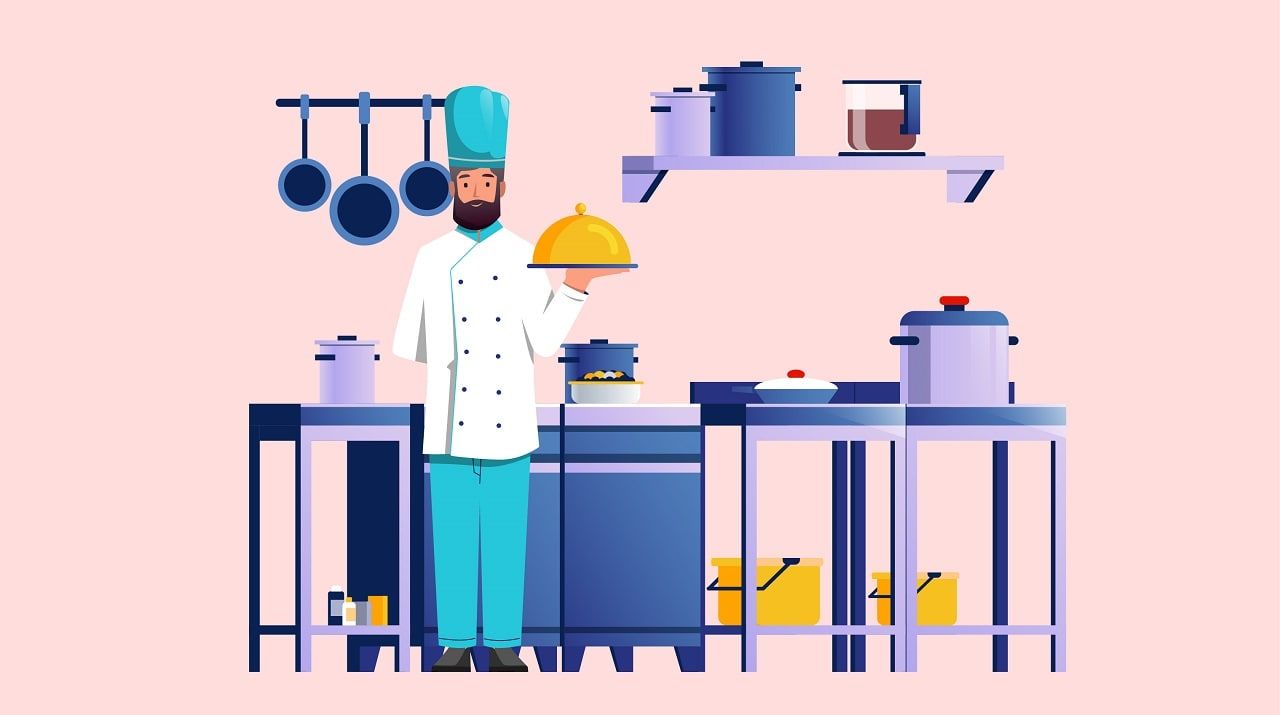 As the culinary world continues to evolve in 2023, aspiring chefs need a well-crafted resume that showcases their skills, experience, and passion for the culinary arts. 
With numerous talented candidates vying for chef positions, your resume plays a crucial role in catching the eye of potential employers. 
Here, we'll provide you with essential tips and tricks to build an impressive resume to help you stand out in the competitive chef job market 2023.
We are answering the following fundamental resume-building questions in this guide:
What are the fundamental duties of a chef?

How to become a chef in India?

What are the suitable resume formats for chef jobs?

How to craft a professional chef resume?
Building a chef resume is complex as you must showcase your skills, expertise, achievements, and capabilities. Hence, without wasting time, you can use HyreSnap Online Resume Builder.
This 21st-century resume-building platform will help you craft a job-winning resume in less than 15 minutes. However, you can follow these guidelines if you want to build your chef resume by yourself:
The fundamental responsibilities of a chef revolve around food preparation, kitchen management, and maintaining high standards of quality and safety. A chef's role can vary depending on their level of expertise and the type of establishment they work in, but some common responsibilities include:
Menu Planning: Developing creative and appealing menus that align with the restaurant's concept, customer preferences, and seasonal availability of ingredients.
Food Preparation: Overseeing the preparation of dishes, ensuring they are cooked to perfection, and maintaining consistency in taste and presentation.
Culinary Expertise:

Possessing an in-depth knowledge of various cooking techniques, cuisines, and food trends to innovate and elevate the dining experience.
Kitchen Management:

Managing the kitchen staff, including delegating tasks, supervising their performance, and fostering a positive work environment.
Ordering and Inventory: Responsible for ordering ingredients and supplies, monitoring inventory levels, and ensuring timely restocking to avoid shortages.
Food Safety and Sanitation: Adhering to strict food safety standards, including proper handling, storage, and preparation of food to prevent contamination.
Quality Control: Maintaining high-quality standards for all dishes leaving the kitchen and promptly addressing any issues or inconsistencies.
Cost Management: Efficiently managing food costs by minimising waste, optimising portion sizes, and making informed purchasing decisions.
Training and Development: Training new kitchen staff and providing ongoing professional development opportunities to improve their culinary skills.
Collaboration: Collaborating with other team members, such as servers, front-of-house staff, and management, to ensure smooth operations and a positive dining experience for customers.
Creativity: Continuously experimenting with new ingredients, flavours, and cooking techniques to introduce innovative dishes and keep the menu fresh and exciting.
Time Management: Efficiently organising tasks to meet service deadlines and handling multiple orders during peak hours.
Adaptability: Being flexible and able to adjust to changes in the menu, customer preferences, or kitchen equipment.
Customer Interaction: Occasionally interacting with customers to gather feedback, address special requests, and create a personal connection with the clientele.
Food Presentation: Paying attention to the visual appeal of dishes, as presentation plays a crucial role in enhancing the dining experience.
Becoming a chef in India requires a combination of culinary education, practical training, and passion for the art of cooking. Here's a step-by-step guide to becoming a chef in India:
High School Education: Start by completing your high school education or its equivalent. A good educational foundation will help you pursue further culinary studies.
Choose a Culinary Path: Decide on the type of culinary career you want to pursue, such as a chef in a restaurant, a pastry chef, a bakery chef, or a culinary instructor. Each path may have different educational and skill requirements.
Culinary Education: Enrol in a reputable culinary institute or cooking school. Look for institutes that offer courses and programs accredited by recognized culinary associations. Some well-known culinary institutes in India include the Institute of Hotel Management (IHM), The Culinary Academy of India (CAI), and the Oberoi Centre of Learning and Development (OCLD).
Practical Training: While theoretical knowledge is essential, hands-on experience is equally important. Many culinary institutes offer practical training as part of their curriculum. During this training, you will work in professional kitchens, gaining valuable experience and skills.
Specialisation and Internships: Consider specialising in a specific culinary area that interests you, such as Indian cuisine, baking, international cuisines, or pastry arts. Seek internships or apprenticeships at reputable hotels, restaurants, or bakeries to gain more practical experience and exposure to different cooking styles.
Certifications: While not mandatory, certifications from recognized culinary organisations can enhance your credibility and job prospects. Examples include certificates from the American Culinary Federation (ACF) or the Food Safety and Standards Authority of India (FSSAI) for food safety.
Networking: Build a strong network of culinary professionals, chefs, and industry experts. Attend culinary events, workshops, and food festivals to connect with people in the industry and learn from their experiences.
Continuous Learning: The culinary world is constantly evolving, so stay updated with the latest trends, techniques, and cuisines. Attend workshops, read culinary books, and follow renowned chefs to expand your knowledge.
Gain Experience:

Work in various kitchen environments to gain diverse experiences. Start from entry-level positions and gradually work your way up the ladder.
Showcase Your Skills: Create a portfolio showcasing your culinary creations, including photographs and descriptions of dishes you have prepared. A well-presented portfolio can impress potential employers and clients.
Job Search: Once you feel confident in your skills and experience, start looking for job opportunities in hotels, restaurants, catering companies, or other culinary establishments.
Be Passionate and Persistent: A career in the culinary arts can be demanding, but passion, perseverance, and dedication will set you apart and help you succeed in this field.
As a chef, you can choose from several suitable resume formats based on your experience, career stage, and the specific job you're applying for. Here are some standard resume formats that work well for chefs:
Chronological Resume Format
The chronological resume format is the most traditional and widely used format. It highlights your work experience in reverse chronological order, starting with your most recent position and going back in time. This format is suitable for chefs with a solid work history and progressive career growth.
Functional Resume Format
The functional resume format highlights your skills and achievements rather than your work history. It allows you to showcase your culinary expertise, creativity, and achievements at the forefront. This format is suitable for chefs with gaps in their work history or transitioning to a new culinary role.
Combination Resume Format
The combination resume format combines elements of both chronological and functional formats. It includes a summary of your skills and qualifications at the beginning, followed by a detailed work history arranged in reverse chronological order. This format allows you to highlight both your skills and relevant work experience, making it suitable for chefs with a mix of experience and skills to showcase.
Targeted Resume Format
The targeted resume format is customised to a specific job or employer. You tailor your resume to highlight the most relevant skills, experiences, and achievements that match the job requirements you're applying for. This format is suitable when you want to emphasise your alignment with a particular chef position.
Creative or Visual Resume Format
A creative or visual resume format lets you showcase your culinary talent and creativity through visual elements, such as images of dishes you've prepared, colourful layouts, or infographics. This format can be effective for chefs in artistic and innovative culinary fields.
How to Craft a Professional Chef Resume?
A professional chef resume is essential to make a solid first impression and effectively showcase your culinary skills, experience, and qualifications. Here are some steps to create a standout chef resume:
Header
Include your full name, a professional title (e.g., "Executive Chef" or "Sous Chef"), and contact information, such as your phone number and email address. Ensure the header is clear and prominently placed at the top of the resume.
Professional Summary
Write a concise and impactful summary statement highlighting your key qualifications and career achievements as a chef. Mention your culinary expertise, years of experience, and any notable accolades or accomplishments.
Skills
List your culinary skills and areas of expertise. Include both technical skills (e.g., knife skills, cooking techniques) and soft skills (e.g., creativity, leadership, time management). Tailor the skills section to align with the specific job requirements.
Work Experience
Detail your work experience in reverse chronological order, starting with your most recent position. Include the name and location of the employer, your job title, and the dates of employment. Provide a brief description of your responsibilities and achievements in each role. Use action verbs to showcase your impact and contributions to the kitchen.
Achievements and Awards
Highlight any culinary awards, certifications, or honours you have received. This could include awards from culinary competitions, industry recognitions, or certifications related to food safety and hygiene.
Education and Training
List your educational background, including the name of the culinary institute or cooking school you attended. Mention any relevant certifications or training you have completed, such as food handling courses or specialised culinary workshops.
Portfolio
Consider creating an online portfolio or including a link to a website showcasing your culinary creations and dishes you've prepared. A portfolio can visually demonstrate your skills and creativity as a chef.
Keywords
Incorporate relevant keywords from the job description into your resume. Many employers use Applicant Tracking Systems (ATS) to screen resumes, so using targeted keywords can increase your chances of getting noticed.
Formatting
Keep the resume format clean, professional, and easy to read. Use a legible font and appropriate font size, and maintain consistent formatting throughout the document. Avoid using excessive colours or fonts that may distract from the content.
Length
Limit your resume to one or two pages. Chefs typically have extensive experience, but it's essential to be concise and focus on the most relevant and impressive details.
Proofreading
Thoroughly proofread your resume to catch any spelling or grammatical errors. A well-polished and error-free resume reflects professionalism and attention to detail.
Customization
Tailor your resume for each job application. Highlight the skills and experiences most relevant to the specific chef position you're applying for.
Resume building may confuse you. Hence, we are listing a sample resume for chef jobs below. You can refer to this chef resume sample while building your resume. It will help you organise every section and detail professionally for better results.
Sample Resume For Chef Jobs:
Parch Desai
[Your Address]
[City, State, Zip Code]
[Your Email Address]
[Your Phone Number]
Objective:
Highly skilled and innovative chef with a passion for creating exceptional culinary experiences. Seeking the position of Head Chef at [Company Name], where I can leverage my diverse culinary expertise and leadership abilities to deliver outstanding dishes and drive the success of the establishment.
Skills:
Culinary expertise in Indian, Asian, and Mediterranean cuisines
Menu planning and development
Team leadership and management
Creative presentation of dishes
Food safety and sanitation
Professional Experience:
Executive Chef
[Taste Buds Restaurant], [City, State]
[Dates of Employment]
Oversaw all aspects of kitchen operations, leading a team of [X] chefs and kitchen staff.
Created innovative and visually appealing dishes, earning praise from customers and food critics.
Collaborated with the management to develop menus that catered to diverse customer preferences.
Ensured compliance with food safety regulations and maintained a clean and organised kitchen environment.
Conducted regular training sessions to enhance staff skills and maintain consistent quality.
Sous Chef
[Spice Delight Hotel], [City, State]
[Dates of Employment]
Assisted the Executive Chef in menu planning, recipe development, and kitchen management.
Supervised a team of [X] cooks, ensuring smooth kitchen operations during busy service hours.
Demonstrated creativity in presenting daily specials, contributing to the restaurant's reputation for unique dishes.
Conducted food cost analysis and implemented strategies to minimise wastage and control expenses.
Line Cook
[Taste of India Bistro], [City, State]
[Dates of Employment]
Prepared and cooked a variety of Indian and fusion dishes, maintaining consistency in taste and presentation.
Assisted with inventory management and ordering of ingredients, ensuring optimal stock levels.
Collaborated with fellow cooks to ensure efficient kitchen operations and timely service.
Education:
Diploma in Culinary Arts
[Culinary Institute Name], [City, State]
[Year of Graduation]
Certifications:
Food Safety and Hygiene Certificate
[Any other relevant certifications]
Languages:
English (Fluent)
Hindi (Native)
References:
Available upon request.
Most professionals search for a job first before building their resumes. If you also have finalised the opportunity you want to apply for, we recommend making your chef resume using HyreSnap Online Resume Builder.
This modern resume-making platform will help you craft professional resumes in less than 15 minutes. For instance, you can check the highlighting facilities offered by this resume-building platform:
All these guidelines above will lead you to a professional resume for chef jobs in 2023. Additionally, you can check the key takeaways mentioned below to revise everything:
Select a suitable resume format i.e., chronological or combination

Add essential resume sections and outline your resume

Use one-liner bullet points to cite your resume details

Add profile-centric terms and highlight key metrics 

Make separate sections to list your key and technical skills

Proofread your resume with a focused mind to rectify mistakes

Apart from this, if you require any other career-building assistance, feel free to contact HyreSnap experts at info@hyresnap.com. We are here to help every job seeker get a suitable job and build a bright career.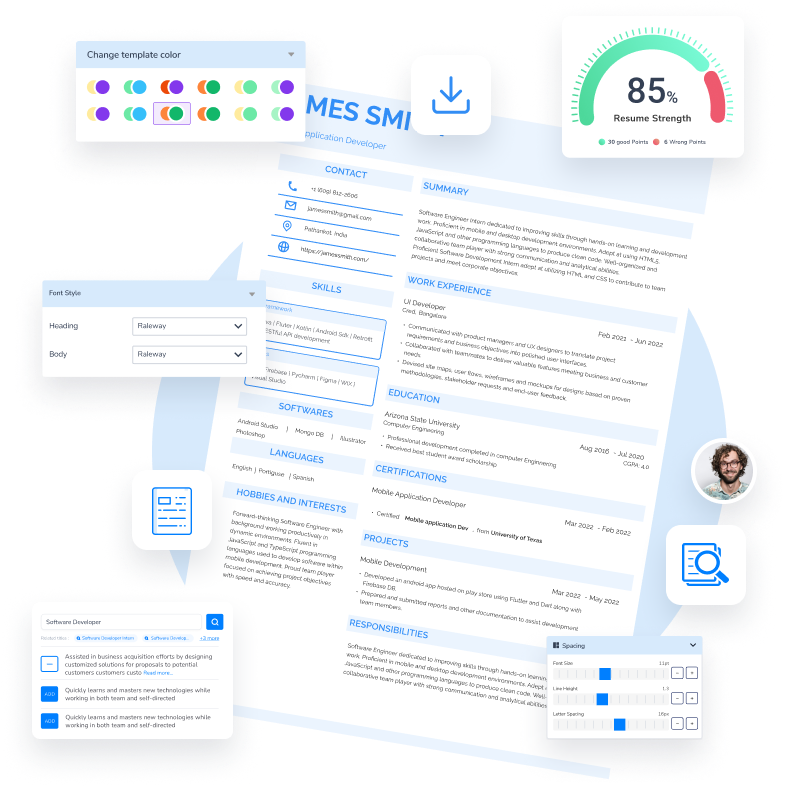 Build your resume in 10 minutes
Elevate your interview chances with our Modern Resume Templates that follows the exact 'Resume Rules' that employers look for.
Try Now for Free!
Build Your Resume
Excellent
4.8
out of 5 on
TrustPilot