Hyresnap Resume Builder: 6 Reasons Why It is Best In The Market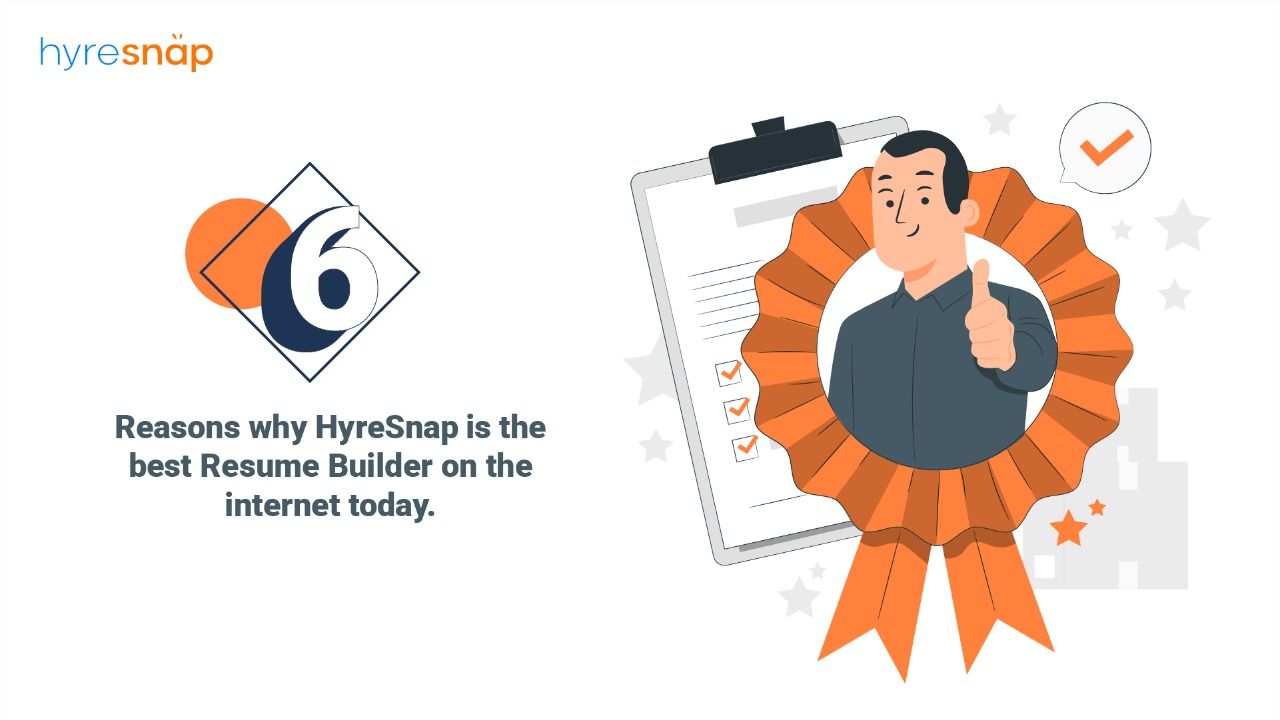 A resume builder is an online application that offers customizable resume templates to which you may add your personal information. This information is then used to generate a résumé that you can store and use to apply for jobs.
The answer to the question "Is a resume builder useful?" will help you decide whether to utilise one to create your resume for a job vacancy. Your resume is an essential document that outlines your educational and professional background and allows prospective employers to contact you. 
To make a favourable impression on a potential employer, it is crucial to carefully prepare and structure your resume. A resume builder enables you to swiftly apply for jobs by lowering the time required to create your resume and minimising human error.
If you're looking to make a resume and using a resume builder, you probably know about the dozens of resume builders floating around on the internet.
This can, unfortunately, lead to a choice paralysis and lead you to procrastinate creating that perfect resume. To assist you in zeroing in on the perfect resume builder, we are highlighting the amazing features of the AI driven HyreSnap resume builder platform.
We analysed the common resume builders out in the market today to come up with 6 distinct features that point out how HyreSnap Resume Builder is the best!
HyreSnap Resume Builder has a large range of applications and features, and all of them are tied together neatly by our easy-to-understand User Interface. Check out more here. 
A handy and simple User Interface can help you to navigate and edit your resume faster and more easily, which can allow for more ideas to flow making your resume building experience better.
Including personal information on a resume facilitates the recruiter's ability to reach you. Recruiters typically shortlist a few resumes before contacting prospects to organise interviews.
If the recruiter has multiple resumes of equally competent applicants, including yours, it is easier for the recruiter to reach you if your contact information is prominently shown on your resume.
Moreover, the majority of organisations and recruiters maintain candidate databases. Including additional personal information on your CV can also make it simpler for hiring managers to consider you for future positions.
Your resume naturally needs your personal details as a prerequisite. HyreSnap has done the job for you and made it easy to edit and add any personal information you may want to include on your resume. 
A resume summary is a concise, professional statement that appears at the top of a resume. It should be tailored to the position for which you are seeking and emphasise your relevant experience, abilities, and accomplishments. 
The objective of a resume summary is to introduce you to the hiring manager and encourage them to read the remainder of your resume.
In the second round of recruitment, the HR will go through your resume summary to look for qualifying candidates. Thus, it is a very important section of your resume.
HyreSnap Resume Builder helps you write your summary by providing a flexible text editor, with recommendations customised to the job you are applying to! 
Your Skills section is the most important section of your resume. Employers, Resume-Screening software, and every part of the recruitment pipeline will go through this section intensively to judge you, so you better make this section perfect! 
You can best do this with the help of HyreSnap Resume Builder, which not only recommends skills based on your job title, but also gives you the option of making multiple skill buckets under which you may add different sets of skills as you please! 
Hiring managers will initially examine your employment experience while reviewing your resume. In the work experience area of your CV, impress them by showcasing your major career achievements.
Once recruiters see your skills, they will want to see proof of work, which can be handily provided using the Work Experience section. Use HyreSnap resume builder to edit your Work Experience section to perfection! 
Another section that can make a recruiter confident about hiring a candidate is the education section. A well-presented education section can be the difference between getting hired and not making it to the interview round! 
HyreSnap's Resume Builder can help you fill in the Education section flawlessly, as well as give you tips on how to make it better!
HyreSnap gives you the opportunity to add any sections (projects, achievements, certifications etc) at the end of your resume, and the cherry on top is the AI and HR approved specific suggestions to add which boost your chances of landing a particular job title you're applying for! 
One of the most unique features of HyreSnap Resume Builder is the AI-Assisted Resume Evaluation Feature. This feature analyses your resume along with the job description and gives you objective feedback on what your resume is missing and needs.
All you got to do is just copy and paste the Job description given in the advertisement you are responding to. HyreSnap will highlight the 'keywords' that are missing in your resume and help you curate a perfect ATS compliant resume. 
With this feature, HyreSnap gives you a job match rating out of 100 along with tips to improve your resume! 
Every step of the way, HyreSnap will help you fine-tune your resume and give suggestions. In certain sections it helps you rephrase and rediscover some skills and achievements you may have by giving you appropriate feedback regarding language and structure.
"Well Begun is Half Done". The same applies to a resume. Instead of reinventing the wheel, you can use one of HyreSnap's templates that we have chosen after working with 40+ HR Experts and our AI powered algorithm.
We provide you with the best AI resume building experience at the lowest cost in the marketplace. Our prices are more than competitive and we care for your hard-earned money and ensure all our users get the best deal every time they build a resume on HyreSnap.
It's practically a no brainer now that we know how convenient and effective a resume built on HyreSnap is.. 
So What are you waiting for ? HyreSnap your resume today.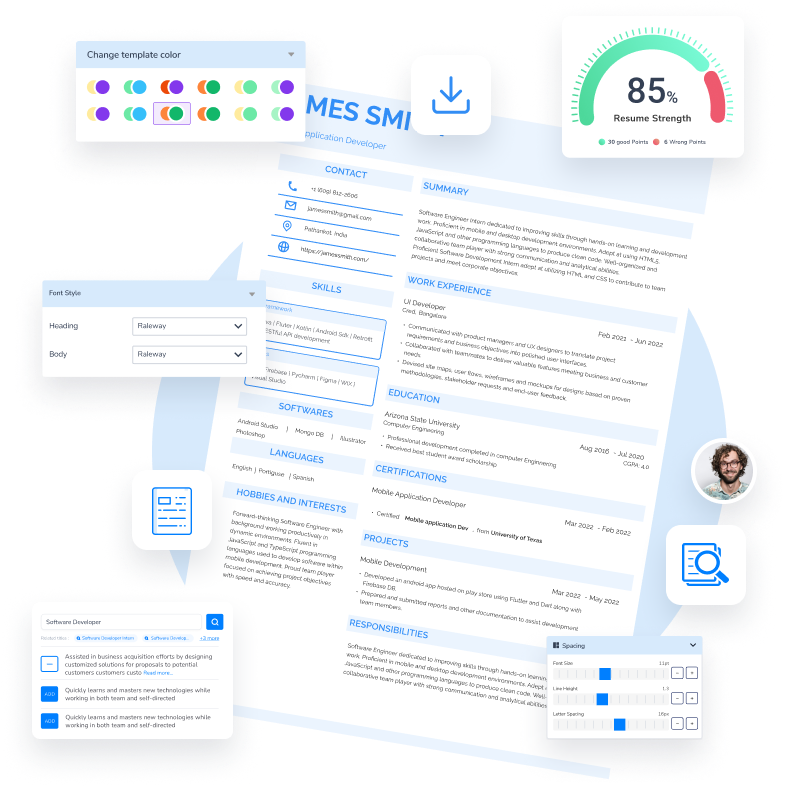 Build your resume in 10 minutes
Elevate your interview chances with our Modern Resume Templates that follows the exact 'Resume Rules' that employers look for.
Try Now for Free!
Build Your Resume
Excellent
4.8
out of 5 on
TrustPilot