How to Craft a Professional Resume For Legal Advisor Jobs?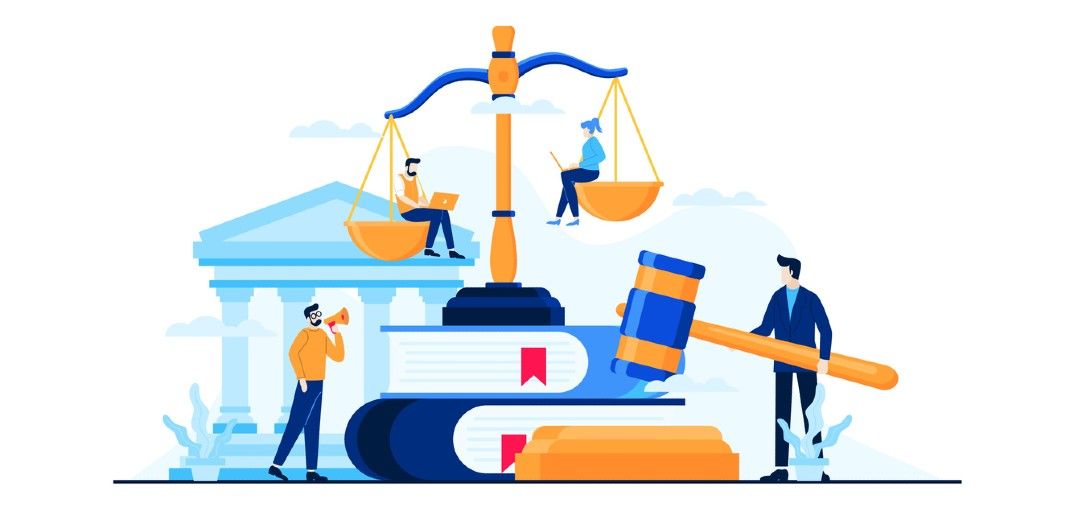 In the intricate world of law and justice, the role of a legal advisor is paramount. 
These professionals provide guidance, counsel, and expertise that can shape the course of legal matters and decisions. 
Crafting a professional resume for legal advisor jobs is your first step toward entering this esteemed profession. 
Your resume serves as a gateway to showcasing your legal acumen, experience, and skills to potential employers.
Hence, we are here to help every law graduate or aspiring legal advisor build a professional resume by clearing the below-given doubts:
What are the fundamental duties of a legal advisor?

How to use a legal advisor job description to build a resume?

Which is the best resume format for legal advisors?

How to craft a professional legal advisor resume?
Building a professional legal advisor resume can be complex. Hence, if you are a fresher or do not have much resume-building experience, we recommend trying HyreSnap Online Resume Builder.
It is an easy-to-use online resume-making platform that uses AI algorithms to craft technically strong resumes. However, if you want to try and build the resume by yourself, follow the guidelines below:
Legal advisors, also known as legal consultants or legal counselors, play a crucial role in providing legal guidance and expertise to individuals, businesses, or organizations. Their primary responsibility is to ensure that their clients' actions and decisions comply with the law and minimize legal risks. Here are some fundamental duties of a legal advisor:
Legal Consultation: Offer expert legal advice and counsel to clients on various legal matters, including contracts, regulations, compliance, and dispute resolution.
Legal Research: Conduct comprehensive legal research to stay updated with changes in laws, regulations, and precedents that may impact clients' cases or operations.
Contract Drafting and Review: Prepare and review contracts, agreements, and legal documents to ensure their accuracy, validity, and compliance with applicable laws.
Risk Assessment: Identify potential legal risks and liabilities for clients and recommend strategies to mitigate and manage those risks effectively.
Compliance Monitoring: Assist clients in understanding and adhering to relevant laws and regulations, ensuring that their business practices are legally sound.
Dispute Resolution: Represent clients in legal proceedings or negotiate settlements in disputes, advocating for their interests while seeking amicable resolutions.
Due Diligence: Conduct due diligence investigations for mergers, acquisitions, or business transactions to assess legal risks and liabilities.
Legal Documentation: Prepare and maintain legal documents, records, and contracts on behalf of clients.
Contract Negotiation: Participate in negotiations with other parties, ensuring that clients' rights and interests are protected during the process.
Client Counseling: Provide guidance and support to clients, addressing their legal concerns and assisting them in making informed decisions.
Confidentiality: Maintain strict confidentiality regarding clients' sensitive information and legal matters.
Compliance Training: Conduct training sessions for clients' staff on legal issues, compliance requirements, and best practices.
Ethical Standards: Adhere to professional and ethical standards, ensuring the highest level of integrity in all legal engagements.
Relationship Management: Build and maintain strong relationships with clients, understanding their needs, and delivering personalized legal solutions.
Continuous Learning: Stay updated with changes in laws and legal practices through ongoing professional development and education.
We highly recommend reading the legal advisor job description before applying for a job opportunity. It will help you understand the job requirements and eligibility criteria. Additionally, it will also offer you technical keywords to use while crafting your legal advisor resume.
For better understanding, we have mentioned a legal advisor job description example below:
Legal Advisor Job Description Example:
Job Title: Legal Advisor
Company: FGH Enterprises
Location: [City, State]
About FGH Enterprises:
FGH Enterprises is a dynamic and rapidly growing organization in the [industry/sector]. We are committed to providing innovative solutions and exceptional services to our clients. As we expand our operations, we are seeking a highly skilled and experienced Legal Advisor to join our team and provide expert legal guidance to support our business growth.
Job Summary:
As a Legal Advisor at FGH Enterprises, you will play a pivotal role in ensuring our business operations comply with legal requirements and industry regulations. You will be responsible for providing legal advice, conducting research, and assisting in the management of legal matters that impact our organization. The ideal candidate will possess a strong background in corporate law, contract negotiation, and risk management.
Responsibilities:
Legal Consultation: Provide expert legal advice and guidance to internal stakeholders on a broad range of legal matters, including contracts, compliance, intellectual property, and employment law.
Contract Drafting and Review: Draft, review, and negotiate contracts, agreements, and other legal documents to protect the company's interests and ensure compliance with legal standards.
Regulatory Compliance: Monitor and interpret changes in laws and regulations relevant to the company's operations, advising management on potential implications and required actions.
Risk Assessment and Mitigation: Identify legal risks and potential liabilities, and propose effective strategies to minimize and manage such risks.
Dispute Resolution: Assist in the resolution of legal disputes, collaborating with external legal counsel when necessary.
Due Diligence: Conduct legal due diligence for potential business ventures, acquisitions, or partnerships to assess legal risks and ensure compliance.
Policy Development: Contribute to the development and implementation of company policies, ensuring alignment with legal requirements and best practices.
Training and Awareness: Conduct legal training sessions for employees to enhance their understanding of legal matters and compliance responsibilities.
Legal Documentation: Maintain accurate and up-to-date legal records, contracts, and documentation for the organization.
Ethics and Compliance: Promote and uphold ethical standards and compliance with legal and regulatory requirements throughout the organization.
Requirements:
Bachelor's degree in Law or equivalent legal qualification.
5+ years of experience as a Legal Advisor or similar role, preferably in the [industry/sector].
Strong knowledge of corporate law, contract negotiation, and regulatory compliance.
Exceptional analytical, research, and problem-solving skills.
Excellent communication and interpersonal abilities, with the capacity to interact with stakeholders at all levels.
Proven track record of providing sound legal advice and implementing effective legal strategies.
Ability to work independently and collaboratively in a fast-paced and dynamic environment.
High level of integrity and commitment to maintaining confidentiality.
Membership in the [State/Regional] Bar Association is a plus.
The best resume format for legal advisors is the reverse-chronological format. This format places the most recent work experience and achievements at the beginning of the resume, making it easier for recruiters to quickly assess the candidate's qualifications and legal expertise.
Crafting a professional legal advisor resume involves showcasing your legal expertise, skills, and experience in a clear and concise manner. Here's a step-by-step guide to help you create an effective legal advisor resume:
Choose a Professional Format
Start with a clean and organized resume format. Use a traditional chronological or a combination (hybrid) format to highlight your experience, skills, and accomplishments. Avoid overly creative or flashy designs that may distract from your qualifications.
Contact Information
Include your full name, phone number, professional email address, and location (city and state). You can also add links to your LinkedIn profile or personal website if relevant.
Professional Summary/Objective
Write a brief summary or objective statement that highlights your legal specialization, years of experience and any unique strengths or qualities that set you apart. Tailor this section to match the specific job you're applying for.
Skills Section
List your key legal skills, such as legal research, contract negotiation, client counseling, litigation, mediation, legal writing, and any specialized software or tools you're proficient in.
Experience
This is the heart of your resume. List your legal work experience in reverse chronological order (most recent first). Include the following details for each position:
Job title

Name of the organization/firm

Dates of employment (month and year)

Responsibilities and achievements (use bullet points)

Highlight specific cases, projects, or deals you've worked on, and quantify your contributions whenever possible (e.g., "Successfully negotiated and settled 10+ cases out of court," or "Drafted and reviewed 100+ contracts annually").
Education
Include your law degree (JD) along with the name of the law school, graduation year, and any relevant honors or awards. If applicable, mention any additional certifications, specializations, or relevant courses.
Licenses and Memberships
Specify the jurisdictions in which you're licensed to practice law. Mention any bar associations, legal organizations, or professional memberships you belong to.
Languages (if applicable)
If you're fluent in multiple languages, especially if it's relevant to your legal work, mention them here.
References
It's common to write "References available upon request" at the end of your resume. You can provide references if requested by the employer later in the hiring process.
Proofread and Format
Ensure your resume is free of grammatical errors and typos. Use a consistent font, bullet points, and headings to make the resume easy to skim. Keep it concise; aim for a one-page resume, but if you have extensive experience, it's acceptable to go onto a second page.
Tailor Your Resume
Customize your resume for each job application. Highlight the skills and experience that align with the specific job description and requirements.
Optional Sections (if relevant)
Depending on your background, you might include sections like Publications, Speaking Engagements, Awards, Pro Bono Work, or Community Involvement.
Remember, your resume should reflect your professionalism and demonstrate your value as a legal advisor. Make sure it's easy for potential employers to see how your skills and experience match their needs.
You can use the below-given sample resume for legal advisor jobs to craft your resume without any complications.
Sample Resume For Legal Advisor Jobs
Chaitra Lalwani
Phone: (123) 456-7890
Email: chaitra.lalwani@email.com
Professional Summary:
Dedicated and results-driven legal advisor with over 8 years of experience providing expert legal counsel to clients. Skilled in contract negotiation, dispute resolution, and regulatory compliance. Adept at analyzing complex legal issues and developing practical solutions. Proven track record of successfully representing clients in high-stakes litigation cases.
Skills:
Contract Law
Legal Research
Dispute Resolution
Client Counseling
Negotiation
Litigation Strategy
Regulatory Compliance
Legal Writing
Mediation
Team Leadership
Experience:
Senior Legal Advisor
Smith & Associates, Bengaluru, KA
March 2019 - Present
Provide strategic legal advice to corporate clients on contractual matters, intellectual property, and regulatory compliance.
Negotiate and draft complex commercial agreements, resulting in a 20% increase in favorable terms for clients.
Successfully represented clients in 15+ commercial litigation cases, achieving settlements in 90% of cases.
Conduct thorough legal research and analysis to support client cases and internal decision-making.
Lead a team of junior legal advisors, providing guidance and mentoring to enhance their professional growth.
Legal Advisor
Johnson Law Firm, Bengaluru, KA
June 2015 - February 2019
Advised individual and corporate clients on a wide range of legal issues, including employment law, real estate transactions, and family law matters.
Drafted and reviewed legal documents, including contracts, pleadings, and settlement agreements.
Managed a caseload of 50+ clients, maintaining a high level of client satisfaction through effective communication and timely resolution of cases.
Conducted negotiations and mediation, resulting in successful out-of-court settlements for clients.
Education:
LLB
National Law University, Bengaluru, KA
Graduated May 2015
Recipient of Dean's Merit Scholarship
Member, Law Review
Bachelor of Arts in Political Science
University of California, Los Angeles
Graduated May 2012
Licenses & Memberships:
Licensed Attorney, Karnataka State Bar Association
Member, Indian Bar Association
Member, Bengaluru City Bar Association
Languages:
Fluent in English and Spanish
References:
Available upon request

 
You can follow these steps to craft a professional legal advisor resume. Or, you can use the HyreSnap Online Resume Builder to minimize resume-building steps with the power of artificial intelligence.
Below are some key highlights of this 21st-century resume-making platform:
We have elaborated on all the essential resume-building points in this guide to help you frame a highly effective legal advisor resume. Furthermore, you can check the below-mentioned key takeaways to recheck everything:
Opt for a combination or reverse chronological resume format

Use essential resume sections to outline your resume professionally

Use one-liner bullet points starting with action words to write your resume details

Write your soft and hard skills in separate sections

Highlight key information and technical keywords to get the recruiter's attention

Proofread your resume carefully to minimize grammatical and spelling errors

Additionally, you can contact our career experts at info@hyresnap.com in case of any other resume-building blocker. We will help you walk through the entire career-building journey in 2023.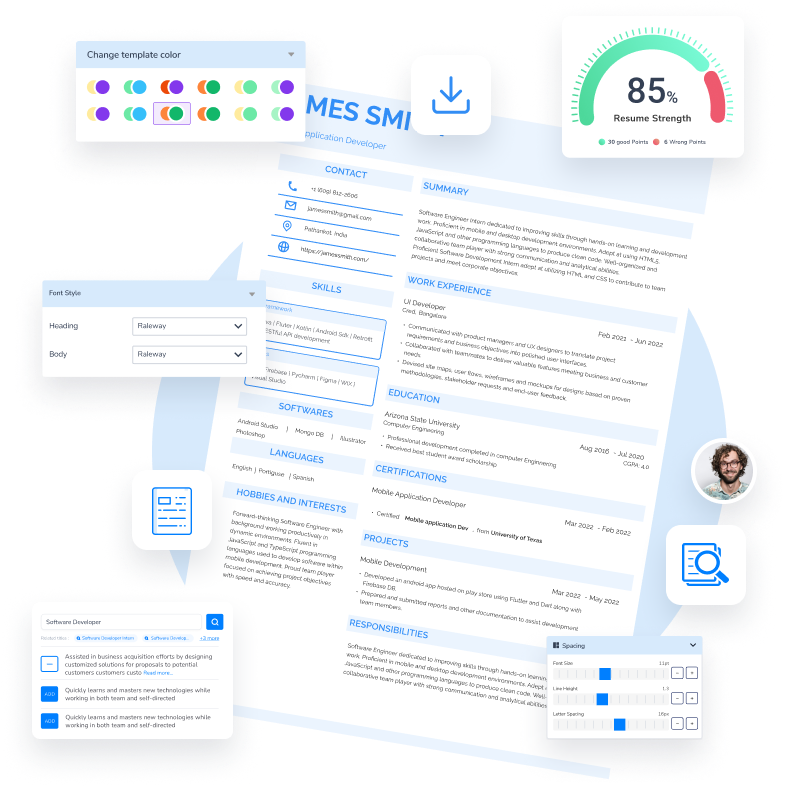 Build your resume in 10 minutes
Elevate your interview chances with our Modern Resume Templates that follows the exact 'Resume Rules' that employers look for.
Try Now for Free!
Build Your Resume
Excellent
4.8
out of 5 on
TrustPilot