10+ Tricks to Build a Professional Resume For Financial Analyst Jobs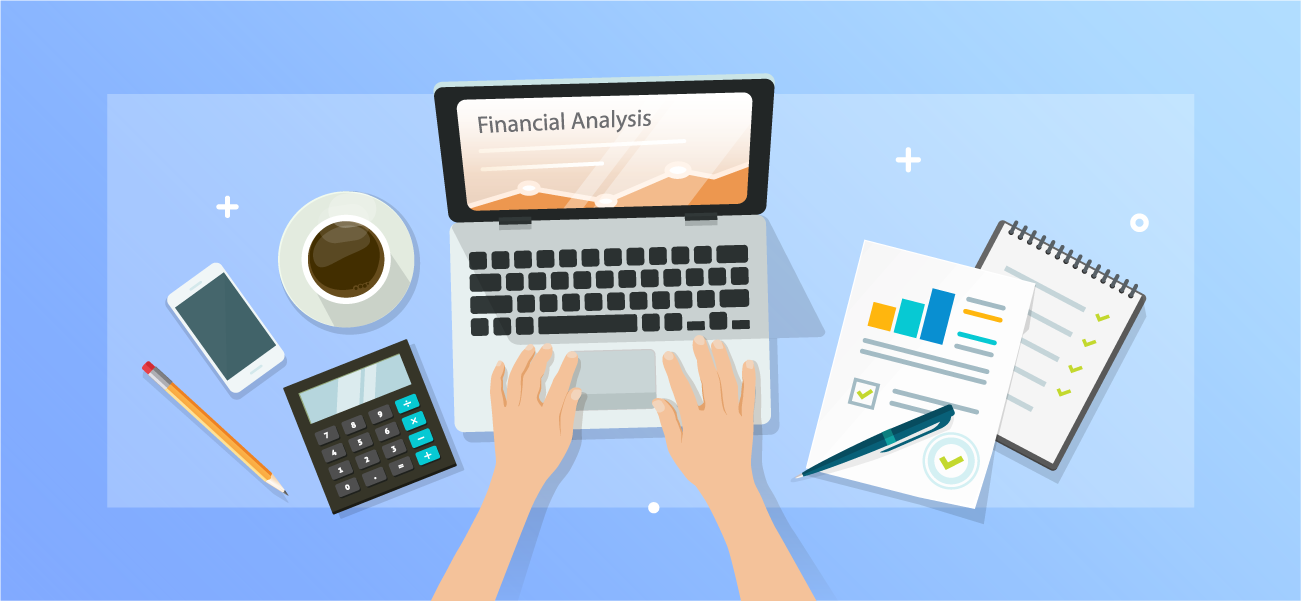 Are you looking for financial analyst jobs?
If yes, you will need a job-winning financial analyst resume to get that in 2023. 
Financial analysis is a promising career in the 21st century. Hence, you are on the right track to success if you are an aspiring financial analyst. 
However, You will require an ATS-friendly professional resume to stand out from the competitors' crowd.
Considering the requirement, we are here to answer every fundamental query to ease the resume-building process. Our focus here remains stable on clearing the following queries:
What are the fundamental responsibilities of a financial analyst?

How to leverage a financial analyst job description?

How to build a financial analyst resume?
Resume building is not a 10-minute task but can be done using HyreSnap Online Resume Builder. It is an AI-based resume-building platform that can ease the resume-making process for everyone, regardless of their profile type.
It is a free-to-use tool, but if you want to build your resume without any AI assistance, read the guidelines given below:
Financial analysts play a crucial role in helping businesses and organisations make informed financial decisions. Their responsibilities involve analysing financial data, assessing investment opportunities, and providing valuable insights to support strategic planning and growth. 
Here are the fundamental responsibilities of a financial analyst:

 
Financial Analysis:

Conduct an in-depth analysis of financial statements, market trends, and economic conditions to evaluate a company's financial health. This includes reviewing income statements, balance sheets, cash flow statements, and other relevant financial data.
Forecasting and Budgeting: Assist in creating financial forecasts and budgets to support short-term and long-term financial planning. Provide insights on projected revenue, expenses, and capital expenditures.
Investment Analysis: Evaluate investment opportunities, such as stocks, bonds, real estate, or other financial instruments. Assess risks and potential returns to help guide investment decisions.
Financial Modelling:

Develop complex financial models to project financial performance and analyse various business scenarios.
Industry and Market Research: Stay updated with industry trends, market conditions, and economic indicators to provide valuable insights and recommendations.
Mergers and Acquisitions (M&A): Assist in evaluating potential mergers, acquisitions, or other corporate transactions by performing due diligence and financial analysis.
Risk Assessment:

Identify and analyse financial risks impacting the organisation's performance and propose risk mitigation strategies.
Management Reporting: Prepare comprehensive financial reports and presentations for senior management and stakeholders to aid decision-making.
Variance Analysis: Analyse actual financial performance against budgets and forecasts, identifying key drivers for variances and recommending corrective actions if needed.
Financial Planning and Strategy: Contribute to the development of financial strategies and policies that align with the organisation's goals and objectives.
Cost Analysis: Analyse costs and expenses to identify areas of cost-saving opportunities and efficiency improvements.
Capital Budgeting: Evaluate capital investment projects to determine their financial viability and potential return on investment.
Client and Investor Relations: Interact with clients, investors, or other stakeholders to address financial inquiries and provide financial insights.
Regulatory Compliance: Ensure compliance with relevant financial regulations, accounting principles, and reporting standards.
Continuous Learning: Stay updated with the latest financial tools, industry trends, and best practices to enhance financial analysis skills.
A job description will help you clear all the doubts regarding job responsibilities. Hence, we recommend reading every job description before applying for an opportunity.
You can also use the job description to get technical keywords. You can get plenty of technical keywords in the job description that you can use to enhance the technical strength of your financial analyst resume.
Below we are listing an example job description to understand properly what we have just explained above.
Financial Analyst Job Description Example:
We seek a talented and dynamic Financial Advisor to join our team in Bengaluru. As a Financial Advisor at XYZ Financial Services, you will be responsible for building strong client relationships, understanding their financial objectives, and providing strategic financial advice tailored to their unique needs. Your expertise will play a vital role in helping our clients make well-informed financial decisions and achieve their long-term financial aspirations.
Responsibilities:
>Understand clients' financial goals, risk tolerance, and investment preferences.
>Assess clients' current financial situations and analyse their financial needs and objectives.
>Develop personalised financial plans and investment strategies aligned with clients' goals.
>Provide comprehensive advice on investment opportunities, retirement planning, tax strategies, estate planning, and risk management.
>Recommend suitable financial products and services, including mutual funds, stocks, bonds, insurance, and other investment options.
>Monitor and review clients' investment portfolios regularly to ensure alignment with their financial objectives and market conditions.
>Keep up-to-date with financial market trends, economic indicators, and changes in regulations to provide informed advice.
>Educate clients on financial planning strategies, investment options, and potential risks.
>Build and maintain strong client relationships through regular communication and exceptional service.
>Collaborate with other financial professionals within the organisation to provide holistic financial solutions.
>Maintain compliance with industry regulations and ethical standards.
Requirements:
>Bachelor's degree in Finance, Economics, Business, or a related field.
>Proven experience as a Financial Advisor or similar role in the financial services industry.
>Strong knowledge of financial products, investment options, and financial planning strategies.
>Excellent analytical and problem-solving skills to assess clients' financial situations and propose appropriate solutions.
>Outstanding interpersonal and communication skills to effectively engage and communicate with clients.
>Certified Financial Planner (CFP) or other relevant certifications preferred.
>Familiarity with financial software and tools for analysis and financial planning.
>Ability to work independently and as part of a team in a fast-paced and dynamic environment.
>High ethical standards and a commitment to acting in the best interest of clients.
You can add the following section headings to your resume for financial analyst jobs in 2023:
Resume Header

Contact Details

Resume Objective

Key Skills

Technical Skills

Professional Experience

Education

Certifications

Extracurricular Activities

Additional Information
You can rearrange some of these sections based on your requirements and the resume format you select.
Building a professional resume for financial analyst jobs requires careful attention to detail and an emphasis on showcasing your relevant skills, experience, and achievements.
Here's a step-by-step guide to help you create an effective financial analyst resume:
Choose the Right Format
Opt for a clean and professional resume format. The two most common formats are reverse-chronological (starting with your most recent experience) and functional (emphasising skills rather than chronological work history). For financial analyst roles, the reverse-chronological format is typically preferred.
Contact Information
Include your name, professional title (e.g., Financial Analyst), address, phone number, and professional email address at the top of the resume. Avoid using unprofessional email addresses.
Resume Summary/Objective
Write a compelling summary or objective statement highlighting your experience, skills, and career goals. Tailor this section to match the specific job you're applying for.
Professional Experience
List your work experience in reverse-chronological order, starting with your recent job. Include the following details for each position:
Job title and company name

Dates of employment (month and year)

Key responsibilities and achievements

Quantify your accomplishments using numbers and percentages where possible (e.g., "Increased revenue by 20% through financial analysis and market research.")

Showcase your expertise in financial modelling, data analysis, forecasting, and any other relevant skills.
Education
Include your highest education level, relevant certifications, and any additional training related to financial analysis. If you are a recent graduate or have limited work experience, please place the Education section before the Experience section.
Skills
Create a separate section highlighting your technical and soft skills relevant to financial analysis. This could include proficiency in financial software, programming languages (e.g., Excel, Python, SQL), data analysis, risk assessment, financial modelling, and any other industry-specific tools or skills.
Achievements and Accomplishments
Consider adding a section dedicated to notable achievements, awards, and certifications. This helps to reinforce your credibility and demonstrates your commitment to excellence.
Relevant Projects
If you have undertaken any significant financial analysis projects during your education or career, include them in a separate section to showcase your practical skills and problem-solving abilities.
Keywords and Tailoring
Customise your resume for each job application by incorporating relevant keywords and phrases in the job description. This optimization will increase the chances of your resume getting noticed by applicant tracking systems (ATS) and recruiters.
Formatting Tips
Keep the resume visually appealing and easy to read. Use bullet points to present information, and maintain consistent formatting throughout. Use a professional font (e.g., Arial, Calibri, Times New Roman) and a font size between 10 and 12 points. Ensure proper spacing and margins for a clean look.
Proofreading
Review your resume for grammar and spelling errors. Typos can leave a negative impression, so make sure your document is error-free.
Length
Aim to keep your resume to one or two pages. Concise and focused resumes are more likely to be read thoroughly.
References
Unless specifically requested, including references on your resume is generally unnecessary. You can mention "References available upon request" if needed.
You can refer to the following resume sample to build a job-winning and technically strong financial analyst resume in 2023.
Sample Resume For Financial Analyst Jobs:
Raghav Shastri
Email- raghav.shastri@hyresnap.com
Phone- +919384729374
LinkedIn- https://www.linkedin.com/in/raghav.shastri/
Professional Summary:
Highly skilled and detail-oriented Financial Analyst with [X] years of experience in analysing financial data, conducting market research, and providing valuable insights to optimise business performance. Proficient in financial modelling, data analysis, and forecasting. Adept at identifying opportunities for cost savings and revenue growth. Strong track record of developing strategic financial plans and driving process improvements. Committed to accuracy, integrity, and delivering actionable recommendations to support informed decision-making.
Skills:
Financial Modelling
Data Analysis and Interpretation
Forecasting and Budgeting
Market Research and Analysis
Risk Assessment and Management
Proficiency in Excel, Python, SQL
Strong Analytical and Problem-Solving Skills
Excellent Verbal and Written Communication
Professional Experience:
Financial Analyst | XYZ Financial Services | [Dates]
Conducted financial analysis to assess investment opportunities and risks, resulting in a 15% increase in ROI for the firm's clients.
Prepared comprehensive financial models to support budgeting, forecasting, and strategic planning initiatives.
Analysed market trends, competitor performance, and economic indicators to provide insights for portfolio management.
Collaborated with cross-functional teams to evaluate financial impacts of proposed business initiatives.
Assisted in the preparation of quarterly and annual financial reports for internal and external stakeholders.
Assistant Financial Analyst | ABC Investments | [Dates]
Conducted financial statement analysis and performed ratio analysis to evaluate company performance.
Assisted in the preparation of investment proposals and presented findings to senior management.
Utilised Excel and financial software to automate data analysis processes, increasing efficiency by 30%.
Assisted in conducting due diligence on potential investment targets and industry research.
Education:
Bachelor of Business Administration (BBA) in Finance | [University Name] | [Dates]
Relevant Courses: Financial Accounting, Investment Analysis, Financial Management, Statistics.
Certifications:
Chartered Financial Analyst (CFA) Level I (In Progress)
Financial Modeling Certification
Achievements:
Received the "Outstanding Performance Award" for consistently exceeding targets and providing valuable financial insights.
Led a team in implementing a cost-saving strategy that resulted in $500,000 in annual savings for the organisation.
Additional Information:
Languages: Fluent in English and Hindi.
Volunteer Experience: Finance Mentor at [Organization Name].
References:
Available upon request.
These guidelines above will lead you to a professional resume for financial analyst jobs in 2023. Still, you must remember that resume-building is a time-consuming process. If you do not have much time, use HyreSnap Online Resume Builder.
It is a modern resume-making platform that can frame eye-catchy resumes in easy steps. Check out the key features of this 21st-century resume builder below:
To help you revise everything mentioned above, we have listed the key points from this knowledge base below:
Pick a resume format and outline your resume by adding the required resume sections

Use one-liner bullet points to mention your resume details, except for the summary

Write your resume summary using easy-to-read English language

Add technical terms and highlight key metrics throughout the resume

Take a halt after completing your resume, then proofread to minimise errors

Furthermore, if you need additional resume-building assistance, contact our experts at info@hyresnap.com. We will help you frame a bright career by using AI-based tools in this highly competitive generation.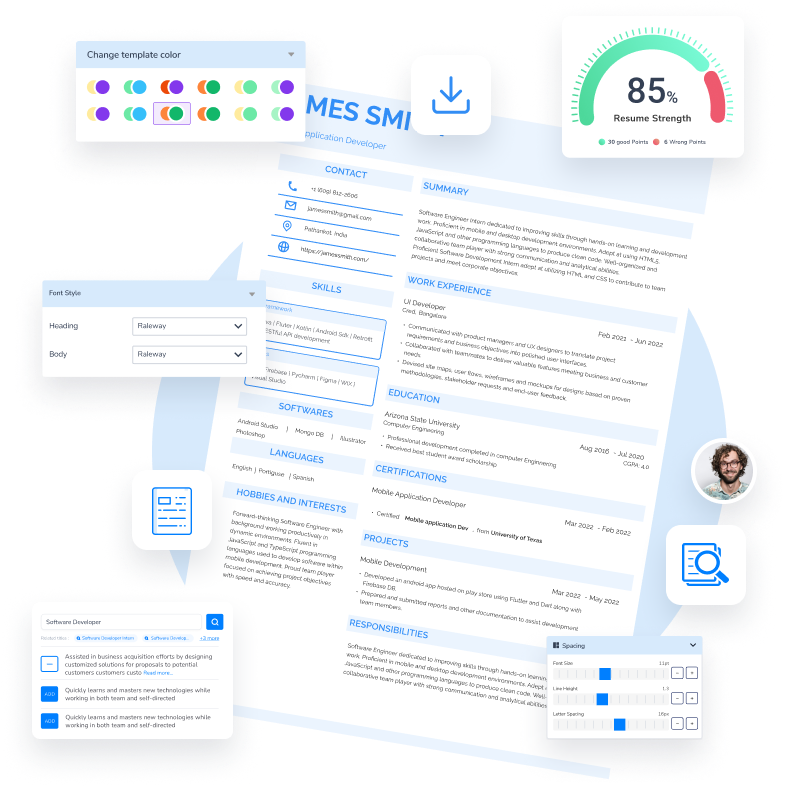 Build your resume in 10 minutes
Elevate your interview chances with our Modern Resume Templates that follows the exact 'Resume Rules' that employers look for.
Try Now for Free!
Build Your Resume
Excellent
4.8
out of 5 on
TrustPilot