Resume For Developer: Know How To Make One In 2023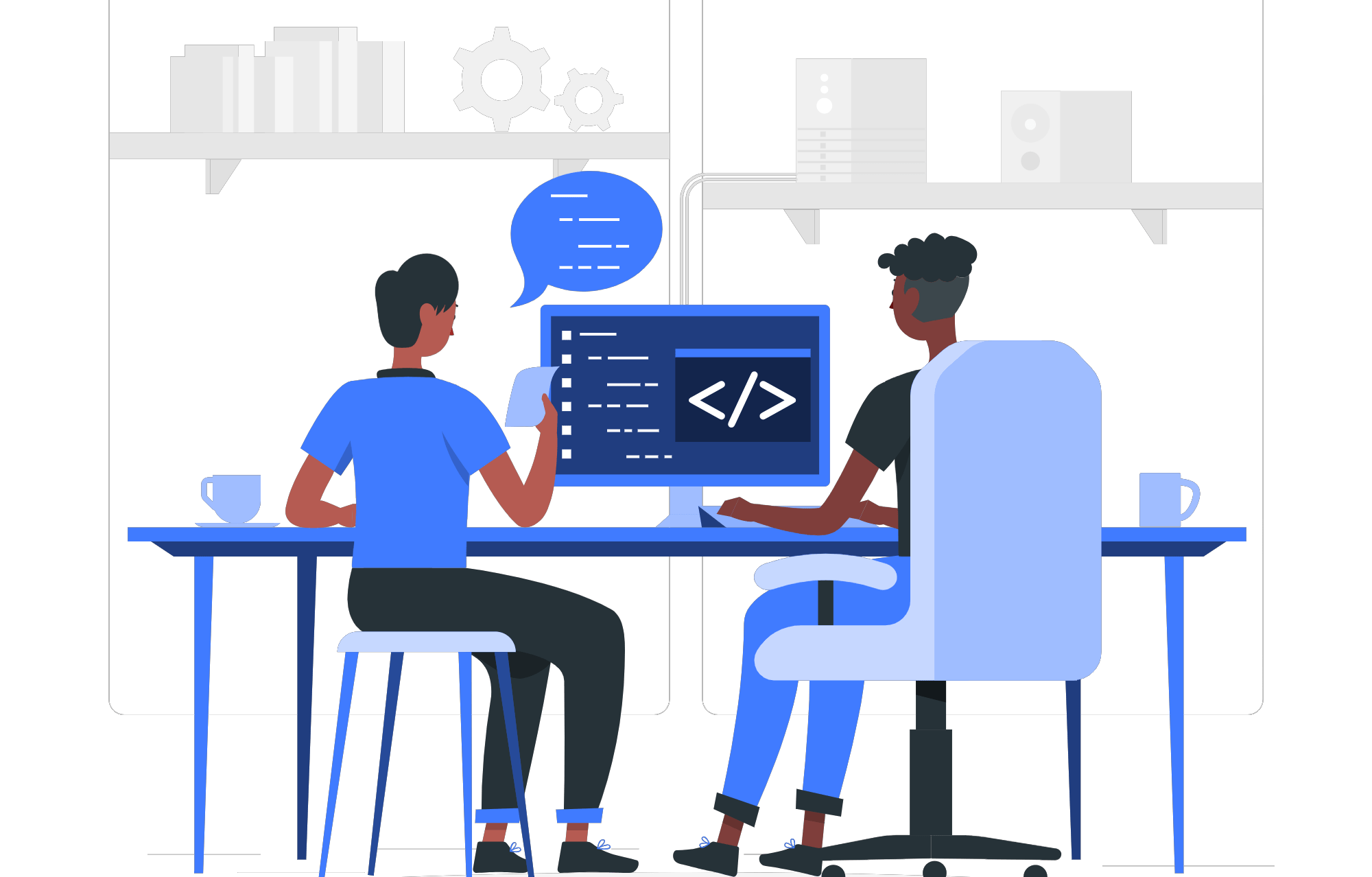 How to make resume for developer jobs in India?
India boasts a thriving IT industry, contributing significantly to its economy. With over 4.5 million professionals employed in the IT and business process management sector, the country showcases a robust talent pool of developers. 
This abundance of skilled individuals has attracted both domestic and international companies to establish development centers in India. The demand for developers is high across various domains, including software development, web development, mobile app development, and e-commerce. 
Furthermore, India's start-up culture flourishes in cities like Bangalore, Hyderabad, and Pune, offering exciting opportunities for developers to work on innovative projects. 
With the adoption of remote work due to the COVID-19 pandemic, developers now have broader job prospects, irrespective of their geographical location.
Hence, making a professional resume for freshsers become crucial. You can use HyreSnap Resume Maker tool to create stunning resume that matches your job description and helps you to get shortlisted by the HR.
To create a resume for developer, you need to showcase all your technical skills as well as you expertise in a particular domain.
In this blog we will discuss how to make resume for a developer job, along with other information such as: 
Who Is a Developer?

Developer Resume For Jobs In India

Developer Resume Format With Example

Scope of Developers In India?
Also Read:
Resume for full stack developer 
Resume for Front End Developer 
Resume For  Application Developer
A developer is a professional who specializes in creating software applications, websites, or other digital solutions. 
Developers use programming languages, frameworks, and tools to write, test, and maintain code that enables the functioning of these digital products. 
They work closely with other team members, such as designers and project managers, to understand the requirements and specifications of a project and then translate those into functional and efficient software solutions.
Developers can specialize in various areas, including front-end development, back-end development, mobile app development, full stack development, and more. 
Each specialization focuses on different aspects of the development process and requires specific technical skills and knowledge.
Front-end developers focus on the user interface and user experience, working with languages like HTML, CSS, and JavaScript to create visually appealing and interactive web interfaces. 
Back-end developers, on the other hand, work with server-side programming languages and frameworks to handle the logic, database management, and server-side processing of web applications.
To create an effective developer resume for jobs in India, follow these guidelines:
Contact Information
Include your full name, professional title (e.g., Full Stack Developer), phone number, email address, LinkedIn profile, and location in India. Make sure your contact information is accurate and professional.
Professional Summary
Write a concise paragraph that highlights your experience, skills, and goals as a developer. Emphasize your expertise in relevant technologies and mention your commitment to contributing to India's tech industry.
Skills
List your technical skills, including programming languages, frameworks, databases, tools, and methodologies. Tailor your skills to match the specific job requirements and technologies commonly used in India.
Work Experience
Provide a detailed list of your previous work experiences, starting with the most recent. Include the company name, your position, and the duration of employment.
Describe your responsibilities, projects, and accomplishments using action verbs. Highlight specific technologies used, development methodologies followed, and any significant results achieved.
Education
Include your educational background, such as your degree, institution name, and graduation year. Mention any relevant certifications or additional courses you have completed.
Projects
Showcase your technical expertise by including a section highlighting key projects you have worked on. Describe each project briefly, including the technologies used and the outcomes achieved.
Additional Information
Mention any relevant information that adds value to your resume. This could include language proficiency, participation in developer communities or events, open-source contributions, or relevant achievements.
Formatting Tips
Keep the resume concise and easy to read. Use bullet points, headers, and appropriate formatting to make it visually appealing and skimmable.
Tailor your resume to each job application by highlighting the most relevant skills and experiences.
Use action verbs and quantitative information to demonstrate your impact and achievements.
Proofread your resume thoroughly to ensure there are no grammatical or spelling errors.
Remember to customize the resume for each specific job application, highlighting the skills and experiences that align with the job requirements. 
Research the company and the industry to understand the specific technologies and trends in demand in India. By showcasing your relevant skills, experiences, and passion for development, you can create a compelling resume that increases your chances of securing a developer job in India.
Contact Information:
        Full Name: John Doe
        Professional Title: Full Stack Developer
        Phone Number: (123) 456-7890
        Email: john.doe@example.com
        LinkedIn: linkedin.com/in/johndoe
        Location: City, State
Summary:
Results-driven full stack developer with 5+ years of experience in designing and developing scalable web applications. Proficient in front-end and back-end technologies, including HTML, CSS, JavaScript, React, Node.js, Python, and Django. Strong problem-solving skills and a track record of delivering high-quality code on time. Collaborative team player with excellent communication skills and a passion for continuous learning.
Skills:
        Programming Languages: JavaScript, Python, HTML, CSS
        Front-end Technologies: React, Vue.js, Angular, HTML5, CSS3
        Back-end Technologies: Node.js, Express.js, Django, Flask
        Databases: MySQL, MongoDB, PostgreSQL
        Version Control: Git, GitHub
        Other Tools: RESTful APIs, AWS, Docker
Work Experience:
        Company Name: XYZ Tech Solutions
         Position: Full Stack Developer
         Duration: May 2018 - Present
Description:
Developed and maintained web applications using React and Node.js, ensuring cross-browser compatibility and responsive design.
Collaborated with the design team to create visually appealing user interfaces and implemented user-friendly features.
Implemented RESTful APIs and integrated third-party services for improved functionality and data management.
Conducted thorough testing, debugging, and optimization to ensure high-performance and bug-free applications.
Worked closely with cross-functional teams to understand project requirements and deliver solutions on time.
Education:
        Bachelor of Science in Computer Science
        University Name
        Graduation Year: 2017
Certifications:
        Full Stack Web Development Certification - Online Course, Udemy
        JavaScript Certification - Online Course, Codecademy
Projects:
                Project: E-commerce Website
               Technologies Used: React, Node.js, MongoDB, Express.js
Description: 
Developed a fully functional e-commerce website with product listing, shopping cart, and payment integration.
Additional Information:
        Fluent in English and Spanish
        Active participant in developer communities and hackathons
Remember to customize the content based on your own experience, skills, and achievements. Tailor the resume to match the specific job you're applying for, emphasizing the most relevant aspects of your profile. Ensure the resume is well-organized, concise, and error-free before submitting it.
The scope of developers in India is vast and promising. Here are some key factors that contribute to the significant scope for developers in the country:
Growing IT Industry
India has a rapidly expanding IT industry, with a strong presence of multinational companies, domestic IT firms, and startups. 
This sector offers a wide range of opportunities for developers across various domains, including software development, web development, mobile app development, artificial intelligence, data analytics, and more.
Increasing Digital Transformation
The Indian market is witnessing a rapid digital transformation across industries. This transformation requires skilled developers to build and maintain digital platforms, e-commerce websites, mobile applications, and other software solutions. 
Developers are crucial in helping businesses adapt to the digital age and drive innovation.
Global Outsourcing Hub
India is renowned as a global hub for IT outsourcing. Many international companies choose to outsource their software development projects to Indian IT service providers, creating a high demand for skilled developers. 
This provides Indian developers with opportunities to work on global projects and gain exposure to international standards and practices.
Abundance of Talent
India has a large pool of talented developers due to its strong education system and the availability of engineering and computer science graduates. This vast talent pool allows companies to tap into a diverse range of skills and expertise.
Cost-Effective Solutions
Indian developers are known for providing cost-effective solutions without compromising on quality. The relatively lower cost of development services in India makes it an attractive destination for businesses looking to optimize their development budgets.
Entrepreneurial Opportunities
India's startup ecosystem is flourishing, creating numerous opportunities for developers to work in innovative and dynamic environments. 
Startups in sectors like e-commerce, fintech, healthcare, and edtech are driving the demand for skilled developers who can build scalable and disruptive technology solutions.
Government Initiatives
The Indian government has launched various initiatives to promote the growth of the IT sector and foster a conducive environment for developers. 
Programs like Digital India, Skill India, and Startup India aim to boost digital infrastructure, skill development, and entrepreneurship, thereby expanding the scope for developers.
With the continuous advancements in technology and the increasing reliance on digital solutions, the scope for developers in India is expected to further expand. 
Skilled developers who stay updated with emerging technologies, possess strong problem-solving skills, and demonstrate adaptability will find a wide range of opportunities and a promising career path in India's thriving IT industry.
You can create your CV for the ideal job by following the recommendations above. However, creating a technically sound resume is still a difficult procedure.
 
To make the process of making a resume simpler, use the HyreSnap Resume Builder. It is an artificial intelligence-powered tool that can produce impressive resumes with little to no effort.
Alternatively, you can email our experts at contact@hyresnap.com with any inquiries you may have about your position. We owe it to you, in this era of fierce competition, to help you establish a prosperous career.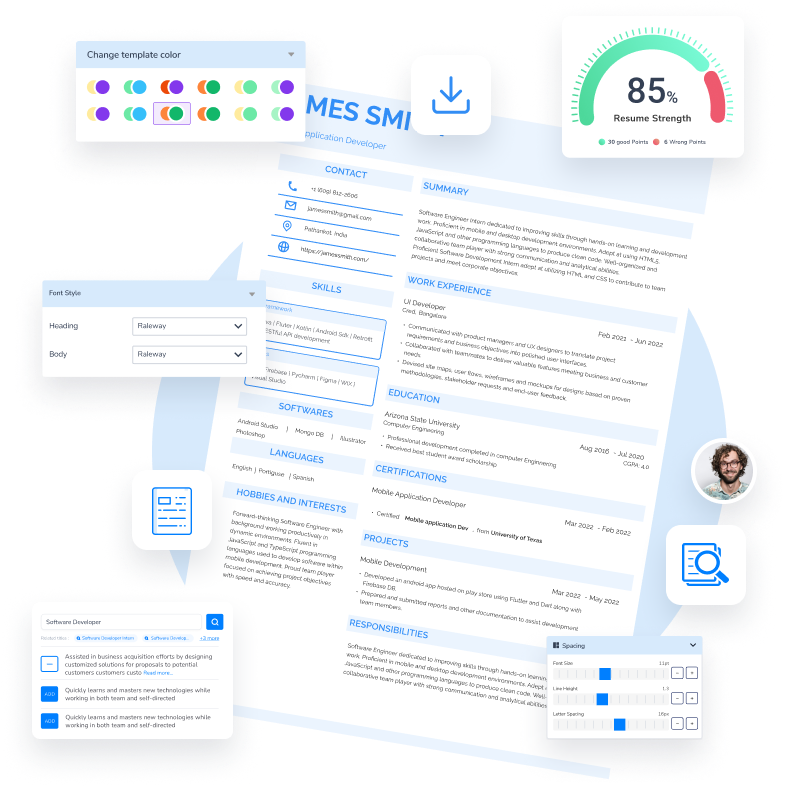 Build your resume in 10 minutes
Elevate your interview chances with our Modern Resume Templates that follows the exact 'Resume Rules' that employers look for.
Try Now for Free!
Build Your Resume
Excellent
4.8
out of 5 on
TrustPilot