Best CV Curriculum Vitae Format for Freshers with Examples: Sample & Guide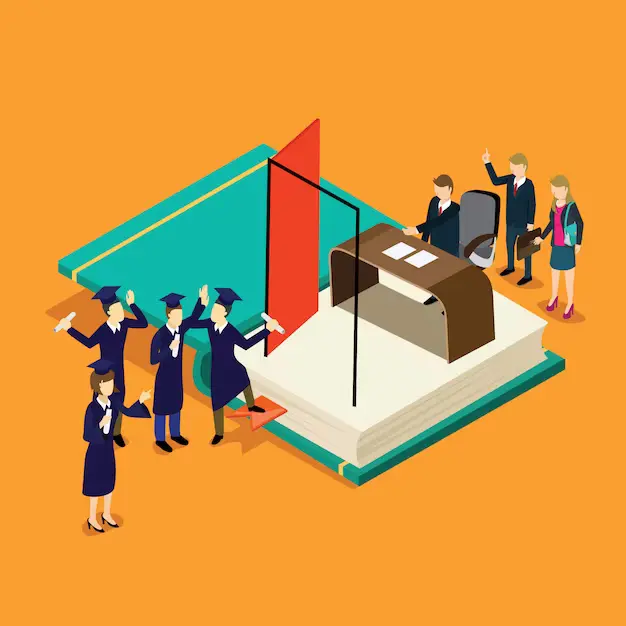 A well-crafted Curriculum Vitae (CV) is your passport to landing your first job as a fresh graduate. 
It's a document that provides a comprehensive summary of your education, skills, experiences, and achievements to potential employers. 
As a fresher, you might wonder about the best CV format to make a strong impression. To help you do that, we are here answering the following questions:
What is a CV?

How is a CV different from a resume?

When should I use a CV instead of a resume?

Which is the best CV format for freshers?
If you are getting too confused with the CV building process, we recommend using HyreSnap Online CV Builder to craft a professional CV as a fresher.
Moving forward, here we'll explore the ideal CV format for freshers and provide examples to guide you and help you build an impeccable CV in 2023.
A CV, or Curriculum Vitae, is a comprehensive document that provides an overview of an individual's educational and professional history, qualifications, skills, and accomplishments. 
It is commonly used in academic, research, scientific, and medical fields, as well as in some international job markets. A CV typically includes detailed information and is more extensive than a standard resume.
Contact Information: This section includes the individual's name, address, phone number, and professional email address.
Objective or Personal Statement: Some CVs include a brief statement outlining the individual's career goals, objectives, or a summary of their expertise and qualifications.
Education: This section lists the individual's academic qualifications, including degrees earned, institutions attended, graduation dates, and relevant honors or awards.
Professional Experience: CVs include a detailed account of the individual's work history, often starting with the most recent position and working backward. For each job, information may include job titles, employer names, dates of employment, and a description of responsibilities and accomplishments.
Research and Publications: For academic and research CVs, a list of publications, research projects, theses, dissertations, and conference presentations is common. It includes publication titles, authors, publication dates, and other relevant details.
Teaching Experience: For educators and researchers, a CV may include information about teaching experience, such as courses taught, institutions, dates, and any relevant teaching awards or honors.
Skills: This section highlights specific skills, both technical and soft skills, that are relevant to the individual's profession.
Awards and Honors: Any awards, scholarships, fellowships, or honors received by the individual are listed, along with the dates and a brief description.
Professional Associations: Membership in relevant professional organizations, societies, or associations is often included.
Languages: Proficiency in languages other than the individual's native language may be mentioned, along with the level of proficiency (e.g., fluent, intermediate).
References: Some CVs include a list of references who can vouch for the individual's qualifications and character. It is common to note that references are available upon request.
Additional Sections: Depending on the individual's field and career stage, a CV may include additional sections like grants and funding received, conference participation, volunteer work, certifications, and patents.
CVs are typically longer and more detailed than resumes, and their length can vary significantly based on the individual's experience and the conventions of their industry or field. It's essential to tailor a CV to the specific requirements of the job or academic program to which it is being submitted. 
In some regions, such as the United States and Canada, a resume is the preferred document for most job applications, while a CV is more commonly used in Europe and other parts of the world, especially for academic and research positions.
A CV (Curriculum Vitae) and a resume are both documents used to present an individual's qualifications, skills, and work history, but they differ in several key ways:
CV (Curriculum Vitae): CVs are typically used in academic, research, scientific, and medical fields. They are comprehensive documents that provide an extensive overview of an individual's academic achievements, research experience, publications, and professional qualifications. CVs are also commonly used for applications to graduate programs, fellowships, and academic positions.
Resume: Resumes are used in most other industries, including business, technology, healthcare, and more. They are concise documents tailored to a specific job or career field, highlighting an individual's relevant skills, work experience, and accomplishments related to the specific job they are applying for. Also refer

best resume format for freshers

with examples.
CV: CVs tend to be longer than resumes and can extend to multiple pages. They include in-depth information about academic achievements, research projects, publications, and presentations.
Resume: Resumes are typically shorter and are often limited to one or two pages, focusing on the most relevant and recent work experience, skills, and accomplishments directly related to the job at hand.
CV: CVs provide a detailed account of an individual's educational history, including degrees earned, institutions attended, dates of graduation, and academic honors. They also include comprehensive lists of research experience, publications, conferences attended, teaching experience, and other academic and professional achievements.
Resume: Resumes prioritize brevity and relevance. They highlight work experience, including job titles, employers, dates of employment, key responsibilities, and notable achievements. Resumes also emphasize skills, certifications, and qualifications relevant to the specific job being applied for.
CV: CVs are typically static documents that provide a comprehensive overview of an individual's academic and professional history. While they can be adapted for different academic or research positions, the core content remains consistent.
Resume: Resumes are highly customizable and should be tailored for each job application. Job seekers modify the resume's content and emphasize specific skills or experiences that align with the requirements of the job posting.
CV: CVs are commonly used in European countries, Australia, and some other regions. In these areas, a CV is the standard document for most job applications.
Resume: Resumes are the preferred document for job applications in the United States, Canada, and many other countries outside Europe. In these regions, CVs are primarily reserved for academic and research positions.
In summary, the main differences between a CV and a resume are their length, purpose, and content. CVs are comprehensive documents primarily used in academic and research contexts, while resumes are concise, tailored documents designed for job applications in various industries.
You should use a CV (Curriculum Vitae) instead of a resume in specific situations, primarily in academic, research, scientific, medical, and some international contexts. Here are scenarios when using a CV is appropriate:
Academic Positions: When applying for faculty positions at universities or colleges, especially for roles such as professors, lecturers, researchers, or academic administrators, a CV is the preferred document. It allows you to showcase your academic qualifications, research expertise, teaching experience, and publications.
Graduate School Applications: When applying to graduate programs, such as master's or doctoral degrees, you typically submit a CV. It helps admission committees assess your academic background, research experience, publications, and academic achievements.
Fellowships and Grants: Many fellowship and grant applications, especially in the academic and research fields, require a CV. These documents allow organizations to evaluate your qualifications, research interests, and potential contributions to the field.
Research Positions: If you are seeking research positions in academic institutions, research laboratories, or research-focused organizations, a CV is essential. It highlights your research experience, publications, and specialized skills.
Medical and Healthcare Fields: Healthcare professionals, such as doctors, nurses, and researchers, often use CVs when applying for clinical or research roles. A CV details their medical qualifications, clinical experience, research projects, and publications.
International Job Markets: In some countries, including many European nations, CVs are standard for most job applications, regardless of industry. Therefore, if you are job hunting in these regions, it's common to submit a CV.
Scientific and Technical Roles: Engineers, scientists, and professionals in technical fields may opt for CVs when applying for positions that require a comprehensive overview of their technical skills, research contributions, and professional memberships.
Academic and Professional Conferences: When submitting proposals or abstracts to academic conferences or presentations, it's customary to provide a CV to demonstrate your qualifications and expertise.
Government and International Organizations: Some government agencies and international organizations may request CVs when hiring professionals, especially for research, policy analysis, or specialized roles.
Grant or Research Proposals: When preparing research proposals for funding or collaborative research projects, a CV is typically included to showcase your qualifications and relevant experience.
In these contexts, a CV allows you to provide a detailed and comprehensive account of your academic and professional history, research contributions, and qualifications.
For entry level graduates, choosing the right CV format is essential to make a strong impression on potential employers. Here are some of the best CV formats for freshers:
This is the most common and straightforward CV format. It lists your work experiences and educational background in reverse chronological order, starting with the most recent. It is ideal for freshers who have relevant internships, part-time jobs, or volunteer experiences to showcase.

This format focuses on your skills and qualifications rather than your work history. It's suitable for freshers with limited work experience. It emphasizes your skills, academic achievements, and extracurricular activities. It is particularly useful when applying for jobs where specific skills are more critical than work experience.
This resume format combines elements of both the reverse chronological and functional formats. It highlights your skills and qualifications in a dedicated section while also including a brief work history section. Moreover, it allows you to showcase your strengths and any relevant work experience.
A one-page CV format is concise and ideal for freshers who want to keep their CV brief and to the point. It focuses on highlighting your most relevant experiences, skills, and qualifications in a single page. It is suitable for entry-level positions or when employers request a brief CV.

 
Creative CVs use visually appealing elements like graphics, icons, and colors to stand out.
Ideal for creative fields such as graphic design, marketing, or multimedia. While using this resume format, we recommend ensuring that creativity doesn't overshadow the clarity and professionalism of the CV.
An online CV is hosted on a personal website or LinkedIn profile. It includes links to your portfolio, projects, or online profiles, providing additional information to employers. It is suitable for tech-savvy freshers or those in digital marketing and related fields.
You can refer to the below-mentioned example CV while building your CV for the first time. It will help you organize every element better:
Example CV For Fresher Software Engineer:
[Your Name]
[Your Address]
[City, State, ZIP Code]
[Your Email Address]
[Your Phone Number]
[LinkedIn Profile URL]
Objective:
A highly motivated and enthusiastic software engineering graduate with a strong foundation in computer science and programming. Eager to kickstart a career in software development, bringing a passion for solving complex problems and a commitment to continuous learning.
Education:
Bachelor of Science in Computer Science
[University Name]
[City, State]
[Month Year of Graduation]
Relevant Courses:
Data Structures and Algorithms
Object-Oriented Programming
Database Management Systems
Web Development
Software Engineering
Operating Systems
Networking
Skills:
Programming Languages: Java, Python, C++
Web Development: HTML, CSS, JavaScript, React
Database: MySQL
Version Control: Git
Problem Solving: Strong analytical and problem-solving skills
Teamwork: Effective collaboration and communication skills
Adaptability: Quick learner with a growth mindset
Academic Projects:
1. Online Bookstore (Java, MySQL)
Developed a web-based bookstore application using Java Servlets and JSP.
Designed a relational database to manage books, customers, and orders.
Implemented user authentication and cart functionality.
2. Movie Recommendation System (Python)
Created a movie recommendation system using Python and machine learning.
Utilized collaborative filtering techniques to provide personalized movie recommendations based on user preferences.
3. Personal Portfolio Website (HTML, CSS, JavaScript)
Designed and developed a personal portfolio website showcasing academic projects and skills.
Utilized HTML, CSS, and JavaScript to create an interactive and responsive user interface.
4. Library Management System (C++)
Built a console-based library management system in C++.
Implemented features for adding, searching, and borrowing books.
Utilized data structures for efficient book storage and retrieval.
Internships:
Software Development Intern
[Company Name]
[City, State]
[Month Year - Month Year]
Collaborated with a team of developers to design and implement new features for a web-based application.
Assisted in debugging and troubleshooting software issues.
Conducted code reviews and provided feedback on peers' code contributions.
Extracurricular Activities:
Member of the [University Name] Coding Club, participating in coding competitions and hackathons.
Volunteer at [Non-Profit Organization], contributing to the development of their website and database management.
Certifications:
Python for Data Science (Coursera)
Introduction to Web Development (edX)
Git and GitHub Essentials (Udemy)
Languages:
English (Fluent)
[Optional: Mention any other languages you speak]
References:
Available upon request.
We have listed all the essential points that will lead you to a professional CV. However, if you are struggling with the process as a fresher, please use HyreSnap Online CV Builder, an AI-powered tool capable of crafting technically strong CVs in easy steps.
For more details, you can check out the key offerings of this modern CV builder:
You can check all the trending and most effective CV formats mentioned above that you can use to build your first CV in 2023. Apart from this, we have also elaborated on the difference between a CV and a resume for better understanding. 

In case you have any additional CV-building or career-building query, feel free to contact our experts at info@hyresnap.com. We will help you build job-winning CVs with the power of Artificial Intelligence and shape a better future.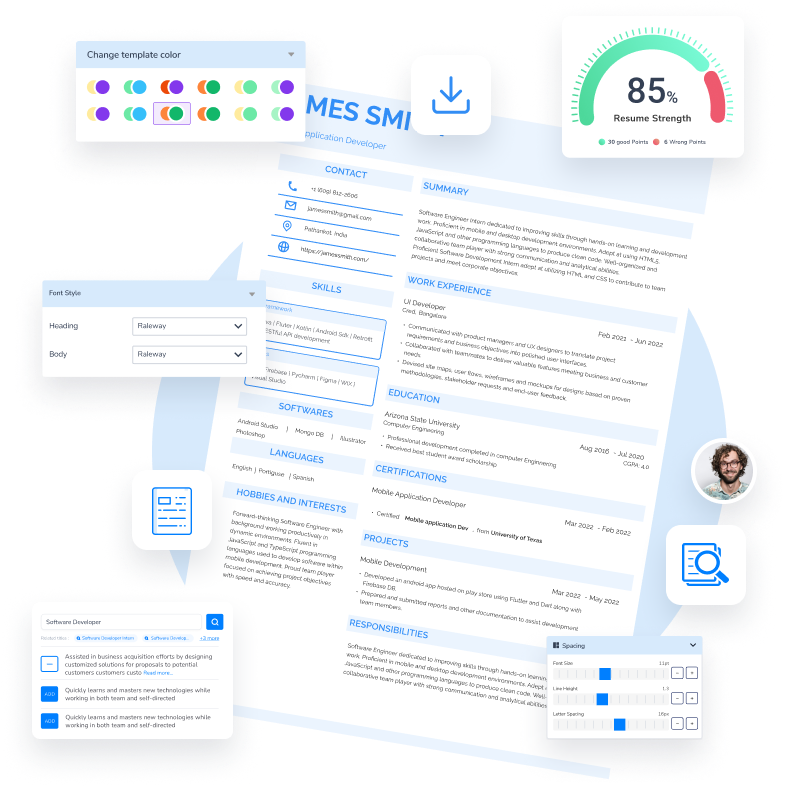 Build your resume in 10 minutes
Elevate your interview chances with our Modern Resume Templates that follows the exact 'Resume Rules' that employers look for.
Try Now for Free!
Build Your Resume
Excellent
4.8
out of 5 on
TrustPilot