Build HyreSnap Resume For Free In 5 Minutes!!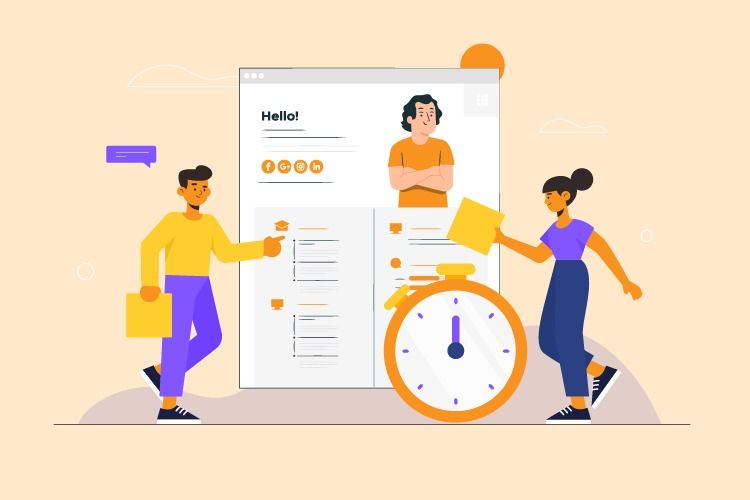 A  resume can be the difference between a job-winning candidate and not getting an interview call. Often, it's not the contents of your resume that affect your chances but   the format and representation. This is where HyreSnap resume builder comes in: we have researched resumes templates thoroughly, over mammoth sample sizes and selected the best of the best, tailored just for you!

 To increase your chances of getting through the ATS (Applicant Tracking System), have a look at the following resume templates and sign up at Hyresnap to use them in your next job application!
Your name, job title, email, website and other personal details are necessary for your employer to gauge where you might be able to work, what kind of work you did before, as well as give the recruiters an opportunity to do a background check, so it's always better to double check this section.
Lucky for you, Hyresnap's resume editor has already listed all the important details, and also has the option to add more if you want!
When your resume is being reviewed by the recruiters, your summary section is the first thing that the HR goes over. As a result, your summary becomes extremely important to your resume and must be typed with intensive care. 
Use HyreSnap summary recommendations for over 10,000 job titles to build your resume, make your first impression impactful, and fast-track the process!
  Add a set of skills you have to your resume using recommendations
      Mention your past work experiences and use Hyresnap suggestions tailored to the respective job types:
Note: for multiple job experiences, you can also click +Add Jobs to make your resume more attractive :)
Fill in your education details, and add a summary with the help of suggestions:
Add any additional information you might want on your resume:
Add any and all projects that you may have done to improve your chances of getting selected!
 Check your overall evaluation of resume, and look at the suggestions under each banner:
This will make professional resume in no time. However, all this can be a little confusing. But don't worry, HyreSnap has got your back. Our AI Engine extracts the keywords from the job description and automatically includes them in your resume within minutes. Not only that, it helps you present your skills and accomplishments in an optimal manner that matches the job description. We also provide you with a job search option where you can easily find jobs that match your resume in any city of your choice. Our resume formats are ATS friendly and approved by more than 40 HR experts. We make your resume-building process easy and efficient. You can write your job-winning resume in just fifteen minutes. Use HyreSnap resume builder to make your perfect resume now.
Did you enjoy this article? Read more articles like these!