CV Vs. Resume: What's the difference between the two?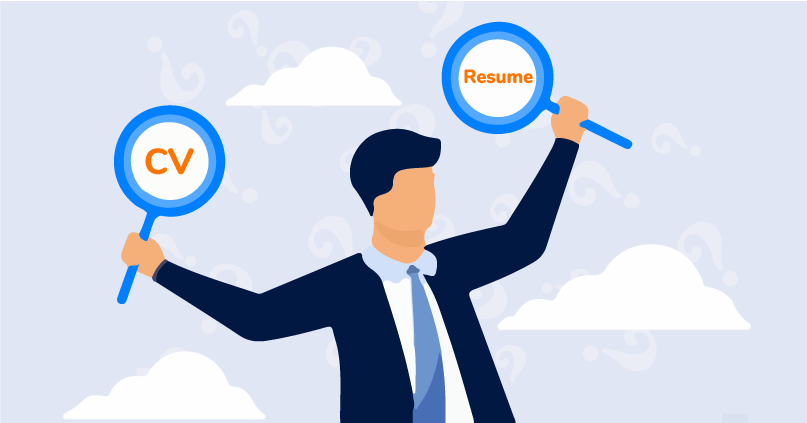 A general phenomenon- few candidates submit their CVs, while others present their resumes. Why? 
Is this the reason why few candidates clear their first round of screening?
Do CVs and resumes serve different purposes? Or provide some extra points?
Don't baffle; read on and get smarter!
You're going to learn:
1. What is a CV?
2. What should a CV be composed of?
3. What is a Resume?
4. What should a resume be composed of?
5. The principal differences
What is a CV?

The term CV is an abbreviation of the Latin word Curriculum Vitae precisely translating to "the course of your life," but it doesn't mean you literally have to write about your story blow-by-blow. You can take the CV as an extensive elucidation of your career growth and journey over time- all the accomplishments and publications resulting from your efforts. 
You must keep updating your CV with your recent academic or professional accomplishments. There's no standard principle on how long or short a CV should be; based on your experience, you can expand it from 2 to 8 pages.
 
What should a CV be composed of?
Checklist these pointers while drafting a CV- 
• Full name
• Contact details
• Professional title, resume summary or resume objective
• Research interests
• Education
• Publications (both academic papers and books), teaching or lecturing experience
• Work experience
• Conferences and courses
• Skills
• Certificates
• Languages
• Grants of fellowships
• Letter of Recommendation
 
What is a Resume?
A resume is a brief, concise, and crisp document indicatively drafted with the motive of applying to a particular job or role. Different from a CV, you should set out to keep your resume as brief as possible. Only in some special cases where you have a long-standing experience like 15+ can you exceed the one-pager format and incorporate the additional information that will add value to your application.
A good resume underscores the facets of your professional experience and expertise pertinent to the job role you're applying for. For instance, mentioning your contribution to tasks undertaken in a previous job that connects with the responsibilities in the current position might make your resume stand out from the rest. 
Typically, a resume is submitted along with a cover letter (to put it another way, a cover letter for a resume!) that indicates your aim to apply for the job. The cover letter models the skills and learnings you mentioned in the resume elucidating how it will cater to your role here in this new work area.
 
What should a resume be composed of?

Checklist these pointers while drafting a resume- 
• Full name
• Your designation, or the name of the position you're applying for
• Contact details
• Resume summary or objective
• Work experience
• Education
• Relevant skills
• Languages and proficiency
• Relevant certifications and interests (if any)
The principal differences between CV & Resume

• Length - As clear from the introduction above, a resume is constricted to a page, while a CV doesn't really have a limit. Its comprehensiveness depends on the experience and accomplishments that add value and give a cutting edge over other candidate.

• Purpose - The whole purpose of a CV revolves around applying for a job relating to academics, for instance, in cases of applying for a research program, a PH.D., or associating with a university as a staff member. The resume, contrastingly, is created for a typical job in a company.

• Kind of information to incorporate - The CV is more like an academic journal that consists of your academic qualifications, accomplishments, documentation, and certifications. A CV demands to be updated with time, whereas a resume is framed precisely for a position you're applying for, zeroing on professional accomplishments rather than academics.
HR fact
76% of the resumes are rejected due to an unprofessional email address.
Want to draft a resume for freshers? And want to make sure your strengths reflect in that resume? Looking for a simple resume format and a captivating resume headline for freshers?
Did you know?
In less than 10 minutes, you can create a job winning, ATS compliant resume. But where and how? With an information space of 2,00,000 per written HR-approved statement at HyreSnap, you can create your resume by selecting the template that best suits your journey thus far.
Conclusion
Most candidates seeking a job have doubts regarding which document to submit- a CV or a resume. So, next time, don't struggle with second thoughts. Go ahead with the relevant document and understanding.
Did you enjoy this article? Read more articles like these!